Ever Reliable Thai Cuisine at Thai Bistro
My two favorite cuisines are Japanese and Indian. Those two will never change, that much I know. In fact, whenever I'm asked what my last meal would be, I always say sushi, an omakase experience, followed by butter chicken, basmati rice, and a side of naan bread. How well that pairing will actually go together I have no idea, nor do I care. 😆
The third is a little harder to nail down. It changes, depending on my mood. After an unctuous woosamgyup experience, I would say Korean. After some really flavorful Hainanese chicken and laksa, I'd say Singaporean. But most of the time, I say Thai.
There's just something very comforting about Thai cuisine. It's almost always good, the flavors are diverse, and the choices are plentiful. On top of that, I enjoy Thai food just as much at an upscale restaurant as I would sitting on a Monobloc stool, by the side of the road. I would never do that with sushi, nor Indian curry. Yuck.
Safe and ever reliable, Thai cuisine has almost always delivered for me. It did again today.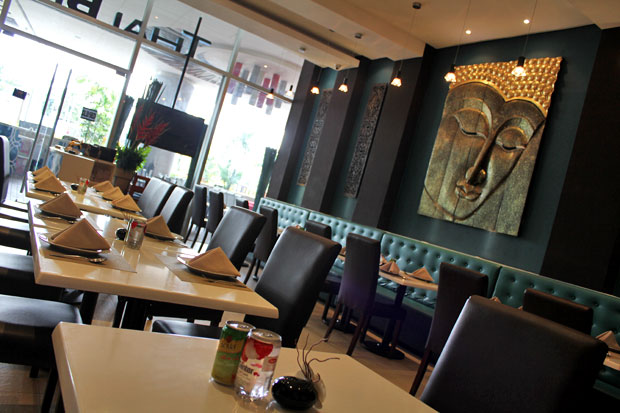 Thai Bistro Signature – PHP 360 – Calamares, Thai spring rolls, satay, and prawn cakes
Unfortunately, they were out of the soft shell crab appetizer so our server suggested this sampler platter instead. Though the crab would have been more interesting, this one was pretty solid. We liked everything, except for the spring rolls. The calamari was tender and well-seasoned, the prawn cakes succulent, and the satay nice and smokey, easily our favorite from the group.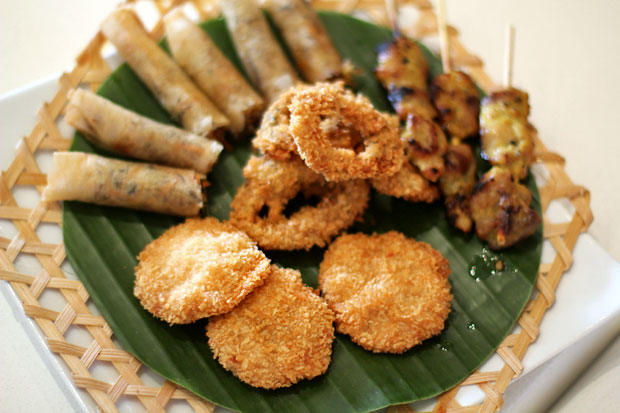 Thai Bistro is saucy.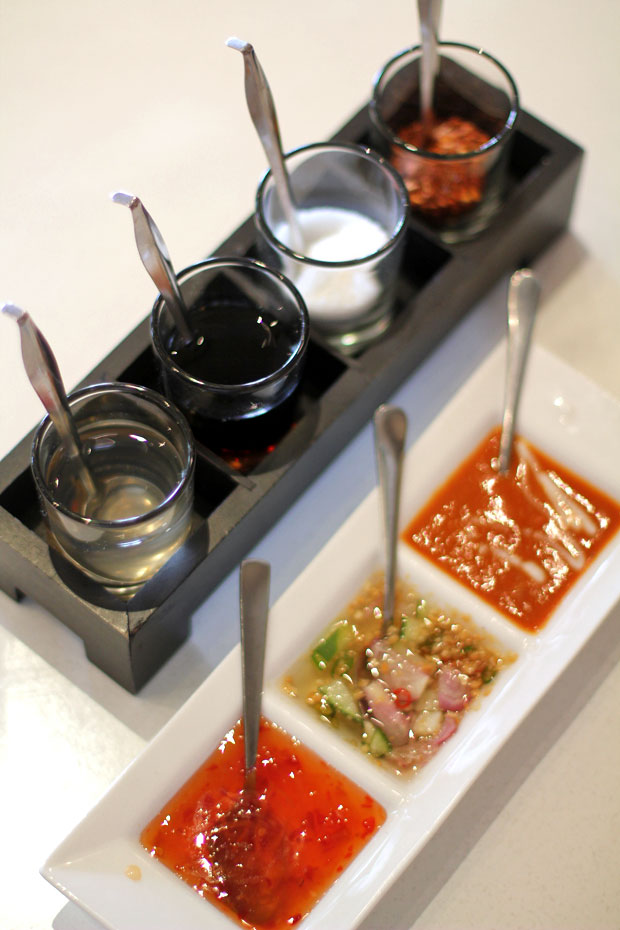 Green Chicken Curry – PHP 325 – With eggplant and basil
Though this looks like sludge, it was pretty good. The curry was very flavorful, but not nearly as spicy as I wanted it to be. In fact, it didn't have much heat at all. That was a major bummer because I always expect a lot of heat in my green curries. They don't give you a lot of chicken either, which in combination with the curry's lack of heat, is probably why we won't be ordering this again, despite its depth of flavor. The kulantro was kul though.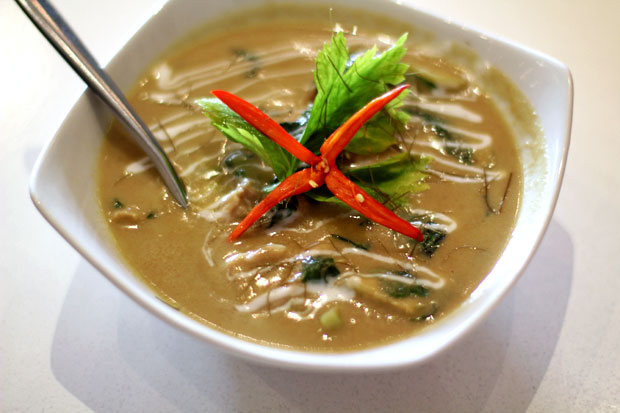 Thai Bistro Signature Rice – PHP 328 – Mixed vegetables, lemongrass, egg, pork crispies, and Thai chorizo
I like Thai fried rice, so this was probably my favorite dish from today's meal. It was hearty and flavorful, and you could really notice the lemongrass. Very nice.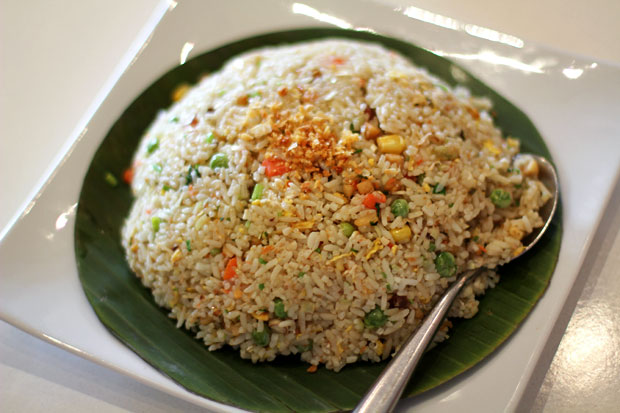 One of my favorite Thai food experiences? Spending a week in Koh Samui with my college buddy almost two decades ago, eating nothing but pad thai and fried bananas with ice cream everyday by the beach. Of course, it didn't hurt that we were stoned out of our minds the entire trip, but I'm pretty sure the food would have tasted good either way. 😆
Thai Bistro
Unit 187, G/F Robinsons Magnolia Town Center, Aurora Blvd. Corner Hemady Street, New Manila, Quezon City
Tel: 703-6910
Mobile: 0917-838-1696 | 0923-100-3530
Website: thethaibistro.com
Facebook: TheThaiBistro
Twitter: thethaibistro
Email: bistro.thai@yahoo.com
Operating Hours: Mon-Sun, 11AM-12MN
JB is one half of Will Fly for Food and its chief itinerary maker.  He's the one to blame for all the crappy photos and verbal diarrhea on this blog.  Don't listen to him.
Latest posts by JB Macatulad (see all)