On Talking Less, Tallying More, and Tokyo Bubble Tea
That's the thing about malls, most of them don't have any interesting restaurants.
Pretty much 90% of all the restaurants you find in malls are of the cookie-cutter variety. Most of them are chains with several branches across the city, many of which are also in malls. With shopping centers being high-traffic areas, none of these restaurants can be considered secret, foodie finds. You can't exactly brag to your friends and say: "Oh my God, have you been to that super duper secret restaurant in Megamall?" On top of that, I find them to be generally more expensive, likely on account of the higher rents and percentages that need to be doled out to the malls themselves. This is why I never get too amped about eating in malls, especially after I started keeping this blog.
Take this restaurant for example. Despite today being our first visit, they've been around since 2007. Going on their sixth year now with seven additional branches opening since, what food blog reader hasn't heard about Tokyo Bubble Tea? Blogging about them now would be about as cool as buying a Walkman in 2013. It just isn't.
Unfortunately for me however, my OCD prevents me from saying fuck it to this post and moving on to the next. I paid for my meal and took all these pictures, none of which are in this blog yet. I HAVE to include it, despite the fact that I've been sitting on this draft for over two weeks now with still nothing of merit to say.
Which is why I decided to add a little something to all the restaurant posts on this blog, something that people with little time to spare would prefer over a lengthy soliloquy – a rating system. Found at the bottom of every post, it summarizes 1,000+ words of gibberish into four quick, easy-to-decipher categories. Rating taste, value for money, ambiance, and service on a five-star scale, these I believe, are the essentials sought out by most people looking for restaurant reviews anyway.
Since I'm not a professional food critic nor a connoisseur however, I'm fully aware that my opinion carries no greater weight than yours, which is why the voting system is open to all. I cast my vote first, and if time permits, then I hope that you can cast your vote as well. Dining experiences are subjective after all, and should never be judged solely by one individual.
With that said, I'm going to shut up now, because in trying to tell you that I'm adopting a rating system for the purpose of sparing you my nonsensical jabber, I realize that it's taken me a garrulous 463 words to do it. 😕
UPDATE (26 July 2013) : The rating system was massively bloating my database so I've disabled it for now. Crappers. I did like it though so I'll see if I can find a better, less resource-heavy alternative.
L: Taro Milk Tea with JCC (Japanese Cheesecake Cream) – PHP 80 (S, Hot) / PHP 115 (M, Cold) / PHP 125 (L, Cold)
R: Royal Milk Tea with JCC – PHP 80 (S, Hot) / PHP 115 (M, Cold) / PHP 125 (L, Cold)
Ren's latest infatuation? Rock salt & cheese, which is partly why we chose this place.
Though their JCC (Japanese Cheesecake Cream) isn't exactly the same, it's similar. It has the same creamy, salty, cheesy taste, but not as pronounced. It was pretty good, but in the end, Ren preferred rock salt & cheese, which I agree with. This one just didn't have the same feta-cheese-like oomph that made her swoon in the first place.
According to our server, taro and royal are their most popular milk tea flavors. If I remember correctly, neither came with JCC by default, but our server advised that we could top any flavor we wanted with JCC.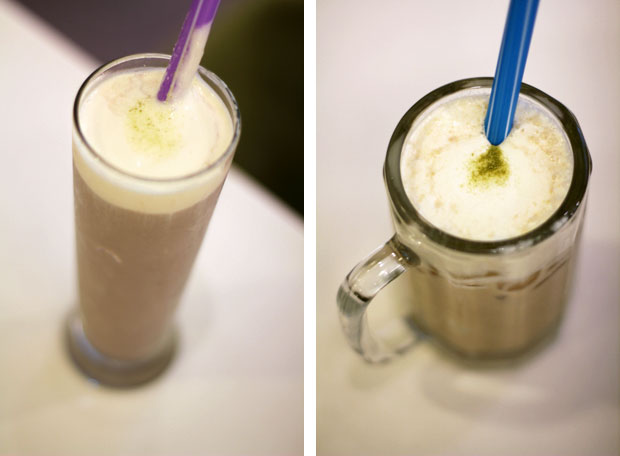 Okonomiyaki – PHP 215 – Batter wrapped around meat and vegetables, topped with mayonnaise
I like okonomiyakis, but many of the ones I've tried locally are somewhat mushy and don't hold well together. This one does. Firm but not tough, this was one of the better okonomiyakis I've had in Manila. If you've never had okonomiyaki before and don't know what it is, it's basically a Japanese savory pancake made with flour, nagaimo, dashi, eggs, and shredded cabbage. You can read more about okonomiyaki inTHIS POST.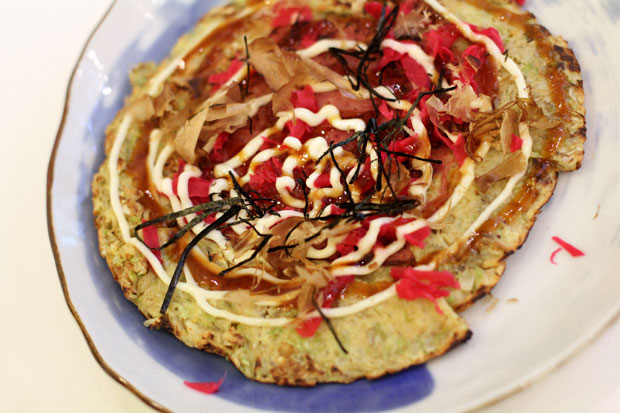 The Great Fuji Roll – PHP 295 – Combination of salmon, tuna, prawn, unagi, kani, and tamago in one roll
Another reason why we chose this place? Designer rolls. I LOVE sushi and designer rolls, so much so that I named this blog and my portfolio website after it. 😉
Basically a rainbow roll, this Great Fuji roll had slivers of tuna, salmon, prawn, unagi, and tamago resting on top of the roll, with kani and cucumber nestled inside. Like anyone who enjoys these designer sushi rolls, I've had many similar rolls elsewhere. This one, in comparison, was just average for me. Not terrible, but not that great either.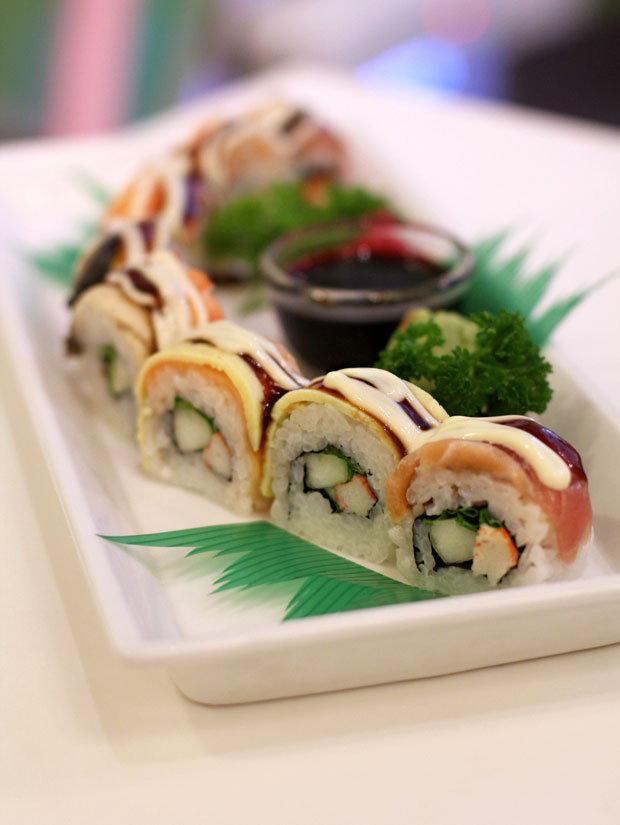 Dynamite Roll – PHP 295 – Unagi on top and spicy tuna on the inside drizzled with teriyaki sauce
Unagi and spicy tuna are two of my favorites, but this dynamite roll left me wanting more of each. The unagi was sliced very thinly, so you got a hint of its taste, but none of its rubbery, soft texture, which I love. Similarly, the spicy tuna wasn't spicy at all. Not one bit. 🙁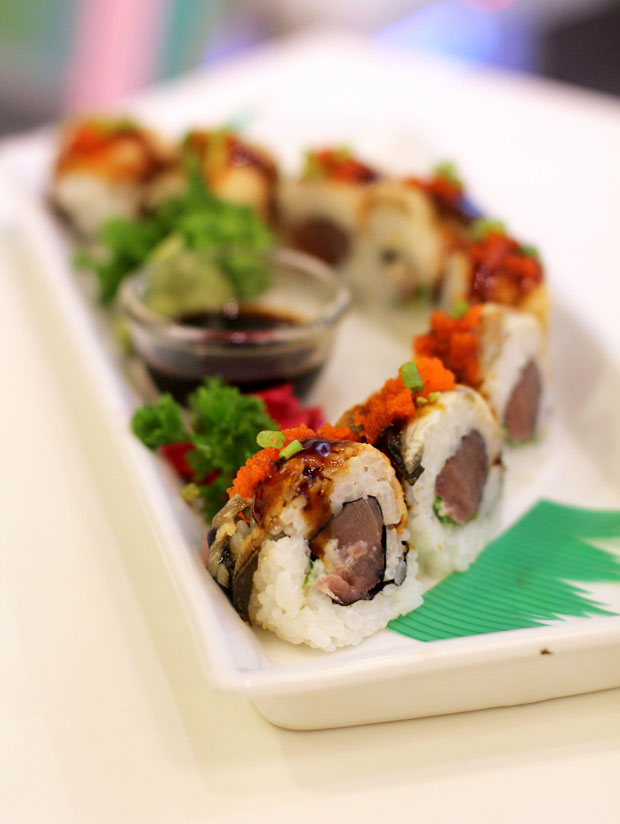 Royal Tea Ice Cream – FREE for every PHP 650 purchase
A Father's Day treat, we were surprised and pleased to find the promotion still ongoing. Given free with every PHP 650 purchase, the soft serve ice cream was served with tapioca balls and grass jelly, both of which I love. Nice and caramel-y.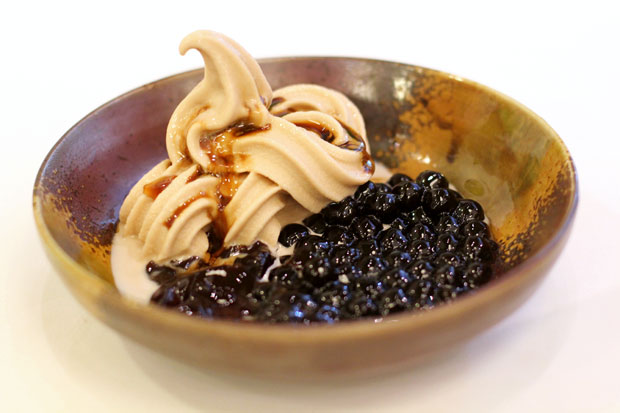 If you're interested in trying Tokyo Bubble Tea solely for its designer rolls, then you'll probably be disappointed. They're not exactly cheap, and you can find better rolls elsewhere, like Omakase at Il Terrazzo for one. With that said, they do have a wide menu with lots of other Japanese-Western fusion dishes to try. They reminded me of UCC in that regard. If you like bubble tea and that sort of thing, then you'll probably enjoy this place, if you haven't already been.
Tokyo Bubble Tea Trinoma
2/F Trinoma Mall, North Ave, Sto. Cristo, Quezon City
Website: tokyobubbletea.jp
Facebook: tokyobubbletea
Email: tokyobubbletea@gmail.com
Operating Hours: Mon-Sun, Mall Hours
Tokyo Bubble Tea SM North
LG/F SM North Edsa, The Block, Quezon City
Tel: 441-0097
Operating Hours: Sun-Thurs, 10AM-10PM | Fri-Sat, 10AM-11PM
Tokyo Bubble Tea SM Megamall
LG/F SM Megamall, Mandaluyong City
Tel: 638-7479
Operating Hours: Sun-Thurs, 10AM-9PM | Fri-Sat, 10AM-10PM
Tokyo Bubble Tea Tomas Morato
220 Tomas Morato Ave., Quezon City (beside Alfredo's steak house)
Tel: 412-3573
Operating Hours: Mon-Sun, 11AM-1AM
Tokyo Bubble Tea Greenhills
229 Wilson St., Greenhills, San Juan, Metro Manila (beside Animal House)
Tel: 584-1998
Operating Hours: Mon-Sun, 11AM-1AM
Tokyo Bubble Tea Fort Bonifacio
Unit 1&2, G/F The Fort Residences, 30th St. corner 2nd Ave., Fort Bonifacio, Taguig
Tel: 478-7483
Operating Hours: Mon-Sun, 11AM-1AM
Tokyo Bubble Tea Westgate
Unit 101 Westgate, Cluster J, Commerce Ave
Alabang, Muntinlupa
Tel: 511-1196
Operating Hours: Mon-Sun, 11AM-12MN
Tokyo Bubble Tea Subic
Harbor Point Mall, Rizal Highway, Subic Freeport Zone, Olongapo
Tel: (047) 251-1028
Operating Hours: Mon-Sun, 11AM-1AM
JB is one half of Will Fly for Food and its chief itinerary maker.  He's the one to blame for all the crappy photos and verbal diarrhea on this blog.  Don't listen to him.
Latest posts by JB Macatulad (see all)