Think Different. Mister Donut's Pon de Ring.
"Yung glazed po." That's exactly what the salesgirl said, when Ren asked which flavors she should get to fill our box of twelve.
"Hindi nga?", Ren answered in jest, "Sa dami ng flavors, puro glazed lang?" The salesgirl laughed. 😆
Entitled to a dozen thanks to our Groupon voucher, we weren't about to pick twelve glazed, considering that this was our first time trying Mister Donut's Pon de Rings. Longing for variety and pizzazz, we wanted a colorful assortment that would give us a better picture of what this Japanese phenomenon was all about.
Though invented and popularized by Mister Donut Japan, I first came across this oddly-shaped, mochi-like donut at Gavino's in Greenhills Town Center. Made with tapioca flour, they have a chewier consistency than the traditional donut, and are shaped like a ring of eight balls, each one the size of a perfect bite. Having very much enjoyed the Gavino's version, especially with coffee, I was curious to try the original the moment I learned of its availability here in the Philippines.
Sold only at the Greenhills branch of Mister Donut (at least as of this writing), Ren picked out a variety of Classic and Premium flavors, including the glazed that was suggested to us with confidence by our server. Enjoying them for breakfast for three consecutive days, Ren and I shared each one, swapping notes and bites in our unscientific attempt to determine which flavor truly deserved to be called the best.
Here's what we found out.
Kawaii! So cute, so Japanese. Each of these boxes houses six Pon de Rings.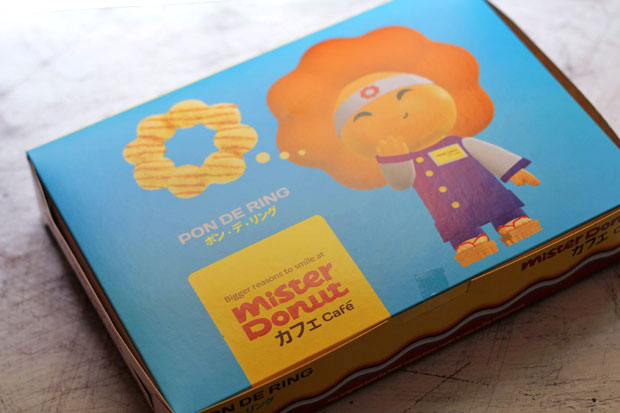 There are two categories of flavors – Classic and Premium. Only Glazed and Sugar-Raised are considered Classic. The rest are premium.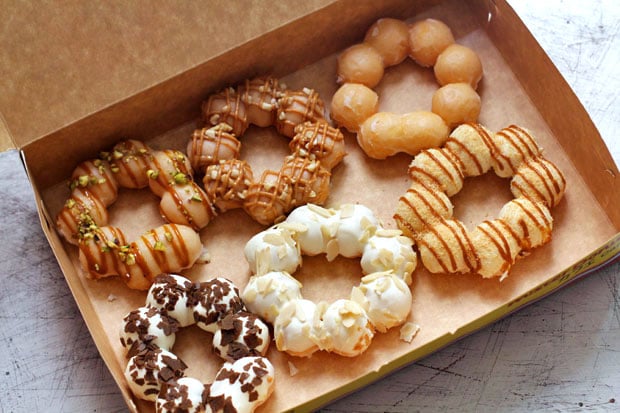 Individually, Classic flavors go for PHP 29 each, while Premium Pon de Rings sell for PHP 39 apiece. Here are the prices if you buy them by the box:
CLASSIC – PHP 300/dozen / PHP 160/half dozen
PREMIUM – PHP 420/dozen / PHP 220/half dozen
ASSORTED – PHP 360/dozen (3 Premium, 3 Classic) / PHP 190/dozen (6 Premium, 6 Classic)
Because we were here with vouchers, we were entitled to any combination we wanted.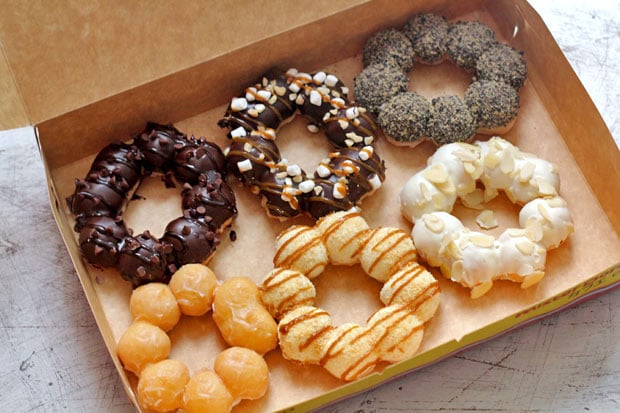 To be honest with you, there wasn't much discernible difference between the Premium flavors. They were all pretty much just sweet, some cloyingly so. Regardless, they were enjoyable to eat, nice and chewy as I had hoped, and bigger than I expected.
Sans Rival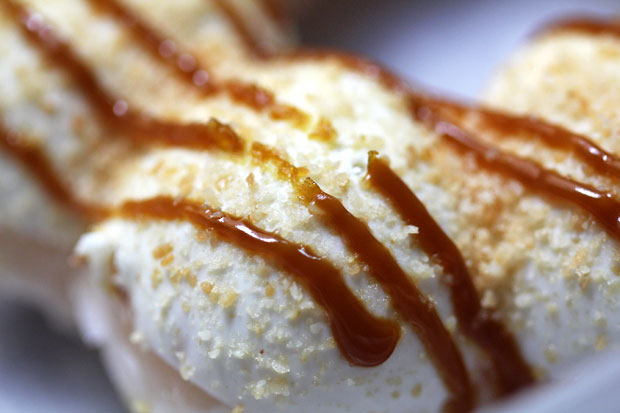 Cookies & Cream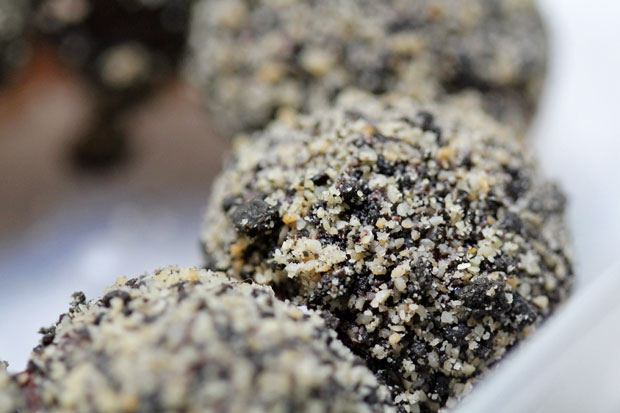 Wafer Flakes – The ones glazed with white chocolate were the sweetest of the lot. Unless you have a serious sweet tooth, I suggest steering clear of these.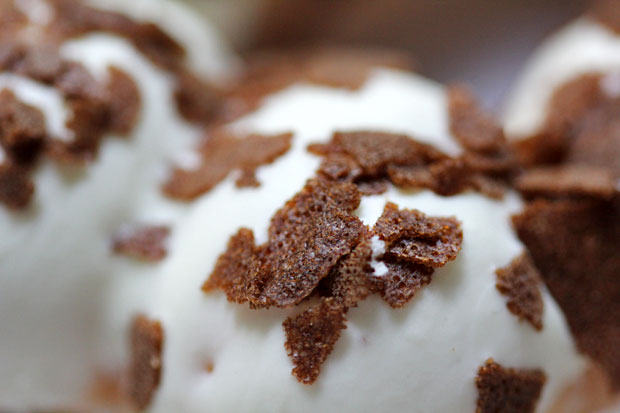 Pistachio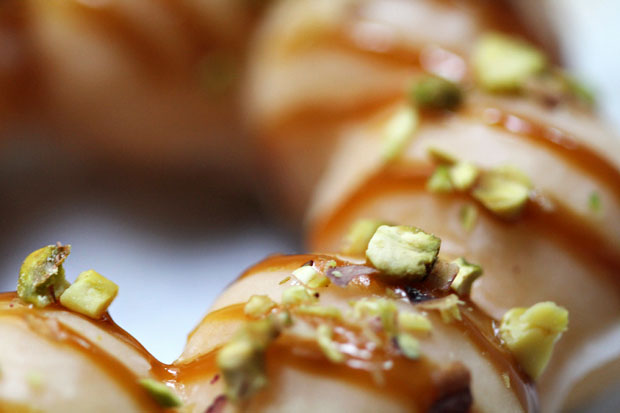 Peanut Butter – If peanut butter is your thing, then you'll enjoy this. It really tasted like it, and was one of the more easily distinguishable flavors from the bunch.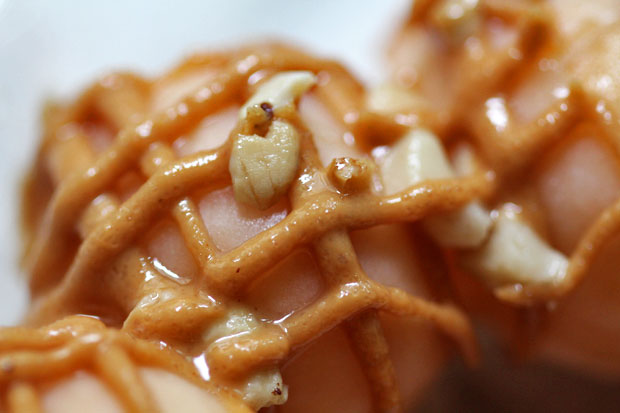 Rocky Road – Light and fluffy, I enjoyed the texture of the mini marshmallows.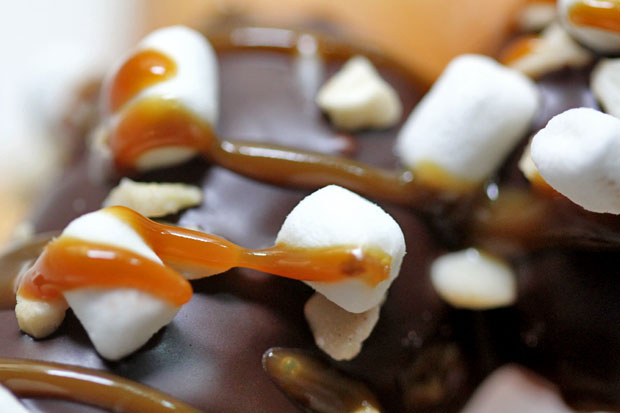 White Almond – I like almonds, but again, I found the white chocolate to be just a little too sweet for my taste.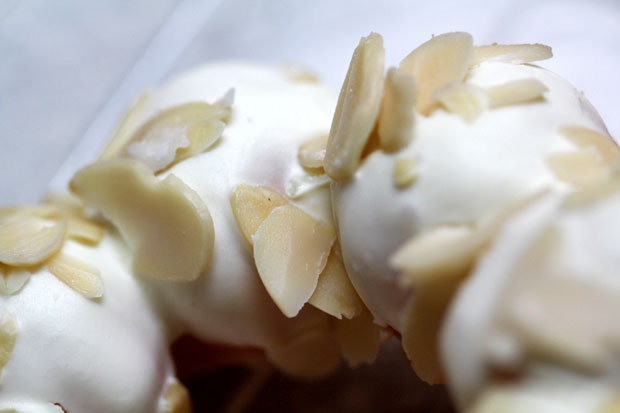 All Chocolate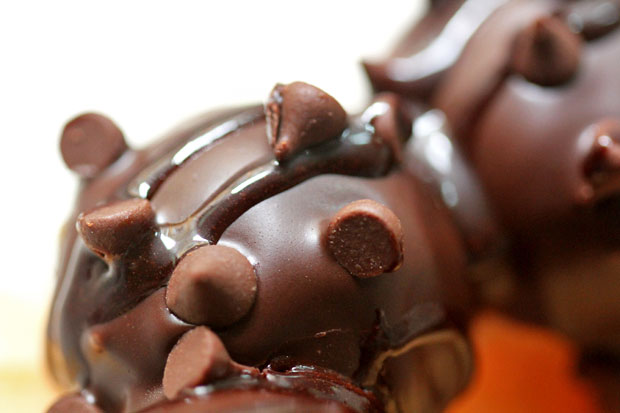 Glazed – Well whaddya know? The salesgirl was absolutely right. The glazed was by far our favorite flavor from the group, and probably the only one we'd buy again.
It's funny, I do most of my blogging in the morning, over breakfast, so I often become oblivious to what I'm eating. In the case of these Pon de Rings, I held them in my left hand while I typed away with my right, mechanically taking a bite now and then without really knowing what flavor I held in my hand. This glazed however, made me take pause. Noticeably better than the rest, I remember stopping and actually looking at it, just to remind myself exactly which flavor I was eating.
Simple, not too sweet, without any distracting, gratuitous toppings, the glazed was a real winner for me, and something that I would love to have again and again. Did I already say that these are outrageous with black coffee? 🙂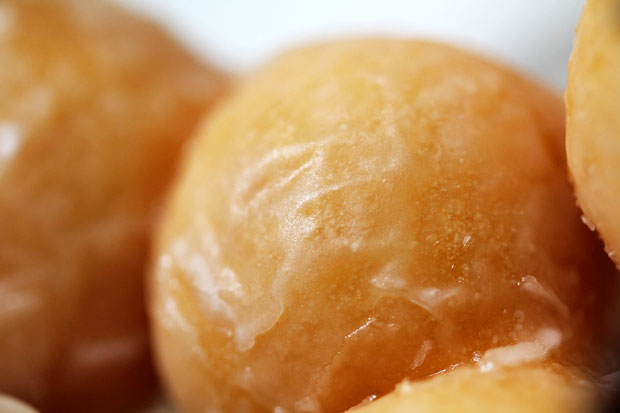 Pon de Ring and Pon de Mona ♥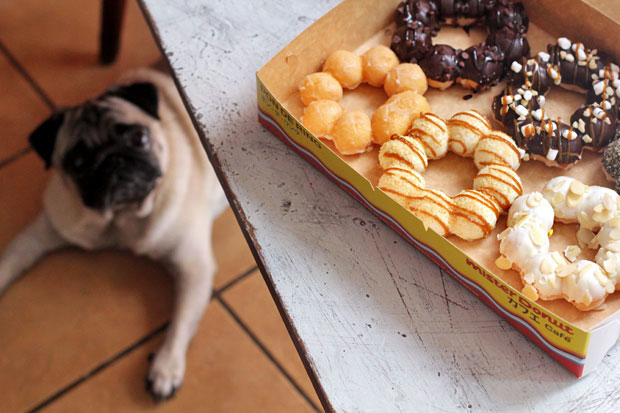 As mentioned up top, Pon de Rings are presently available only at the Greenhills branch of Mister Donut. I do hope that they make them available everywhere though, because they're delicious, better than regular donuts in my opinion, especially the glazed.
With that said, I can almost hear that salesgirl saying: "I told you so…" 🙂
Mister Donut Greenhills Shopping Center
GH Greenlanes Arcade, Ortigas Avenue, Greenhills, San Juan
Mobile: 0917-886-3969
Website: misterdonut.ph
Facebook: MrDonutPH
Twitter: MisterDonut_PH
YouTube: VoteforMisterDonut
Operating Hours: Mon-Sun, 10AM-8PM
JB is one half of Will Fly for Food and its chief itinerary maker.  He's the one to blame for all the crappy photos and verbal diarrhea on this blog.  Don't listen to him.
Latest posts by JB Macatulad (see all)