Greeka Kouzina and that Beautiful Rack
Have you ever been so taken by something, that it made you reassess your values?
That's precisely the position I find myself in today, after finally getting a taste of Greeka Kouzina's rack of lamb. Having heard so much about this place over the last few months, I was curious to see if they'd be the next Yabu, a much hyped about place that exceeded all expectations, or the latest Speculoos, a here today, gone tomorrow trend that I never quite understood. Luckily for us, it wasn't the latter. Though not everything they serve is Yabu-licious, their lamb is spectacular, and I was a fan literally from the first bite.
In THIS POST, I discussed how we almost never go back to the same restaurant twice. A place has to be more than just good to become a keeper, satisfying a list of requirements, or values, so to speak:
"First, and this one's a no-brainer, the food needs to be good. Second, prices have to be reasonable. Third, the place is laid back, comfortable, with good feng shui. Fourth, the service is courteous and amicable. Fifth, parking isn't a bitch. And sixth, the place MUST serve cheap, ice-cold bottles of San Mig Light."
Reviewing our Greeka Kouzina experience, I have to concede that none of our core values were actually met. First, apart from the lamb, everything else we had was subpar. Second, their prices are decent considering the large servings, but not exactly cheap either, at least not by my frugal standards. Third, the place is small and feels cramped, even for lunch on a weekday, so I can only imagine how disgustingly crowded it must get over dinner. Fourth, the servers seem nice enough, but they're visibly agitated and in a hurry, probably from the large crowds of people pouring in (I would be too). Fifth, parking on P. Guevarra is a major bitch, about as bitchy as a fucking bitch can get. And sixth, and this is a major kicker for us, they do not. serve beer. AT ALL! *gasp!* 😯
So for us to want to come back so soon, basically on the strength of just one dish, speaks volumes about just how much we enjoyed those heavenly lamb chops. Gamey, tender, charred, and caramelized, they were absolutely delicious, all the way down to the bones. Smacking my lips right now, just thinking about that experience, I can't wait to go back and get my hands on another pair.
Tossed out the window, that just goes to show how little your "values" really mean, the moment you're faced with a really nice rack.
Beautiful, colored hanging lamps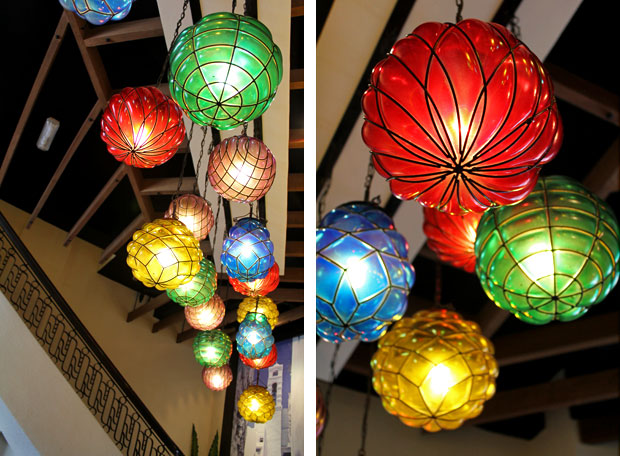 Kalamari Tiganito – PHP 260 – Freshly-caught fried squid sprinkled with alatopiperigano
These were just ok. The squid was a little chewy and the batter underseasoned. The tzatziki could have used more seasoning as well, maybe some garlic, and a splash of acidity.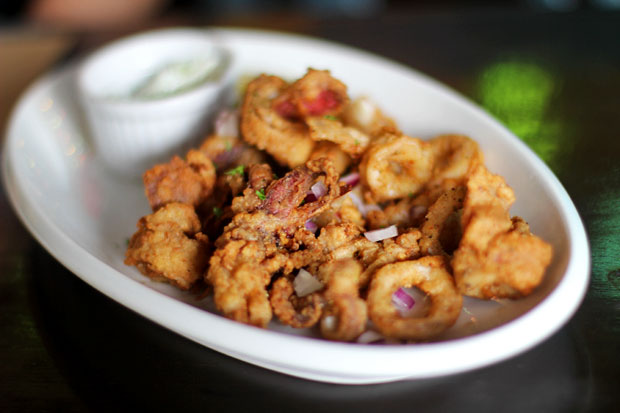 Anoghia Lamb – PHP 570 – Two lamb chops served with mint-lemona sauce
The heavenly pair of juicy lamb chops that I can't wait to get my hands (and my mouth) on again. So so frikking good. So much so that I didn't want its flavors muddled by the side of gravy. The chops were PERFECT as is.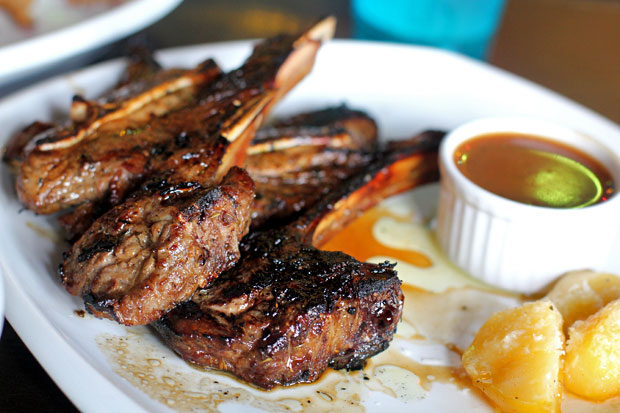 Looking at these pictures, I can almost smell that gamey, charred, lamb aroma. Next time we go, which is soon, we'll be there at 11:30 AM on a weekday to avoid all that crap I talked about up top.



Greeka Patates Tiganites – PHP 180 (ala carte)
With each entree, you get your choice of one free side dish, which would otherwise go for PHP 180 ala carte. They give you a generous amount too, enough to be a full appetizer, upping the value of your entree all the more.
From an entire page of sides, I chose these patates tiganites (Greek poutine), which were just ok in my opinion. Nothing great. Next time I'm getting the stuffed tomato or Greek pita with salad to accompany my chops.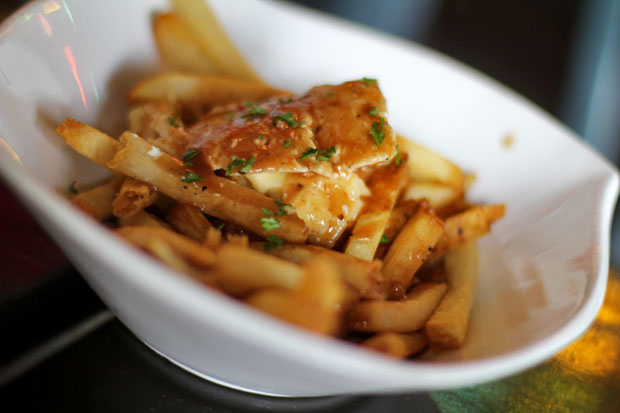 Lamb Souvlaki – PHP 410 – Char-grilled lamb and vegetable skewers
Tender, charred, caramelized, and gamey, this lamb souvlaki was every bit as tasty as the lamb chops, making it obvious that Greeka Kouzina does know its lamb. What you can't tell from my crappy picture is just how big this was. Arguably the biggest skewer of lamb I've ever seen, this was more than enough to feed two people of smallish appetites. At just PHP 410 with a free side of your choice, it's a great deal. Though Ren enjoyed this one equally, I preferred the chops myself. There's just something to be said about holding a big bone in your hands. (Wait, that didn't sound too good…)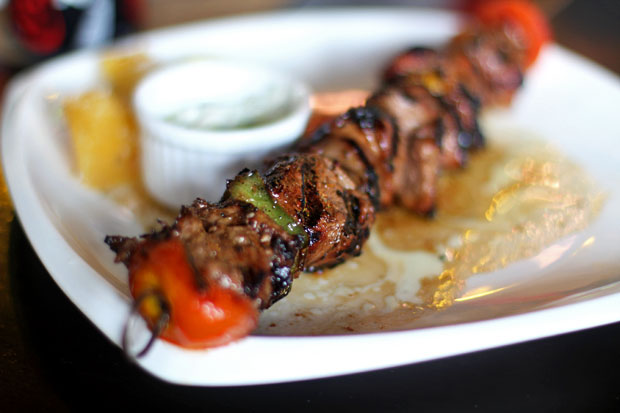 Moussaka – PHP 180 (ala carte)
Chosen with the lamb souvlaki, this side of moussaka would have been much better had it not been for the overdose of cinnamon, which made it way too sweet. It was so sweet and cinnamon-y in fact, that the dish felt like it were having some type of identity crisis. Am I an appetizer or a dessert? ❓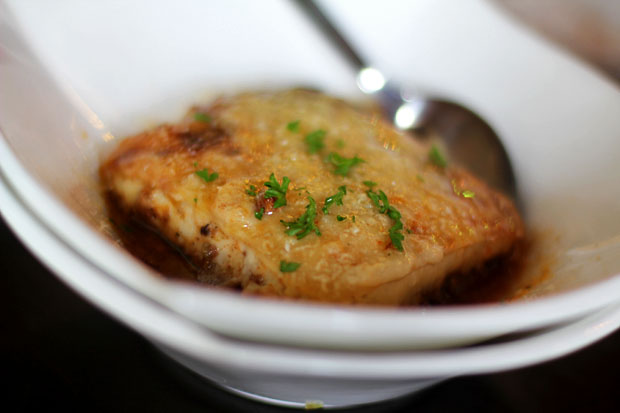 Another shot of them lamps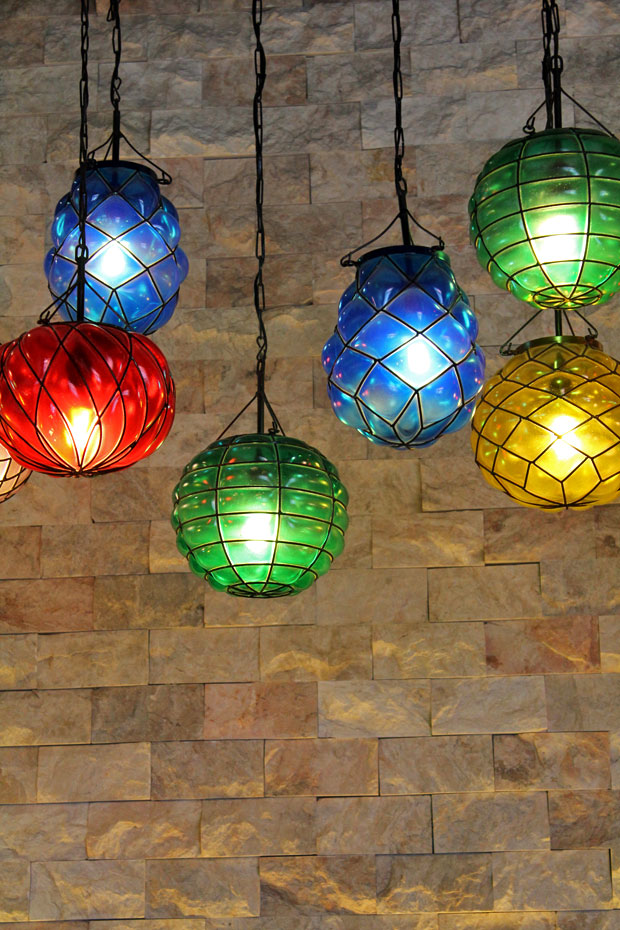 Speaking of rethinking my "core values", I just watched Man of Steel and I have to admit that I've developed quite the man-crush on Mr. Cavill. He's just so super, and I say that in the most heterosexual way, if that's even possible. 😆 😳
Greeka Kouzina
Units 4&5, 285 P. Guevarra Street, Little Baguio, San Juan
Tel: 624-5974
Facebook: GreekaKouzina
Operating Hours: Mon-Sun, 11:30AM-3PM, 6PM-10PM
JB is one half of Will Fly for Food and its chief itinerary maker.  He's the one to blame for all the crappy photos and verbal diarrhea on this blog.  Don't listen to him.
Latest posts by JB Macatulad (see all)