Baba's Kebab House and the Promise of Fusion Burgers
Fook Yu to Backyard Burgers' Fook Mi, Baba's Kebab House along Sgt Esguerra Street is half the reason why we love this pair of sister restaurants. Owned and operated by the same group, they both serve good, comforting food at very reasonable prices.
As described in THIS POST, we rarely go back to the same restaurant twice. Food blogging just makes you do that. In the two+ years that we've been keeping Sushi Bytes, only one place – Bacolod Chicken Parilla – has met our short list of requirements and become a keeper. With the recent discovery of this pair however, one specializing in burgers and the other kebabs, I'm happy to say that we now have three.
The fact that these two restaurants are located right next to each other, even sharing the same kitchen it seems, makes them all the more enticing as well. One week, it can be a half-pound truffle burger smeared over top with mutabal. The week after, beef belly cheesesteak with a side of ox brains and hummus.
Seriously, for a fan of burgers, Middle Eastern food, and flavor, how fucking cool is that?!
The intimate, comfy space, to the left of which is sister restaurant Backyard Burgers.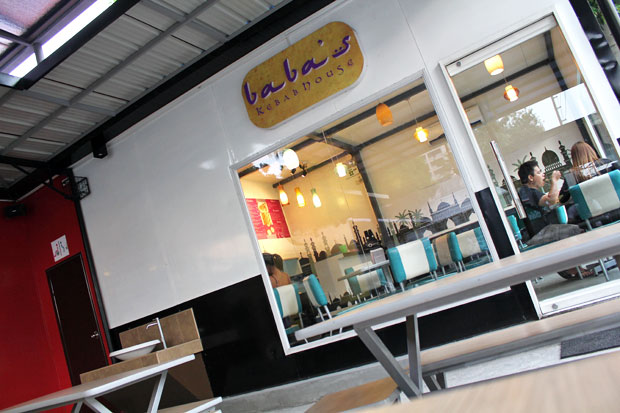 Chelo Kebab Soltani – PHP 240 – Beef kebab and taka (beef tenderloin) with grilled tomatoes and onions served with basmati rice and butter
They look like turds, but they're delicious. I especially enjoyed the beef chelo kebab, which was tender, rich with spices, and one of the most flavorful that I've had locally. Eating it with the sweet grilled onion, juicy tomato, and fluffy, buttery basmati rice was pure heaven.
Though Ren liked it, I didn't enjoy the taka as much because I found it tough and chewy in comparison. This is likely a case of personal preference though as I generally prefer minced or ground meat over whole chunks.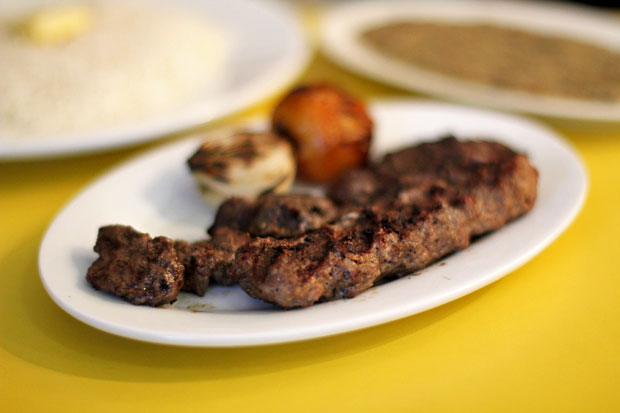 Chelo Kebab Joojeh Koobideh – PHP 199 – Beef and chicken kebab with grilled tomatoes and onions served with basmati rice and butter
This was pretty much the same plate of food as the one above, except they give you chicken kebab instead of beef tenderloin. Though I enjoyed the chicken more than the taka, it still paled in comparison to the beef chelo kebab, which was the bomb.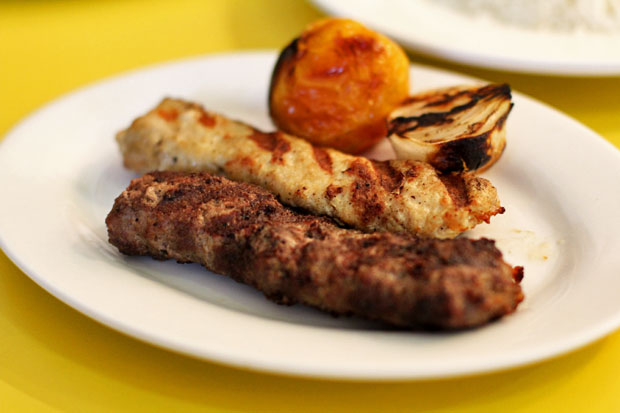 Mutabal – PHP 60 – Eggplant dip
Made from pureed, roasted eggplant, this mutabal was delicious. Creamy, a little sweet, buttery, and smokey from the roasting process, it made me close my eyes in enjoyment with each mouthful. I loved it, and I'm definitely putting it on my burger next time. 😉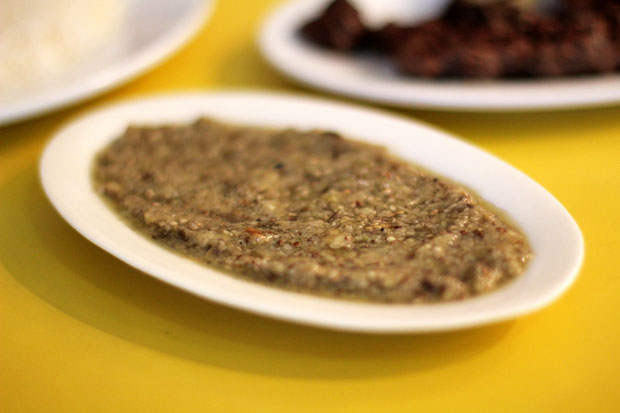 Hummus – PHP 60 – Dip with mashed chickpeas, tahini, and olive oil
At first, I didn't like this hummus very much because it was different from what I was used to. It was extremely nutty without any hint of acidity. After a few spoonfuls though, it started to grow on me, and by the end of the meal, I was in love with its bold, nutty flavor. I'd definitely order this again, but I'll be sure to bring some lemon or calamansi with me next time, because the acidity will do wonders for it.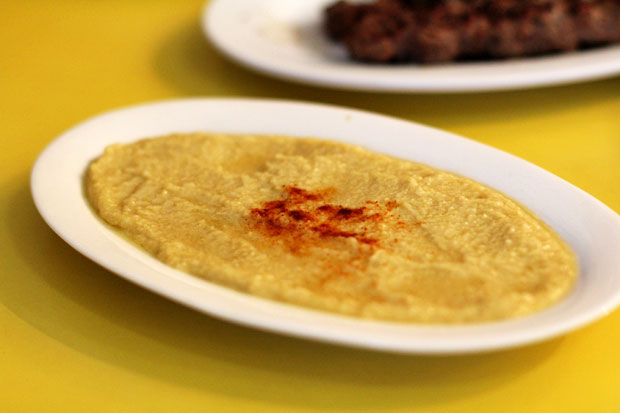 Because we were here on CashCashPinoy vouchers that entitled us to specific plates of food, we weren't able to try anything else on their menu. But as mentioned up top, Baba's Kebab House and Backyard Burgers' are officially keepers, so there will be ample opportunities to try everything else. In fact, Ren and I were discussing just now the possibility of forgoing Bacolod Chicken Parilla this weekend, in favor of Fook Mi and Fook Yu.
Lamb burger with charbroiled liver and hummus?
Oh behave!
Baba's Kebab House
52 Sgt. Esguerra Street (beside Homer's, across ABS CBN), Quezon City
Tel: 384-4140
Facebook: BabasKebabHouse
Operating Hours: Mon-Thurs, Sun, 10AM-11PM | Fri-Sat, 10AM-12MN | Sun, 10AM-10PM
JB is one half of Will Fly for Food and its chief itinerary maker.  He's the one to blame for all the crappy photos and verbal diarrhea on this blog.  Don't listen to him.
Latest posts by JB Macatulad (see all)