Philly Cheesesteak: Backyard Burgers' Beef Belly Cheesesteak
Backyard Burgers' Beef Belly Cheesesteak
PHP 150 – Slow-roasted beef belly with cheese sauce
…………..
To be perfectly honest with you, I wasn't expecting much from this cheesesteak. At just PHP 150, how good and satisfying could it possibly have been? Add to that the fact that Backyard Burgers is a burger joint, and my expectations were kept at a minimum. As it turned out however, I was wrong, and I knew it the moment this beauty was laid out in front of me.
As I've said before, the hoagie rolls here at Backyard Burgers are awesome. Chewy but soft, I absolutely love them. They really make their sandwiches sing, and this cheesesteak was no exception. Prior to this one, I had never before met a cheesesteak made with slow-roasted beef belly. After tonight, I have to wonder why it isn't done more often, because the results are sensational. Melt-in-your-mouth tender, the beef belly in combination with the bread was pure bliss. Add to that the crunch and sweetness from the onions and peppers, and what I had tonight was a cheesesteak that truly blew all my expectations out of the water.
For me, this was better than their burgers. At just PHP 150, it's a ridiculous bargain too. If you like cheesesteaks, then don't think twice about getting this. You won't regret it.
Verdict: 4.25 / 5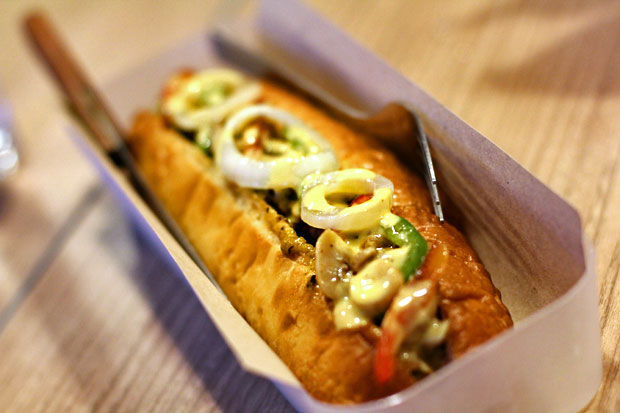 Backyard Burgers
52 Sgt. Esguerra Street (beside Homer's, across ABS CBN), Quezon City
Tel: 384-4140
Facebook: backyardburgersph
Operating Hours: Mon-Thurs, Sun, 10AM-11PM | Fri-Sat, 10AM-12MN | Sun, 10AM-10PM
JB is one half of Will Fly for Food and its chief itinerary maker.  He's the one to blame for all the crappy photos and verbal diarrhea on this blog.  Don't listen to him.
Latest posts by JB Macatulad (see all)