Back for Seconds at Backyard Burgers
Since the inception of this blog, we rarely go back to the same restaurant twice. It's unfortunate, but true.
Not that we don't enjoy the restaurants that we go to. We do. Some of them, we enjoy quite a lot. In fact, I'm not that difficult to please when it comes to food, encouraging Ren to sometimes joke: "Masarap naman sa iyo lahat eh." (Everything tastes good to you anyway.) 😆 With all the new restaurants waiting to be discovered and blogged about, it just doesn't seem like the best use of resources to go back to the same place so soon. I'm sure any food blogger can relate to this.
For us to want to visit the same restaurant again, the experience has to satisfy a list of requirements. First, and this one's a no-brainer, the food needs to be good (duh). Second, prices have to be reasonable. Third, the place is laid back, comfortable, with good feng shui. Fourth, the service is courteous and amicable. Fifth, parking isn't a bitch. And sixth, the place MUST serve cheap, ice-cold bottles of San Mig Light. Buckets are a plus, but not a must. In the two years that we've been keeping this blog, only Bacolod Chicken Parilla, which we've been loyal to for several years now, has met all our requirements.
That is of course, until today.
As described in THIS POST, we enjoyed our first trip to Backyard Burgers so much that we decided to go back immediately, a mere two weeks later, to try their other stuff. Even happier this time around, a third visit is already being planned, excited as we are to try everything on their menu.
Good food, great prices, comfy space, attentive servers, easy parking (on a Sunday), and PHP 240 buckets of ice-cold San Mig Light. New restaurants be damned, this place is a keeper.
Buffalo Wild Wings – PHP 150 – Half dozen Buffalo wings with bleu cheese dip
Classic. You can keep your frou-frou, coffee-crusted game hen wings with lobster fat dipping bullshit. This is exactly how I like mine. Just good old-fashioned, crisp Buffalo wings with bleu cheese dressing. That's it. Simple but extremely enjoyable, we will definitely be ordering these bad boys again.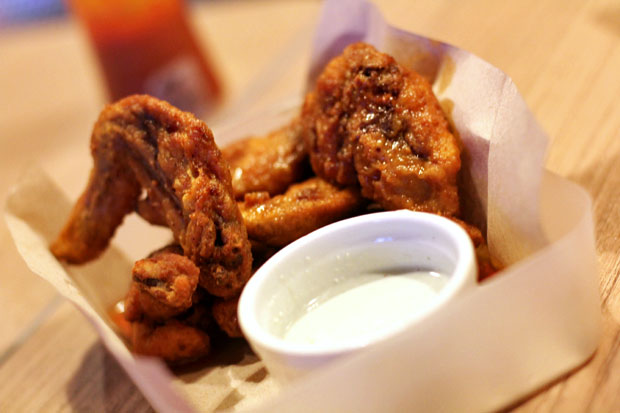 Beef Belly Cheesesteak – PHP 150 – Slow-roasted beef belly with cheese sauce
I adore cheesesteaks. Without question, they are my favorite comfort food. But to be perfectly honest with you, I wasn't expecting much from this one. At just PHP 150, how good and satisfying could it possibly have been? Add to that the fact that this was a burger joint, and my expectations were kept at a minimum. As it turned out however, I was wrong, and I knew it the moment this beauty was laid out in front of me.
As described in THIS POST, the hoagie rolls here at Backyard Burgers are awesome. Chewy but soft, I absolutely love them. They really make their sandwiches sing, and this cheesesteak was no exception. Prior to this one, I had never before met a cheesesteak made with slow-roasted beef belly. After tonight, I have to wonder why it isn't done more often, because the results are sensational. Melt-in-your-mouth tender, the beef belly in combination with the bread was pure bliss. Add to that the crunch and sweetness from the onions and peppers, and what I had tonight was a cheesesteak that truly blew all my expectations out of the water.
For me, this was better than their burgers. At just PHP 150, it's a ridiculous bargain too. If you like cheesesteaks, then don't think twice about getting this. You won't regret it.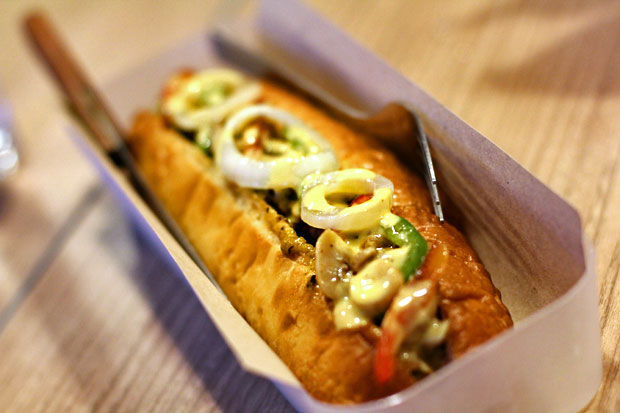 Beautifully crafted cheesesteak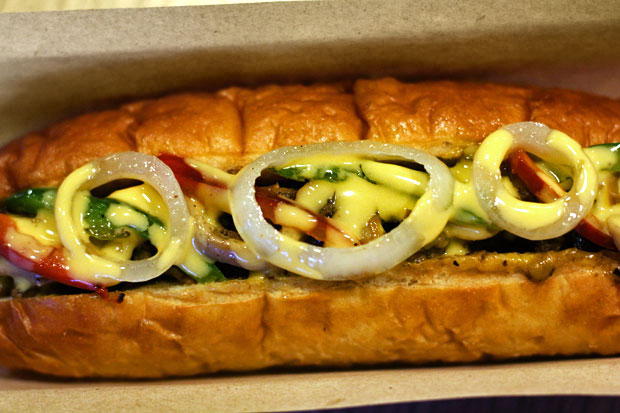 Bo Peep's Lamburger – PHP 215 – 1/3 pound lamb patty, tomatoes, lettuce, bleu cheese
Served on the same oatmeal hoagie roll, this lamb burger with bleu cheese was delicious as well. Significantly more flavorful than the beef, you could really taste the lamb in this one. If you like the gaminess of lamb and the pungency of bleu cheese, then you're sure to enjoy this burger. Ren loved it. At just a third of a pound, it's more manageable for smaller appetites too.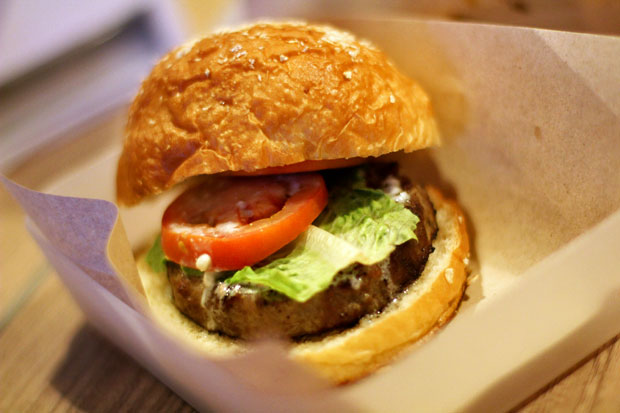 With our next visit already in the works, we've talked about what to get in our quest to run through their menu. Always health-conscious, Ren will be having the breaded cream dory sub with roasted garlic mayo and lemon. As for me? I'm saying fuck it to the diet and going with their Heart Attack burger – a half-pound beef monster topped with crisp pork belly and an add-on of spicy jalapeños. See you again soon keeper! 😈
Backyard Burgers
52 Sgt. Esguerra Street (beside Homer's, across ABS CBN), Quezon City
Tel: 384-4140
Facebook: backyardburgersph
Operating Hours: Mon-Thurs, Sun, 10AM-11PM | Fri-Sat, 10AM-12MN | Sun, 10AM-10PM
JB is one half of Will Fly for Food and its chief itinerary maker.  He's the one to blame for all the crappy photos and verbal diarrhea on this blog.  Don't listen to him.
Latest posts by JB Macatulad (see all)