Beef Burger: Backyard Burger's Extreme Backyard Burger with Mushrooms
Backyard Burger's Extreme Backyard Burger with Mushrooms
PHP 125 (Supreme – 1/3 lb patty) / PHP 165 (Extreme – 1/2 lb patty) / PHP 280 (Obscene – 1 lb patty) – Tomato, onion, lettuce, and cheddar cheese (with add-on mushrooms – PHP 25) on freshly baked hoagie bun
…………..
This is Backyard Burgers' signature burger and namesake, the only one where you can specify your patty size – one-third pound, half-pound, or a full pound. You can even add a second patty if you like, including one stuffed with mozzarella. I chose the Extreme, the half-pound, which I believe was the perfect size for a healthy, but still human appetite.
Made on the same delicious, freshly baked oatmeal hoagie roll as all their burgers, every Backyard Cheeseburger comes with just tomatoes, onions, lettuce, and cheddar cheese. You can however, add as many toppings as you like. For a small, additional cost, you can jazz up your burger with more interesting toppings and sauces like bleu cheese, smoked bacon, jalapenos, Sriracha aioli, and wasabi mayo, just to name a few. I dig fungus, so I topped mine with sauteed mushrooms.
The burger itself wasn't the best-tasting that I've had, Charlie's is definitely better, but it was pretty good nonetheless, and still better than many other local burger joints. The patty was juicy, beefy, and substantial at half a pound, but it could have used a little more seasoning in my opinion.
What really made me love this burger though, apart from the price (just PHP 165 for a half-pound burger?!), was the bread. It's my personal belief that a sandwich can only be as good as the bread that it's on, and this chewy hoagie roll was killer. I loved it.
Verdict: 3.25 / 5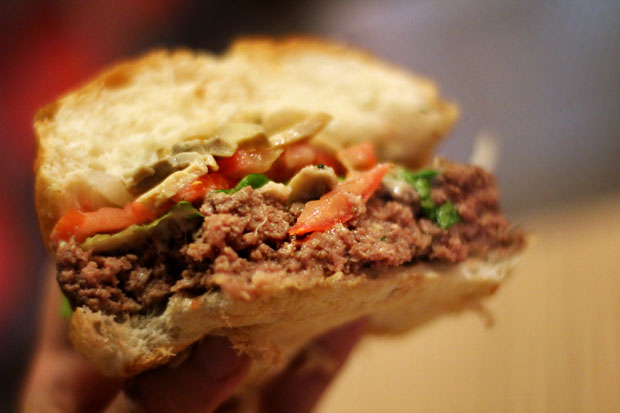 Backyard Burgers
52 Sgt. Esguerra Street (beside Homer's, across ABS CBN), Quezon City
Tel: 384-4140
Facebook: backyardburgersph
Operating Hours: Mon-Thurs, Sun, 10AM-11PM | Fri-Sat, 10AM-12MN | Sun, 10AM-10PM
JB is one half of Will Fly for Food and its chief itinerary maker.  He's the one to blame for all the crappy photos and verbal diarrhea on this blog.  Don't listen to him.
Latest posts by JB Macatulad (see all)