Backyard Burgers, Yeah Baby!
Remember that scene in Goldmember with the Japanese twins? Austin Powers was signing an autograph for Fook Mi, when much to his surprise and delight, in walks her twin sister, Fook Yu.
"Austin, this is my twin sister. Her name Fook Yu. Fook Yu, Fook Mi. See?" 😆
Well, that's kinda how I felt after finding out that Backyard Burgers and Baba's Kebab House in Quezon City are sister brands run by the same group. We had CashCashPinoy vouchers to both restaurants without realizing that they were actually situated right next to each other, across from the ABS-CBN building. Owned and operated by the same people, it's no surprise then that they share many traits, despite burgers having practically nothing to do with baba ghanoush.
Both are located at a carwash complex along Sgt Esguerra Street. Both are small, intimate spaces with an indoor capacity of around 20. And best of all, both serve two of my favorites comfort foods – burgers and shawarma – at very reasonable prices.
Fook Yu, Fook Mi.
"Yeah baby!" 😉

Tasty siblings, Backyard Burgers and Baba's Kebab House are terrific finds.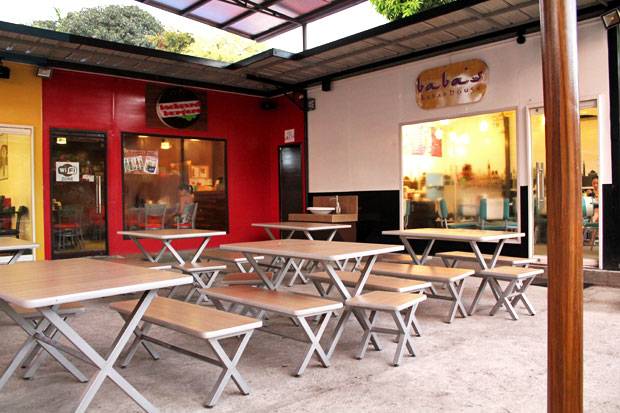 This picture is probably bigger than the restaurant itself. 😆 Apart from the two tables pictured here, there were just two more of similar seating capacity to the left. More tables could be found outside. I loved the intimacy of this place. It was small but cozy, and it didn't at all feel cramped.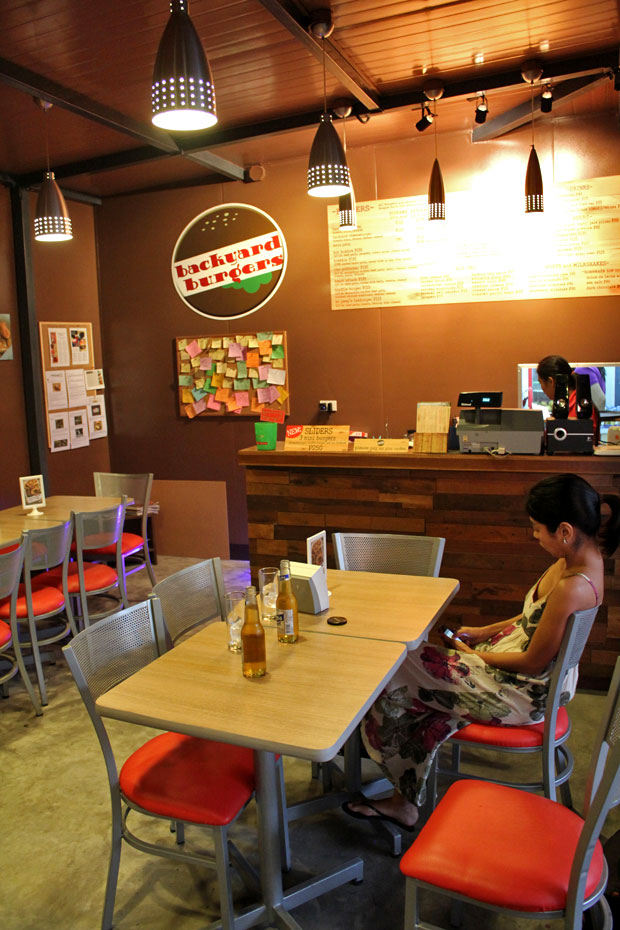 Truffle Burger – PHP 215 – 1/2 pound mozzarella-stuffed beef patty, truffled shiitake mushrooms, and cheddar cheese on freshly baked hoagie bun
Simply put, if you see a half-pound truffle burger on a menu selling for just PHP 215, you don't think about it, you just order it. Stuffed with mozzarella and topped with shiitake mushrooms on a freshly baked oatmeal hoagie bun, this burger, like most everything else here, is a downright steal.
Apart from the slice of cheddar you see below, the patty itself is stuffed with mozzarella, which oozes out with each bite. If you've never had a burger stuffed with cheese like this, it makes for a different, more fun experience. Ren used to make something similar which I playfully dubbed "Oozers", because they were "oosome". 😆 Though unpronounced, the flavor of truffle is indeed there, mixed in with the shiitake. You kinda have to hunt for it since they don't put a lot, but hey, what did you expect for PHP 215? At that price, I was just happy to get a whiff of it now and then.
The burger itself wasn't the best-tasting that I've had, Charlie's is definitely better, but it was pretty good nonetheless, and still better than many other local burger joints. The patty was juicy, beefy, and substantial at half a pound, but it could have used a little more seasoning in my opinion.
What really made me love this burger though, apart from the price, was the bread. It's my personal belief that a sandwich can only be as good as the bread that it's on, and this chewy hoagie roll was killer. I loved it.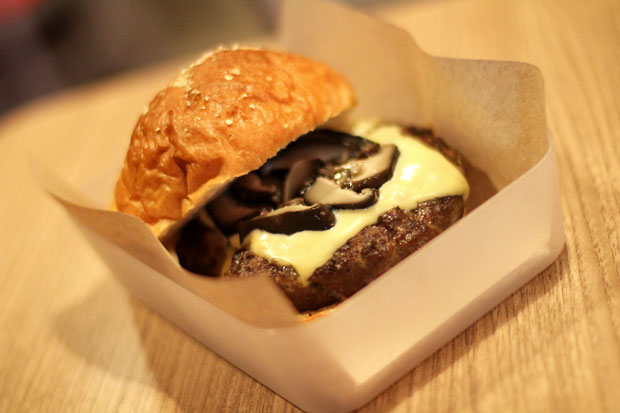 A bird's eye view of the hoagie roll. Sounds kinda like a dance, like the "truffle shuffle".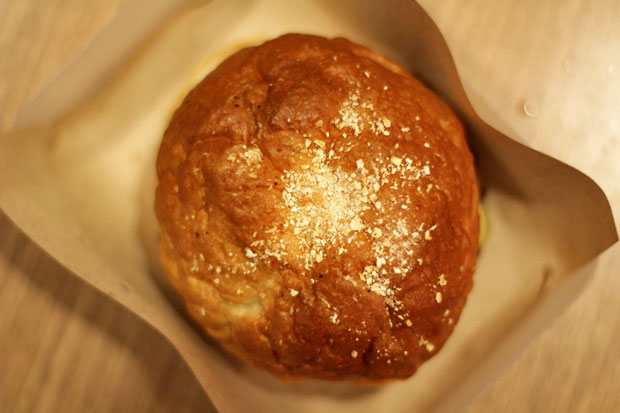 Backyard Cheeseburger – PHP 125 (Supreme – 1/3 lb patty) / PHP 165 (Extreme – 1/2 lb patty) / PHP 280 (Obscene – 1 lb patty) – Tomato, onion, lettuce, and cheddar cheese (with add-on mushrooms – PHP 25) on freshly baked hoagie bun
Their signature burger, the only one where you can specify your patty size – one-third pound, half-pound, or a full pound. You can even add a second patty if you like, including one stuffed with mozzarella. My voucher entitled me to the half-pound, which I think was the perfect size for a healthy, but still human appetite.
Made on the same hoagie roll as all their burgers, every Backyard Cheeseburger comes with just tomatoes, onions, lettuce, and cheddar cheese. You can however, add as many toppings as you like. For a small, additional cost, you can jazz up your burger with more interesting toppings and sauces like bleu cheese, smoked bacon, jalapenos, Sriracha aioli, and wasabi mayo, just to name a few. I dig fungus, so I topped mine with sauteed mushrooms.
Like the Truffle Burger above, this was a good burger made even better by its price. For just PHP 165 for a juicy, half-pound cheeseburger on a delicious hoagie roll, you can bet your life that I'll be coming back for more, which is exactly what we'll be doing tonight, soon as I publish this post. 😉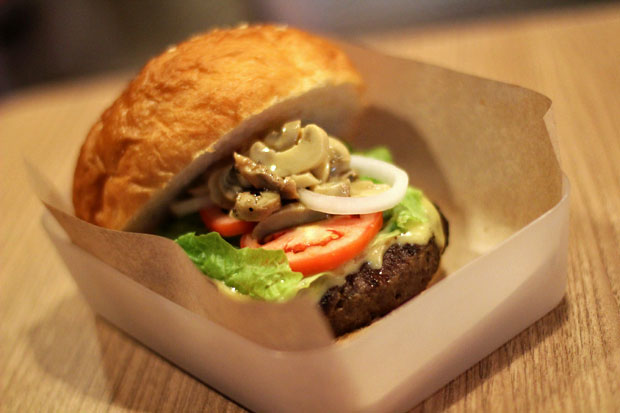 Here's what a half-pound burger patty looks like. 😈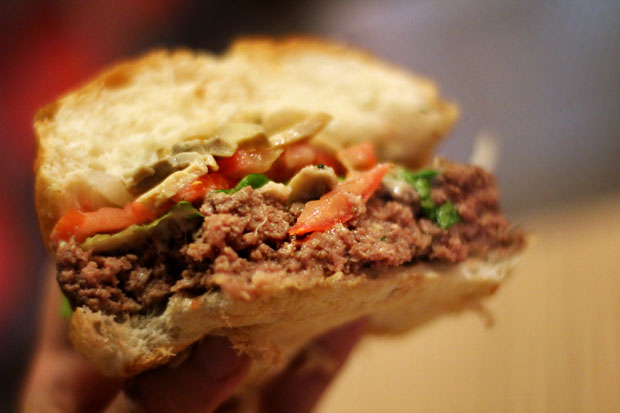 Thick-cut Fries – PHP 60 / Onion Rings – PHP 60
I've never been a fan of thick-cut fries, but these were arguably the best that I've ever tried. I don't know what it was, maybe it was the quality of the potatoes, but these fries had me at hello. I couldn't stop eating them.
The onion rings were ok. Inspired it seems by the onion loaf, they were meant to be thin and delicate, not like your typical onion rings. These however, were pretty greasy. By the time we got to the bottom half, they were packed in fairly tightly from the weight of the oil. I think they would have been much better had they been allowed to rest on paper towels before serving, just to soak up all that excess grease.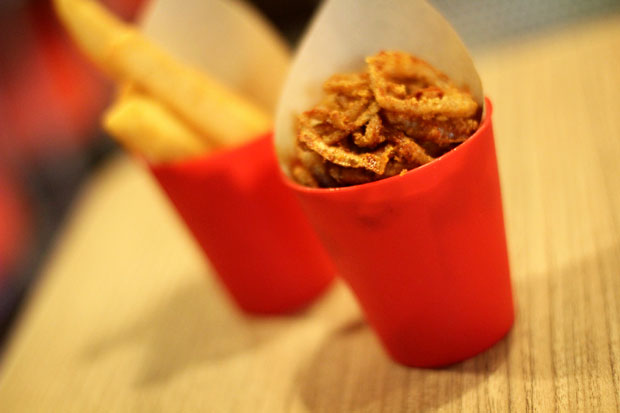 If you're ever in the area and looking for a laid back place to enjoy inexpensive, but good burgers over ice-cold buckets of beer, then Backyard Burgers is the place for you. They have happy hour daily, from 5-9 PM, offering buckets of six for PHP 240, and imported beers like Stella Artois for an unheard of PHP 100 a bottle. If burgers aren't your thing, then not to worry. You can always go for Fook Yu and her chelo kebabs next door. 😉
As mentioned above, Ren and I are coming back here for dinner tonight, this time to try their Bo Peep's Lamburger and Beef Belly Cheesesteak. I can't wait.
Backyard Burgers
52 Sgt. Esguerra Street (beside Homer's, across ABS CBN), Quezon City
Tel: 384-4140
Facebook: backyardburgersph
Operating Hours: Mon-Thurs, Sun, 10AM-11PM | Fri-Sat, 10AM-12MN | Sun, 10AM-10PM
JB is one half of Will Fly for Food and its chief itinerary maker.  He's the one to blame for all the crappy photos and verbal diarrhea on this blog.  Don't listen to him.
Latest posts by JB Macatulad (see all)