Yoogane and "University Student's Galbi"
I loved playing basketball when I was younger. Despite being a skinny, unathletic kid, I used to play everyday, even joining my high school's freshman team. Back then, my basketball coach would call me his "defensive specialist".
At first, I wore that label with pride. Being a "specialist", it meant that I was the best at something, like a designated hitter, or a sniper. The more I thought about it though, the more I realized that my coach was just giving me a backhanded compliment. Because I wasn't blessed with any size, speed, or hand-eye coordination, all I could do was try really hard, which I did, everyday. Arms flailing about, I would run around like a chicken with its head cut off, once in a while annoying the opposing guard just enough to turn the ball over. That was my role.
"Defensive specialist" my ass. What my coach really meant to say was, "you suck". 😆
Dak galbi, which is Yoogane's specialty, reminds me of that time when I was my team's "defensive specialist". Created as an inexpensive alternative to charcoal-grilled beef and pork rib dishes, it was poignantly nicknamed "University Student's Galbi", because of its popularity amongst students. Interestingly, despite its name translating to "chicken ribs", the dish contains no rib meat whatsoever.
Cheap, plentiful, and designed to make you think you were eating ribs, by "University Student's Galbi", I think what they really meant to say was, "poor people food". 😕
Fun, airy, well-spaced, perfectly-lit interior. This was one of those places where you just felt good being there.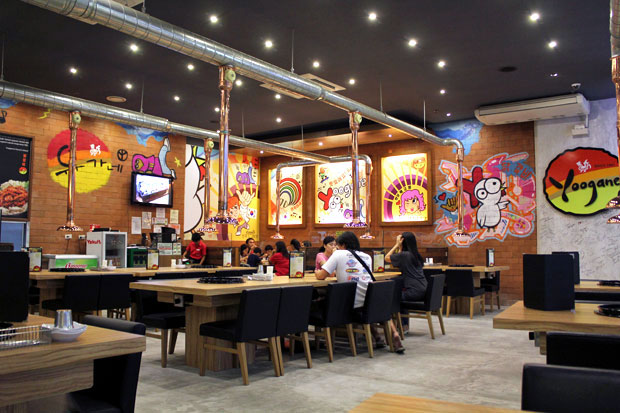 For some reason, I've become obsessed with photographing these tentacle-sucker-looking thingies. Every time we eat Korean barbecue, I have to take a picture of its underside. On the left, I held my camera all the way down, practically to the ground, to get the shot. On the right, I pretended to take an artsy-fartsy picture of Ren. I think she was on to me.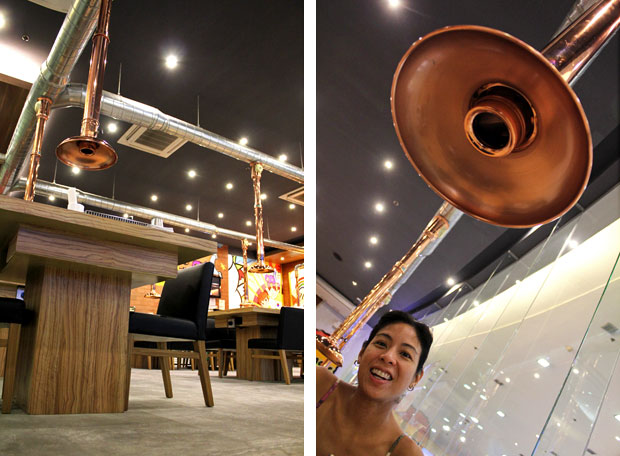 Bulgogi – PHP 260 – Thinly sliced marinated beef
Unless you've been living under a rock, or in North Korea, then bulgogi should require no introduction. I've enjoyed many a bulgogi in my life, and this one was pretty darn good. As expected, it was sweet and savory with some nuttiness imparted by the sesame seeds. What I really liked about it though were all the sauteed onions and scallions mixed in, giving it a crunch and bitter sweetness that went very well with the marinated beef. When paired with their sticky Korean rice, it culminated in a mouthful of flavor and texture that I just couldn't get enough of. It was delicious.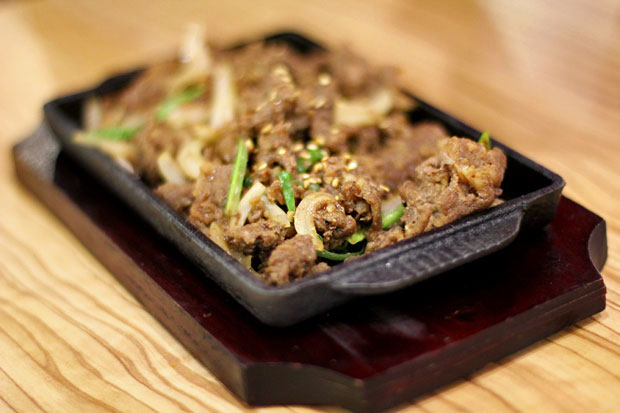 Yoogane's Marinated Chicken Galbi (Dak Galbi) – PHP 285
What Yoogane is known for. Apart from the gochujang-marinated chicken, this base order comes with a slice of sweet potato, two pieces of dokboki (rice cake), and shredded cabbage. You can order from a list of add-on side dishes if you like. Also, it's important to note that rice isn't included, so you'll need to order that separately.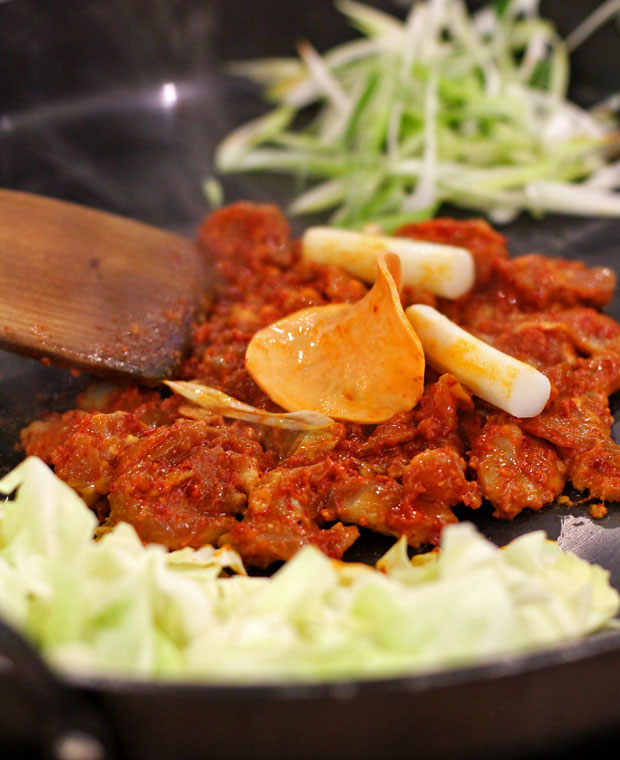 Assorted Add Ons – PHP 200 – Golden mushrooms, mozzarella-stuffed dokboki, dokboki, sweet potato, and ramen
They offer a few add ons to be mixed in with your dak galbi, like dokboki, mozzarella-stuffed dokboki, ramen, and mushrooms. We, of course, being fans of volume and variety, chose all of the above.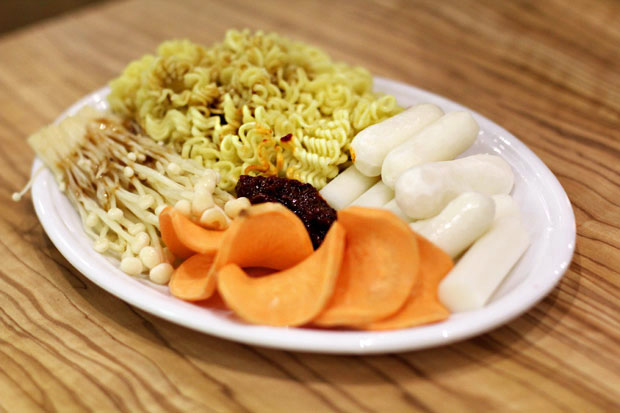 Here's our dak galbi with all the add-ons thrown in.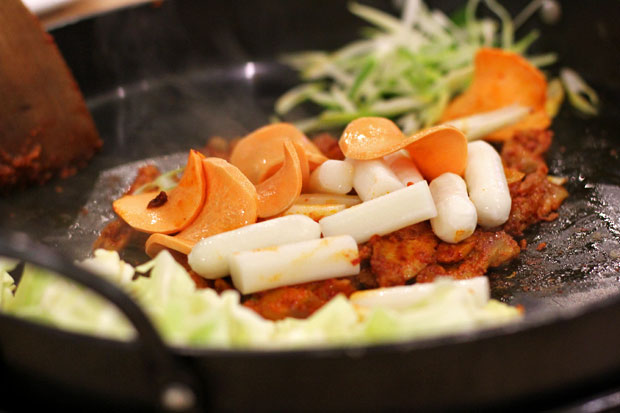 The tentacle thingy sucking up all the smoke. Our server Rhom, reflected here, looks like he's up to something…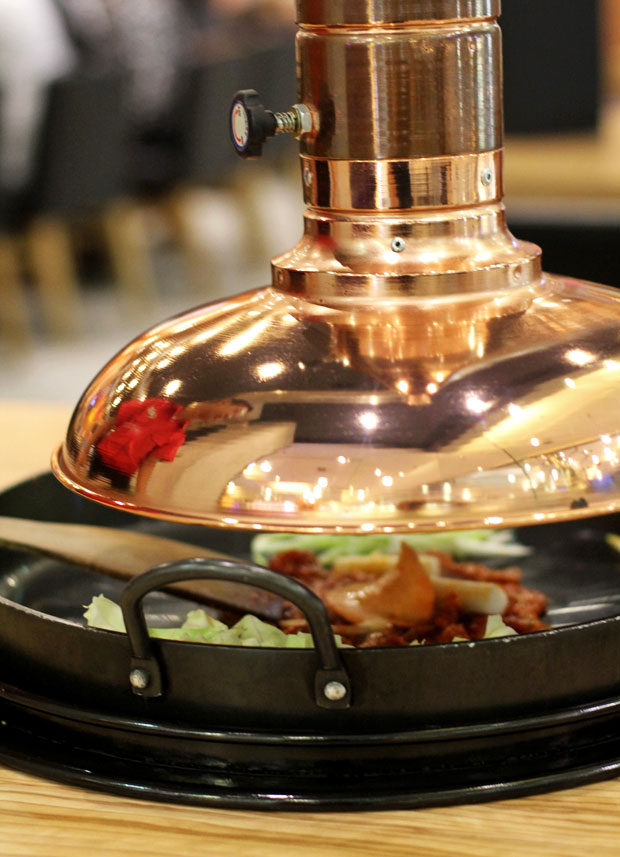 …a litte whoosh whoosh here and there, and…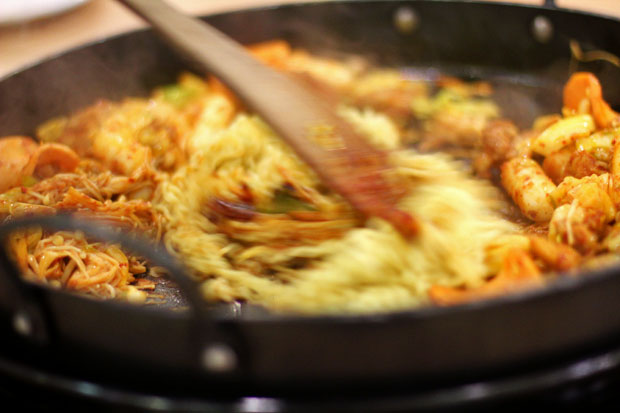 …aaawwwwww, isn't that sweet? Quick, quick, can you do a giraffe next? 🙂
Cute heart shape aside, both Ren and I were frankly disappointed by this dish. Pretty much all of the flavor came from the gochujang, which was good, but not great. Fans of the stuff, we've had far better chili paste than this elsewhere. Personally, though Ren would disagree, I didn't think it was spicy enough either.
The dokboki had an interesting mochi-like consistency, though I learned tonight that I much prefer that glutinous texture to be confined to my sweets, and not in my savories. The cheese was nice, but again, most of this dish's flavor really did come from the gochujang. Everything else just imparted texture.
With their gochujang falling a little flat, it was inevitable for the rest of the dish to follow suit. Flavor-wise, it was just a little too one-note for us.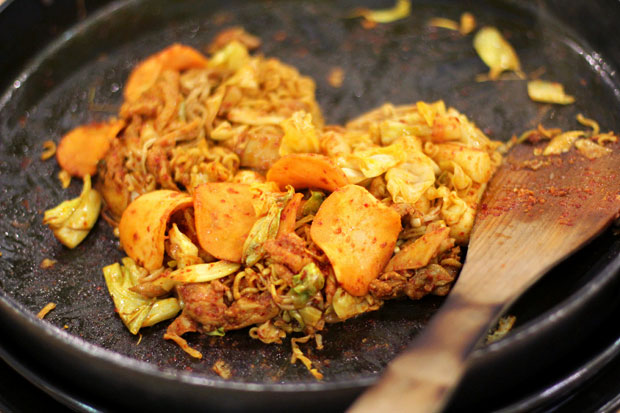 Interestingly, dining alone a couple of tables from ours was Chef Him Uy de Baron of Nomama fame. He didn't order the dak galbi, going instead with their Sundubu Jjigae, which is a hot and spicy soft tofu stew. The man has taste. 😉
Yoogane
G/F Il Terrazzo Mall, 305 Tomas Morato Avenue corner Scout Madriñan Street, Barangay Laging Handa, Quezon City
Tel: 966-2348 | Mobile: 0917-515-7960
Facebook: YooganePhilippines
Twitter: yooganephil
Operating Hours: Mon-Sun, 11AM-11PM
JB is one half of Will Fly for Food and its chief itinerary maker.  He's the one to blame for all the crappy photos and verbal diarrhea on this blog.  Don't listen to him.
Latest posts by JB Macatulad (see all)