Playing Hooky at Las Farolas: The Fish World, Frontera Verde, Pasig
You know that Resorts World commercial they keep playing on the radio? The one where the sultry, smoky female voice says "Resorts World Manila" like this:
*Resorts World Manilaaaah…*
She says it in a soft whisper, almost in your ear, as if to seduce you. Well, ever since we drove by this freshwater aquarium back in March, and I made a note of their April 25th grand opening, that's exactly how I've been saying it to Ren as I waited impatiently for that day to come.
*Las Farolasss…*
If you know what a dork I am, then you'll know that I'm not kidding. I promised Ren that until I went, I would say it just like that, so almost everyday since March, I've been whispering to Ren in my most seductive bedroom voice:
*Last Farolasss…*
She'd laugh and get annoyed at the same time. 😆
But alas, because of a heavy workload, opening day of April 25 came and went, with me moving the
*Las Farolasss…*
note in my phone a week later each time. I wanted to take a lot of pictures for this blog, so I wasn't willing to go on a weekend, when a lot more people would undoubtedly be photobombing my shots.
Five Fridays later, I couldn't wait any longer. Taking a much needed break from work, I played hooky for a morning and rewarded myself with this long overdue trip. DSLR in hand, and annoying seductive whisper finally laid to rest, here's how my day at Las Farolas went.
For anyone looking for driving directions, entrance fees, or contact details, you can find them by scrolling down to the bottom of this post.
Las Farolas from the outside, with Ark of Avilon Zoo directly behind. Las farolas, in Spanish, means "lighthouses", hence…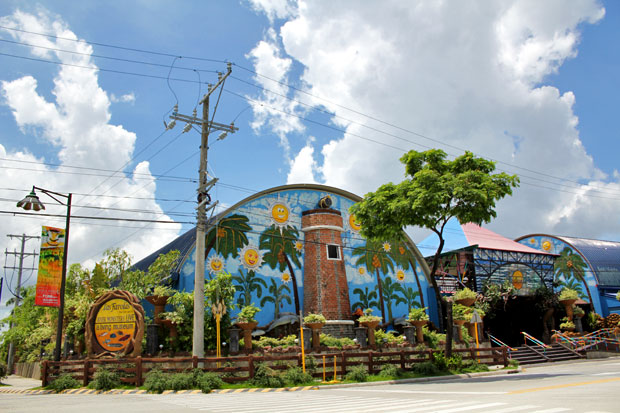 "The First and Only One of its Kind in the World!"
A quick background on Las Farolas, which you're welcome to skip if you're not as nerdy as me. 😉
Did you know that freshwater biodiversity is among the most threatened in the world? It's estimated that 7.5 million people depend on freshwater fish for food and income. Human activities such as overfishing, pollution, and economic development have pushed more than a third of the world's freshwater species to the brink of extinction.
Apathy, inadequate government support, and lack of understanding have all played a role in preventing any effective and sustained freshwater fish conservation programs from really taking off. Though commendable, efforts by lead government agencies and private advocacy groups are, at present, inadequate.
This is where aquarists, who help maintain species that are essentially extinct in the wild, can play a pivotal role. By keeping the population of endangered species viable, the fish-keeping community is essentially protecting them from extinction. When and if reintroduction to natural habitats is possible, it will be to the credit of aquarists.
It is for this reason why Las Farolas was conceived four years ago, to study, protect, and preserve the rich biodiversity of both our endemic, and exotic, freshwater aquatic resources.
Without question, a noble cause indeed.
The Exhibits
Barrel One
Las Farolas is comprised of two main buildings called "Barrels". Soon as you pay, you enter the ground floor of the first Barrel, following a convenient set route that guides you through the exhibits. Though they do allow you to take pictures, flash photography is strictly prohibited. Don't do anything stupid like tapping or sticking your gum on the glass either.
First Floor
As you can tell from these pictures, they paid just as much attention to the interiors as they did with the actual exhibits. Though artificial, you do feel like you're in a lush, watery, somewhat mystical environment.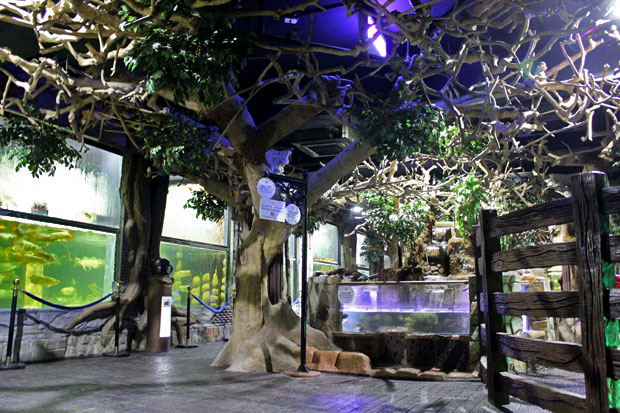 L: Fun, creative information stands adorned with old diving helmets. Here you can read which species of fish are housed in each biotope. R: In the center of the room is this island/microenvironment with cascading waterfalls and an open top, so you can view the fish from above. To get a clearer view of the fish from the side, you have to bend down pretty low, so I'm guessing these are for the benefit of children, or Gloria Macapagal-Arroyo. You'll get a clearer shot of this microenvironment in the next picture.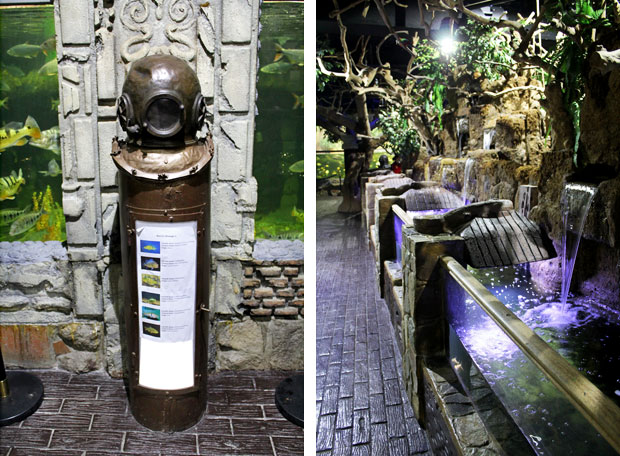 See? Perfect viewing height for kids or midget ex-presidents.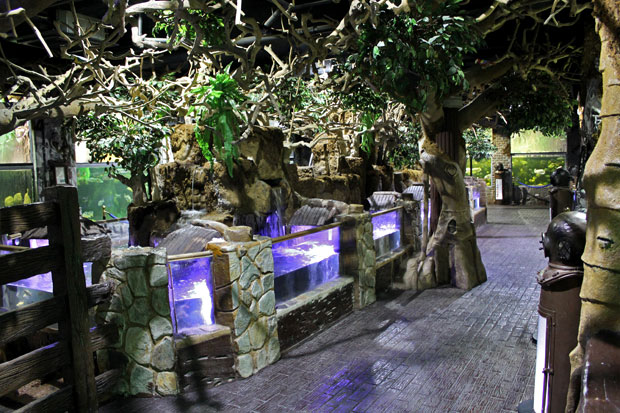 What better way to whet your appetite, than with these giant Pirarucu (Arapaima gigas) from South America? Housed in the very first biotope, these specimens are still relatively young, only around 4-5 ft each, but impressive nonetheless.



Amazing, beautiful creatures, check out the much larger specimens of arapaima at Avilon Zoo in Montalban.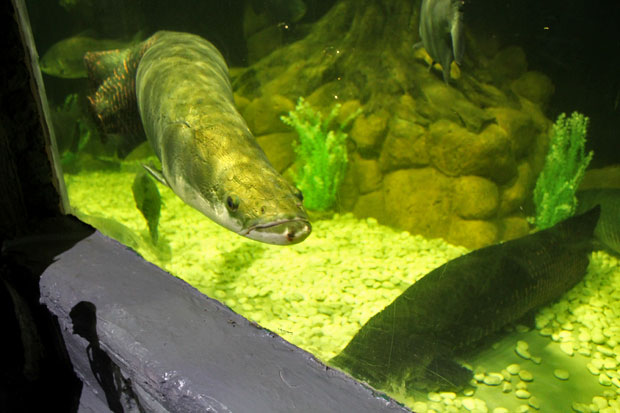 Literally, a wall of Arowanas (Scleropages formosus). I love these fish.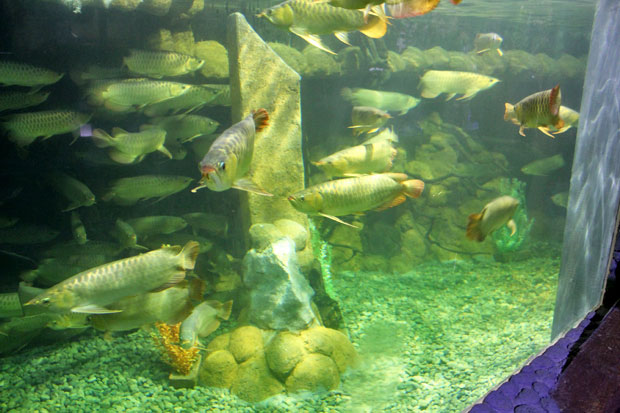 Emperor Cichlid (Boulengerochromis microlepis)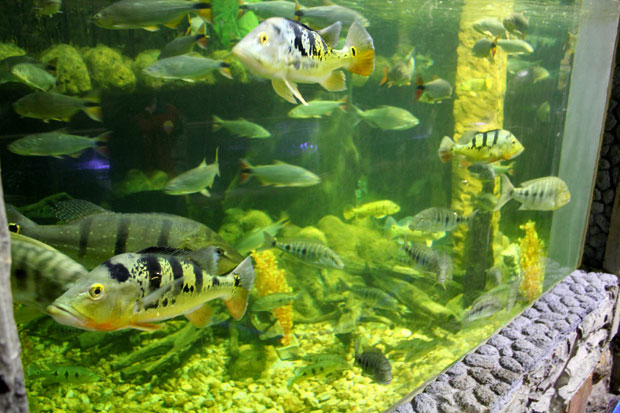 A closer look at the emperor. A relative of the Flower Horn, how someone managed to fool people into seeing auspicious Chinese characters in its side markings is pure marketing genius. 😆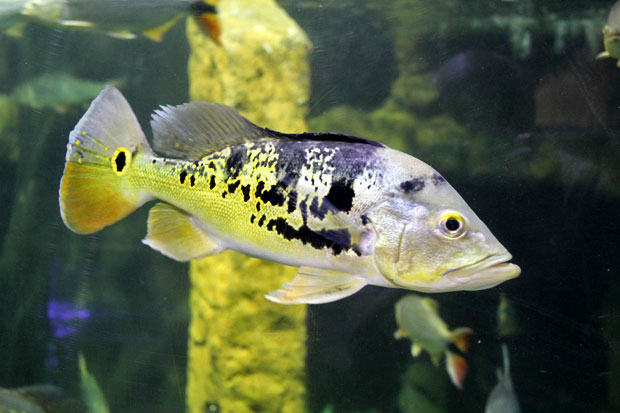 Giant Gourami (Osphronemus goramy)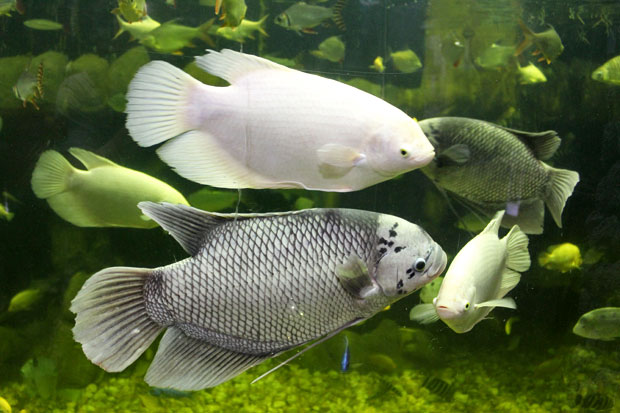 I love this picture. It was almost as if they were posing for me.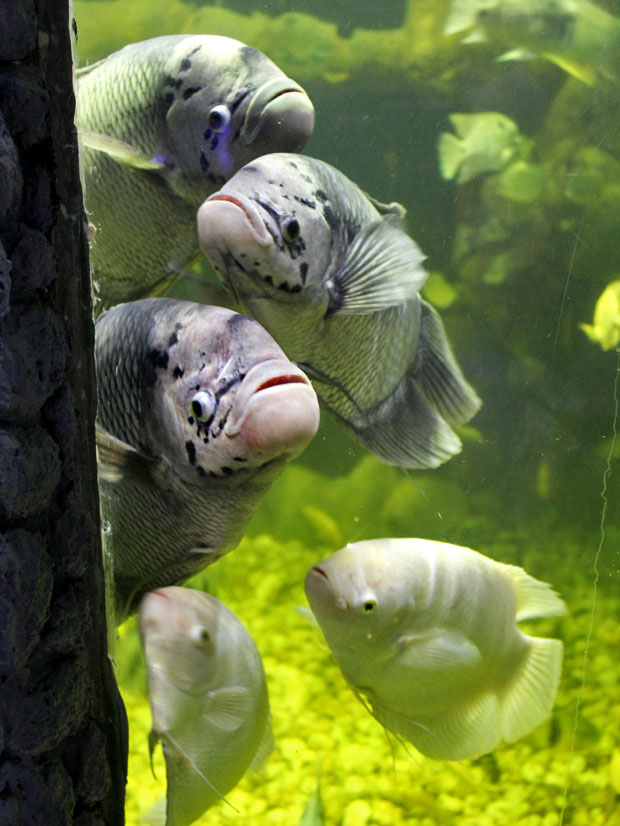 Beautiful and elegant Giant Featherback Knife Fish (Chitalachitala). How they manage to stay perfectly still but buoyant was impressive.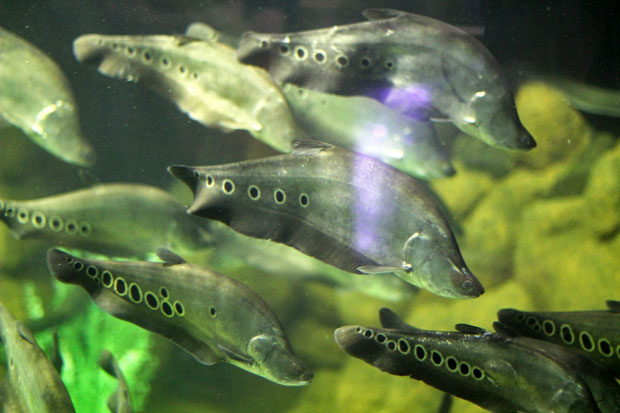 Albino Iridescent Shark (Pangasius hypothalmus). If you're becoming strangely hungry looking at these pangasius fish, it's because they're more commonly known as cream dory. Yes, THAT cream dory.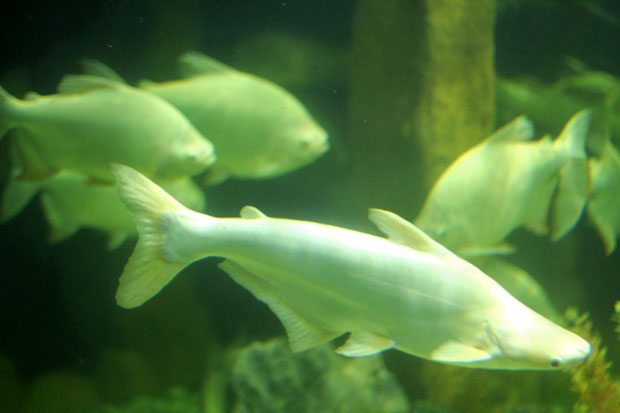 Some type of piranha (Characidae), or better known in Cartimar as "pogi". 😉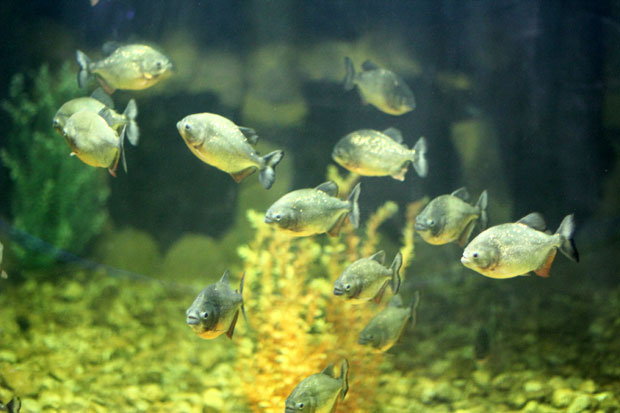 Second Floor
At the end of the first floor exhibit, you'll be led up to the second floor which has a similar microenvironment at the center of the room. This one though, as you'll see from the pictures below, has a bridge that traverses it, giving you even better, more dramatic views of the exhibit.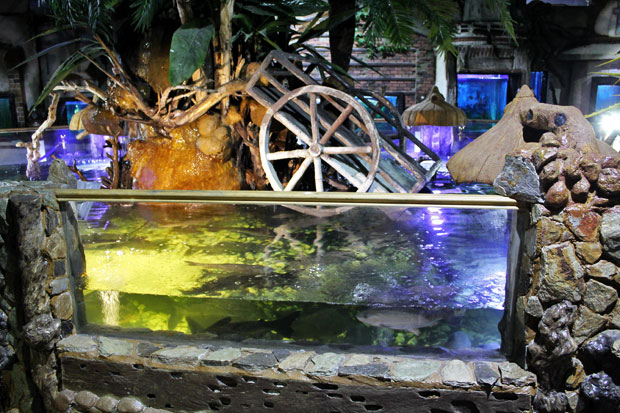 Cool eh? Kids would love this.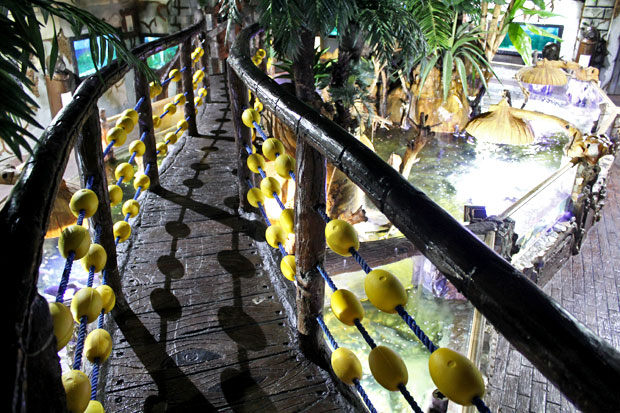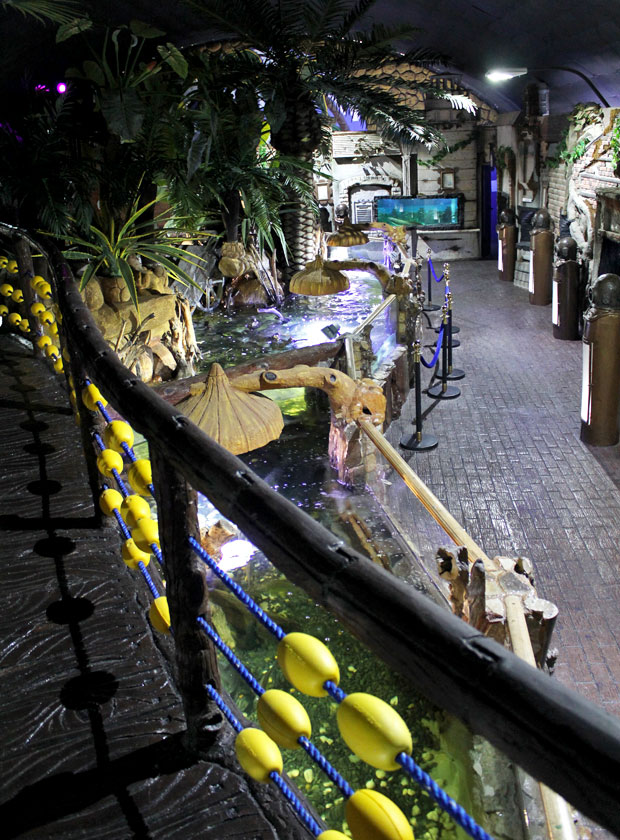 Unlike the first floor which showcases giant biotopes, the tanks on the second floor are much smaller, housing just one or two fish at a time. According to one of the guides, these are temporary exhibits, the fish inside being rotated every so often to give guests a closer, more intimate look at each species.
Unfortunately, most of the tanks weren't labeled, so you have to ask which species is housed in each. Those two eels handcuffed in a love embrace are called Fire Eels.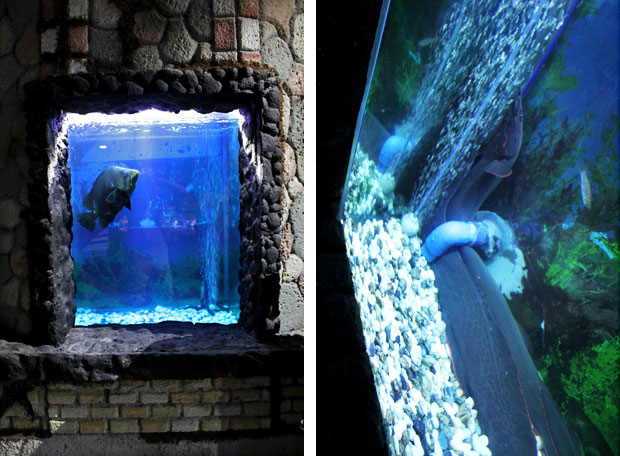 Smile!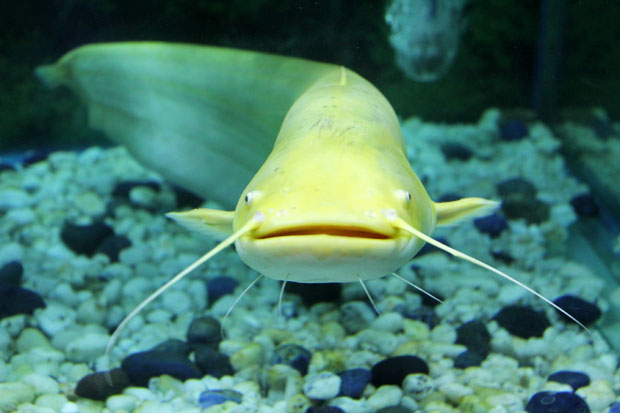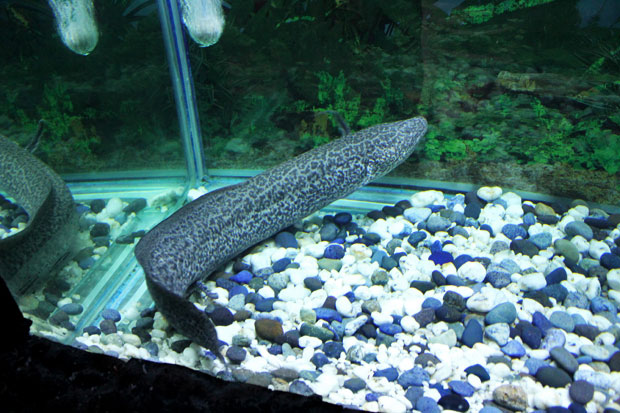 Barrel Two
As soon as you're done exploring the second floor of Barrel One, you'll be led through a bridge that connects both barrels, emerging on the second floor of Barrel Two.
Second Floor
Just as interesting as the first, this room features smaller tanks with schools of smaller fish. Along the center of the room are these bahay kubo (nipa hut) structures housing aquariums on all sides. Pretty creative eh?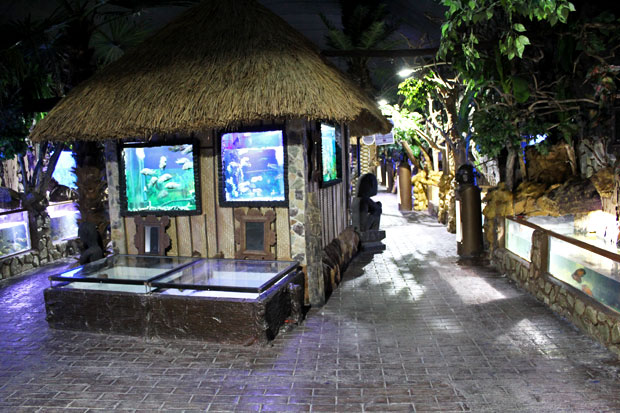 Unfortunately, none of these exhibits were labeled, so I can't tell you what each of these fish were.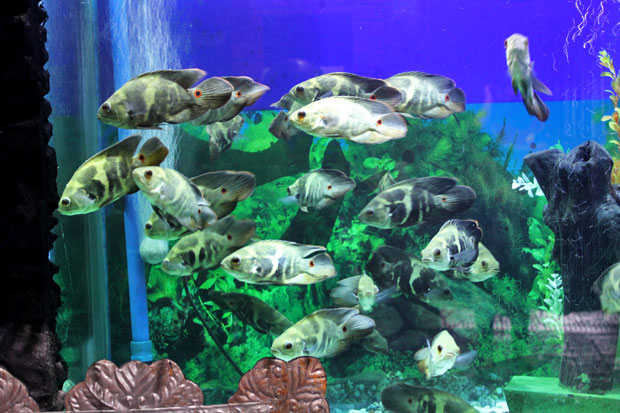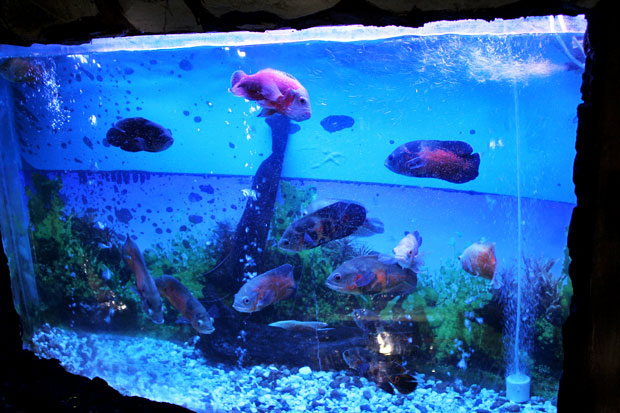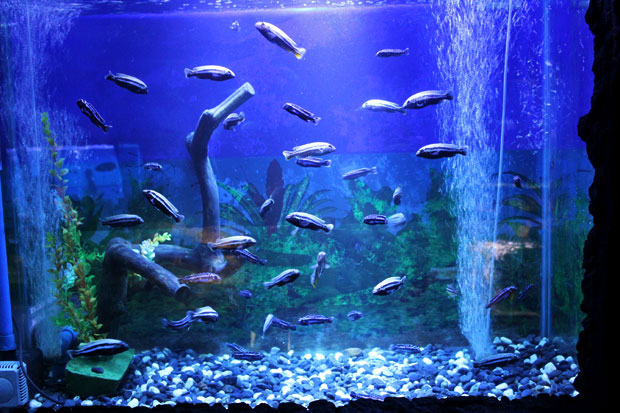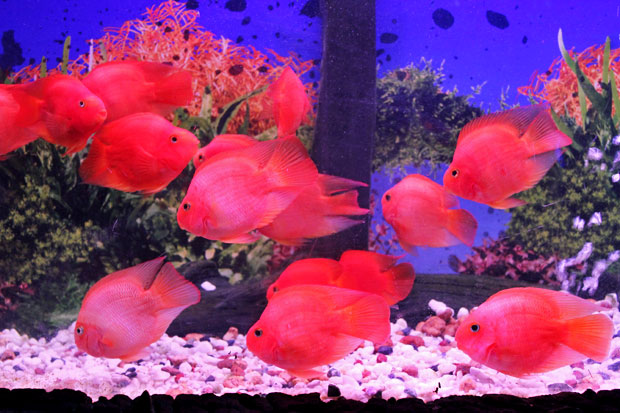 Some type of freshwater puffer fish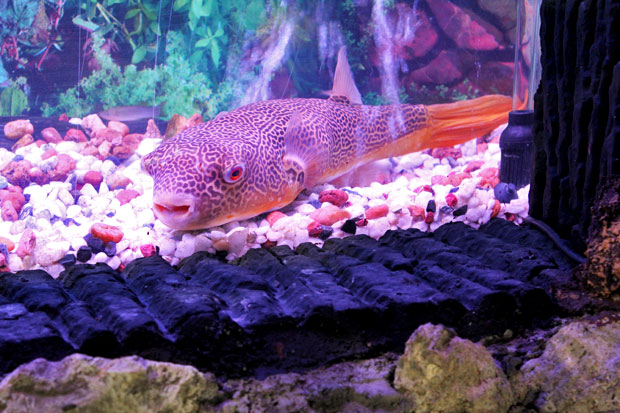 Ebony and ivory freshwater stingrays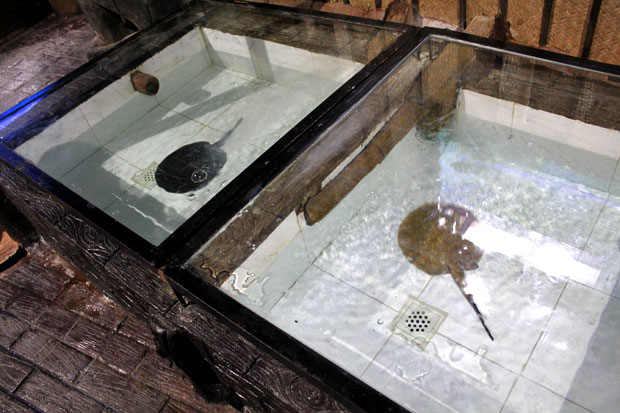 Beautiful, dainty-looking angel fish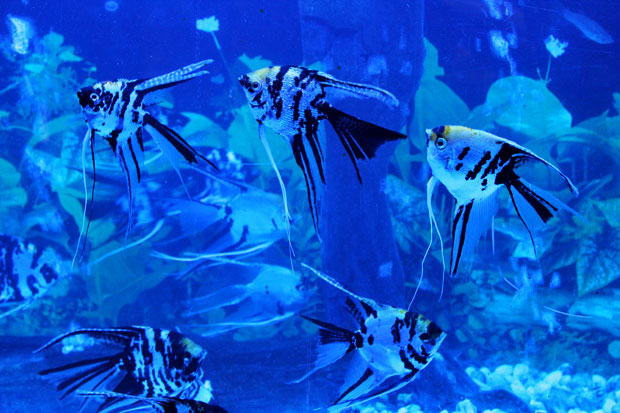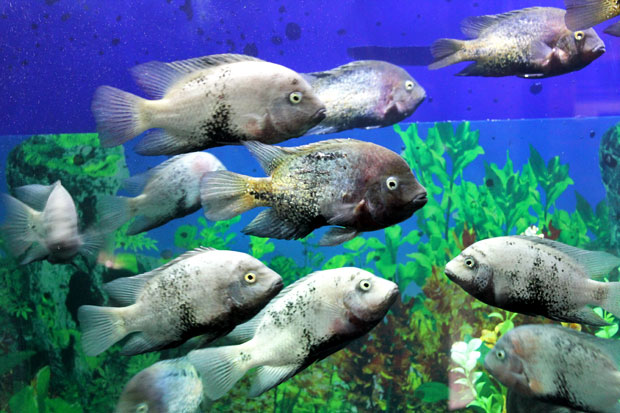 I think these are oscars. They always look so suspicious.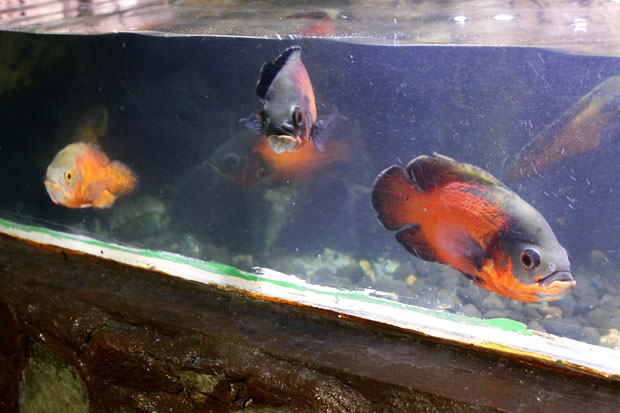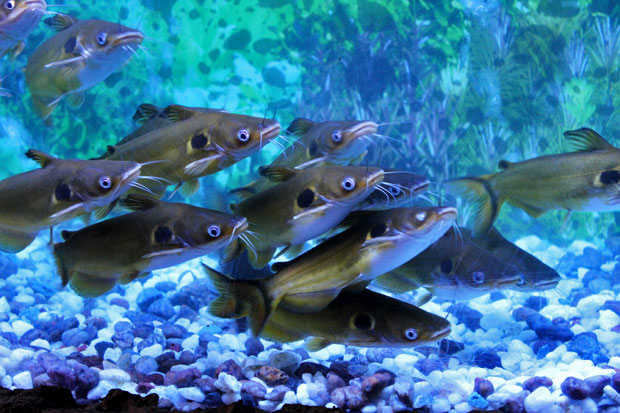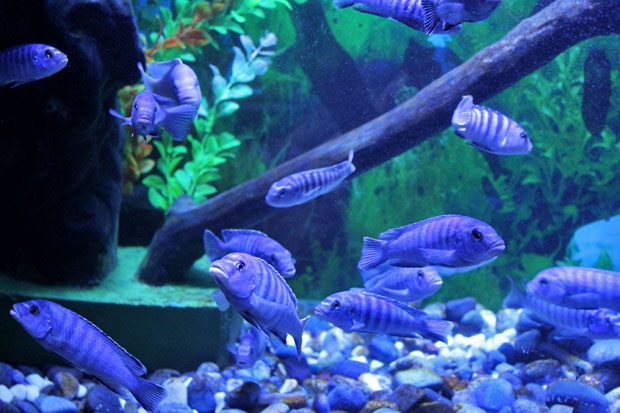 First Floor
The last floor of exhibits, this room again showcases bigger biotopes with larger fish. If I remember correctly, they call this room "Exotic Mindanao", hence all the Moro weapons and Ikat weaving patterns.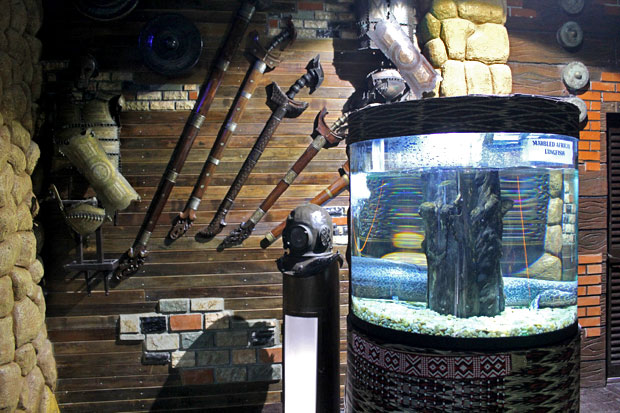 Marbled Lungfish (Protopterus aethiopicus). Kiss me, beneath the milky twilight, lead me…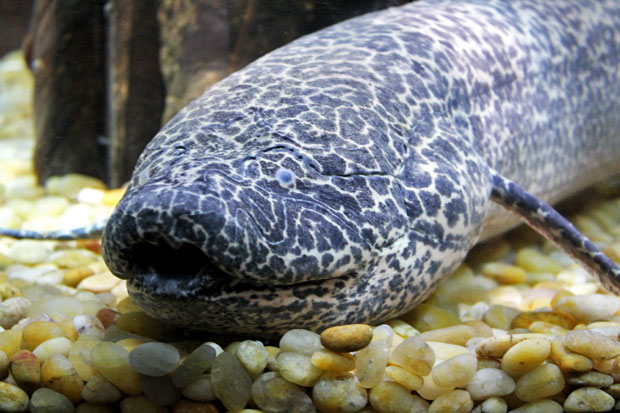 Marbled Eel (Anguilla marmorata)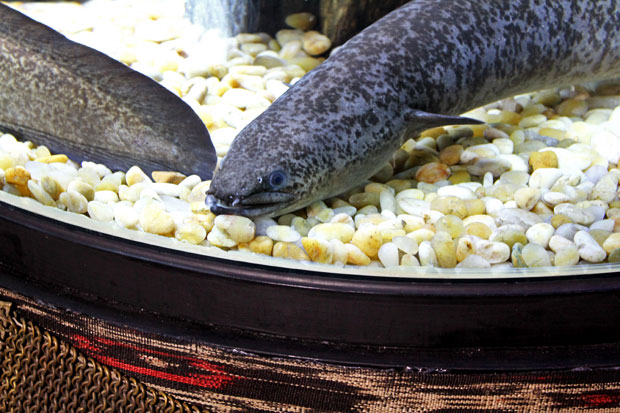 More albino Pangasius or cream dory. They look every bit as beautiful as they taste.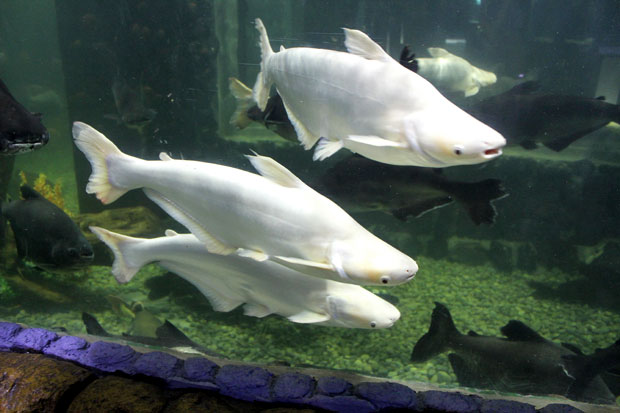 More majestic-looking arowana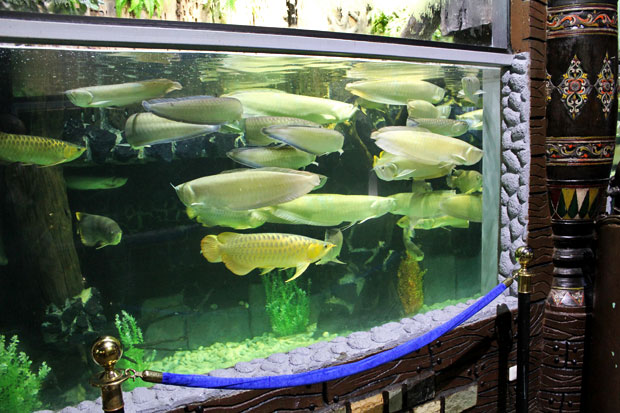 Kiss me, beneath the milky twilight, lead me…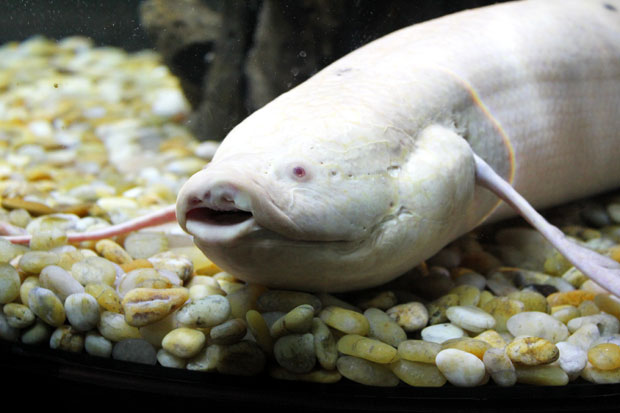 Pet Shops
Soon as you exit Barrel Two, you'll be met by a few alleys of aquatic pet shops, owned I believe by proprietors independent from the Las Farolas group. This was a great way I thought of generating extra revenue apart from the entrance fee.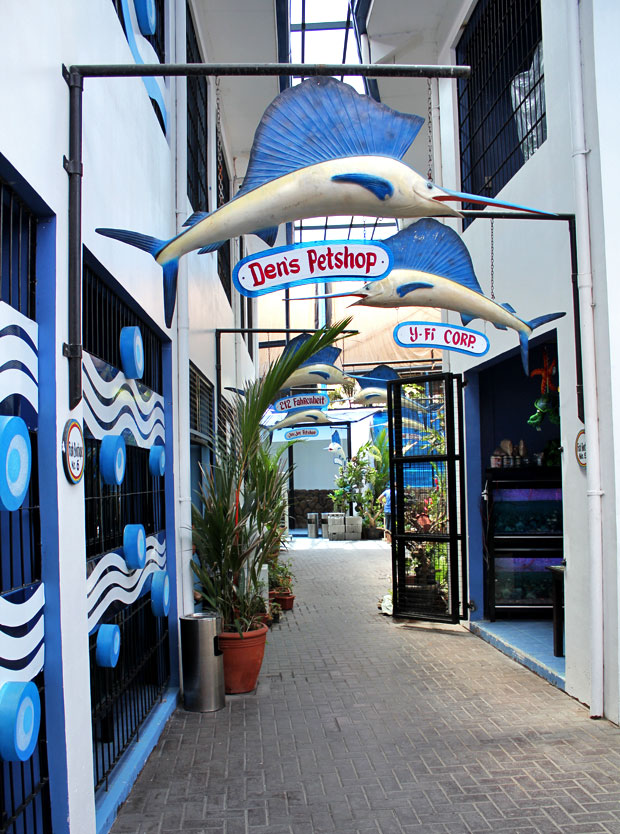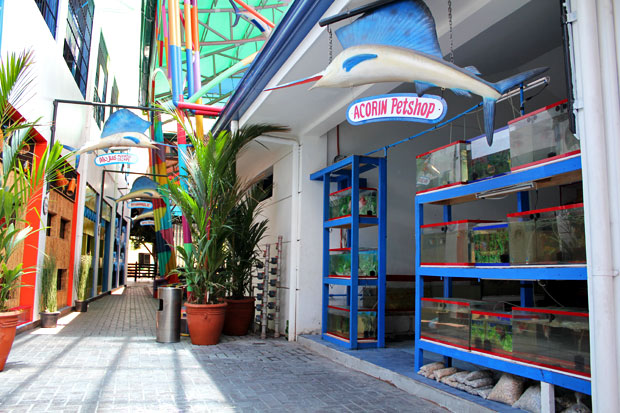 One of the more stunning specimens for sale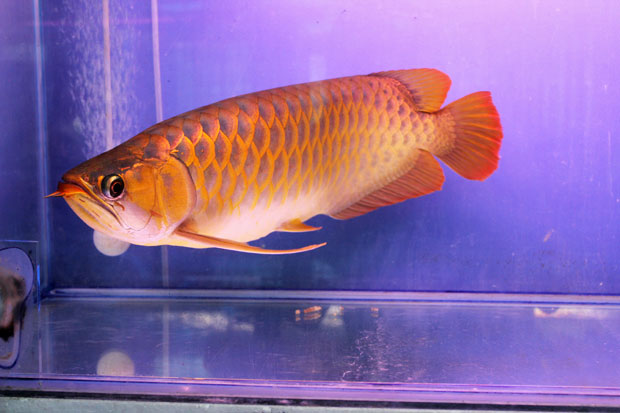 Gorgeous albino knife fish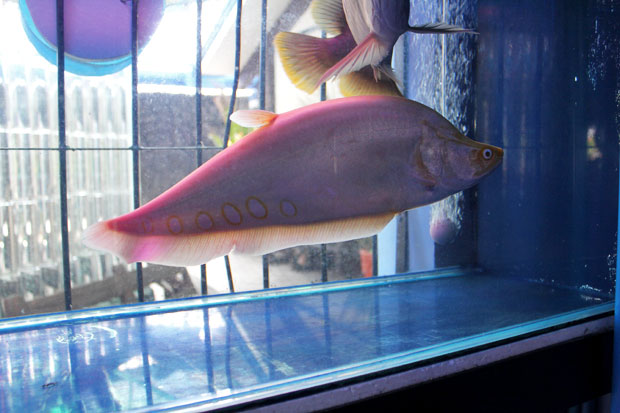 With my Las Farolas visit finally in the blog, a big congratulations has to go out to the good people behind this place. Going through all the exhibits, it's evident that they spared no expense not just in putting it up, but in maintaining it as well. I can only imagine the upkeep required to sustain a place like this, which is why I'm not complaining about the PHP 400 entrance fee. Admittedly, I initially found it to be a little pricey, but after visiting Las Farolas, I understand that it's well justified, especially knowing that my money is going to a noble cause.
If you enjoy fish and haven't visited Las Farolas yet, then I encourage you to do so. With two large, hangar-type buildings of river monsters and ornamental freshwater fish to admire, it's a unique experience to say the least, one that's vastly different from the typical reef aquarium. You won't regret it. 😉
Las Farolas: The Fish World
Frontera Verde, Ortigas Avenue Corner C5, Pasig
Tel: 571-7634
Facebook: Las-Farolas-The-Fish-World
Website: lasfarolas.com
Email: lasfarolas@yahoo.com
Hours of Operation: Mon-Fri, 9AM-7PM | Sat-Sun, Holidays, 9AM-8PM
Entrance Rates
Regular entrance fee: PHP 400
Children (below 12 years old): PHP 350
Students (with valid school ID): PHP 300
Senior citizens: PHP 300
Tourist (I guess by this they mean non-Filipinos?): PHP 400
How to Get There
Driving along Ortigas Avenue towards C5 (E Rod Jr Ave), turn right onto Frontera Drive. It's the street right before E Rod Jr Ave.
Las Farolas will be on your left, at the first corner.
More on Philippine Animal Encounters
Amazing Avilon Weekend Part I, Ark of Avilon, Frontera Verde, Pasig
Amazing Avilon Weekend Part II, Avilon Zoo, Montalban, Rizal
Swimming with Whale Sharks in Oslob, Cebu, Philippines
JB is one half of Will Fly for Food and its chief itinerary maker.  He's the one to blame for all the crappy photos and verbal diarrhea on this blog.  Don't listen to him.
Latest posts by JB Macatulad (see all)