All the Birthday Sushi I Could Eat at Vikings Buffet, SM North, The Block
"Sushi. All the sushi that I can eat."
That's exactly what I told Ren when she asked me where I wanted to eat for my birthday.
Though we had already planned and made reservations for the lobster buffet at Corniche, Diamond Hotel, I have to be honest and tell you that the price, at PHP 2,385 per person, made me a little gun shy. Hopping online in search of (reputable) blog reviews, I was hoping to be coaxed by descriptions like "Amazing! A steal! The Best frikking lobster this side of Maine!" Sadly however (and to my wallet's relief), I didn't, the most consistent assessment being that it's definitely worth it, if you're Homer Simpson. Not exactly the definitive, glowing review I was hoping for.
Dissuaded into putting my six-shooter back into its holster, Ren suggested that we go to Viking's instead. Being such a fan of their sushi buffet, and my birthday this year coinciding with their more palatial weekend spread, it was the perfect place for me to get my birthday wish of all the sushi that I could eat. Factor in their most generous promo of allowing birthday celebrants to eat entirely for free, and it was practically a no-brainer.
PHP 1,088 instead of PHP 4,770. Now THAT's reason to celebrate. 😉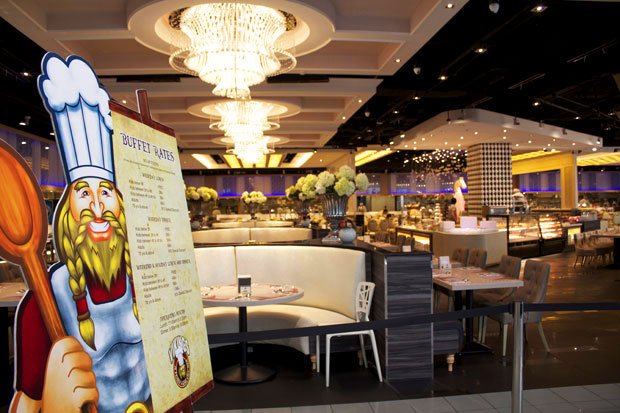 This SM North installment of Viking's has the most luxurious interiors yet.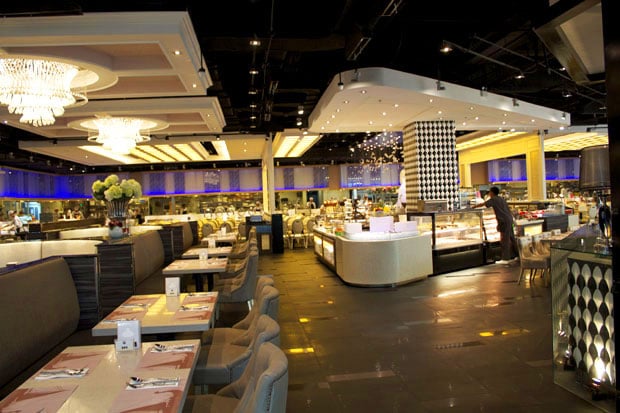 Buffet Prices
As of 4 May 2013
WEEKDAY
LUNCH
DINNER
Adults
PHP 688
PHP 888
Kids (4 ft – 4 1/2 ft)
PHP 388
PHP 588
Kids (3 ft – 4 ft)
PHP 288
PHP 388
Kids (below 3 ft)
FREE
FREE
75 years old and above
50% special discount
WEEKEND & HOLIDAY
LUNCH
DINNER
Adults
PHP 1,088
PHP 1,088
Kids (4 ft – 4 1/2 ft)
PHP 688
PHP 688
Kids (3 ft – 4 ft)
PHP 488
PHP 488
Kids (below 3 ft)
FREE
FREE
75 years old and above
50% special discount
Prices are inclusive of government taxes and subject to 5% service charge.
The Buffet
Sushi and Sashimi
I've said it before and I'll say it again, Vikings has the BEST sushi buffet here in Manila. If any other buffet begs to differ, you know where to send the invite. 😉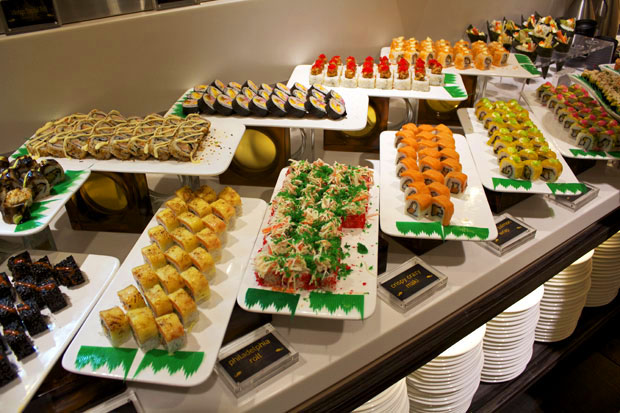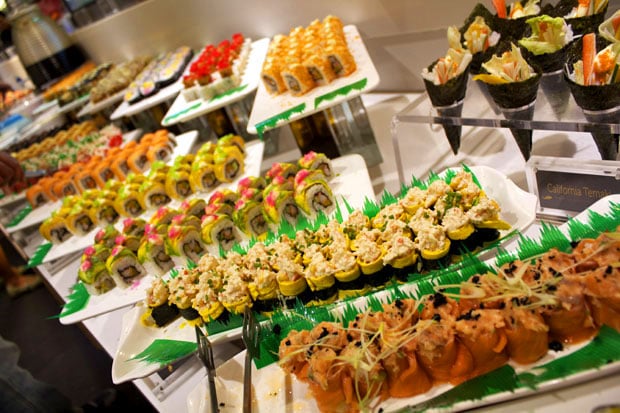 Miso Soup and Chawanmushi
For the uninitiated (like me), chawanmushi is a Japanese egg custard dish made with gingko seeds.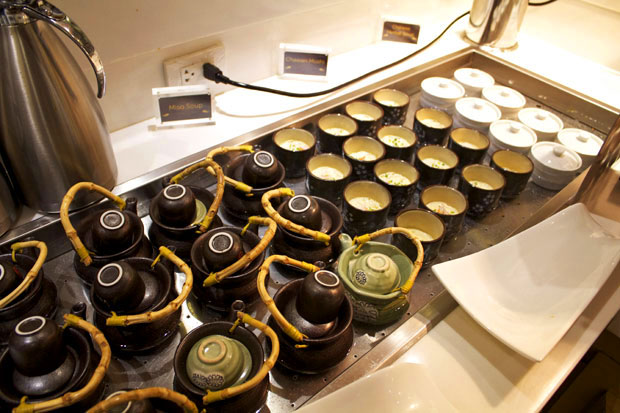 Tempura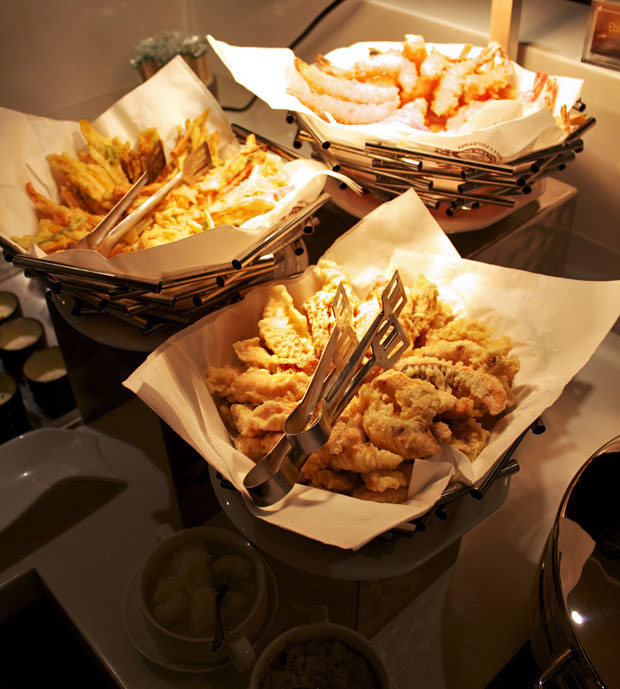 Skewered Balls in Mala Tang
Having never seen this before, Mala Tang refers to a spicy Chinese sauce made with Sichuanese peppercorn, chili pepper, and various spices simmering in oil. Submerged in the Mala sauce was a variety of skewered balls made with beef, fish, mushroom, cuttlefish, and tofu, among others.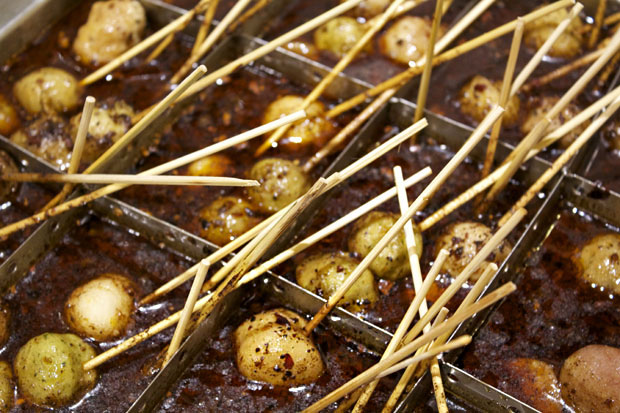 Chinese Cold Cuts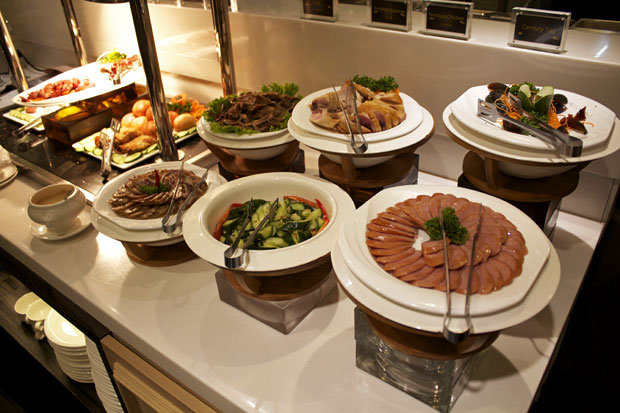 Sukiyaki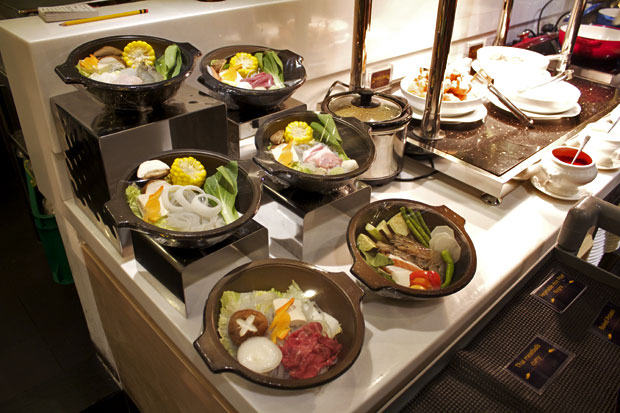 Fresh Seafood
On a bed of ice, you could pick out whichever you wanted, then ask the chefs to cook them up for you.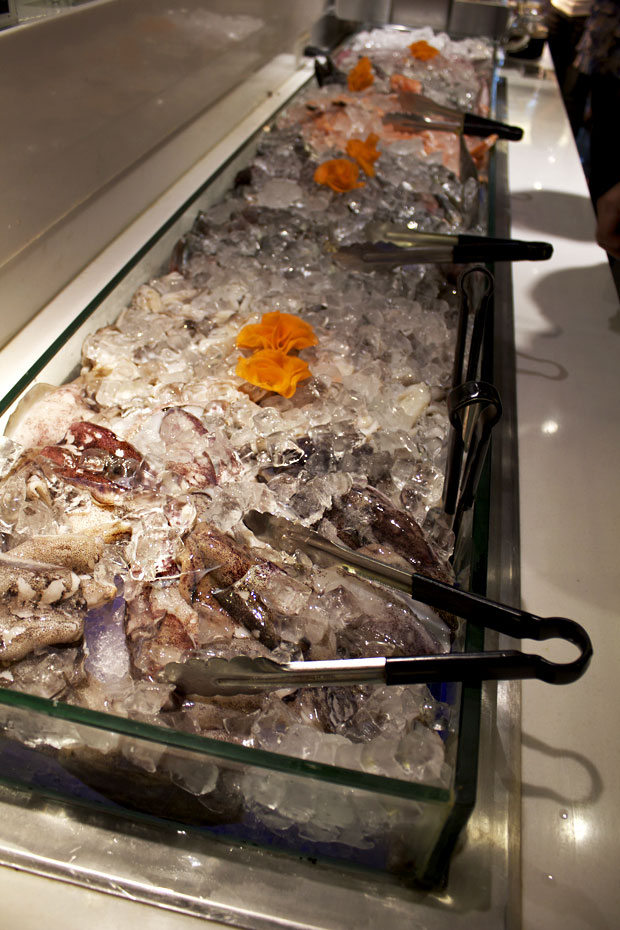 Oyster Rockefeller
These always go quickly. If they're anything like the oysters at Vikings SM MOA though, then I have no idea why, because they're not very good. 🙁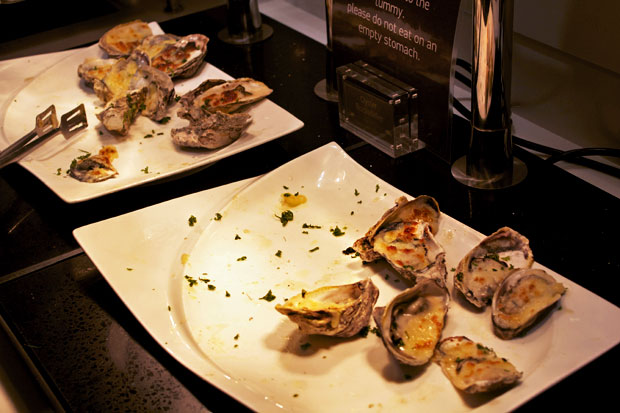 Yakitori
They ran out by the time I got Ren's tip, but apparently those sticks of asparagus wrapped in bacon (asuparabēkon) are insanely good.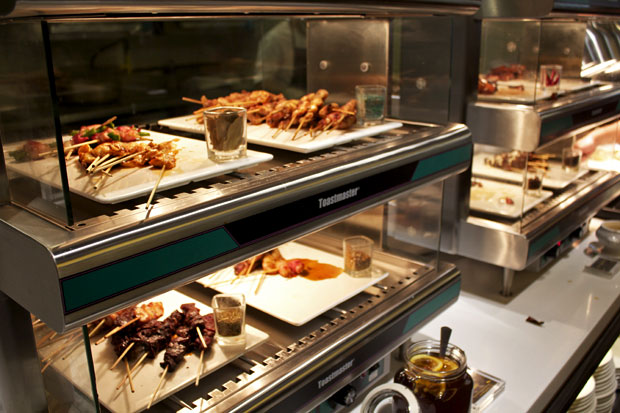 Pizza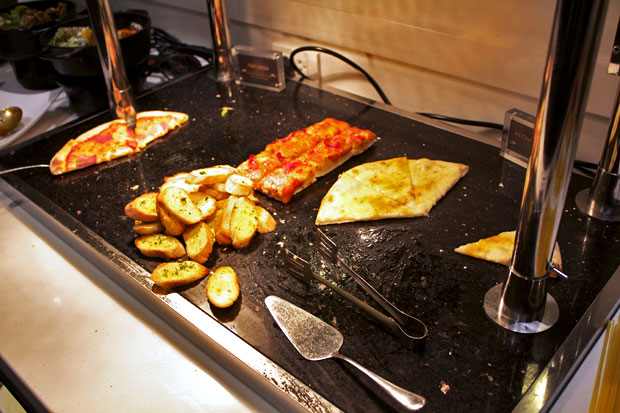 Pasta and Charcuterie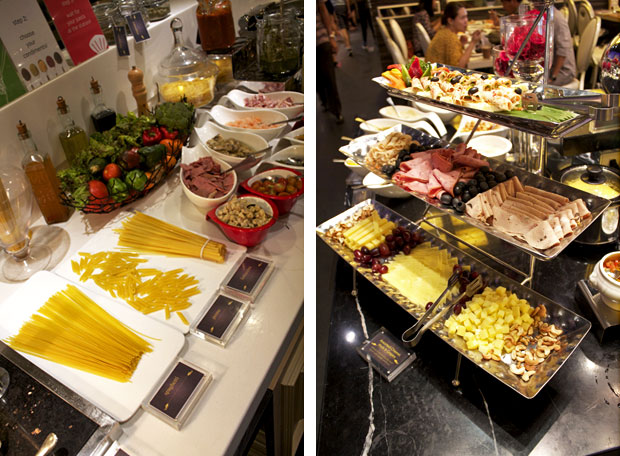 Caviar
The caviar isn't of the highest quality, but it makes for a luxurious topping, as you'll soon see below.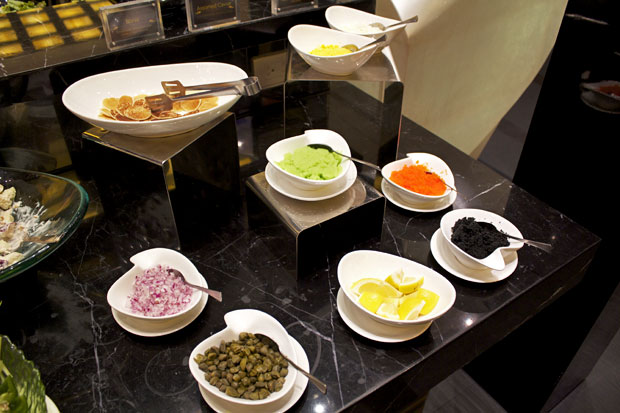 Carving Station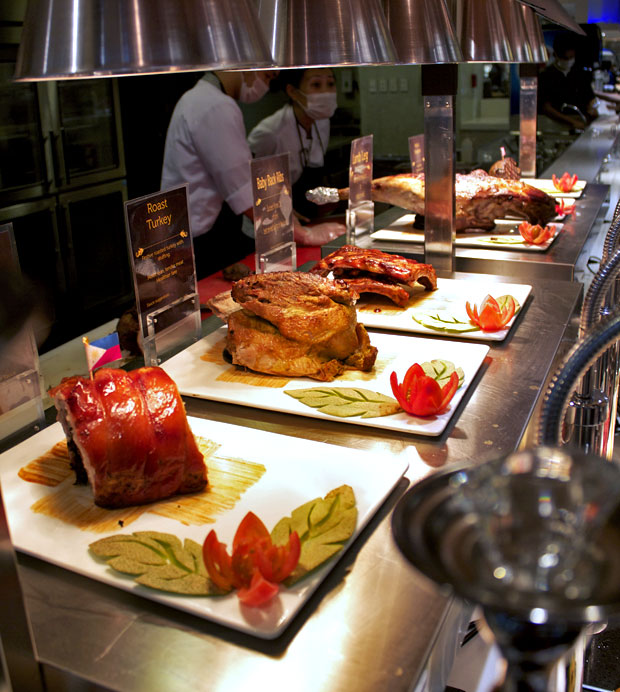 Dessert
Pastries
to follow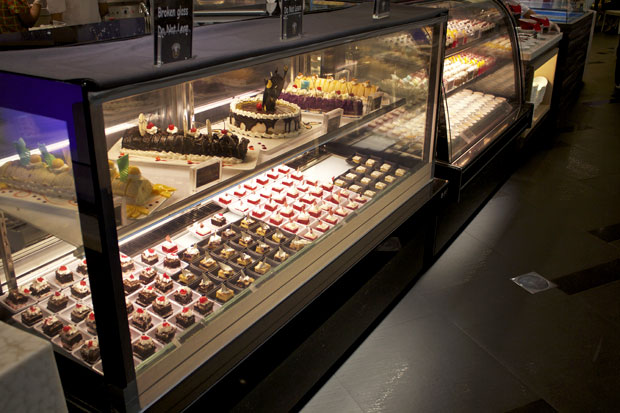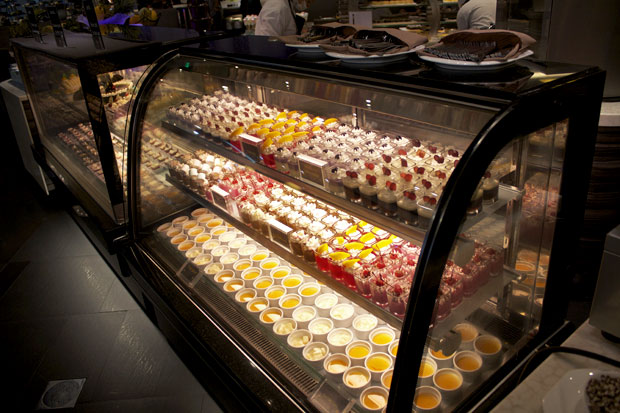 Halo-Halo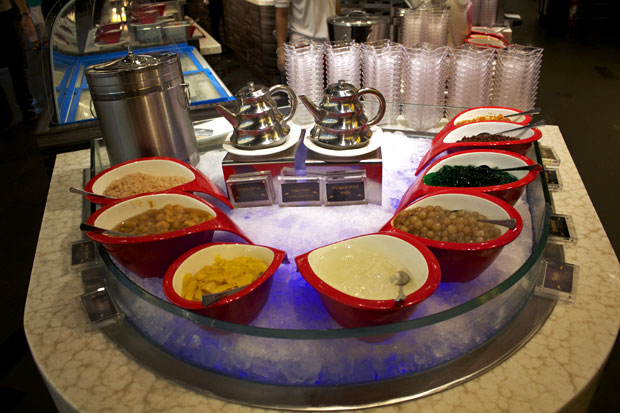 Snow Ice with Toppings
If you've never had snow ice before, it's a cross between ice cream and shaved ice, featuring soft ribbons of flavored ice topped with fruits and other toppings. Very nice.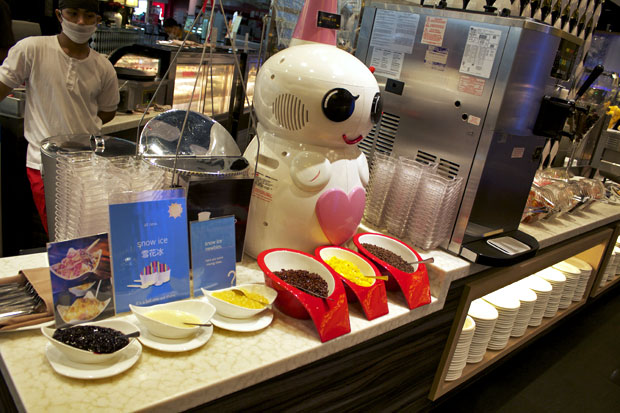 Soft Serve with Toppings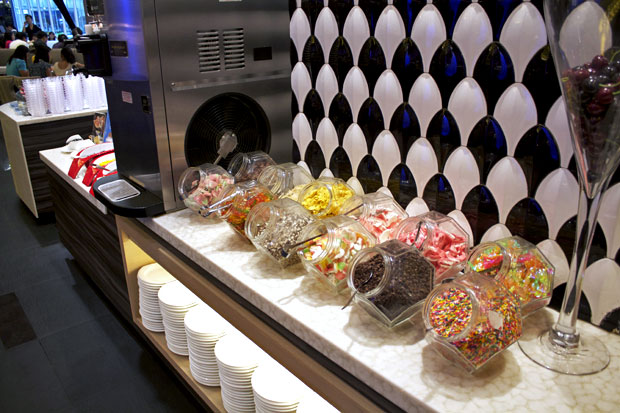 Croquembouche and Chocolate Fountains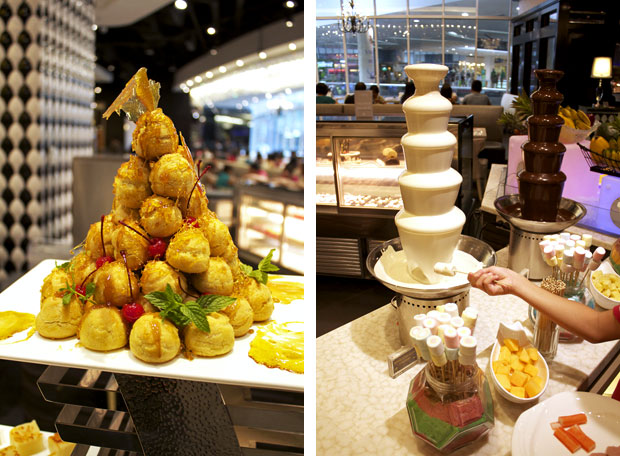 My Bounty
ROUND 1 – Sushi and sashimi
Fittingly, we were seated right next to the sushi station, which as stated up top, is pretty much what I came here for. Again, if anyone knows of a better sushi buffet here in Manila, factoring in quality, variety, and price, I'm all ears. 😉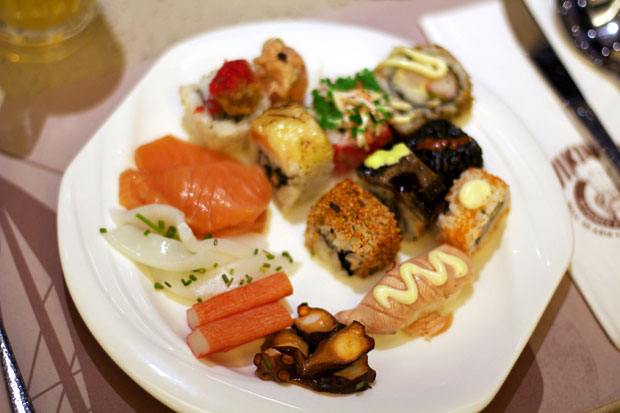 ROUND 2 – Ebi tempura and chawan mushi
The ebi tempura wasn't very good. The shrimp was succulent, but the batter was way too hard. The chawanmushi was nice, velvety and smooth, though could have used a bit more flavor.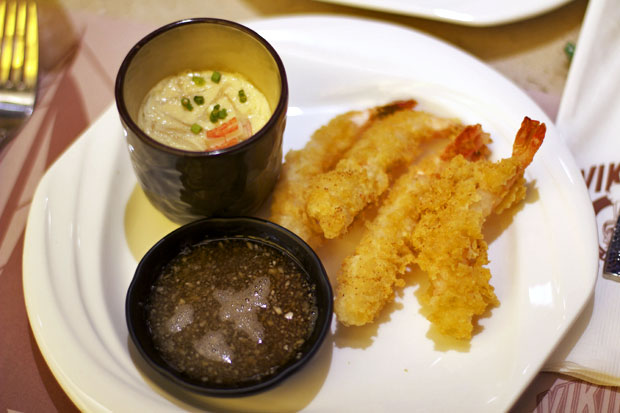 ROUND 3 – Steamed suahe, century eggs, pork ears, and skewered balls with mala sauce
The suahe was beautiful, easy to peel and succulent. The century eggs and pork ears I didn't care for too much, finding them a little mushy in texture. All the skewered balls were good, similar to what you would find in a shabu shabu hot pot. I just wish they provided small bowls of the mala sauce so you could dip into it between bites.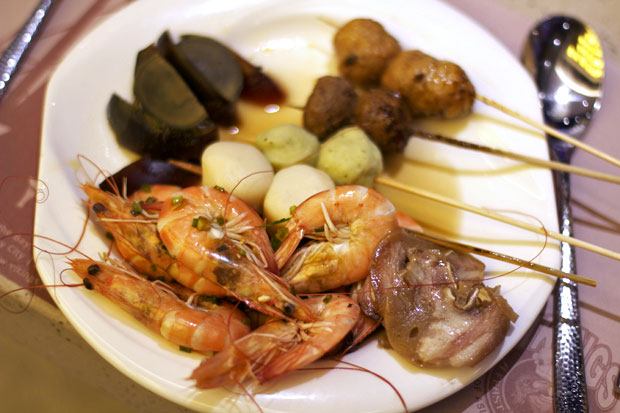 ROUND 4 – Slices of pure, unadulterated, fucking genius
With two slices of freshly made cheese pizza on my plate, I was walking back to our table when a light bulb exploded in my head. Making a quick detour, I blinged out my slices with generous spoonfuls of red and black caviar. Already delicious on their own, they became slices of pure heaven when imparted with the mild saltiness and fun, popping texture of the caviar. Ren tried to convince me that they didn't really go well together, but I wasn't having any of it. Ignoring her envy, it was, without question, the proudest moment of my life. (wipes away tears of awesomeness)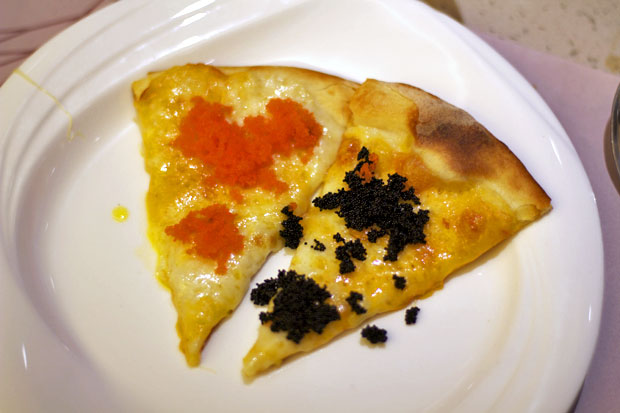 ROUND 5 – Slice of genius, quail eggs, shrimp cocktail, mini baked potatoes, and a shot of some pretty repugnant photography
With two not being enough, I helped myself to another slice of genius, but this time with both black AND red caviar on the same slice. It was just as good. 😉
On a side note, food photography is so frustrating. Just look at this shitty ass photo. The quail eggs are in focus, but the three other items surrounding it are not. Shooting this wide open, I understand why that would be, but why is that spoon at the right edge of the picture so fucking sharp?! SMDH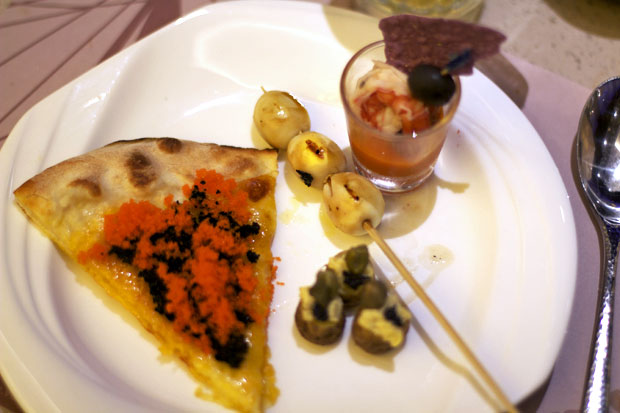 ROUND 6 – Blueberry panna cotta, coffee panna cotta, and profiteroles
I love panna cotta and choux pastry, so you can be guaranteed that everything on this plate was eaten con mucho gusto.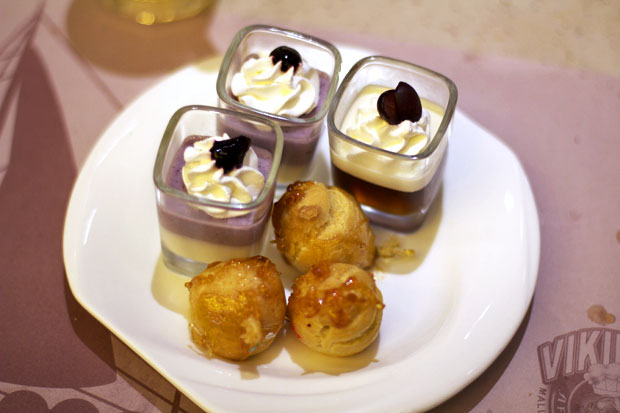 ROUND 7 – Complimentary birthday cake for moi
Cute little birthday chocolate cake that looked much better than it tasted. 😆 (sorry Vikings, I appreciated the cake, but it really was terrible.) No matter though, my real gift was that I got to eat all the sushi that I wanted today entirely for FREE, so what should have amounted to PHP 1,088 per person, got cut in half to just PHP 544. Thank you Vikings! You guys, definitely, ROCK.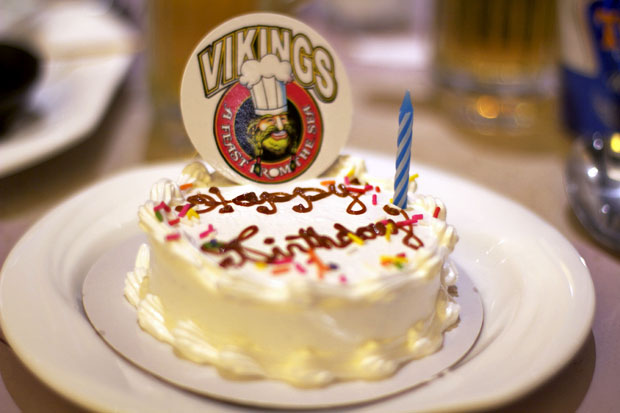 Vikings SM North
4/F SM City North EDSA, The Block, EDSA cor North Ave., Sto. Cristo, Quezon City
Tel: 376-3888 / 376-4888 / 376-5888
Mobile: 0917-554-3888
Facebook: Vikings-Luxury-Buffet-Restaurant
Website: www.vikings.ph
Email: vikings_smnorththeblock@yahoo.com
Operating Hours: Mon-Sun, 11AM-2:30PM (Lunch) / 5:30PM-10:30PM (Dinner)
Vikings SM Mall of Asia
Building B, By the Bay, Seaside Blvd, SM Mall of Asia, Pasay
Tel: 846-3888 / 846-4888 / 846-5888
Mobile: 0917-565-3888 / 0923-730-3888
Email: reservations.vikingsmoa@yahoo.com
Operating Hours: Mon-Sun, 11AM-2:30PM (Lunch) / 5:30PM-10:30PM (Dinner)
Vikings SM Marikina
SM Marikina, Marcos Highway, Calumpang, Marikina
Tel: 570-3888 / 570-4888 / 570-5888
Email: vikings_smmarikina@yahoo.com
Operating Hours: Mon-Sun, 11AM-2:30PM (Lunch) / 5:30PM-10:30PM (Dinner)
JB is one half of Will Fly for Food and its chief itinerary maker.  He's the one to blame for all the crappy photos and verbal diarrhea on this blog.  Don't listen to him.
Latest posts by JB Macatulad (see all)