BRGR: The Burger Project. Like LEGOs, but Edible.
Like most kids, I loved LEGOs. When we were little, my brother and I had this huge box full of loose LEGO pieces.
Newly assembled LEGO sets would sit for just a few days on our display shelf, before being taken apart and dumped into that box soon after their initial novelty wore off. Unbound by any manuals or restrictions, that's when the real fun would begin. Limited only by our imagination, we built everything from space stations, to crash test dummies, to multicolored bug mazes. Personally, my favorite things to build were dune buggies. Building them in different shapes, sizes, and colors, I'd either race them down our driveway like mini soapbox cars, or crash them into walls (or each other) at piece-flying, top speed.
Having been so into LEGOs in my youth, you'd think that the prospect of building a burger from the bun up would excite me the way that box of LEGOs once did. Surprisingly though, it didn't. On the contrary, the complete opposite was true. Befuddled by the burger checklist handed to us by our server, all I could say was: "Meron ba kayong gawa na?" (Do you have any pre-assembled burgers?)
Blame it on apathy, a lack of patience, or the blunting of youthful exuberance, but I just couldn't be bothered to build my own burger. Too jaded to think outside the box, I found myself sadly content with the ready-made Western Bacon Melt, realizing at that point just how much my imagination had regressed since that box of LEGOs and its universe of possibilities.
Growing up is no fun. 🙁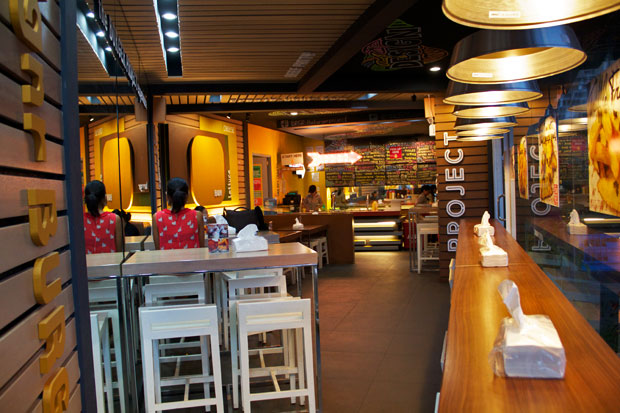 Chalkboard of pre-built burgers, for old people who can't be bothered, like Ren and I. 😆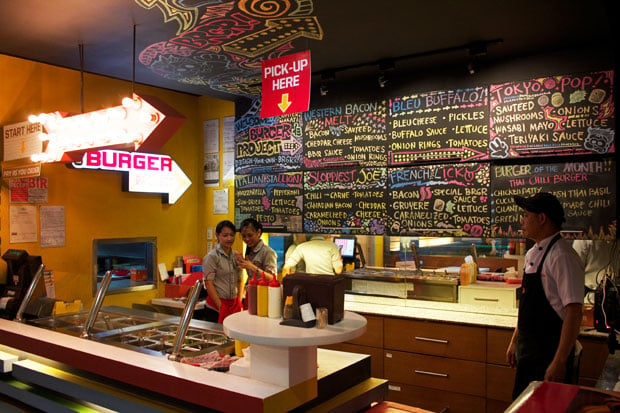 L: Blueprint checklist to create your own unique, have-it-your-way burger. You get to choose everything, from the type of beef that you want, to the bun, to the cheese, to the toppings, to the sauce. You even get to name your creation prior to its assembly. In hindsight, it would have been a lot more fun, maybe even tastier, to create our own burger like this instead. R: Funky, graffiti-inspired graphics.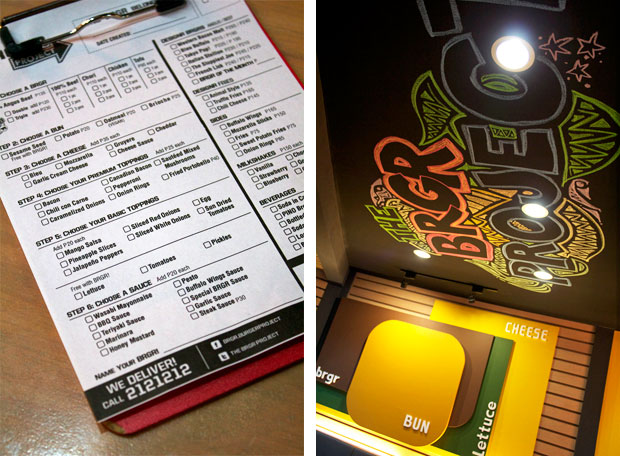 Truffle Fries – PHP 165
These were ok. Served with a side of garlic aioli and topped with grated cheese, they were smeared with truffle sauce, so you'd get a mild hint of it here and there.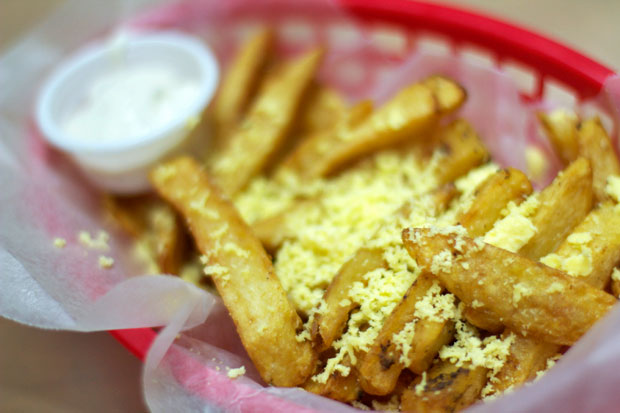 Western Bacon Melt – PHP 265 (Angus) / PHP 240 (Regular) – Bacon, sauteed mushrooms, cheddar cheese, tomatoes, onion rings, barbecue sauce
I wasn't in a gambling mood tonight, so I stuck to what I expected to be a can't-miss, ready-made burger. At our server's recommendation, I went with the Angus version of this Western Bacon Melt, which she cited as being their most popular. To my disappointment though, one bite was enough to convince me that I should have come up with my own.
You'd think that a cheeseburger made with Angus beef, bacon, mushrooms, onion rings, and barbecue sauce would be a surefire hit, but it wasn't. The flavors of the burger itself were disappointing. I expected to bite into something life-changing a la Charlie's, but that didn't happen. The bacon was pretty much a non-factor, and the barbecue sauce I didn't like at all. It wasn't very smokey, imparting only an overpowering sweetness that I could have done without.
Though it's clear that I didn't enjoy this burger, it's important to note that it wasn't terrible either. It was just disappointingly average, more Army Navy than Charlie's, and something that I probably could have put together myself. Wait…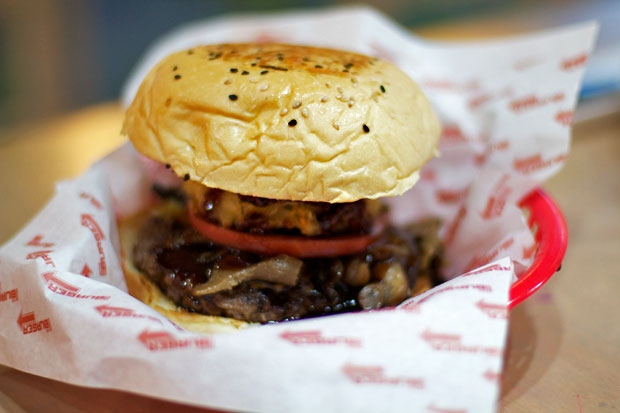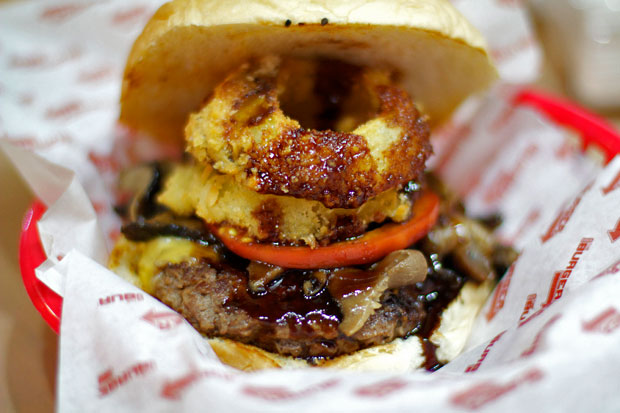 Bleu Buffalo – PHP 215 (Angus) / PHP 190 (Regular) – Blue cheese, pickles, lettuce, onion rings, tomatoes, buffalo sauce
Being more a fan of blue cheese than burgers, it's no surprise that Ren ordered this one. Like me, she had high hopes, fully expecting it to taste similar to Charlie's delicious Gorgonzola Angus Cheeseburger. Much to her dismay however, it fell way short of that.
Like my Western Bacon Melt above, she got it with Angus beef, but was equally disappointed by the patty's lack of flavor. Unable to hold its own, it was overpowered by the buffalo sauce, which tasted very tangy and sweet, almost like pineapple. It was odd, and something that I didn't care for myself. On top of that, we couldn't detect a hint of the blue cheese, which ironically, was probably a good thing. Seeing as how the sauce was so sweet and tangy, Ren's convinced that the pungency of the blue cheese would have clashed with it entirely.
Judging by its taste and components, this looks to have been a fusion of a cheeseburger and Buffalo wings. An interesting concept to say the least, but one that didn't quite pan out in my opinion, at least not here.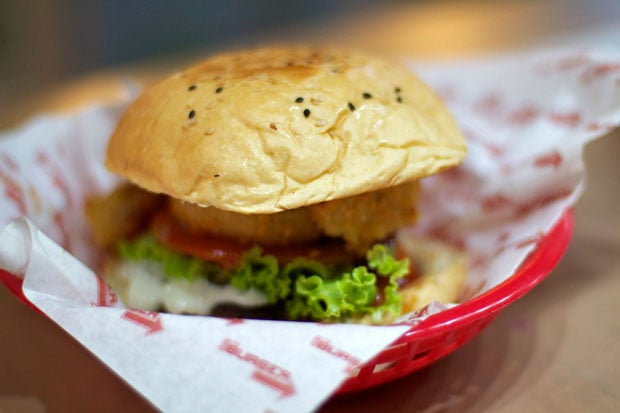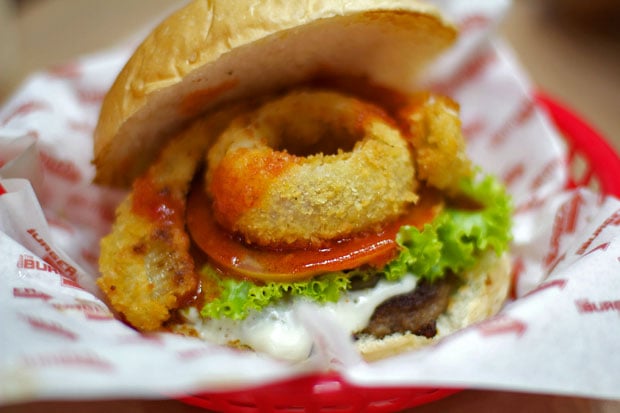 Disappointed as we were by these two burgers, I honestly don't know how much better we would have fared building our own. The quality of the components would have been the same regardless, so the results would likely have been very similar.
One thing's for sure though, as subpar as these signature burgers turned out to be, building our own would have a least provided an element of fun and surprise. Topping my burger with a schizophrenic mix of ingredients like gruyere, chili con carne, pineapple slices, and wasabi mayonnaise, I would have aptly named mine "The Claudine". 😉
BRGR: The Burger Project Jupiter
38 Jupiter Street cor. Planet Street, Bel-Air Village, Makati
Tel: 550-1781
Facebook: thebrgrproject
Email: theburgerproject@yahoo.com
Operating Hours: Mon-Sun, 11AM-12MN
BRGR: The Burger Project Teacher's Village
122 Maginhawa Street, Teacher's Village, Quezon City
Tel: 351-7474
Operating Hours: Mon-Sun, 11AM-12MN
BRGR: The Burger Project Taft
The Grand Towers, Vito Cruz (Pablo Ocampo) St., Manila
Tel: 654-2479
Mobile: 0916-235-3085
Facebook: brgr.burgerproject.taft
Email: burgerprojecttaft@gmail.com
Operating Hours: Mon-Sun, 10AM-12MN
JB is one half of Will Fly for Food and its chief itinerary maker.  He's the one to blame for all the crappy photos and verbal diarrhea on this blog.  Don't listen to him.
Latest posts by JB Macatulad (see all)