Toast Box and the Joy of Singaporean Food
Of course, leave it to clueless, unhip me to think that Toast Box is a new concept recently imported from Singapore.
Spotting their branch at The Fort for the first time just a few months ago, I remember thinking to myself: "Wow! This place looks cool. I gotta go soon and be one of the first people to blog about it." Happy to finally dine at their branch in Nuvali last weekend, I excitedly hopped online to do research for this post, only to learn that Toast Box has been open in the Philippines since 2007.
Duh. 😆
Despite this post not being the trailblazing writeup that I hoped it would be, I'm just as enthused in posting it, simply because their food, as expected, turned out to be very good. A Singaporean brand and sister company to Bread Talk, their Hainanese chicken and laksa were exemplary, some of the best we've had thus far in Manila.
Though we didn't try it this time, it's also worth noting that Toast Box is known for serving terrific breakfast as well, highlighted by their popular kaya toast box set. But then again, having been open for almost six years now with six branches in and around Manila, you probably already knew that. 😕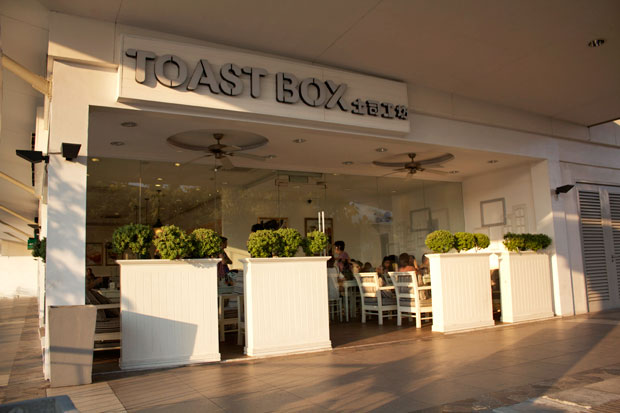 I love Singaporean brands. They always look so polished and meticulously put together.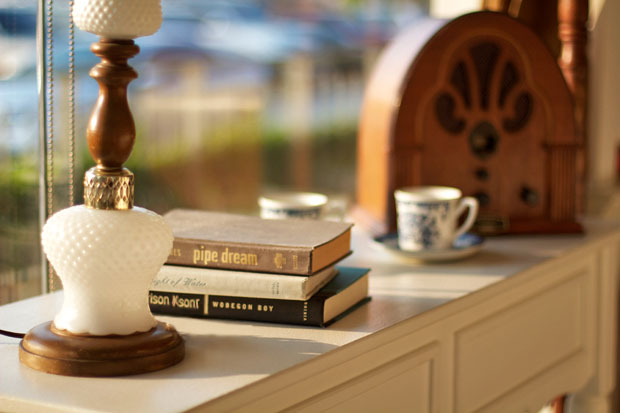 Taken at sundown, you can never take a bad photo this time of day. The play of warm light and shadow pretty much guarantees interesting photos.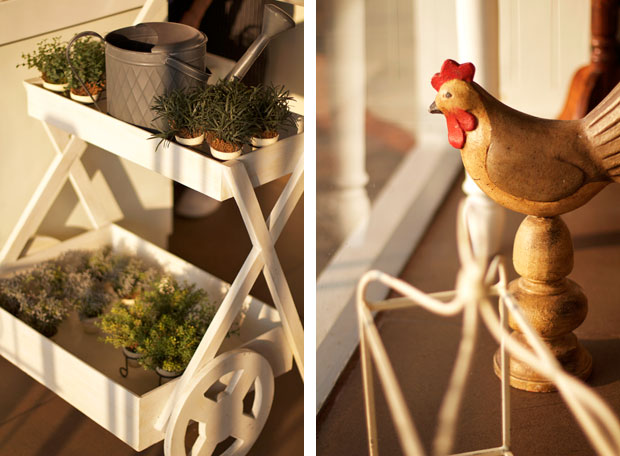 Nonya Laksa – PHP 225 (Add PHP 30 for iced lemon tea or iced barley)
Being a Peranakan dish, there was little doubt that Toast Box's nonya laksa would be delicious. Made with a sumptuous, somewhat sweet, strongly spiced coconut gravy, good laksa has got to be one of the most flavorful things you can ever put in your mouth. Pungent and deliciously fishy, I normally don't enjoy dishes that are overly fishy, but I loved it here. Masarap na malansa, as I like to call it (fishy but delicious).
Reneelicious makes a pretty vicious curry laksa as well, rivaling this one, the recipe for which you can find HERE. 😉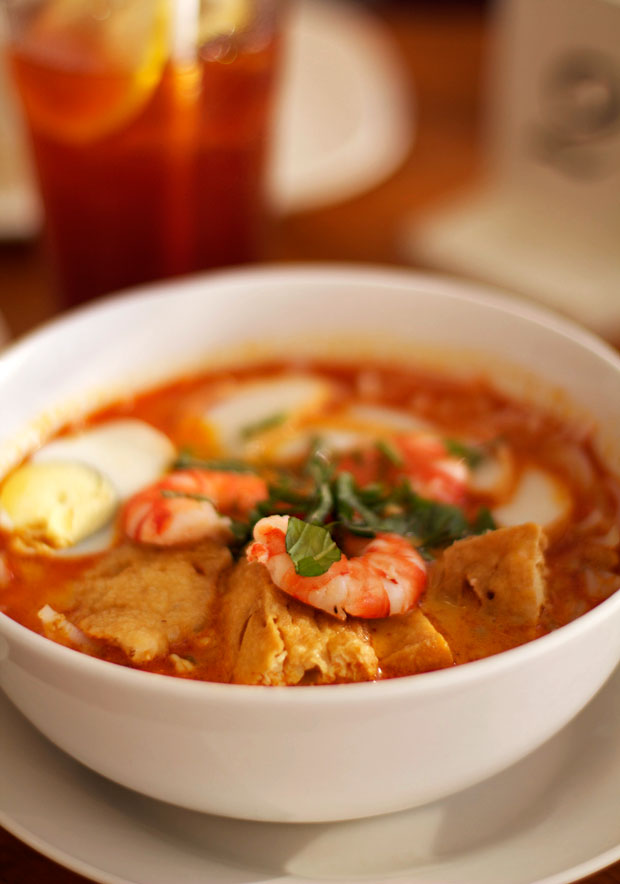 Hainanese Chicken – PHP 358 (Half portion with rice and soup, add PHP 30 for iced lemon tea or iced barley)
Like the laksa above, there was little doubt that this Hainanese chicken would be stellar. Perfectly poached, it was flavorful, tender, and very juicy. Hainanese chicken has always been one of the more enigmatic dishes for me. Pale and unfried, it doesn't look tasty, but it's incredibly delicious and nuanced in its flavors, especially when eaten with the trio of condiments and Hainanese rice. I don't know if this Toast Box version was the absolute best I've ever had, but it was very very good.
Like the laksa above, Ren makes killer Hainanese chicken. For Hainanese fans looking for something a little different, she makes a wicked Hainanese fish as well. Absolutely dee-licious!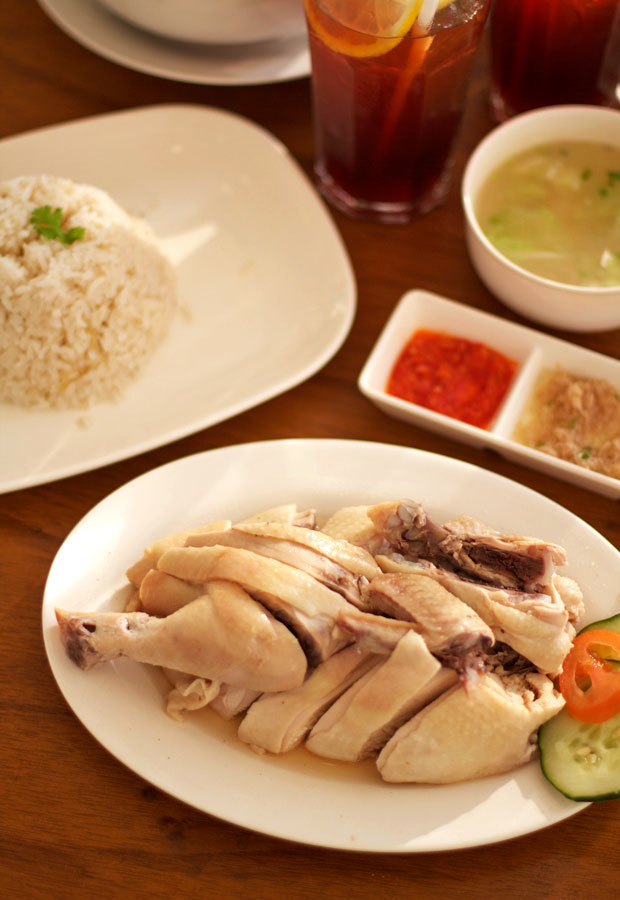 Even after an exhausting weekend waiting on her family, Reneelicious still manages to look as lovely as ever. ♥



Making iced tea with Mt. Butter in the foreground.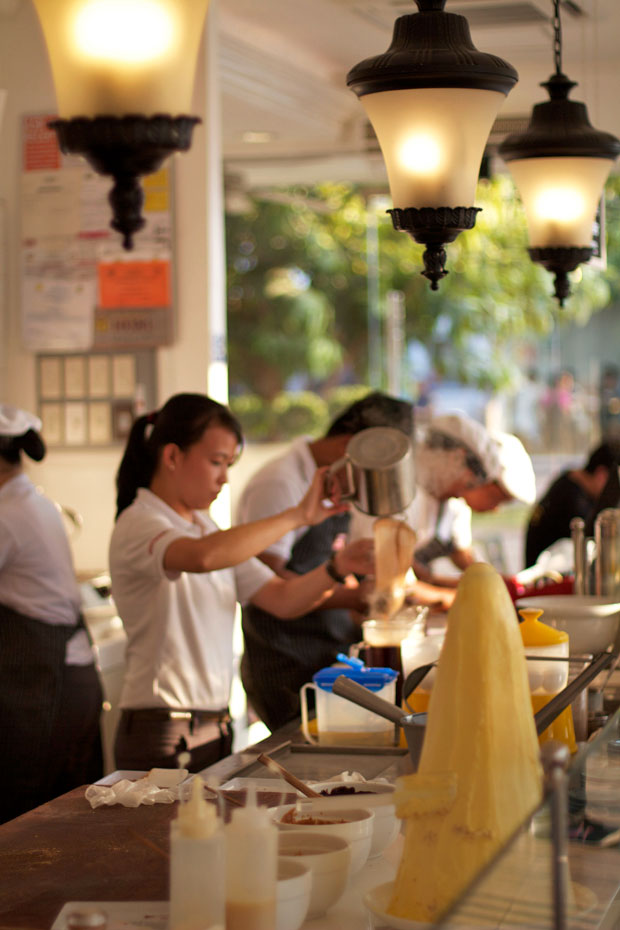 Singaporean cuisine amazes me. For such a small country, they boast some of the most interesting, most varied, most flavorful dishes I've come across. Dishes like laksa, Hainanese chicken rice, char kway teow, fish head curry, sup tulang, chili crab, sambal stingray, and cereal prawns all resonate with a joy and effusiveness unrivaled by many cuisines. And those are just the scant few dishes that I've tried. Their amazing culinary diversity, coupled with a fun, unpretentious hawker vibe, is quickly making Singaporean food one of my favorites.
People sometimes ask me why I invest so much time and effort into this blog when it doesn't earn me a cent. My answer to that is simple. I LOVE the experience of food and travel, and the abundance of joy I get, from exploring unfamiliar cultures and cuisines like Singapore's, is reason enough for me. ♥
Toast Box Santa Rosa
Solenad 2, Nuvali, Sta. Rosa, Laguna
Facebook: toastboxphilippines
Website: (Singapore) www.toastbox.com.sg
Email: toastboxph@gmail.com
Operating Hours: Mon-Thurs, 11AM-9PM | Fri-Sun, 10AM-11PM
Toast Box Trinoma
Trinoma Mall, North Ave. cor Mindanao Ave., Sto. Cristo, Quezon City
Tel: 900-0374
Operating Hours: Mon-Thurs, Sun, 10AM-9PM | Fri-Sat, 10AM-10PM
Toast Box The Fort
G/F Bonifacio One, Technology Tower, Fort Bonifacio Global City, Taguig
Operating Hours: Mon-Fri, 7AM-10PM | Fri-Sun, 7AM-9PM
Toast Box Greenbelt 5
3/F Greenbelt 5, Legaspi St., Legazpi Village, Makati
Operating Hours: Mon-Sun, 11AM-9PM
Toast Box Robinson's Place Manila
G/F Robinsons Place Manila, Adriatico St., Ermita, Manila
Mobile: (0922) 801-9303
Operating Hours: Mon-Thurs, Sun, 10AM-9PM | Fri-Sat, 10AM-10PM
Toast Box Alabang Town Center
LG/F Alabang Town Center, Alabang-Zapote Rd., Alabang, Muntinlupa
JB is one half of Will Fly for Food and its chief itinerary maker.  He's the one to blame for all the crappy photos and verbal diarrhea on this blog.  Don't listen to him.
Latest posts by JB Macatulad (see all)