Kasbah, a Taste of Morocco at The Fort
Before today, I had only been to a Moroccan restaurant once, almost two decades ago when I was still in college. It was a restaurant called Marrakesh in Northwest DC, and we were there for dinner to celebrate a friend's birthday.
To this day, that meal remains one of the most memorable in my life, not just because of the food, but because of the experience. A set meal that lasted almost three hours, we ate seven courses with our hands while reclining on low Moroccan couches replete with velvety, embroidered pillows. Midway through dinner, a "ching" of finger cymbals marked the entrance of the belly dancer, upon which diners were promptly pulled from their couches by the servers to participate in the evening's nightly ritual of line dances.
For those three hours, it felt like you were in Morocco.
Though I wasn't expecting this meal to have seven courses and last three hours, today's lunch at Kasbah, only my second Moroccan meal ever, brought me back twenty years to that unforgettable evening in Marrakesh. Admittedly, it wasn't the same without the line dances, but highlighted by a couple of interesting, unfamiliar dishes like the shakshuka, I had a belly of a time anyway.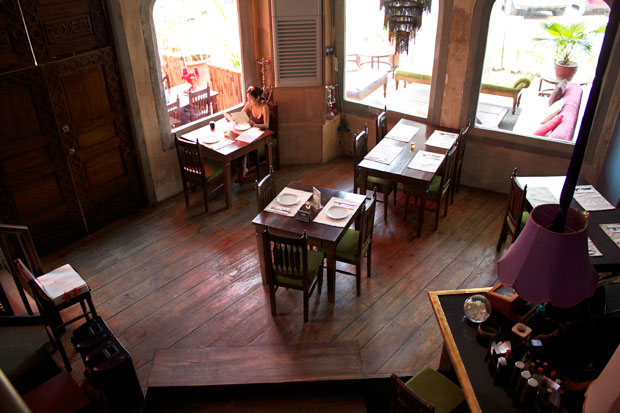 Alin, alin, alin ang naiba? Aren't hookahs the coolest? In contrast, that candelabra has undoubtedly seen better days.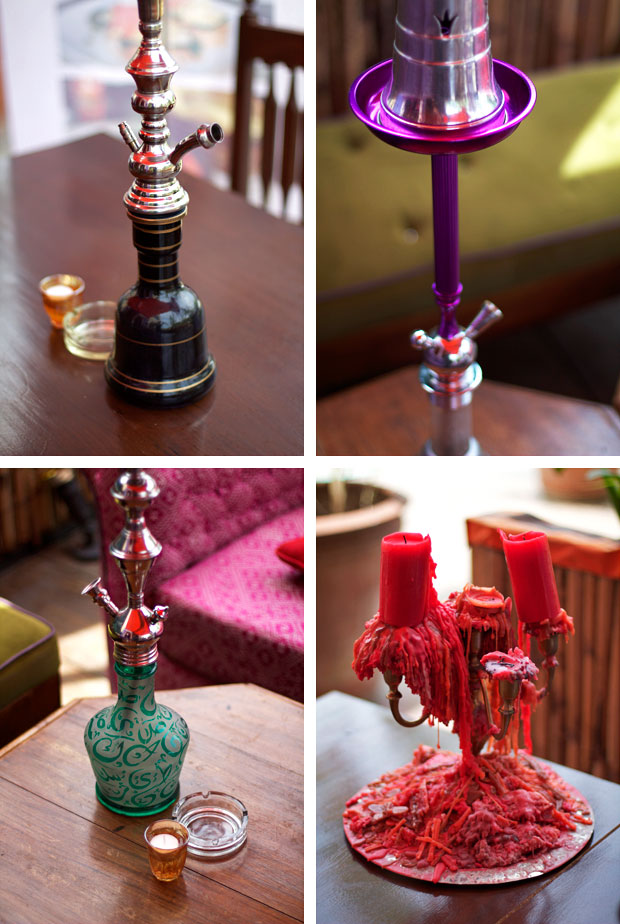 Google "colors of Morocco", and a burst of color, much like this one, explodes onto your screen. With all the plates, lamps, textiles, tajines, slippers, and spices to pore over, I imagine a Moroccan souq to be an exhilarating place to get lost in if you're a travel blogger.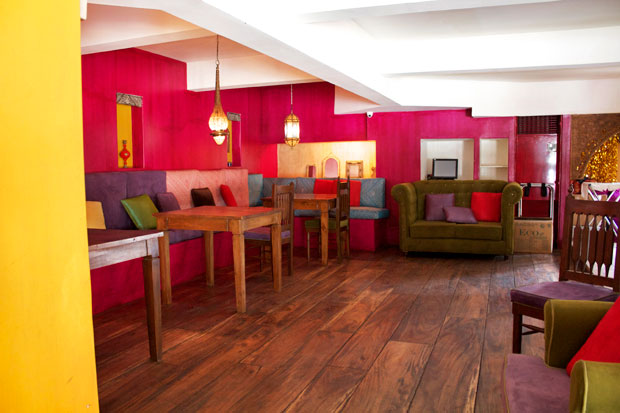 Beautiful colors and textures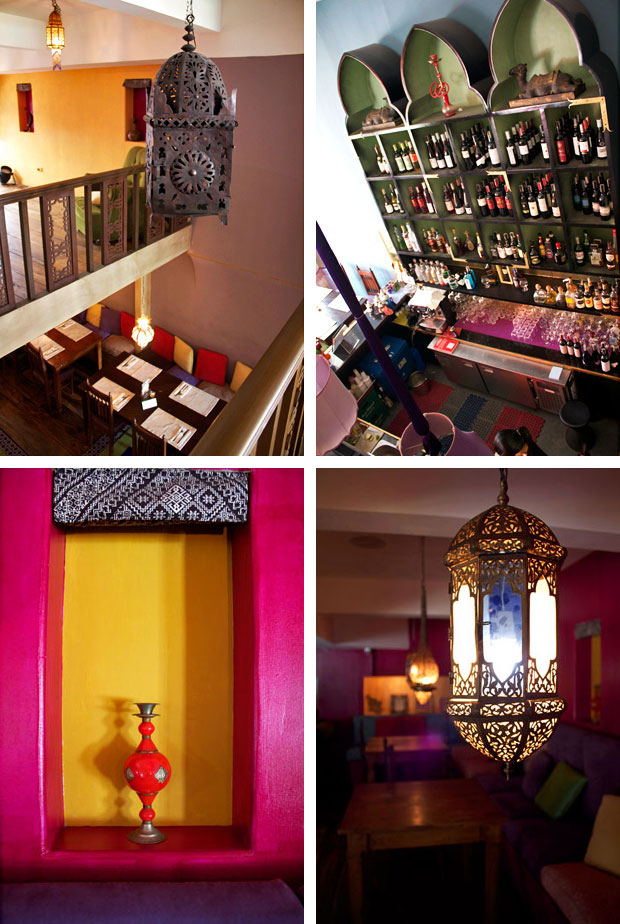 L: Tabbouleh – PHP 280 (solo) / PHP 380 (to share) – Green herbal salad of parsley, mint, tomatoes, and couscous, with a tangy, refreshing lemon dressing. R: The lovely Reneelicious
Zingy and bright, this tabbouleh was refreshing, but it was made mostly with parsley. I don't have much experience with this salad, but Ren says that she would have preferred a more even distribution of ingredients.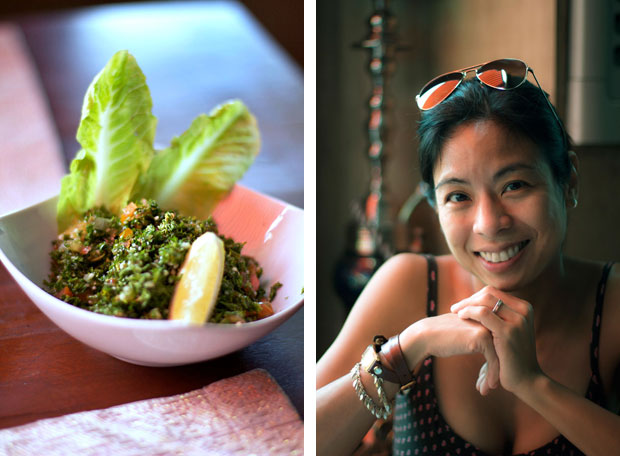 Hummus Harissa – PHP 160 – Spiced chickpea and tahini puree
Though we love both hummus and harissa, this was the first time that we've ever tried hummus harissa. It was a great combination, the harissa adding heat to the creaminess and nuttiness of the hummus. You can find delicious Reneelicious Recipes made with harissa, which is a Tunisian hot chili sauce, HERE and HERE.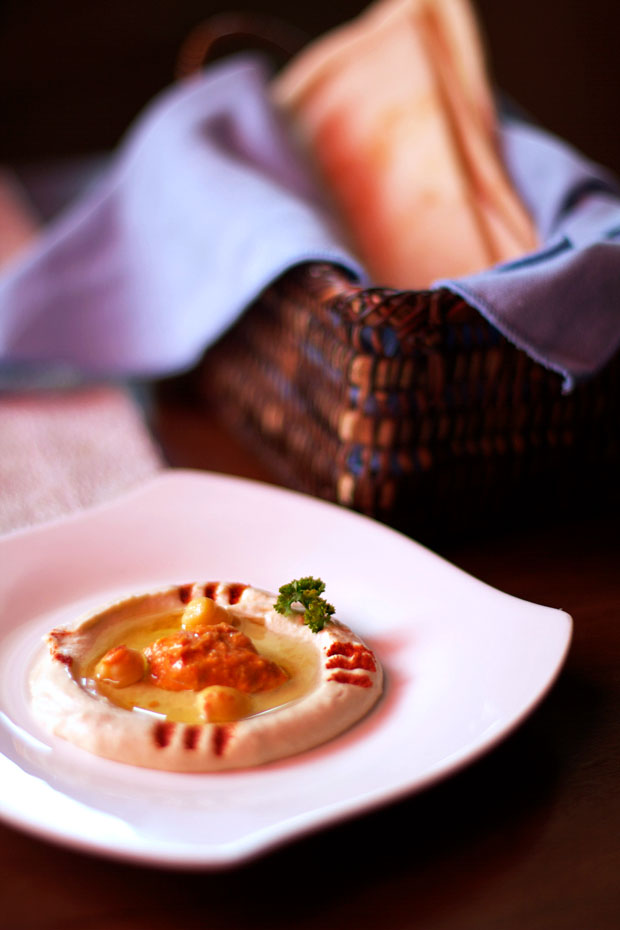 Trio of eggplant, mahi-mahi, and chicken roulade, served with two bowls of fluffy white rice. Unavailable on their menu, they whipped up this dish specifically for Groupon voucher holders. Of the three, I enjoyed the eggplant the most. The mahi-mahi I thought was a little bland and dry, as was the chicken, which was filled with a sweet chutney, probably mango.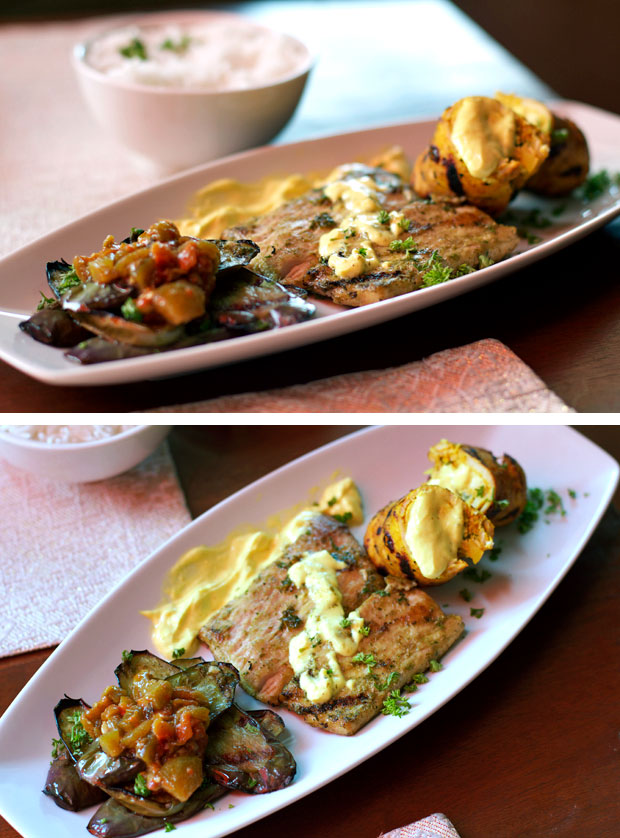 Shakshuka – PHP 275 – Poached eggs on spiced tomato sauce, with red, green, and yellow bell peppers, merguez sausages, and sourdough.
After the hummus harissa, this shakshuka was my favorite dish of the day. Playfully dubbed "The Hangover Buster", it's a tangy, earthy dish made with merguez sausages and a poached egg on tomato sauce. The sauce being very sharp-tasting, you break the egg so the yolk runs over, it's richness tempering the tanginess of the tomato sauce. I loved the boldly flavored merguez, which is a heavily spiced sausage made with lamb and beef stuffed into a lamb-intestine casing.
As enjoyable as this dish was, I'm guessing that it would taste even better after an evening of debauchery. 😉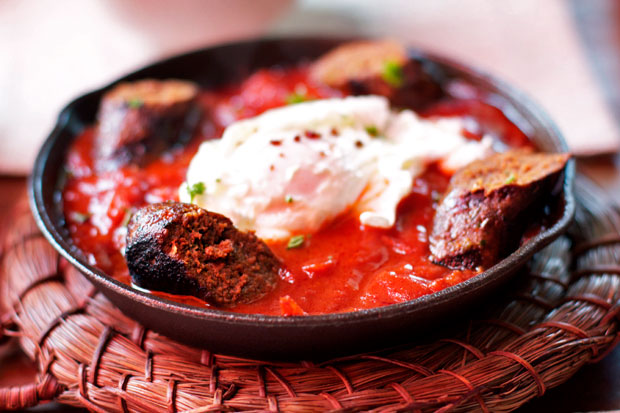 Amazingly, a quick Google search told me that the Marrakesh restaurant in Washington, DC is still alive and well. That's over 30 years of North African cuisine and belly dancing. Truly remarkable, considering that the average lifespan of a restaurant in the US is just around two and a half years. I wonder if this place will last that long?
Kasbah The Fort
7th Avenue corner Katipunan Circle, Fort Bonifacio Global City, Taguig
Tel: 553-4499
Facebook: KasbahTheFort
Email: kasbahthefort@gmail.com
Kasbah Boracay
Boracay, Station One, White Beach, Malay, Aklan
Tel: (036) 288-4790
Facebook: kasbahrestaurantboracay
JB is one half of Will Fly for Food and its chief itinerary maker.  He's the one to blame for all the crappy photos and verbal diarrhea on this blog.  Don't listen to him.
Latest posts by JB Macatulad (see all)