A Birthday Breakfast Celebration at Charlie's Grind & Grill
Before getting married, I rarely ate breakfast. Unlike my wife who calls it her favorite meal of the day, I could always do without it, perfectly content with my steaming mug of black coffee.
Because it wasn't part of my daily routine, breakfast for me was always an event. It was something to plan, something to get excited about. "Hey! What are you doing this Sunday? Wanna get some BREAKFAST?!"
Back when I was still living in San Francisco, I frequented this small, unassuming, Louisiana-inspired diner in Potrero Hill called "Just for You". It was my go-to place whenever I had a craving for breakfast. So popular was this place that to be seated at 10 AM, you had to be in line by 9. Without fail, I would get the same thing every time – Maryland crab cakes with home fries, toast, and a side of Filipino sausage. Yup, you read that right. A New Orleans diner in San Francisco serving Filipino sausage, aka longganisa. It became such a habit that the servers started referring to us as "the longganisa crew." Being American, they used to pronounce it like this: lawng-guh-nee-suh. 😀
Since moving back to the Philippines, I haven't quite found my new "Just for You" yet, but this place, home to some of the best burgers and cheesesteaks in Manila, is a serious contender. Though we've been fans of Charlie's for a long time now, we just recently found out that they serve breakfast as well, everyday from 7-11 AM. A breakfast trip all but a foregone conclusion, we went for the first time a couple of mornings ago, to celebrate the silver anniversary of Ren's 19th birthday.
I told you that breakfast for me was always an event. 😉
Charlie's Platter – PHP 320 – All you can eat fresh buttermilk pancakes with your choice of:
Hash brown or skillet potatoes
Scrambled eggs or sunny side up
Sausage patty, sage sausage, bacon, or ham
Refillable brewed coffee or Charlie's iced tea
Initially, we were both going to get this Charlie's Platter because we thought that it came with all-you-can-eat everything. As it turns out, only the pancakes were unlimited. Toying with the idea of building her own breakfast plate from the a la carte menu, Ren settled on this after seeing that the price would roughly turn out to be the same. As you can see, she went for the skillet potatoes, sage sausage, and egg white scrambled eggs to accompany her bottomless plate of buttermilk pancakes.
She said that everything on the plate was terrific, that each component could easily stand on its own. The pancakes were light and fluffy, the sausages rich in sage, and the skillet potatoes unlike the usual in that they contained slivers of sweet green pepper. On top of that, she loved the fact that you could ask for all-egg-white scrambled eggs too. That's one of the many things that's endeared Charlie's to Ren, the love and attention to detail they give everything, including their side dishes. Suffice to say, this plate of breakfast food made her one very happy celebrant. 😉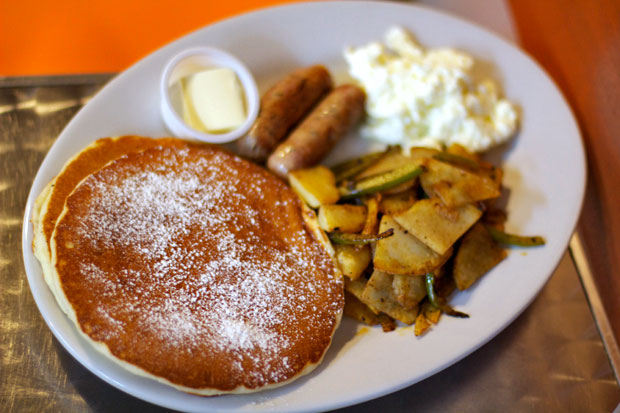 Ham and Shrimp Benedict – PHP 200 (single) / PHP 380 (double)
Not as big a fan of pancakes, I was leaning towards the bacon and shrimp benedict, but decided on this one after our server recommended it. I'm glad that she did too, because I have never seen ham look as majestic as this.
Stacked on top of the English muffin half were the following – perfectly poached runny egg with rich Hollandaise sauce, several pieces of succulent shrimp, a giant slab of thick-cut caramelized ham, tomatoes slices, and fresh crisp asparagus spears. I have never been served eggs benedict with shrimp nor asparagus before, and I thought that the latter was a particularly interesting and enjoyable addition, imparting freshness and crunch to an already tasty breakfast dish.
Though I loved it, I probably should have ordered the single in hindsight, since this double dose of Hollandaise sauce, egg, and fatty ham made me feel a little heavy and nauseous afterwards. 😆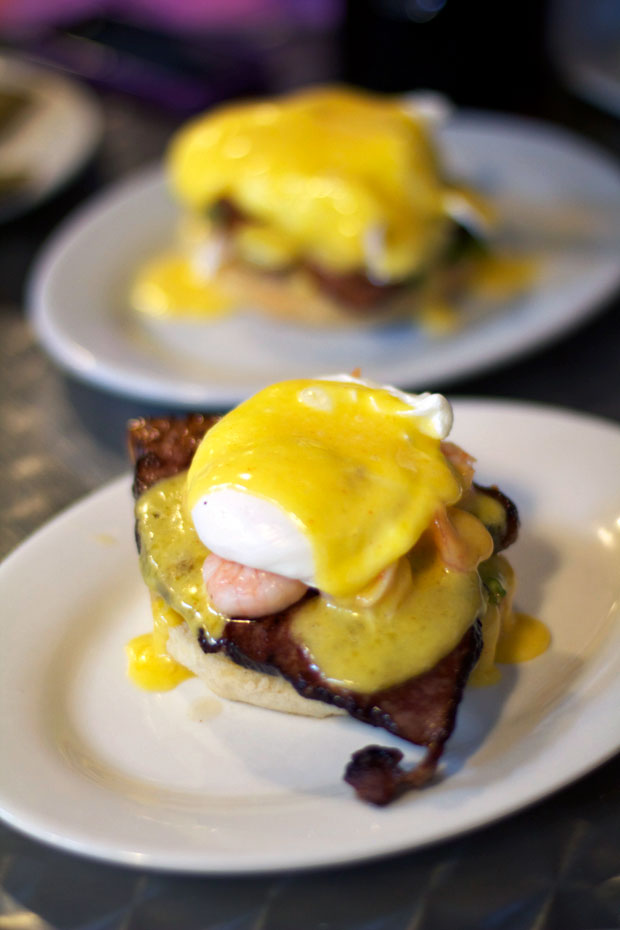 Here are those delicious spears of crisp asparagus peeking out from underneath that hefty slab of ham.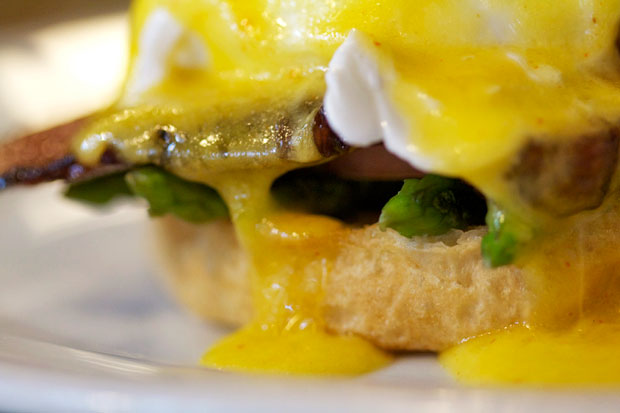 Kickstarting my beautiful wife's birthday with this amazing breakfast, we proceeded to celebrate with dinner later that night at the ultra-popular Yabu, which was a first visit for both of us. With our birthdays less than two weeks apart, we'll be having our joint celebratory dinner at the Corniche lobster buffet at Diamond Hotel next week, a meal that I am abundantly looking forward to, thanks to this mouthwatering post from one of my favorite local food blogs, The Pickiest Eater. Don't those lobsters look insane? 😯
Fortunate to enjoy incredible meals like this, it's no surprise that this blog brings me so much joy. After all, food, at any time of the day, truly is something to celebrate and commemorate. 🙂
Charlie's Grind and Grill Ronac Art Center
G/F, Ronac Art Center, Ortigas Avenue, Greenhills, San Juan
Tel: 477-5021
Mobile: 0923-496-4747
Delivery: 87878
Facebook: charliesgrindandgrill
Website: charliesgrindandgrill.com
Email: feedback@charliesgrindandgrill.com
Operating Hours: Mon-Sun, 7AM-12:30AM
Charlie's Grind and Grill Kapitolyo
16 East Capitol Drive, Barangay Kapitolyo, Pasig
Tel: 501-0137
Mobile: 0939-450-4758
Delivery: 87878
Operating Hours: Mon-Sun, 7AM-12:30AM
JB is one half of Will Fly for Food and its chief itinerary maker.  He's the one to blame for all the crappy photos and verbal diarrhea on this blog.  Don't listen to him.
Latest posts by JB Macatulad (see all)