Pipino Vegetarian and Mafism Deferred
On an old episode of Top Chef, Anthony Bourdain thanked a contestant, and his dish, for "pulling him out of a dark place", after the previous competitor's plate of hardtack and swill sent him spiraling into depression. I love Anthony for his wit and knife-like irreverence, so I found that comment to be trite and out of character, coming from him. I just couldn't grasp how an uninspired dish could make Anthony want to crawl into a fetal position somewhere and pull a tablecloth over his head. It sounded melodramatic, and it didn't make any sense to me, until today.
With a simmering urge to go mafist, move to the country, and lead a self-sustained, agricultural lifestyle, alternative vegetarian eateries such as this one have been increasingly whetting my appetite. We've been to nearby Corner Tree Cafe, which we adore. That meal opened my eyes, and made the possibility of a meatless diet seem all the more enticing and pain-free. Prior to that meal, I had little to no experience with vegetarian restaurants, so I came away from that lunch gushing, naively expecting every meatless meal to be as ebullient as that.
As I soon learned however, that isn't always the case. As jubilant as a meal can make you feel, the opposite also rings true. For the first time since watching Anthony slip into his dark place, I experienced firsthand how an uninspired meal can literally suck the joy out of you. Without the benefit of animal protein, vegetarian meals are handicapped to begin with, so unless you cook with much love and creativity, you're in real danger of winding up with hardtack and swill.
My enthusiasm dulled by a few unimaginative meals from lesser vegetarian restaurants, I decided that mafism, for the time being, will just have to wait. Sadly, this was one of those meals.
The beautiful Reneelicious seated in what appears to be the belly of a whale. Love the interior of this place. This sectioned off area to the right is Pipino, and on the other side, its parent restaurant Pino.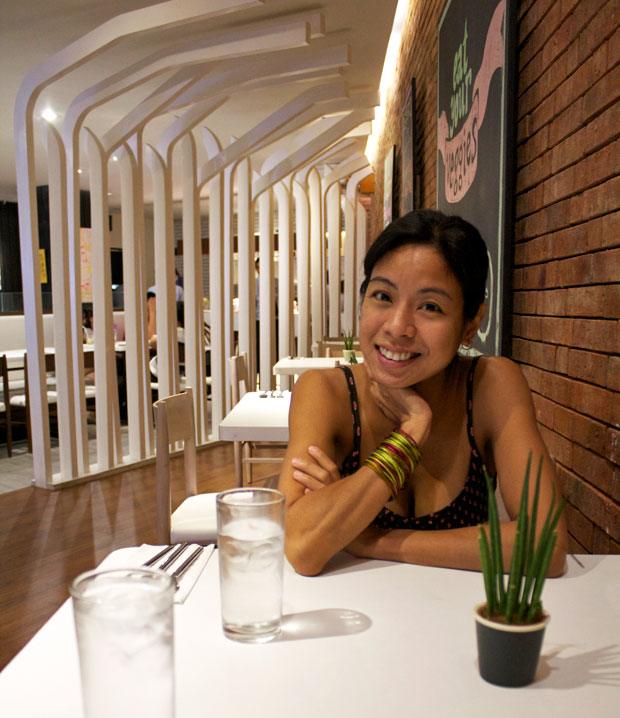 I didn't know what these bean-looking things were, but they were cool. In lieu of roses, I imagine Tim Burton giving Helena Bonham Carter something like this for Valentine's.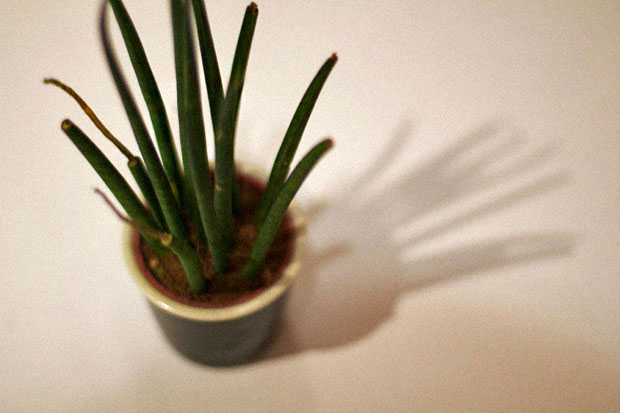 L: My name is JB and I approve that message. R: No, that's not Ren crawling into her dark place. That's Ren secretly playing Birzzle on her phone. 😆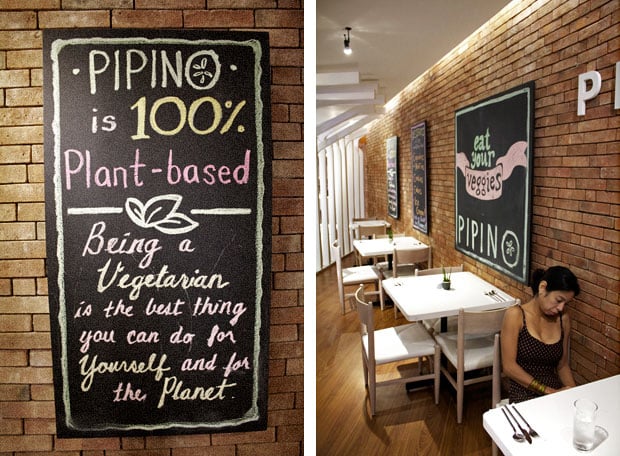 Mushroom Salpicao – PHP 125
The night looked promising after this delicious appetizer of mushroom salpicao. Buttery and garlicky with crunchy alfalfa sprouts, we really tore into this thing expecting a repeat of Corner Tree Cafe's brilliance. However, as you'll soon see, the meal went downhill from here. In hindsight, this was actually a pretty simple dish, one that even an idiot like me can prepare. 😆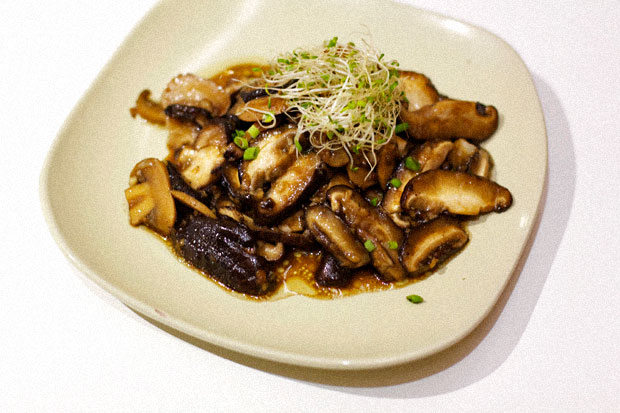 Vegetable Curry – PHP 195 – With couscous and tofu chips
This vegetable curry was the dreary plate of food I was referring to up top. Utterly bland and devoid of any imagination, it felt like they threw boiled vegetables with store-bought curry onto a plate, added some couscous, then called it a dish. The only thing remotely interesting about it were those deep-fried tofu chips that imparted some meat-like texture. Apart from that, it was colorless and drab.
Melodrama aside, I told Ren how sad I felt whilst eating this dish. Killing my initial enthusiasm, it cast a somber light on vegetarian food, and like Anthony Bourdain, it put me in a dark place. It felt like a portent of the joyless life I would have without meat, which was the complete opposite of how I felt after Corner Tree Cafe. If they're hoping to turn more people on to vegetarianism, then this isn't the dish to do it. What a sad, uninspired plate of food.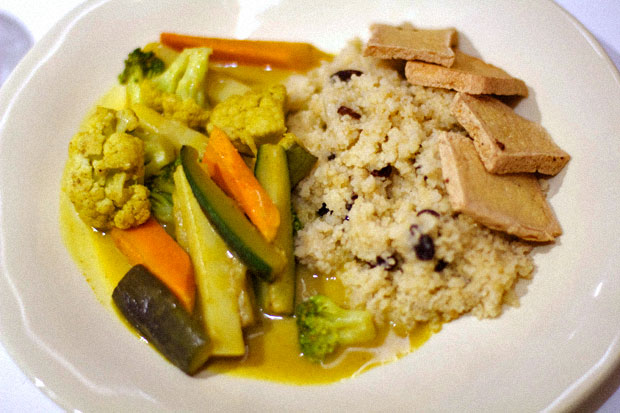 Stuffed Portobello Cheeseburger – PHP 275 – With barbecue sauce on whole wheat bun, served with sweet potato fries.
This stuffed portobello cheeseburger fared better than the vegetable curry, but not by much.
I love mushrooms, especially portobellos, so I was really looking forward to this. Texturally, mushrooms can oftentimes resemble meat. Expecting to bite into a big, juicy, meaty portobello, what I got instead tasted unsubstantial and disappointing. Whatever they stuffed it with had a soft, mushy texture as well that I didn't really care for. Apart from the mystery stuffing, it also came with a side of white mystery sauce that was so devoid of flavor, even Ren and her sensitive palate couldn't identify it. Like the vegetable curry, I don't think they'll be making any converts with this one.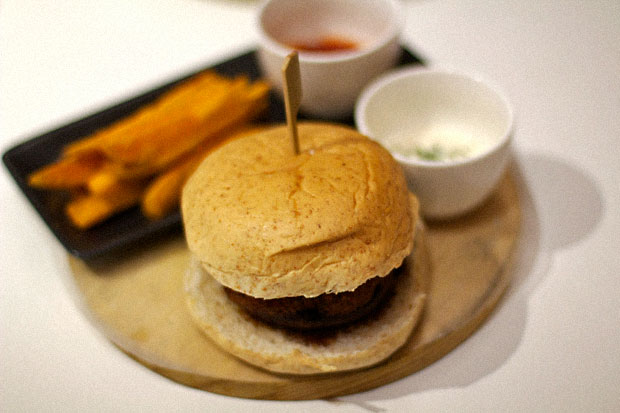 A closer look at the stuffed portobello. And I was so sure this would be good. 👿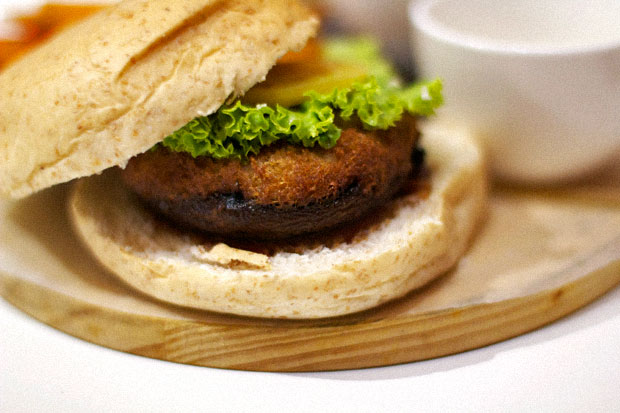 For those unfamiliar with the term "mafism", it's an alternative to vegetarianism, wherein all mammalian meat is stricken from your diet. Mafists still eat poultry and seafood, just not mammalian proteins like beef, pork, lamb, goat, etc. In a way, it's designed for people who want to explore vegetarianism, like me, but aren't quite ready to make the leap. Kinda like being "bisexual" I guess. 😆
Pipino Vegetarian Jupiter
38 Jupiter Street cor. Planet Street, Bel-Air Village, Makati
Tel: 441-1773
Facebook: pipinoveg
Website: pipinovegetarian.com
Email: pipinovegetarian@gmail.com
Operating Hours: Mon-Sat, 11AM-12MN | Sun, 11AM-10PM
Pipino Vegetarian Teacher's Village
39 Malingap Street, Teacher's Village, Quezon City
JB is one half of Will Fly for Food and its chief itinerary maker.  He's the one to blame for all the crappy photos and verbal diarrhea on this blog.  Don't listen to him.
Latest posts by JB Macatulad (see all)