Kebab Turki Baba Rafi: The World's Biggest Kebab Chain!
Most of us shawarma-loving Filipinos have heard of Behrouz, Food Channel, Mister Kabab, and Shawarma Snack Center. They're four of the most popular, most beloved shawarma-serving restaurants here in Manila. But how many of us have heard of Kebab Turki Baba Rafi? With a staggering 1,000+ outlets in three countries, but just three thus far in the Philippines, I think it's safe to assume that this little Indonesian stall is the biggest shawarma chain that most Filipinos have never heard of. At least, not yet.
Starting out in 2003 as a humble food cart on a street corner in Surabaya, Indonesia, they've since exploded to over 1,000 branches in Indonesia, Malaysia, and now the Philippines. That's well over a hundred branches a year since their inception! Ranking third in last year's Indonesian Franchise Awards (surpassing giant, multinational brands like McDonalds, Pizza Hut, and Starbucks), they're working on opening more branches in the Philippines, while extending their reach into Thailand, Vietnam, Brunei Darussalam, Hong Kong and other Asian markets.
With vision as ambitious and far-reaching as that, and a growth rate that would make China proud, I have a feeling that more and more Filipinos will be hearing the name Kebab Turki Baba Rafi in the years ahead.
Would you believe it? We chanced upon this stall over the weekend by invoking the power of The Secret. On our way back from Nasugbu with an increasing hankering for shawarmas, we were disappointed not to find any in Tagaytay, so we decided to settle for a quick bite at Paseo de Santa Rosa. Driving by Nuvali, we made the spontaneous decision to try something new, so we stopped there instead. Lo and behold, like a beacon guiding us through the void, we were led to this beautiful little shawarma stall, which, as our luck would have it, opens only on weekends. How's that for channeling the Law of Attraction? 😉



These are their regular-sized shawarmas, which are bigger than the norm. Their "juniors" are roughly the same size as what you would get at Behrouz or Food Channel.



When they hand you your shawarma, the first thing you'll notice is the clever packaging, which consists of this cardboard box with the ingenious pull-up tab.
Any shawarma eater will know that these rolled up sandwiches can sometimes be messy to eat. The sauce often drips down through the bottom and gets all over your hands. Even worse, some poorly wrapped shawarmas are so tightly swathed in paper, that I sometimes take inadvertent bites out of the wrapper. This sturdy, easy-to-carry box eliminates both annoyances. Just open the top, and pull up the tab to gradually lift the loosely-wrapped shawarma out of the box. With each bite, you continue pulling up the tab to reveal more and more of your shawarma, keeping your hands clean while you eat, and your mouth paper-free. Pretty nifty eh? 😉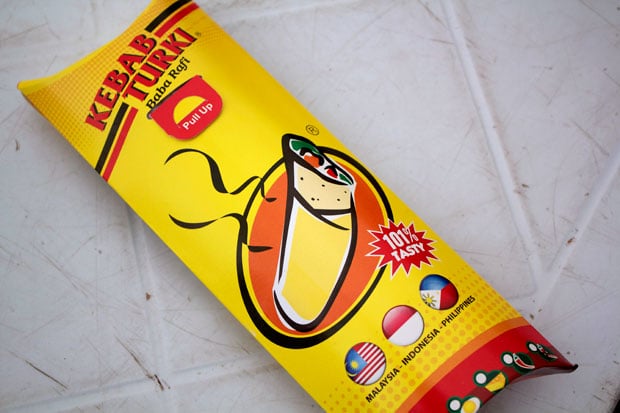 Beef Kebab – PHP 80
One bite, and you'll understand why this shawarma is so popular in Indonesia. The beef is tender, the pita pillowy soft, and the vegetables fresh and very crunchy. The ratio between components is impeccable as well, giving you a perfect bite every time. The lone negative for me, was that I found it a little too heavy on the mayonnaise, but that didn't seem to bother my fellow shawarmaholics. Though I still prefer the overall flavors of Food Channel and SSC shawarmas, this one wasn't far behind. It was very, very good.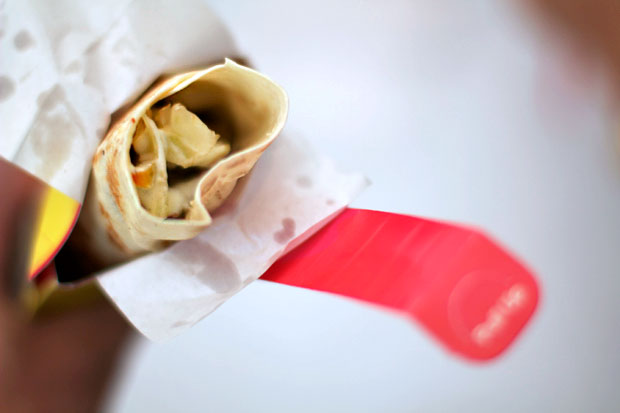 Going back to their wickedly awesome packaging, it's worth noting that they even have a step-by-step diagram at the back of the box. A virtual Pull-Up Tab for Dummies, you can check out an abridged version of it HERE. "Enjoy your kebab with style in front of your friends!" 😆
Kebab Turki Baba Rafi Nuvali Weekend Fiesta Market (Saturdays and Sundays only)
Nuvali Weekend Fiesta Market, Nuvali Eco-Living, Solenad 2, Santa Rosa, Laguna
Tel: 703-2981 (HQ)
Facebook: KebabTurki-Phils
Website: babarafi.com.ph
Email: acgifood@gmail.com | info@babarafi.com.ph
Kebab Turki Baba Rafi Robinson's Place Manila
Robinson's Place Manila, Adriatico Street, Padre Faura Wing, Ermita, Manila
Kebab Turki Baba Rafi Ayala
Ayala Dela Rosa 1 Carpark, Dela Rosa Street, Legaspi Village, Makati
JB is one half of Will Fly for Food and its chief itinerary maker.  He's the one to blame for all the crappy photos and verbal diarrhea on this blog.  Don't listen to him.
Latest posts by JB Macatulad (see all)