Rowena's Bacon from Heaven
A fan of all things custard-y like leche flan, creme brulee, yema, and panna cotta, I can't believe I had never heard of, let alone tried, this exquisite, bite-sized dessert called tocino del cielo until recently. Loosely translated from Spanish, it means "bacon from heaven" or "lard from heaven", deriving its rather odd name I guess from the copious amounts of egg yolk required to make it. Incredibly rich and unctuous, it's made from egg yolks, sugar, and water. Nothing more.
Hopping on Google, I learned that tocino del cielo was invented during the early part of the 14th century, in the sherry-making city of Jerez de la Frontera, Spain. They used egg whites to clarify their wine, leaving them with large numbers of unused egg yolks. Donating them to the local convent, the nuns combined the yolks with syrup and baked them in a water bath to create this custard-y dessert, many pieces of which I'm about to obliterate for breakfast today.
Thanks to these inventive nuns and my beautiful wife Renee, who brought these home from Rowena's last weekend instead of the usual tarts, I get to enjoy these divine, but sinful little desserts for the first-time ever in my life. Heaven help me.

PHP 170 for a dozen bite-sized pieces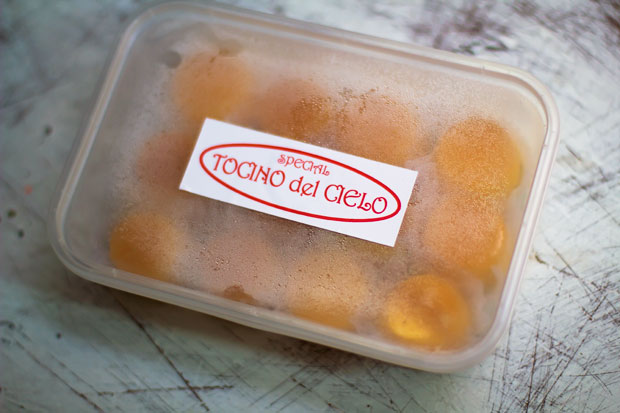 Rich and custard-y, tocino del cielo is very similar to leche flan, except it's thicker, more dense, and not quite as creamy. Personally, I still prefer the taste and texture of leche flan, though I wouldn't mind being stranded on an island with these. They're delicious.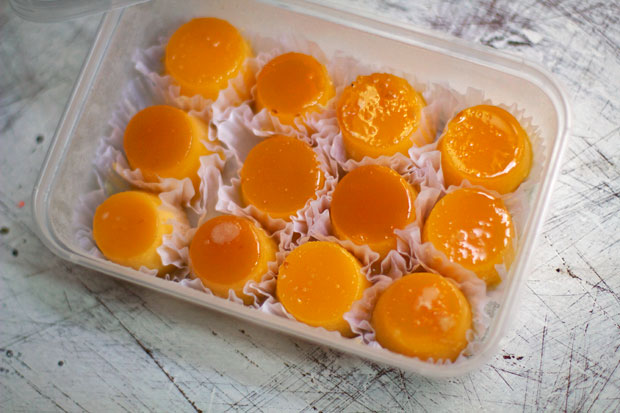 If you're like me, who's been stopping by Rowena's for years to pick up just their tarts and nothing else, then I suggest you slow down and take a closer look at their chillers. The place has exploded in popularity over the years, and along with it, their stockpile of goodies. I don't know how long they've been selling them, but they apparently carry ube jam and silvanas as well. I didn't get to try any today since Ren bought them as gifts, but I'll be sure to pick up a couple of boxes driving back from our next Tagaytay trip. 😉
Rowena's
#152 Brgy Francisco, Tagaytay. The original branch is along the Santa Rosa – Tagaytay Road, though we did spot a newly opened second branch somewhere along the Tagaytay Main Road, not too far from Taal Vista Hotel.
Tel: 046-860-2481
Mobile: 920-908-0318
Facebook: Rowenas
Website: rowenas-tarts-tagaytay.com
Email: rowenas_tarts@yahoo.com.ph
Operating Hours: Mon-Sun, 8AM-8PM
JB is one half of Will Fly for Food and its chief itinerary maker.  He's the one to blame for all the crappy photos and verbal diarrhea on this blog.  Don't listen to him.
Latest posts by JB Macatulad (see all)