Steveston Pizza. From Canada with Love?
Gino's and Taste of L.A. make some of the best artisanal pizzas that we've tried thus far in Manila. Their crust is outstanding, and their combination of toppings interesting. Upon learning that this newly opened pizzeria along Tomas Morato was a Canadian import specializing in gourmet pizzas, we only expected to find more of the same here.
Hopping on Google, I learned that Steveston wasn't actually a chain of pizzerias like Round Table or Papa John's. Instead, they're a neighborhood pizzeria with just one branch in Richmond, British Columbia. A purveyor of artisanal pizzas topped with choice, less common ingredients like crab, lobster, bocconcini, scampi, even caviar, their TripAdvisor reviews are glowing, ranking them 6th overall among 388 restaurants in Richmond, with a near perfect rating of 4.5 stars. Suffice to say, we were intrigued.
Excited to try this unknown, though highly regarded pizza, we went in with lofty expectations. After all, I can think of only three reasons why someone would go through all that trouble, paying higher franchise and logistics fees, to bring a foreign brand into the Philippines. One, it's a popular, established brand and a surefire moneymaker. Two, you can't get it here. And three, it's disgustingly good. Well, Steveston isn't Domino's, and pizza isn't the Shroud of Turin, so I fully expected their artisanal creations to make me vomit with awesomeness. Let's find out eh? 😉
Steveston Pizza is right at the corner of Tomas Morato and Scout de Guia, in the same building as Octoboy. Full contact details at the bottom of this post.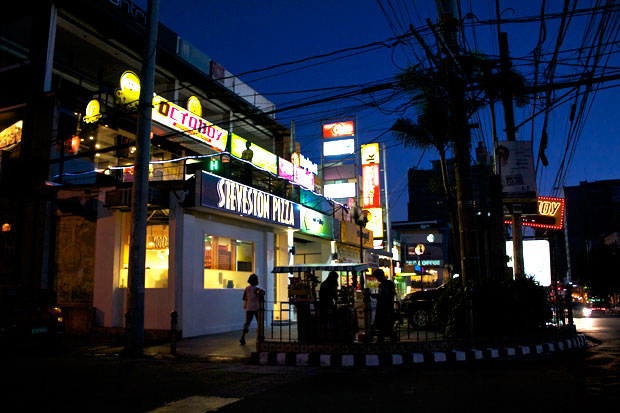 I had to jump really, really high to get this shot. Just kidding. As you can see, they have just a few tables on the ground floor, with a few more up here in the balcony.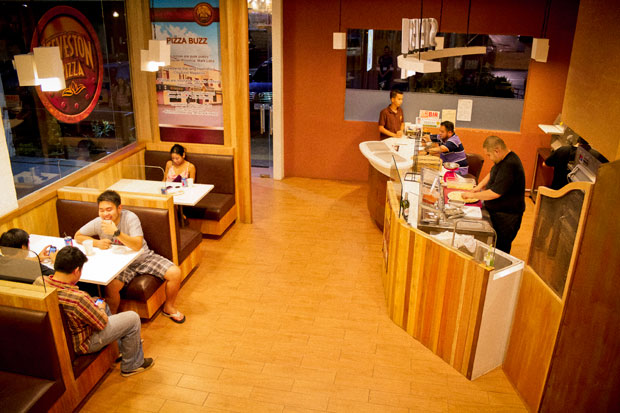 Angels (chicken wings) – PHP 180 (6 pcs) / PHP 300 (12 pcs) – Comes in sweet, dark, or spicy
Holy Jesus, they weren't kidding when they said these Angels would be spicy. I love spicy food, but even I had to take pause with these after they set my lips on fire. The sweet or the dark may have been a better choice in hindsight, as the spicy may have had been just a little too hot to be enjoyable.
With that said however, the primary reason why I won't be ordering these again wasn't the spice, but the size. Without a sense of scale, you can't tell just how small these were, but they were miniscule, barely 2 inches long apiece. Almost as small as cornish game hen wings, you couldn't pay me to find chicken wings this tiny. I'm not sure what was going on with that. Also, it's apparent from the disposable tray thingy in this picture that they're still very much in their soft opening phase. Is that a takeout box lid?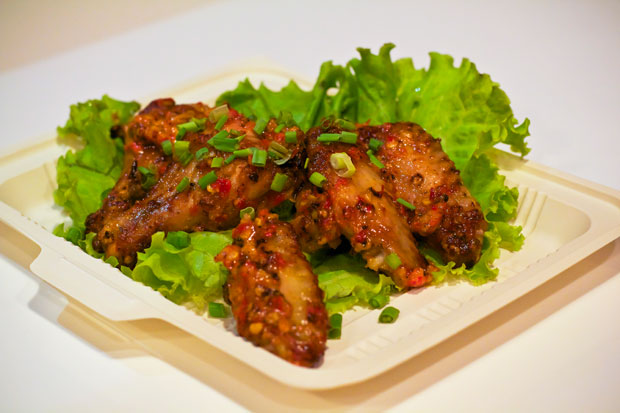 Margarite Zero – PHP 499 – Roasted garlic, anchovies, caramelized onions, capers, tomatoes, arugula
For both Ren and I, a pizza's true strength doesn't lie in its fancy toppings, but in its crust and sauce. Stripped down to its foundations, it has nowhere to hide, which is why we opted to go with one of their simpler flavors for our first taste.
From the onset, it was clear that this pizza is better than most commercially available pies. The crust is pretty good, crisp along the edges with a pillowy, chewy center. It reminded me of the medium crust pizzas at Taste of L.A, though perhaps not as crunchy. The mozzarella was nice and stringy, plus they gave you a taste of bocconcini, which is that small, quail-egg-sized ball of fresh mozzarella in the center of the pie. The ingredients were exceedingly fresh as well, the combination of peppery arugula, salty anchovies, sharp capers, creamy mozzarella, and earthy tomato sauce culminating in a flavorful, satisfying pizza.
With that said however, I thought that the price was pretty steep for what you got. A similarly sized pizza at local establishments can be had for a hundred bucks less, and those are frequently topped with meat and/or seafood. The only premium ingredients on this pizza, as far as I could tell, are the spattering of anchovies and that tiny ball of bocconcini, neither of which justifies the PHP 499 price tag in my opinion.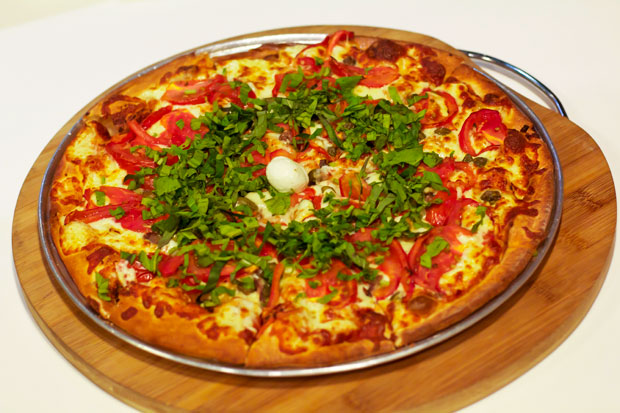 If you look at their menu, this Margarite Zero was actually one of their less expensive pies. Many are in the PHP 749+ range, with their most premium flavors topping out at PHP 1,299 for what appears to be the same 12″-sized pizza. Despite being topped with tiger prawns, crabmeat, and essence of Pernod, that's still pretty steep if you ask me.
So why are their pizzas so expensive? Was it the perceived artisanal quality of their pies? Was it the higher franchise and logistics fees discussed at the top of this post? Based on what I've read about the original Steveston Pizza in Canada, I'd say it's a combination of both.
If you look at the Canadian branch's menu, it becomes apparent right away that the founder of this restaurant – Chef Nader Hatami – lives and breathes pizza. Once a hotshot chef for the Holland America Cruise Line, I can tell just from perusing his menu that he has a sincere passion for pizza, even coming up with colorful, conceptually-driven names for his gourmet creations like The Fifth Element, Mist, and Green Earth. With a reputation for using only the choicest, freshest ingredients, he comes up with some pretty exquisite combinations, most notable of which is his world record-setting USD 450 C6 pizza, which features lobster thermidor, scampi prawns, black Alaskan cod, smoked salmon, and a side of Russian Osetra caviar, all of which he painstakingly puts together himself a day in advance. Without question, Chef Hatami treats pizza-making like an art, infusing love into every pie that he makes. Based on his favorable TripAdvisor reviews, it's apparent that Chef Hatami's customers feel satisfied that they got their money's worth, despite the higher prices.
With that said, the question I'm wondering now is this: In bringing this pizzeria all the way from Canada to the Philippines, did Chef Hatami's love and passion for pizza get carried over across the Atlantic, or did it somehow get lost in translation?
In all honesty, the pizza we had was tasty, but it didn't quite have the artisanal quality I was hoping for. Expecting to find Gino's, what we got felt closer to Pizza Hut or Papa John's instead. That's not necessarily a bad thing, and it probably won't bother most, but I just didn't think it was good enough to merit the higher price. It just felt more like an assembly line pizza-chain pie, rather than a handcrafted, one-of-a-kind pizza. My guess is that the same pizza here in the Philippines will taste noticeably different from its Canadian counterpart, the missing ingredient of course, being Chef Hatami himself.
It's funny, midway through our Margarite Zero, Ren commented that it tasted "manufactured, not crafted", despite not having any prior knowledge of Chef Hatami and his artisanal creations. Coming from an objective but knowledgeable consumer, one who knows firsthand how important love is to make a dish truly sing, that astute observation pretty much answered any questions I had about this trailblazing, but Hatami-less branch of Steveston Pizza.

Steveston Pizza
Tomas Morato cor. Scout de Guia, Quezon City
Tel: 921-9898
Facebook: StevestonPizza
Website (Canada): stevestonpizza.com
Operating Hours: Mon-Sun, 11AM-11PM
Disclosure
Some of the links in this post are affiliate links, meaning we'll get a small commission if you make a purchase or reservation at NO extra cost to you. We really appreciate your support as this helps us keep this website going. Thank you!
JB is one half of Will Fly for Food and its chief itinerary maker.  He's the one to blame for all the crappy photos and verbal diarrhea on this blog.  Don't listen to him.
Latest posts by JB Macatulad (see all)