New Whistlestop, Vintage Comfort Food
What was your favorite vintage Whistlestop dish? For me, undeniably, it was the chili pusit (squid).
While still a bachelor living in Pasig, I used to get delivery from their Shangri-La branch quite often. It would always be late at night, around midnight, and I would order the same thing every time – chili pusit with two orders of garlic fried rice. It didn't matter either if I were just ordering in or eating at an actual Whistlestop branch. I would always get the same sweet, spicy, somewhat soupy chili pusit dish that was perfect with two orders of garlic rice. It was my de facto Whistlestop meal, something that I never had to give much thought to.
So you can imagine my disappointment then, to find that it had been left off from the revamped, slimmed down Whistlestop menu. With just a fraction of the dishes retained, the new owners opted to go with a more focused approach, which if you watch a lot of restaurant makeover shows, does make sense. With that said though, I really wish they brought back my favorite dish, because for the first time ever in my long-term relationship with Whistlestop, I had absolutely no idea what to order. 😆
How about you? What was your favorite vintage Whistlestop dish?
Golden Smoked Bangus – PHP 195
A fan of all things smoked, Ren had this one, but she wasn't thrilled with it. The fish was too thin, so it came out dry and overcooked.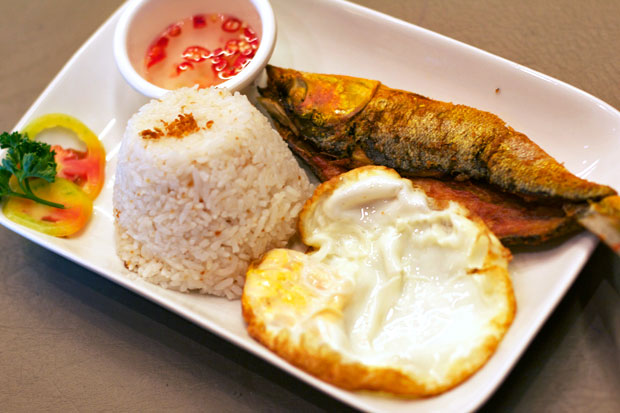 1977 Vintage Tapa – PHP 250 – Large vintage tapa, 1 fried egg, 1 garlic rice, 1 wheat bread with butter, sliced tomatoes, coffee or tea
What better way to reacquaint oneself with a rejuvenated classic, than with this 1977 Vintage Tapa? A restaurant favorite, I finally allowed myself to try it, now that my beloved chili pusit was stricken off the menu. Boo. 👿
The first thing I noticed were the unconventional cuts of tapa. Unlike most, they weren't cut into thin sheets. Instead, they were in chunks, similar to the cuts of beef that you would find in beef stew. The shredded meat was sinewy and stringy, resulting in an unexpected, less desirable tapa experience for me. The tapa tasted ok, nothing great, but I really didn't like the texture.
By the way, if you're thinking that the oatmeal bun in this picture looks out of place, it is. They were out of sliced wheat bread today, so they gave me that bun instead. Also, I just noticed in the description that my meal was supposed to be served with a cup of either coffee or tea, which I never got. Again, boo. 👿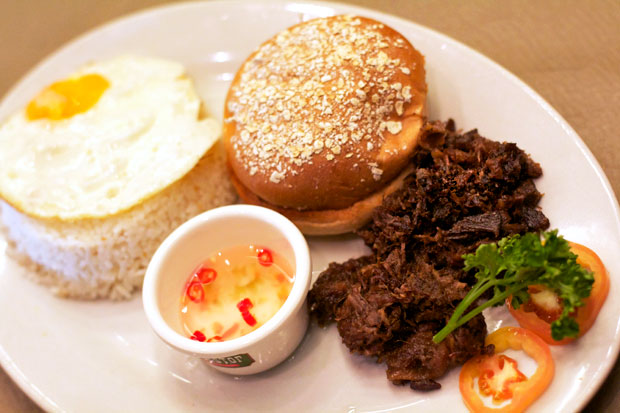 Though I was disappointed by the omission of my favorite Whistlestop dish, I read online that the new owners rehired three of the chain's original cooks. Now head chefs taking on 8-hour shifts, the first has 24 years of experience with the restaurant, the second 14, and the third 11. Needless to say, this gave me hope. With almost half a century of Whistlestop brain trust toiling around in the kitchen, I'm praying that my beloved chili pusit will eventually finds its way back home.
*clasps hands in prayer* 😆
Whistlestop Restaurant and Bar Jupiter Street
28 Jupiter St., Bel-Air Village, Makati
Tel: 896-1989 (24/7 delivery)
Operating Hours: Mon-Sun, 12AM-12PM (24/7)
Whistlestop Restaurant and Bar Alabang
Lot C-403 Central Precint, Filinvest Ave, Alabang, Muntinlupa
Tel: 771-1706 (24/7 delivery)
Operating Hours: Mon-Sun, 12AM-12PM (24/7)
JB is one half of Will Fly for Food and its chief itinerary maker.  He's the one to blame for all the crappy photos and verbal diarrhea on this blog.  Don't listen to him.
Latest posts by JB Macatulad (see all)