Tabasco Chocolate?! That's Hot.
Ren's brother Randy gave this to me as pasalubong* from the States. I swear, gourmands always give the coolest gifts. With a passion for culinary curiosities and the enthusiasm to share it with you, they'll never settle for a gift of Twizzlers bought at Walgreens. They'll always want to give you something way cooler, something that you've never heard of, and that tastes really, really good. In the case of these Tabasco spicy chocolates made by our friends at Avery Island, Louisiana, check, check, and super check.
Though chocolates made with chili is nothing new, it becomes a different animal altogether when it's made by one of the most beloved purveyors of hot sauce. Like any fan of spicy food, I love Tabasco. Given the opportunity, I'll put it on almost anything. I love its taste, I love its heat, I love its iconic packaging. So when Ren handed me this tin brandishing that familiar diamond logo, I all but jumped out of my chair. Stunning in its concept and design, I almost didn't want to open it. At least, not until I could photograph and document it here, untouched and replete.
Come to think of it, as a keeper of memories and nonsensical anecdotes about food, what gets me really excited about a gift like this isn't just the gift itself, but the prospect of writing about it here. Not only do I get to share the experience, but I get to come up with another silly story that expresses my enthusiasm and sincere gratitude for receiving it. After all, this post, and all its sentiments, will still be around in a few years' time, unlike this beautiful tin of Tabasco chocolates which I'm about to decimate, right now. 😈
*Pasalubong is the Filipino word for a gift given by someone arriving from a trip.
Though I'm not always for it, I do sometimes understand why established brands like Pepsi and ebay feel the need to revamp and freshen up their logo. With that said, I don't think this iconic diamond Tabasco logo, recognized for over a century, should ever be changed. It's perfect.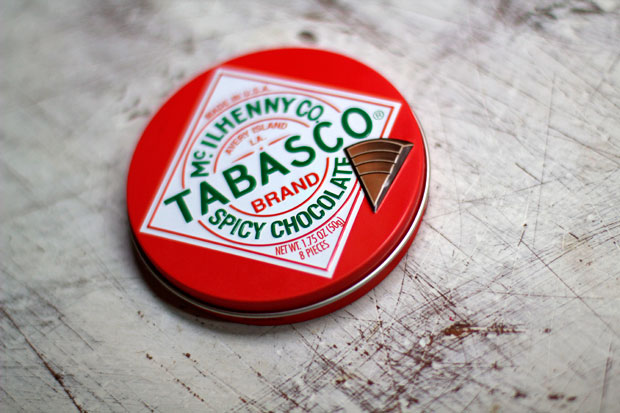 When you first bite into it, all you taste at first is the flavor of the chili, but not its heat. Only when you start vigorously chewing, then swallowing, does that devilishly delicious heat hit you. It starts with your throat, before moving to coat your entire mouth with that spicy, tingly Tabasco sensation that always lingers for a few minutes, but never long enough. Absolutely wonderful and highly addictive, I've had chocolates made with chili before, but none quite as good as this.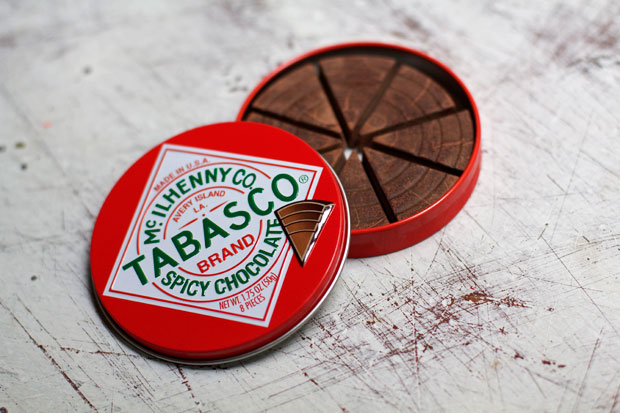 Thanks again Kuya Randy! We loved it. Post on Centenario Tequila Añejo to follow soon. 😈
JB is one half of Will Fly for Food and its chief itinerary maker.  He's the one to blame for all the crappy photos and verbal diarrhea on this blog.  Don't listen to him.
Latest posts by JB Macatulad (see all)