What's your favorite date place?
Being from the Quezon City Scout area, A Taste of L.A. Cafe, along Roces Avenue, would have to be number one on our list. We've been going there for years, even before we got married, so it naturally holds a special place in our hearts. This restaurant, located a few streets away at the corner of Tomas Morato and Sct Fuentebella, is a close second.
Though we haven't gone on as many dates at Uno, it's without question a terrific date place, one of the most romantic in the area. An intimate space with dim, ambient lighting, it's a great place to get lost in conversation over a quiet, candle-lit dinner for two. The tasteful interior of cream and wood finishes feels very clean and restrained, so there really isn't much here visually to distract you. And the food. Offering a selection of Continental fare that's updated every few months, not once have we been disappointed by anything on their menu. Simple but well-executed, the food is always good, and the desserts, divine. If I'm not mistaken, they bake their own bread, pastries, and cakes, the best of which is this light, crumbly cheesecake that Ren gets all mushy over.
In spite of all that, the one thing that makes Uno an ideal date place I think, is the absence of rowdy children, running around, potentially ruining the moment. Without anything colorful on the walls, nor any kid-friendly dishes on the menu, it isn't exactly the best place for children, which for a young couple looking to generate sparks, is the perfect place to be. 😉
Spaces here are limited, so be prepared to find parking on the street.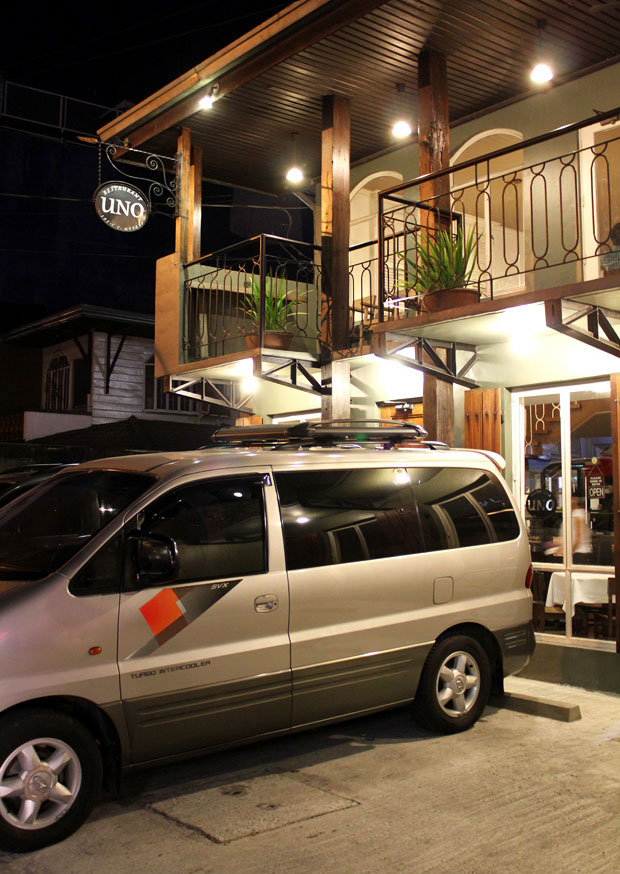 Chorizo and Onion Saute – PHP 180
Ren was still full from lunch, so she chose this chorizo and onion appetizer as her entree. It was earthy, smokey, and sweet, with a mild punch of pimenton. Very nice, especially when paired with their freshly baked bread.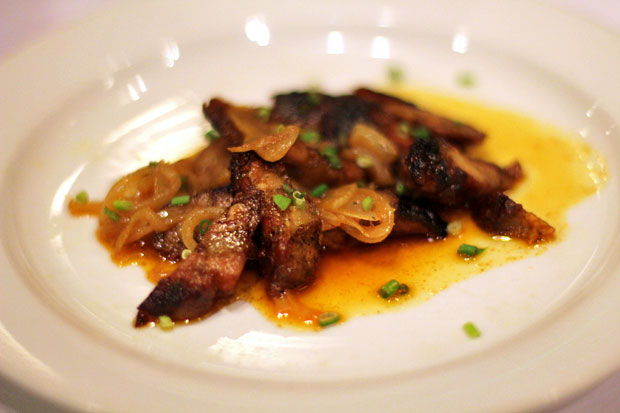 Pollo Asado – PHP 390 – Grilled free range chicken with cumin and coriander
Cumin and coriander are like music to Ren's ears. Infused with the flavor of two of her favorite herbs and spices (and by default, mine now as well), the chicken was tender and moist, though the breast may have been just a touch dry. The tomato sauce helped by imparting moisture and tanginess to the dish. Like everything they serve here, this was a simple, comforting plate of food. Nothing spectacular, just reliable and good.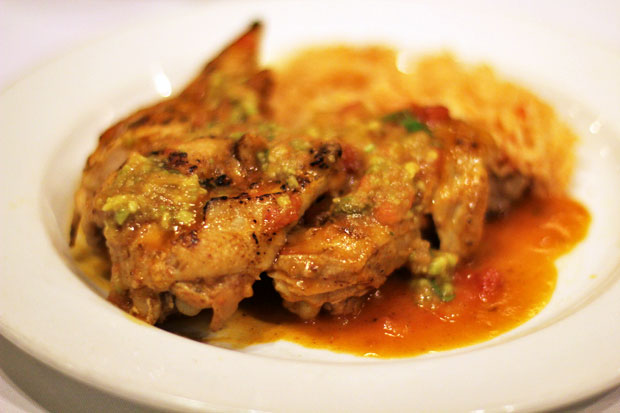 Again, let me reiterate that if you have young kids, then Uno really isn't the place for you. Your children won't like it. But if you're in the mood to MAKE kids and want to up your chances of scoring, then by all means, fire up the Marvin Gaye and get it on tonight at Uno. 😈
Uno
195-C Sct Fuentebella cor Tomas Morato, Laging Handa, Quezon City
Tel: 374-0774
Operating Hours: Mon-Sat, 11AM-9:30PM
Notes: Limited parking
JB is one half of Will Fly for Food and its chief itinerary maker.  He's the one to blame for all the crappy photos and verbal diarrhea on this blog.  Don't listen to him.
Latest posts by JB Macatulad (see all)