Lengua Burrito at Olvera's Authentic Mexican Grill, Midnight Mercato
I haven't eaten many a burrito in my life, especially here in the Philippines, but one bite was enough to convince me that this lengua (ox tongue) burrito from Olvera's was one of the tastiest I've ever had. In saying "one bite", I don't mean that in a figurative, epiphanic sense either. I literally mean just one bite, because that's all my voracious, overeating ass could finagle from Ren. 😆
Without any real experience eating Mexican food outside of Taco Bell, I can't vouch for this burrito's authenticity, but for all its worth, I thought it was very good. I don't know if it's fair to compare a lengua burrito to a burrito made with carne asada, but I found this one to be much more enjoyable than the "Ensogo" burrito I recently had at Hermanos.
Combine that with my underwhelming choice tonight of Big Bob's burger, and I think it's pretty much guaranteed that I'll be looking for more than one bite on our next trip to Midnight Mercato. Reneelicious, beware. 😈

Now that's what I call a tongue-lashing.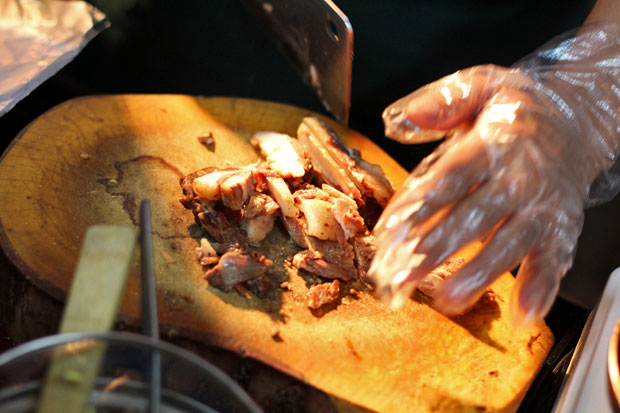 I couldn't wait to get this tongue in my cheek.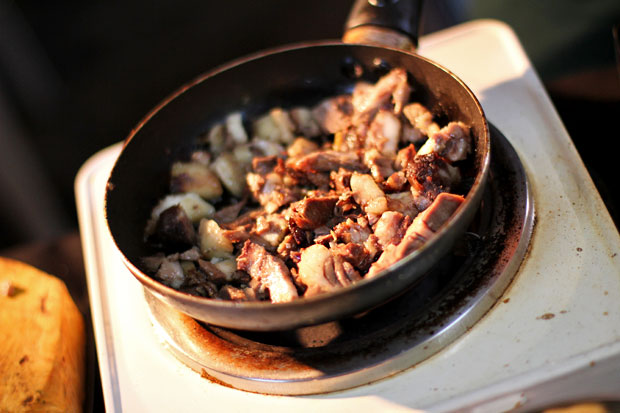 I'm at a loss for words about how beautiful and alluring this looks.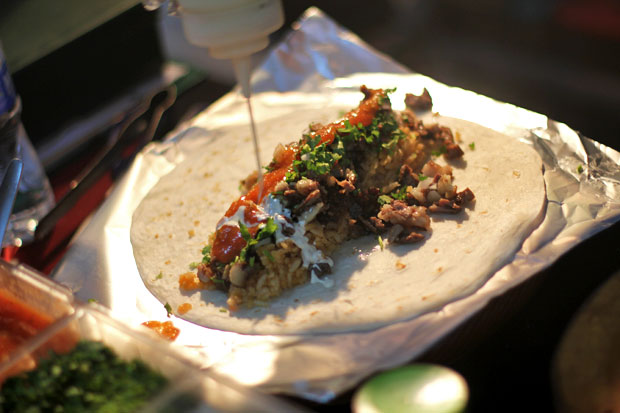 Lengua (Ox tongue) Burrito – PHP 150
Despite getting just one bite of this tasty little burrito, that single mouthful spoke volumes. It was flavorful and very tender, with that wonderful, unique, ox tongue texture that I love. I was never too big on Mexican food before, but burritos like this one leave me speechless. Suffice to day, I think I'll be ordering this lengua burrito for myself on our next visit to Midnight Mercato.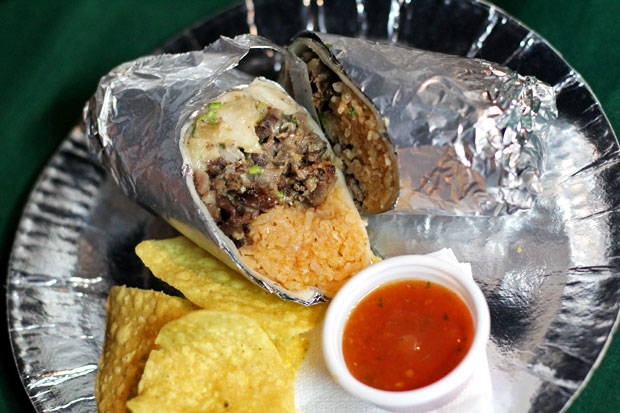 By the way, if you like Mexican cuisine and less conventional body parts like ox tongue, then I'm sure you'll enjoy Ren's oxtail tacos as well, the recipe for which you can find HERE. Yes, my wife makes oxtail tacos at home, and yes, I am that spoiled. What can I say? 😉
Olvera's Authentic Mexican Grill
Midnight Mercato, 34th Street corner 8th Avenue, Bonifacio Global City, Taguig
Mobile: 0917-828-9396
Facebook: Olveras-Authentic-Mexican-Grill
Email: pdealba.perez@gmail.com
Operating Hours: Fri & Sat – 10PM-3AM
JB is one half of Will Fly for Food and its chief itinerary maker.  He's the one to blame for all the crappy photos and verbal diarrhea on this blog.  Don't listen to him.
Latest posts by JB Macatulad (see all)