Big Bob's Charcoal Grilled Burgers at Midnight Mercato
Burn baby burn!
Bewildered as I may have been initially about what to have for dinner tonight, one look at this disco inferno of Big Bob's burgers and my mind was instantly made up. Seriously, just look at that thing. What red-blooded carnivore could possibly resist the sound and smell of grill marks searing into the flesh of thick, juicy slabs of pure beef?
Smoke billowing, coals blazing, cheese oozing out from the patties. If that doesn't get you fired up for one of these burgers, then my guess is that you're either a vegetarian, or Hindu.

Grillin' like a villain. Now that's what I call flame-grilled! 😈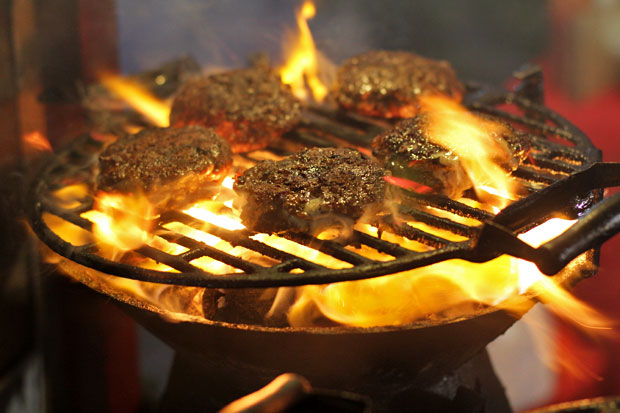 Come on baby light my fire.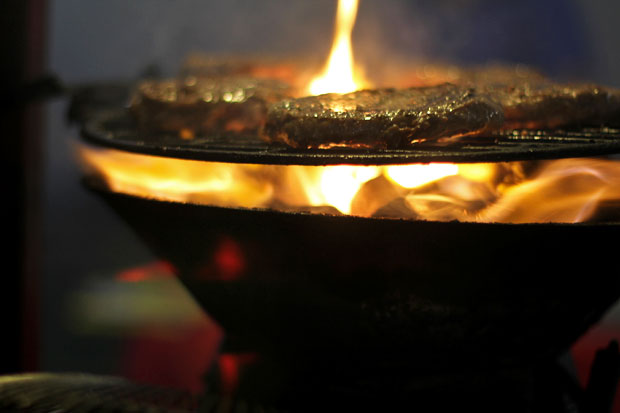 Big Bob's Special – PHP 180 – 1/3 pound charcoal-grilled pure beef patty oozing with mozzarella and cheddar cheese. Topped with bacon and fresh vegetables.
Excited as I may have been watching my burger patty get grilled to perfection, my initial enthusiasm was matched by my disappointment after seeing the assembled burger for the first time. "Oh crap", I immediately thought to myself, "this looks like cheap bread."
A sandwich, for me, can only be as good as the bread its on. Untoasted and a little clammy to the touch, the bun was doughy and pasty, the kind that clumps up and sticks to the roof of your mouth while you chew. I didn't like it at all.
The burger itself was decent, but nothing spectacular. It was thick, juicy, smokey, and beautifully charred, but the flavors weren't inspiring. In fact, the inexpensive wagyu burgers from My Own Meat Shop, which Ren has been making me for lunch everyday, are way better than this. Like anyone, I enjoy bacon on a burger, but it didn't do much for me here. I would have preferred it to be crisp rather than undercooked and flaccid like this.
On a positive note, PHP 180 for a 1/3 pound all beef burger with mozzarella, cheddar, and bacon is a good deal. That's a lot of meat and cheese for your money, so you do come away full and satisfied without feeling like you overspent.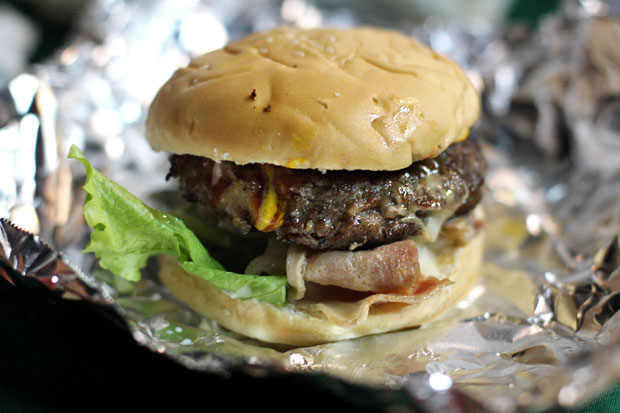 Although the burger didn't quite resonate with me, a lot of people apparently like it, as evidenced by the "Mercato Favorite" plaque on their stand. The over ten-minute queue for the burger spoke volumes as well.
As always, please understand that these are my opinions and nothing more. Though I didn't enjoy it as much, food is such a subjective experience that I encourage you to try it for yourself anyway, then form you own conclusions from there. 😉
Big Bob's Charcoal Grilled Burgers
Midnight Mercato, 34th Street corner 8th Avenue, Bonifacio Global City, Taguig
Facebook: Big-Bobs-charcoal-grilled-burgers
Email: bigbobs.mercato@gmail.com
Operating Hours: Fri – 10PM-3AM / Sat – 7AM-2PM, 10PM-3AM / Sun – 7AM-2PM
JB is one half of Will Fly for Food and its chief itinerary maker.  He's the one to blame for all the crappy photos and verbal diarrhea on this blog.  Don't listen to him.
Latest posts by JB Macatulad (see all)