Korean Rice Sandwich from Kimbap King, Midnight Mercato
Of the many food stalls that I perused on our last trip to Midnight Mercato, these Korean rice sandwiches stuck foremost in my mind. I'm a fan of strange food and sushi, so it's no surprise that these nori-wrapped rice "sandwiches" grabbed my attention.
Formally known as Samgak Kimbap, the rice sandwich is a popular Korean dish made from seasoned steamed white rice (Bap) and different types of fillings like tuna, beef, or kimchi. The rice and fillings are rolled in seaweed (Kim) and formed into a triangular shape (Samgak), hence the name Samgak Kimbap (Samgak + Kim + Bap).
Still undecided on tonight's dinner, I picked one up as a quick appetizer while I deliberated on the main course.

Available flavors: Burger – PHP 50 / Beef Bulgogi, Chicken, Pork Bulgogi – PHP 45 / Kimchi, Tuna, Rice Balls – PHP 40 / Dried Seasoned Seaweed – PHP 25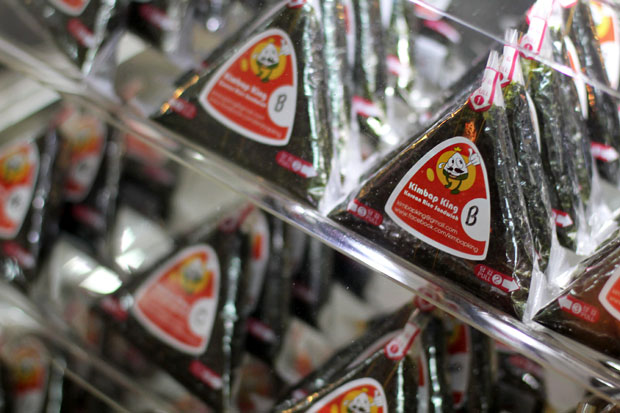 Beef (Bulgogi) Korean Rice Sandwich – PHP 45
Inspired by futomaki during the Japanese occupancy of Korea from 1910-1945, these triangular rice sandwiches really are reminiscent of those thick, sometimes meat-filled, sushi rolls.
Though I ADORE sushi, futomaki would be one of the last things I would order at a Japanese restaurant, and sadly, that's how I feel about this Bulgogi rice sandwich as well. I enjoyed the nori with the rice, but I didn't like the cold bulgogi filling as much, finding the combination to be a little off-putting. Next time, I think I'll stick to the meatless varieties.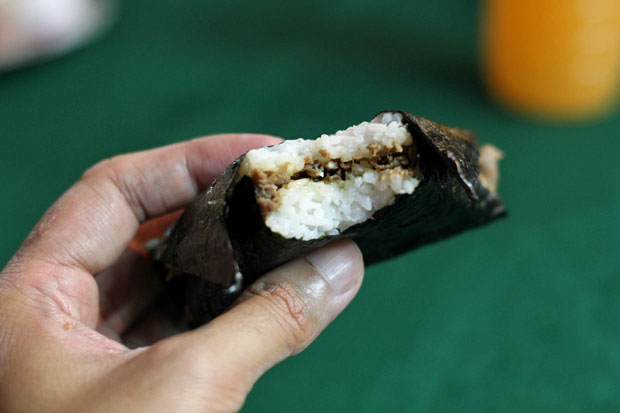 "These sandwiches shall bow before the king!" Wait, the sandwich is the king.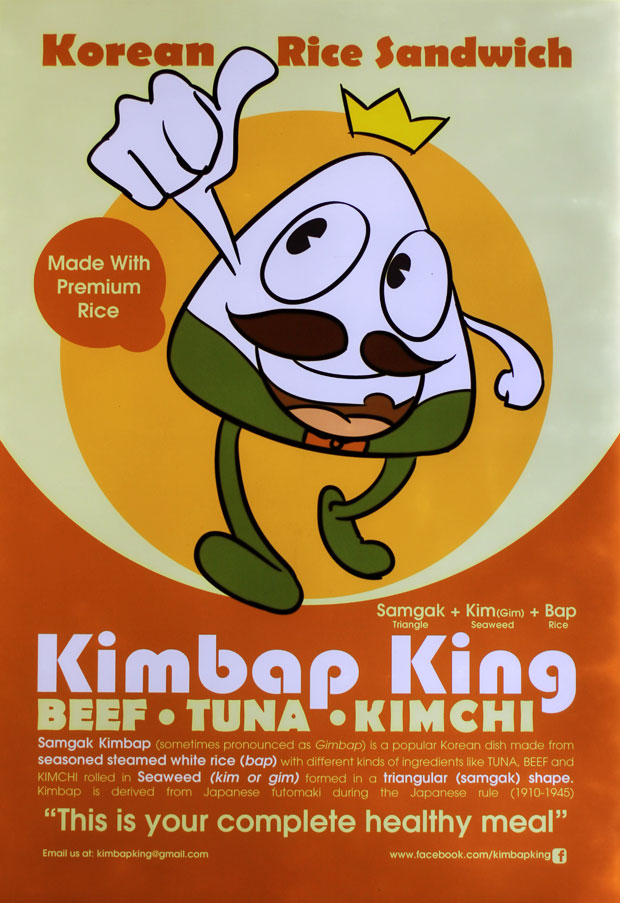 Kimbap King
Midnight Mercato, 34th Street corner 8th Avenue, Bonifacio Global City, Taguig
Facebook: kimbapking
Email: kimbapking@gmail.com
Operating Hours: Fri & Sat – 9PM-3AM
JB is one half of Will Fly for Food and its chief itinerary maker.  He's the one to blame for all the crappy photos and verbal diarrhea on this blog.  Don't listen to him.
Latest posts by JB Macatulad (see all)