Soondae Bloody Soondae at 6 Days Korean Restaurant
Reneelicious is frequently inspired by restaurant meals. Just recently, a beautiful appetizer of Thai Son-in-Law Eggs was inspired by a lunch enjoyed at Nav in Kapitolyo. Before that, a bowl of very awesome Osam Bulgogi was made following a previous visit to this very same restaurant, 6 Days. And on another occasion, a succulent, lesser known Hainanese platter of Hainanese Fish Rice was magically whipped up, just a few days after a meal at Hai Chix & Steaks at the Ortigas Home Depot complex in Pasig.
Hoping to continue that trend, we paid a return visit to our favorite Korean hole-in-the-wall, 6 Days, along Escriva Drive in Pasig. In the mood for something a little more out of the ordinary, I decided to ask the waitress to recommend one dish for us, something exotic but popular amongst their many Korean patrons. Without giving it much thought, she suggested Chung Guk Jang, which is a stew made from fermented bean paste.
Excited as I was to try something new, I couldn't help but brace myself after hearing the word "fermented", which in my experience, usually meant something putrid. True enough, when the bubbling hot bowl of stew was plopped down before us, I was instantly transported to the locker rooms of my youth, remembering the countless times I had peeled sticky, sweaty socks off my feet after gym class. I kid you not, this foul-smellig brew reminded me of that thick, sharp odor, a muskiness interspersed with the acidic, citrusy scent of freshly formed toe cheese. Lovely.
In fairness, the dish turned out to be very tasty, though I got the distinct impression that this pool of funk wasn't about to inspire any Reneelicious Recipes, anytime soon. 😆

A few plates of banchan. These didn't smell foul at all.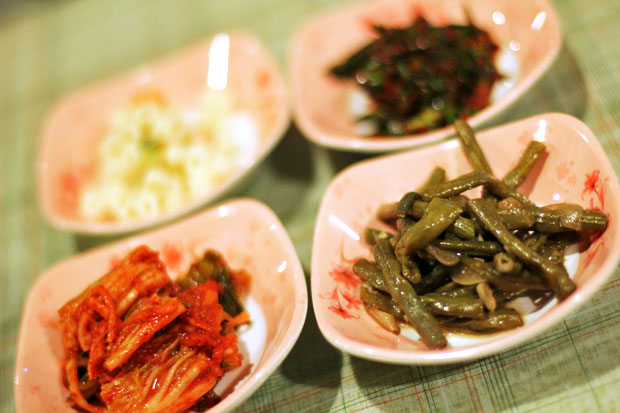 Sachun Dongasu – PHP 300 – Pork cutlet with spicy seafood
This was basically a pork cutlet slathered over top with stir-fried squid, shrimp, and vegetables. The cutlet was nicely cooked, tender and juicy with a crunchy, breaded coating. I was hoping to find more squid in the stir-fry, but the pieces of seafood were few and far between. The stir-fry wasn't as spicy as I would have liked, but it tasted good and went well with the cutlet. Overall, this was an enjoyable dish, though probably not something I'd get here again, since it made me regret not ordering my beloved osam bulgogi.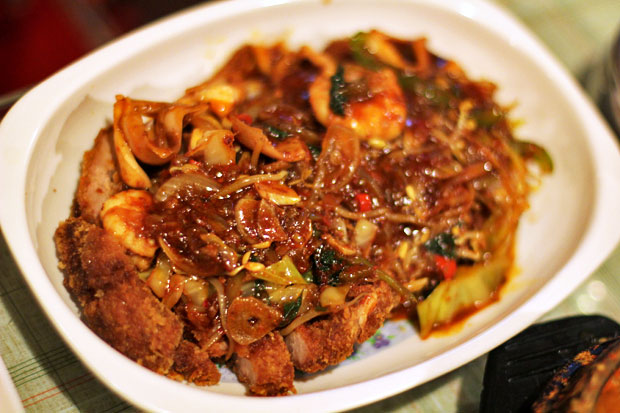 Soondae – PHP 200 – Pork blood sausage
These were really good. Having enjoyed them before in a soup (soondae guk) this was the first time that we got to try them as a side dish. Even better on their own like this, they're pork blood sausages stuffed in pig's intestines with dangmyeon (cellophane noodles), barley, and other ingredients. Salty, earthy, chewy, and mineral-y with that wonderful sausage casing bite, I could eat these all day long. So, so good.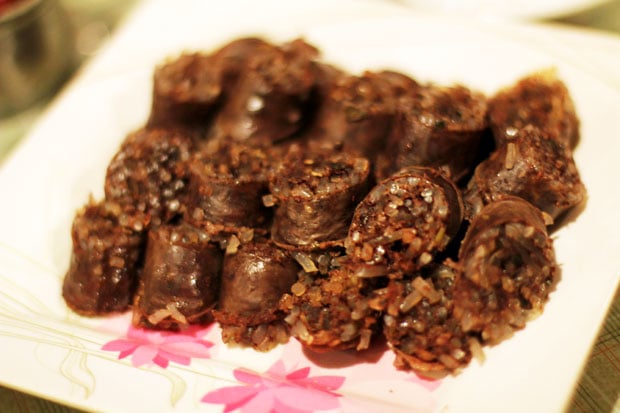 Mixture of salt, ground pepper, and gochugaru (red chili pepper flakes) served with the soondae.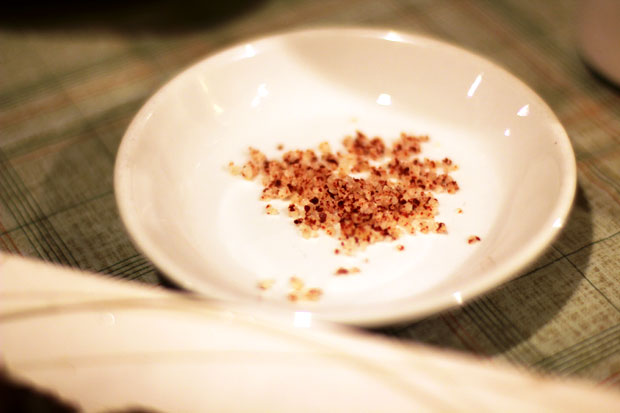 Chung Guk Jang – PHP 250 – Fermented bean paste stew
The infamous chung guk jang, also known as stinky miso stew. Smelly like socks, but tasty and apparently good for you as well, they're made by first soaking beans in warm water for about ten to twenty hours. The water is then discarded, and the paste kept warm, allowing it to ferment for two to three days. During this time, beneficial bacteria forms, which supposedly helps prevent cancer and aids in the excretion of harmful substances from your body.
Though my mom found the smell to be offensive to the point of not wanting to try it, it didn't bother Ren nor I as much. Though I may have exaggerated my description up top for comic effect, it definitely did stink and smell like socks, but just not enough to be repulsive. For me, it wasn't nearly as bad as the rancid odor of Taiwanese stinky tofu.
Flavor-wise, it was interesting and tasted pretty good we thought. Ren described it as being similar to a milder bagoong (fermented shrimp paste), which I can see. It was salty, sour, pungent, and spicy. With all its beneficial bacteria, it would probably make an outstanding hangover cure as well. I can imagine my upset stomach settling within a few minutes of eating this. Though undoubtedly an acquired taste, I enjoyed it very much, and can definitely see myself ordering it again, especially now that I know it's good for you.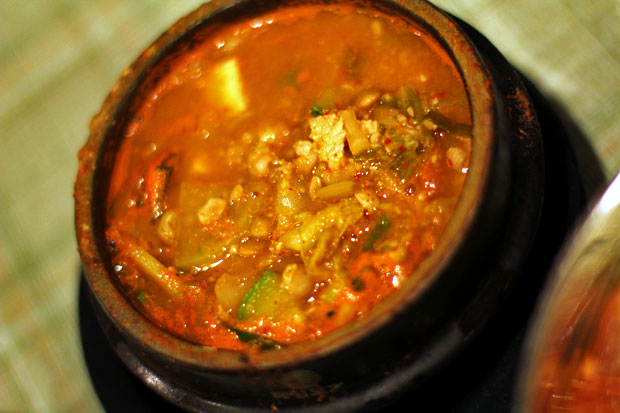 The four components to this chung guk jang – a bowl of veggies, Korean sticky rice, gochujang (hot pepper paste), and the sock-smelling stew itself. You're supposed to mix the veggies, gochujang, and rice together, while the chung guk jang serves as your viand.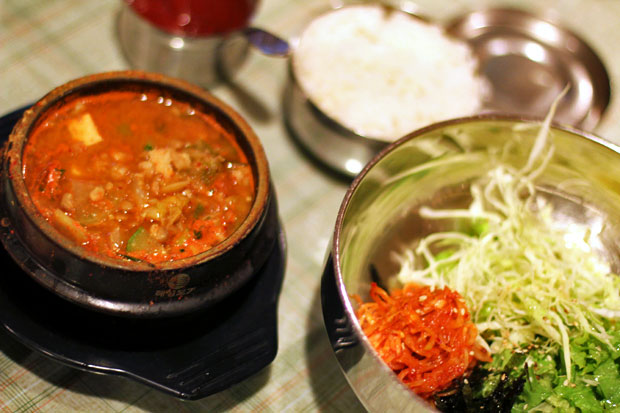 Mix like no one's watching. If you've ever had bibimbap before, then you'll know what to do. The end result is a sticky, starchy, spicy, crunchy, delicious mess. 😉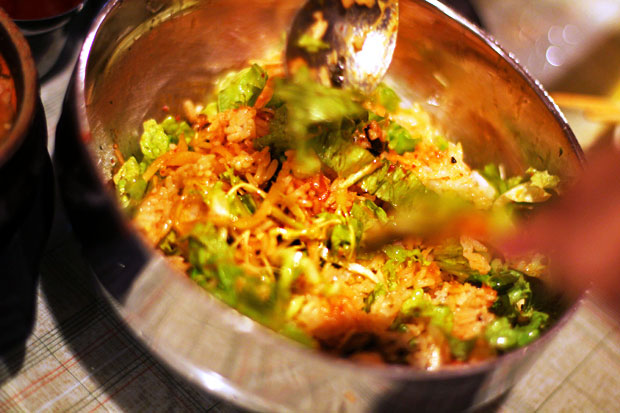 As mentioned up top, 6 Days is my hands down favorite Korean hole-in-the-wall. It's authentic, intimate, and feels very much like an unknown waiting to be discovered. On top of that, it's inexpensive too. This entire meal for three, with four beers, went for just over PHP 900. Not bad eh? If I remember correctly, the most expensive thing on their menu is grilled duck, which you eat with shiso (sesame) leaves and cloves of garlic. It goes for around PHP 1,000, but is good enough for three to four people.
If you're ever in the area and in the mood for some Korean hole-in-the-wall action, then I suggest you try 6 Days and order the osam bulgogi. It's killer, especially if you like squid. Just be sure not to go there on a Sunday though. They aren't called "6 Days" for nothing. 😉
6 Days Korean Restaurant
8137 Plaza, Escriva Drive, San Antonio, Pasig
Tel: 637-8282
Operating Hours: Mon-Sat, 10AM-2AM
JB is one half of Will Fly for Food and its chief itinerary maker.  He's the one to blame for all the crappy photos and verbal diarrhea on this blog.  Don't listen to him.
Latest posts by JB Macatulad (see all)