Custard Hopia and Mochi from Eng Bee Tin
Eng Bee Tin has been in business for over a hundred years now, but I had never set foot in one of their shops until recently. Why? Because I'm not fond of hopia, which they're best known for. The fact that I never developed a taste for it can be traced back to a joke my older sister once told me as a child:
Question: "What is the heaviest pastry in the world?"
Answer: (In a strained voice, as if lifting something back-breakingly heavy) "HOOOPP….IIAAAAA!"
With images of brick-like blocks of bread seared into my subconscious, that joke pretty much killed any desire in me to try this popular, bean-filled pastry. 😆
Opening a branch along E Rod in the last year or so, it's no surprise then that their proximity has gone virtually unnoticed by me. Because of this blog, I usually get excited about newly opened eateries in the area, but this place? Not one bit. That all changed a few days ago however, when I was driving by and saw these two magic words plastered on a poster in their window:
CUSTARD. HOPIA.
A sucker for custard-based desserts like leche flan, creme brulee, and panna cotta, I became filled with joy over thoughts of light, airy custard in handheld, hopia form. Feeling freed from over three decades of misconception unfairly wrought by a harmless but impactful childhood joke, I quickly spun my car around, parked, and marched right into that Eng Bee Tin for the first time ever in my life, coming away with a bag full of goodies featuring none other than their Custard Classic and Custard Ube hopia.
Chilled, creamy, and seriously delicious, this hopia dessert my friends, is no joke. 😉
Custard hopia and mochi from your favorite Chinese deli, Eng Bee Tin.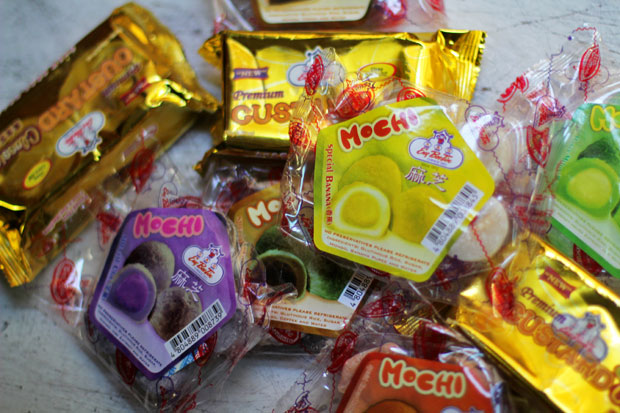 Custard Classic and Custard Ube Hopia – PHP 48/pack (4 pcs)
I really enjoyed these. Ensconced within a thin, flaky crust, the custard was light, creamy, and not too sweet; quite similar I thought to a firmer, chilled pastry cream. I liked both flavors equally, with the ube really tasting like ube.
Great as a light breakfast with a hot cup of black coffee, I will definitely be making routine Eng Bee Tin visits from now on, just to stock up on these tasty little treats.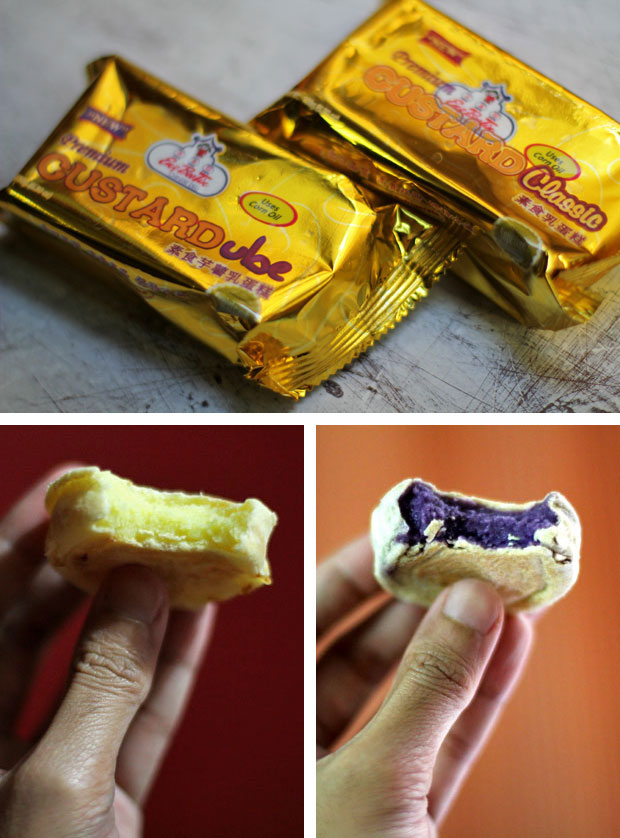 I like mochi as well, so I was pleased to find six different flavors of these chewy, glutinous mochi balls with the paste-like, bean filling. They were pretty good, some better than others, though not as memorable overall as the custard hopia. I probably won't be buying them again.
Choco-Orange and Chocolate Mochi – PHP 45/pack (6 pcs)
Of the six flavors, I enjoyed the choco-orange the best. Chocolate and orange always go well together, and this was another example of that. The chocolate was decent as well, though fairly similar I thought to the mocha below.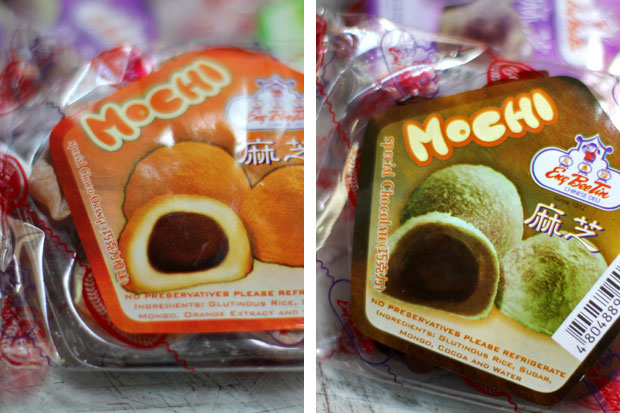 Ube and Honey Melon Mochi – PHP 45/pack (6 pcs)
The ube wasn't bad, but the honey melon tasted a little artificial to us. We didn't really like it.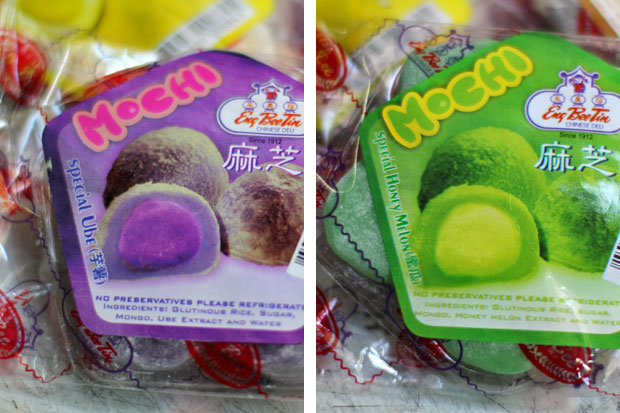 Banana and Mocha Mochi – PHP 45/pack (6 pcs)
Of all the flavors, the banana was easily our least favorite. It tasted very artificial, almost perfume-y and candy-like. The mocha was similar to the chocolate, though lighter and not as robustly chocolate-y.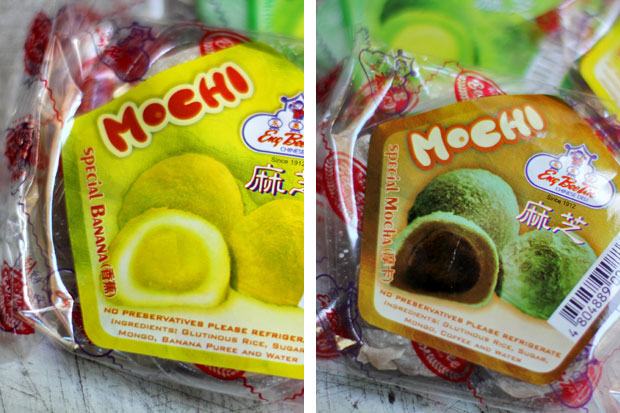 Eng Bee Tin
The Eng Bee Tin we went to was along E. Rodriguez Sr. Ave., almost directly across from the driveway into the St. Luke's Hospital compound, but their main branch is located at 628 Ongpin Street, Binondo, Manila.
Tel: 288-8888
Facebook: iloveengbeetin
Website: engbeetin.com
I couldn't find a comprehensive list of all their branches, not even on their website, Facebook page, nor munchpunch.com, but the most complete list I could find was THIS ONE.
JB is one half of Will Fly for Food and its chief itinerary maker.  He's the one to blame for all the crappy photos and verbal diarrhea on this blog.  Don't listen to him.
Latest posts by JB Macatulad (see all)