Hermanos Taco Shop and the "Ensogo Effect"
Located along our usual route to and from Makati, we've been driving by this oddly situated taqueria along Granada Avenue for over two years now. It's impossible not to notice it for two reasons: A) Mexican restaurants are few and far between in Manila, and B) it's located, of all places, at a gas station. I think that's a first.
Having lived in Southern California for many years, Ren's developed a fondness for Mexican food. Ever since Hermanos opened in 2010, we've been telling ourselves to visit soon, and try what we've read online to be one of the best, most authentic examples of Mexican cuisine here in Manila. Being the procrastinating homebodies that we are though, that same dialogue has been going on for a couple of years now with zero follow-through. Blame it partly on laziness, partly on the fact that we buy so many restaurant coupons that we rarely have time for non-voucher meals.
Ever a slave to that Groupon, leave it to a soon-to-expire Ensogo voucher to finally get me off my ass, and take my wife out for what should be some real legit, Mexican burritos.

Though we've yet to try it, the peachy-peachy sold next door is supposed to be very good as well.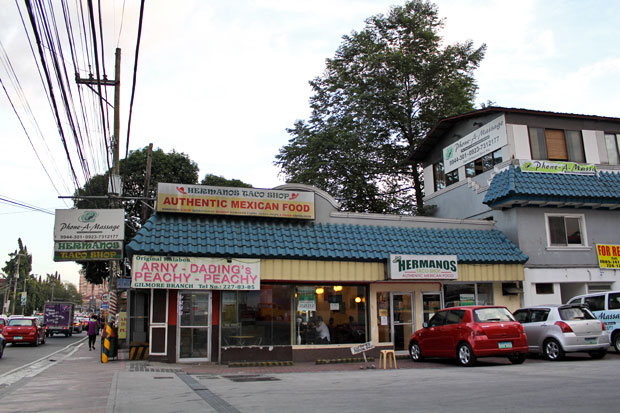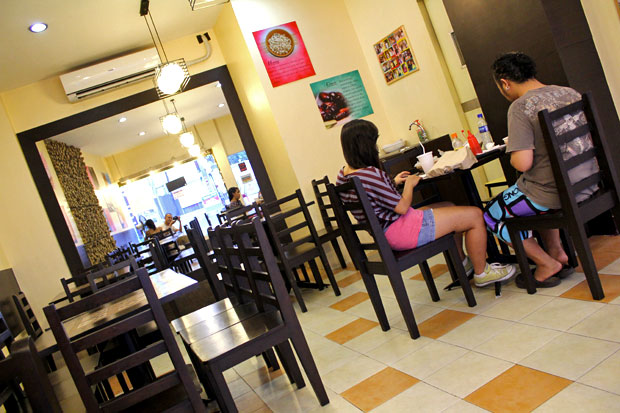 Beef Fajitas Burrito – PHP 295 – Diced sirloin steak with peppers, onions, pinto beans, Spanish rice, sour cream, cheese sauce, and shredded lettuce. Served with chips and salsa.
Though I'm not nearly as enthusiastic about Mexican food as my wife is, I'm not entirely clueless either. I did live in San Francisco for a few years, stuffing my face from time to time with those deliciously gentrified, Mission District burritos.
With that said, I was completely surprised by this one, but not in a good way. For the first time ever, I found a burrito to be bland. With all the ingredients that go into a burrito, you'd think that "flavorless" would be the last word you'd use to describe it, but that's exactly what this one was for me, bland and underwhelming. The tortilla and salsa were great, but the burrito was in dire need of flavor, so I found myself drowning it in hot sauce, just to give it some pep.
Obviously disappointed, I have an inkling as to why this burrito turned out so bland. More on that below.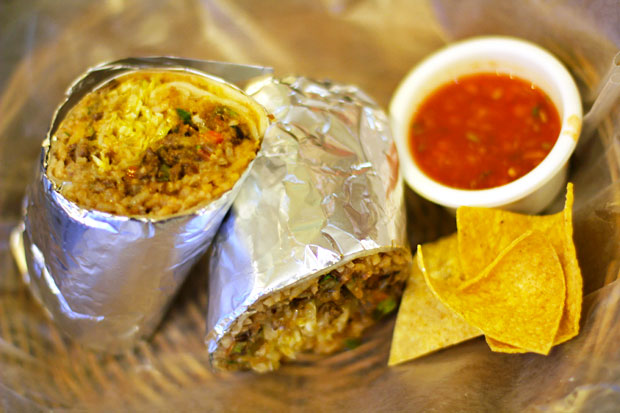 Carne Asada Burrito – PHP 295 – Marinated broiled sirloin steak with guacamole, pinto beans, Spanish rice, sour cream, cheese sauce, and shredded lettuce. Served with chips and salsa.
Like the beef fajitas burrito, this carne asada was bland as well, perhaps even more so. Befuddled by this double ho-humicide, Ren decided to do a little sleuthing and examined the burrito more closely. She noticed that the rice-meat ratio wasn't exactly ideal, with the filling having too much rice and veggies, and not enough carne asada. Considering that we got both burritos at half off, why is this not surprising? 😆
I'm not sure if their burritos are always like this, or what we got tonight was the unofficial, off-the-menu voucher version, but the discounted price and disproportionate ratio of ingredients makes sense, and certainly explains the lack of flavor. Unlike lesser Mexican restaurants that use ground beef, Hermanos uses real sirloin meat, and imports their spices all the way from Mexico and California. Their burritos aren't exactly cheap to make, which is why I'm willing to attribute these underwhelming specimens to the "Ensogo Effect."
Discounted burrito, discounted taste. What do you expect you fucking cheap ass? 😆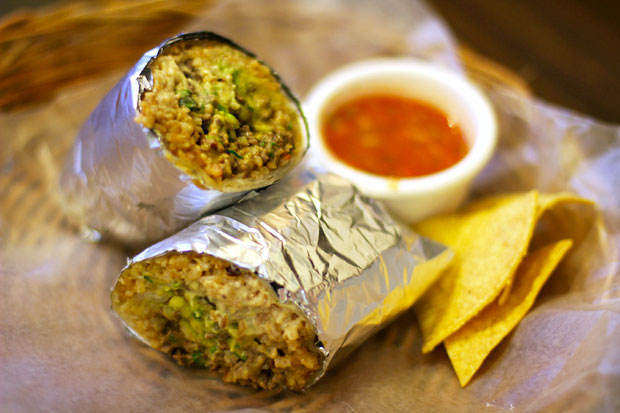 What do you think? Too much filler, not enough thriller?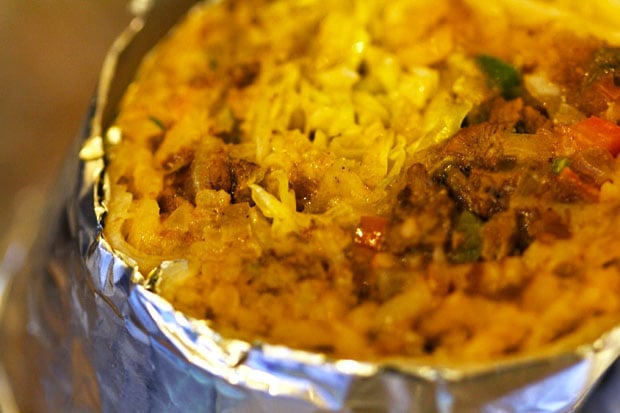 It goes without saying that we'll definitely be back here again soon, and this time, as full paying customers. No more vouchers for us at Hermanos. If our suspicions are correct, then the non-voucher versions of their burritos will taste infinitely better than the ones we had tonight. I refuse to believe that these terribly underwhelming specimens are the same ones that reviewers and commenters have been raving about for the past couple of years. No señor.
On a different note, all you southerners will be pleased to know that you don't have to drive all the way to Quezon City to enjoy an Hermanos burrito anymore. They now have a branch in Muntinlupa, at a funeral parlor. Kidding. Address and telephone number below.
Hermanos Taco Shop Granada
27 Granada Avenue, corner Jose O. Vera Street, Quezon City
Tel: 570-8425
Facebook: ilovehermanostacoshop
Operating Hours: Mon-Sun, 11AM-10PM
Hermanos Taco Shop Molito
Molito Commercial Center, Madrigal Avenue corner Alabang-Zapote Road, Muntinlupa
Tel: 519-1062
JB is one half of Will Fly for Food and its chief itinerary maker.  He's the one to blame for all the crappy photos and verbal diarrhea on this blog.  Don't listen to him.
Latest posts by JB Macatulad (see all)