Valentine's Day Lunch at Masil Korean Charcoal Grill
Masil Korean Charcoal Grill is located at Unit 157 – 158 Ortigas Home Depot Complex, Julia Vargas Ave., Pasig. Tel: 637-8000. Mobile: (0916) 264-0680.
Upon the recommendation of a restaurateur friend, Ren and I made the mental note to try Seoul Fusion soon, which she described as the best Korean restaurant in the metro. Of course, being the procrastinators that we are, "soon" turned out to mean five months later. 😆
Thinking of having lunch here for Valentine's Day, I wasn't entirely sure where the restaurant was, so I hopped on Google for directions and found, to my surprise, several Korean-owned blogs lauding this Home Depot hole-in-the-wall. As it turns out, Seoul Fusion, like Woori Jib in Quezon City, is one of the most recommended restaurants by Korean expatriates. Obviously, that was all the coercion we needed.
Driving around the complex a few times, increasingly frustrated that we couldn't find the place, we discovered that the hole-in-the-wall once known as Seoul Fusion had grown up, more than doubling in size and now going by the name of Masil Korean Charcoal Grill. Business must be good! 🙂
Though this name change had absolutely no impact on their food, I was terribly disappointed nonetheless. Why? Because it meant that I could no longer use the snappy title for this post, which I had already written in my mind in honor of Valentine's Day:
Seoul Fusion with My Seoul Mate? Ab-seoul-utely!
🙁
A little hard to spot, Masil is at the end of one of the alleys at Ortigas Home Depot, the only one that doesn't go all the way through. You'll know you're at the entrance of the correct alley when you see a Mini-Stop on the left, and a Starbucks on the right. Masil is at the very end, on the right side.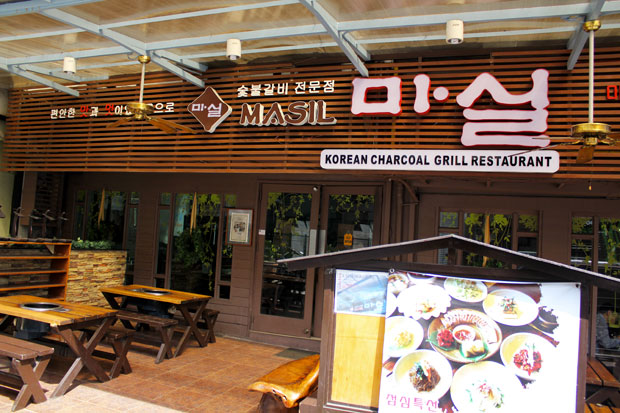 Korean banchan. Underwhelming in quantity and quality, the selection here was disappointing.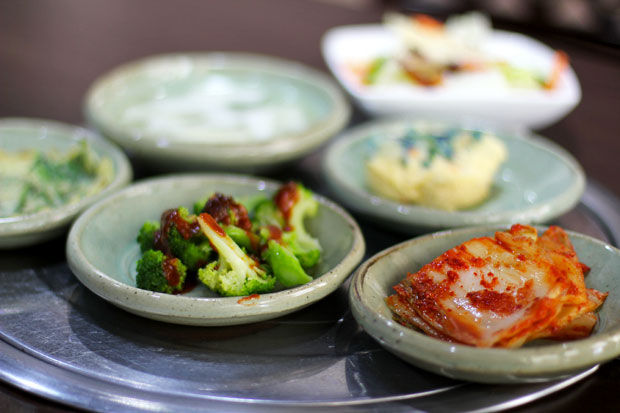 Dolsot Bibimbap – PHP 280 – Steamed rice mixed with assorted vegetables and served in hot pot.
This was awesome. I like bibimbap, though I don't recall ever having dolsot bibimbap before. Dolsot meaning "stone pot" in Korean, it incorporates a very hot, stone bowl that partially cooks the raw egg and rice. It's surface is coated with sesame oil, so the rice touching the bowl becomes delectably crisp and golden brown, much like the soccarat in a paella. Very nice.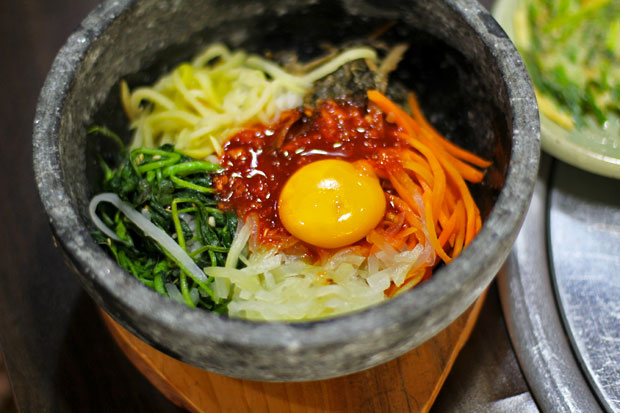 Ojingo Bokum – PHP 400 – Sizzling squid with vegetables in spicy sauce.
One of my absolute favorite Korean dishes, if Ojingo (or Nakji) Bokum is on a restaurant's menu, then it will, without a doubt, find its way to our table. A fan of both cephalopods and spicy food, I just adore the stuff. This one was extremely spicy, teeming with green and red peppers camouflaged between crunchy chunks of cabbage. The ratio of vegetables to squid wasn't the most favorable, but the flavors and textures were terrific, especially when eaten with their delicious, sticky Korean rice. I loved it. 😈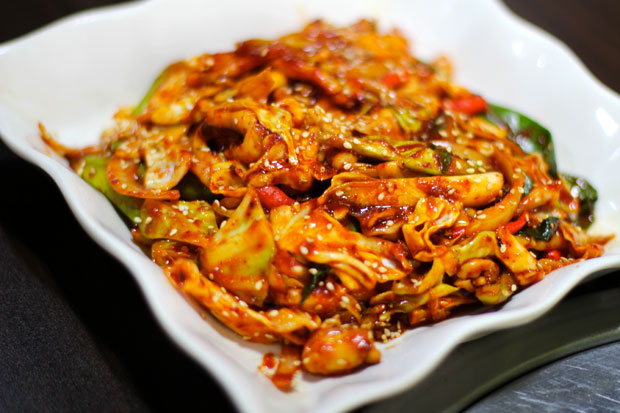 Deji Galbi – PHP 280 – Seasoned pork rib meat in sweet sauce.
Wanting to go with something other than the usual Sam Gyeop Sal, we decided to try this Deji Galbi instead, which is a dish of sweet, seasoned pork ribs. Because we got just one order, they precooked the meat for us in the kitchen, which we actually preferred since we're never fond of grilling these meats ourselves. It's worth noting however, that they do use charcoal here as their name suggests. Grilling with charcoal leads to the best, most flavorful, most enjoyable food.
Sweet and earthy, the cubes of pork were succulent and tender and terrific when dipped in the nutty sesame oil and spicy gochujang. I actually liked this better than Sam Gyeop Sal, though Woosamgyup is still king for me. Ren enjoys eating these grilled meats with shiso leaves, but I prefer pairing mine with rice. Either way, they're delicious.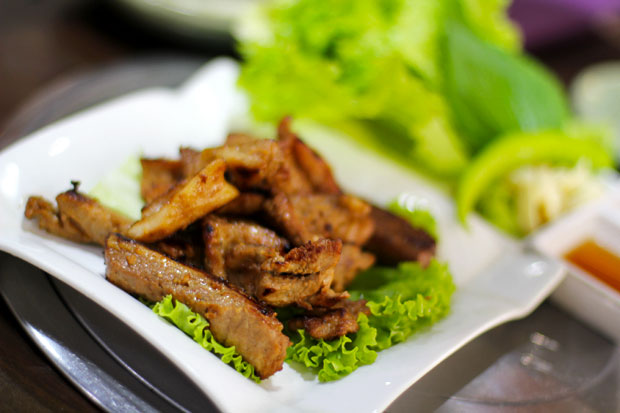 Masil is presidential yo.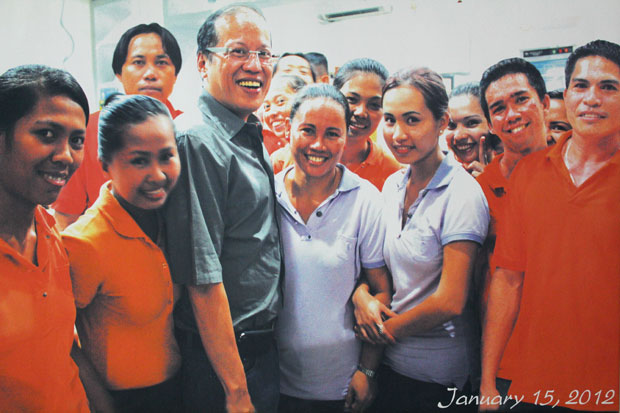 My gorgeous wife Reneelicious, all giddy after a terrific meal. Happy Valentine's Day sweetheart! Sarang hae! ♥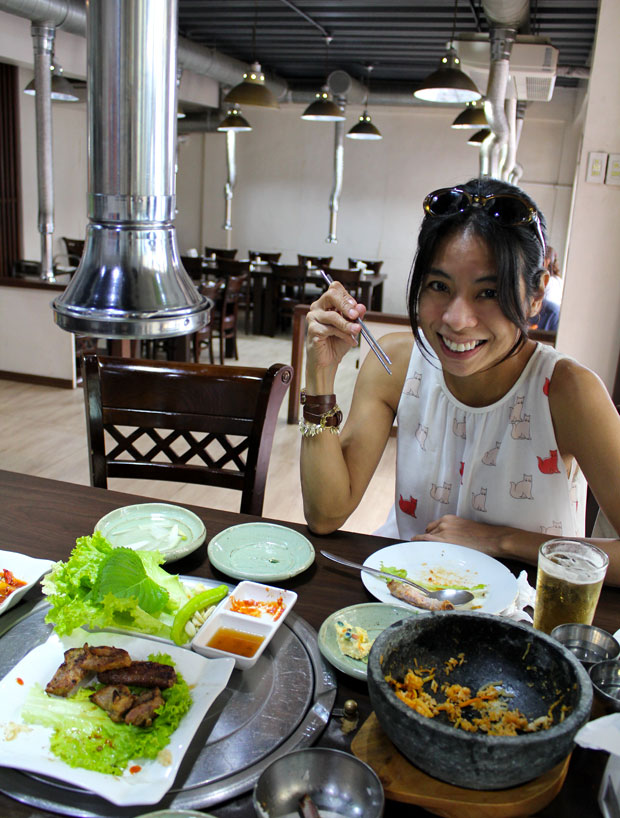 By the way, if you've ever wondered like I have, what the mouth of those tentacle-like, grill suckers look like, now you know. 😉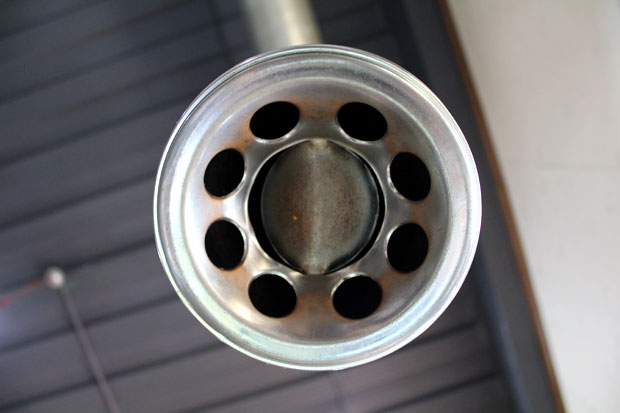 Without question, Masil was great, though I'm not quite ready to call it my favorite Korean restaurant just yet, at least not on the strength of what we had today. Everything was delicious, but nothing really wowed me. I guess we just didn't order the right things. Overall, I still prefer 6 Days for its Osambulgogi and hole-in-the-wall charm, Ye Dang for its Ojingo Bokum and unparalleled banchan selection, and Go! Kizip for its unbelievably delicious, life-changing Woosamgyup.
With so many terrific Korean restaurants in Manila to choose from, each with its own signature dish, narrowing it down to one as the city's very best is no easy task. 😕
JB is one half of Will Fly for Food and its chief itinerary maker.  He's the one to blame for all the crappy photos and verbal diarrhea on this blog.  Don't listen to him.
Latest posts by JB Macatulad (see all)