Bangkok Cafe is located at G/F 8101 Pearl Plaza, Pearl Drive, Ortigas, Pasig. Tel: 638-7036.
My three favorite cuisines are Japanese, Indian, and Thai. I normally prefer them in that order, though I have been known to shuffle them from time to time in the wake of a stellar, game-changing meal. In the case of Thai food, a trip to Bangkok usually does that for me. A surprising bowl of green curry devoured at Dusit Zoo, a mussel omelette relished by the roadside. Memorable experiences such as these tend to turn my world, and my list, upside down.
Here in Manila however, few Thai restaurants have given me reason to rethink my favorites. Off the top of my head, only 8 Spices comes to mind. People's Palace, despite all the hype, falls flat for me. Unlike Japanese and Chinese restaurants that are a dime a dozen in Manila, good Thai eateries are few and far between, so it never fails to excite me whenever a new place opens up, especially when it's a discrete, unassuming hole-in-the-wall, like Nav or Thai Resa. Because of my love for Thai street food, the combination of good, authentic fare and that thrilling, off-the-beaten-path vibe always has the potential of turning my list on its head, every time.
Opening fairly recently at Pearl Plaza in Ortigas Center, and serving delicious Thai favorites like Goong Phan Oy and Pla Dook Foo, Bangkok Cafe is one such place.

An intimate space, with only five or six tables.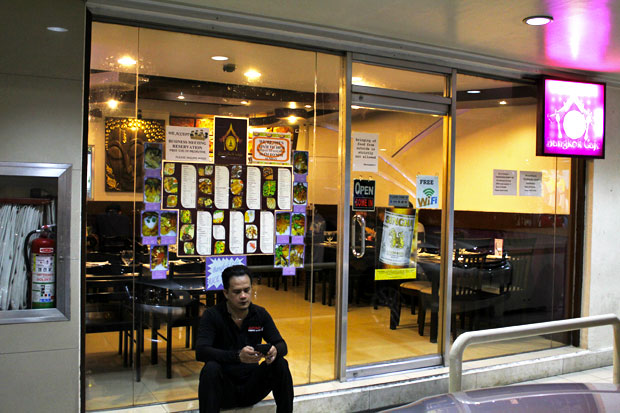 Goong Phan Oy – PHP 278 – Shrimp cake on sugar cane stick.
These were really good. I've had this appetizer many times in different restaurants through the years, and these rank among the best that I've ever tried. Crisp, sweet, and delicate, they were less dense than most shrimp cakes, breaking apart and away from the sugar cane stick with minimal effort. I know for a fact that these were freshly made and not frozen, because they were served last, despite being the only appetizer at the table. 😆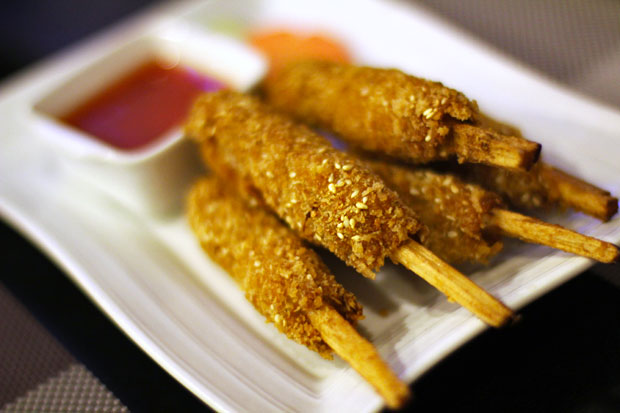 Tod Grathiam Prig Thai Nua – PHP 248 – Thai-style beef tapa with garlic and pepper.
Holy Jesus. As good as the shrimp cakes were, this Thai-style beef tapa was even better. Easily my favorite dish of the evening, the beef was incredibly tender with a light, crisp, somewhat crusty coating. Texturally, it reminded me of the sinfully delicious, bacon-like salted beef served at Snackaroo, except less salty, and more nuanced in flavor. Garlicky, not too salty, a little sweet, and mildly nutty from the sprinkling of sesame seeds, this is the one dish from tonight that I will definitely be ordering on every return visit to Bangkok Cafe. Absolutely delicious.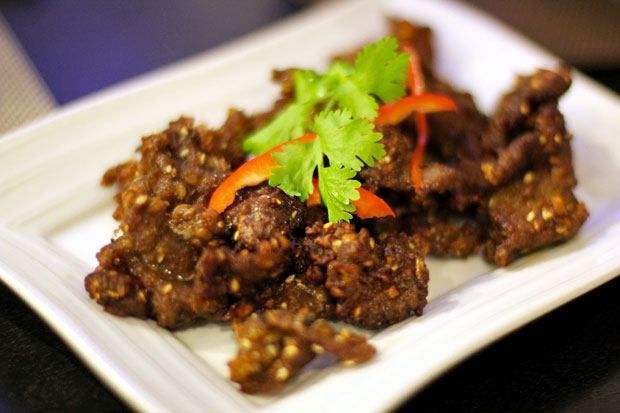 Pla Dook Foo – PHP 298 – Crispy catfish with green mango salad.
A fun, uniquely textured dish, I've never met a Pla Dook Foo that I didn't like. If you've never tried this before, then you're in for a real treat. The textures and flavors are just amazing.
To achieve the wonderful, floss-like texture that's reminiscent of a much lighter, more delicate okoy (Filipino shrimp fritter), the catfish is first roasted or grilled whole. It's flesh is then fluffed into tiny, cotton-like flakes which are deep-fried until golden brown, resulting in a deliciously crisp, airy dish that pairs perfectly with the tart, refreshing green mango salad. Like Paula Deen and a tub of lard, the combination is pure magic. Crisp, delicate, and savory, balanced by fleshy, juicy, and tangy. Food pairing just doesn't get any better than this.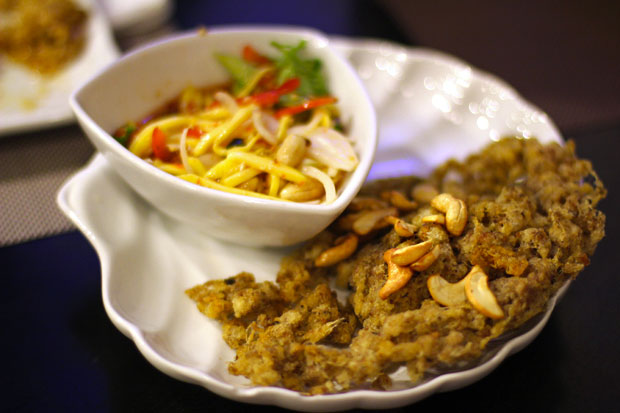 Bangkok Special Fried Rice – PHP 138 (small) – Fried rice with seafood and sauce.
This soppy, seafood fried rice with squid and shrimp was a nice accompaniment to the Tod Grathiam Prig Thai Nua and Pla Dook Foo above. Though flavorful enough as a standalone meal, it came with a just few pieces of squid and one shrimp to go with a spattering of vegetables. We ordered the small, which was enough for all three of us, though it would probably be best for two.



Pad Thai – PHP 198 (small) – Rice stick noodles with ground pork, shrimp, and peanuts.
Ironically, this most recognizable of Thai dishes turned out to be the least enjoyable of the evening. In need of salt and sugar to balance out the flavors, we found it to be just a little too sour. My Ren makes a much meaner Pad Thai than this, the recipe for which you can find HERE.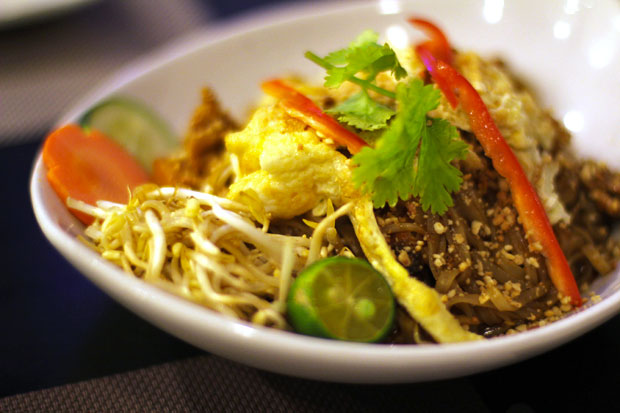 Though often very tasty and frequently surprising, this meal at Bangkok Cafe didn't do quite enough to rearrange my list, but it certainly reminded me why Thai cuisine remains firmly planted as one of my absolute, all-time favorites. If you ever deicide to eat here, then I suggest you order the Goong Phan Oy and Tod Grathiam Prig Thai Nua. They're seriously delicious. 🙂
JB is one half of Will Fly for Food and its chief itinerary maker.  He's the one to blame for all the crappy photos and verbal diarrhea on this blog.  Don't listen to him.
Latest posts by JB Macatulad (see all)