Manang's Chicken is located at Unit 2 & 3 Lansbergh Place, Tomas Morato Ave, Laging Handa, Quezon City. Tel: 376-5058. CLICK HERE for information on all their branches.
Is there ever such a thing as a "free lunch"?
I've been mulling over that question ever since this voucher from Manang's Chicken arrived at our doorstep.
Our first "freebie", I was extremely flattered to receive it, as I imagine any underseasoned food blogger would be. It meant that our awkward but blooming teenager of a blog was finally growing up and getting noticed. Like being asked out to the prom, someone liked our blog enough, or at least deemed it worthy of an invitation for us to try their food, and then presumably, to write about it. Beaming with joy like a proud parent, you should have seen me when the voucher arrived. Fanning out my tail feathers, I strutted around the house like a peacock, refusing to answer to any other moniker but, the "Big-Time Blogger". Ren gave up talking to me altogether. 😆
Just as I was about to order one of those trendy vanity plates with the number BTB 01, something dawned on me that made me stop in mid-parade, and tuck away my plume. Looking down at the voucher in my hand, I thought to myself: "Dude, did I just sell out?"
In offering me this "free meal", was I expected in return to write some puff piece about how life-changing I found their pork chop to be? Should I be using flowery language like "ambrosial" and "rapturous" to describe their newly launched ice cream sundae? By accepting this voucher, did I essentially just waive my inalienable right to free speech? After all, to diss their food, honesty notwithstanding, would entail biting the hand that just fed me, and I'd like to think that mama raised me a little better than that.
Tormented and uncertain about what to do, especially after turning over the voucher and waiting for our meal, I just kept praying over and over for one thing:
"Lord, please don't let their food suck."
Included with our complimentary voucher were the following: Two (2) Garlic Pork Rice Meals, two (2) small Sides, two (2) large Chips with four (4) Dips, and two (2) Red Velvet Sundaes.
Manang's Chips & Dip – PHP 58 (large) – All-natural, freshly fried potato chips. Choose from Garlic Mayo, Creamy Cheese, or Spicy Ketchup dips. Extra dips are PHP 12 each.
These were great. Made by freshly frying local potatoes, they were crisp on the outside, soft and starchy on the inside. Among everything that we ate today, Ren proclaimed these to be her runaway favorite. Hmmm, what's up with the sudden salt cravings…..uh-oh. 😯
Between the three accompanying Dips, we enjoyed the Garlic Mayo the most, followed by the Spicy Ketchup, then the Creamy Cheese. The Garlic Mayo had a strong punch of garlic, while the Spicy Ketchup was indeed hot and spicy. The Creamy Cheese was our least favorite, bereft of flavor in comparison to the previous two.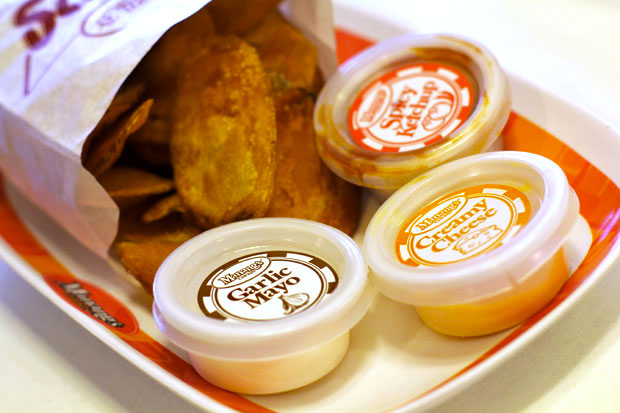 One-Piece Chicken Meal – PHP 99 – Signature double-deep-fried crispy chicken with Manang's secret soy garlic sauce. Choose from Original, Mild Spicy, or Extra Spicy Sauce.
The now famous chicken that built this budding empire. Because they only had one of the Garlic Pork Rice Meals left, we were allowed to substitute the second with any other dish, so we naturally chose this one – their delicious, double-deep-fried, crispy chicken.
Having enjoyed this just once before, courtesy of some Mercato Centrale takeaway, the coating was as smashingly crisp and intensely flavorful as I remember it to be. The crispy, tasty awesomeness they've achieved with this coating is the culmination of over two decades spent refining and perfecting a family recipe. And the results are absolutely delicious.
However, as enjoyable as the coating was, the meat was noticeably drier than that first experience, probably as a result of overcooking. Though not unpalatable by any stretch, it wasn't as soft nor as succulent as before, which was a shame because it knocked down a notch what was for me, one of, if not the very best locally available fried chickens.
Was the overcooking an isolated misstep? A forgivable freak occurrence? Thinking back on that lone stall at Mercato Centrale, and the ever growing fleet of branches they have today, and I can't help but attribute this to an oversight in quality control. With so many more branches to now oversee, serving a lot more dishes than they did before, could this perhaps be a result of spreading oneself too thin by expanding too quickly? It's a far more daunting task after all, to maintain the quality of a dozen full-service branches, as opposed to one weekend stall.
Whatever the reason, I do hope that they right the ship before expanding any further, because this chicken, as any Mercato Manang's fan can attest, is well worth the wait.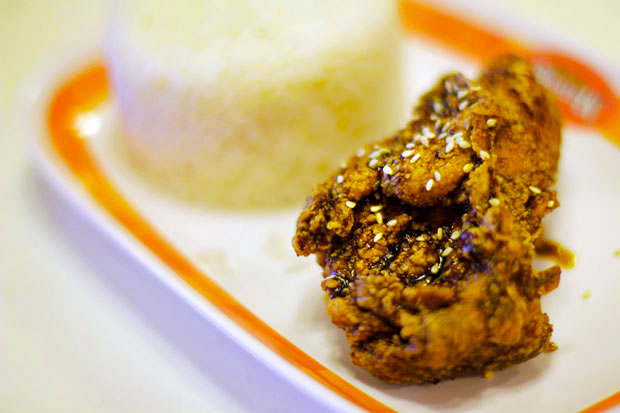 A more intimate look at that delectable, oh so crisp coating. This, my friends, is the stuff of legend.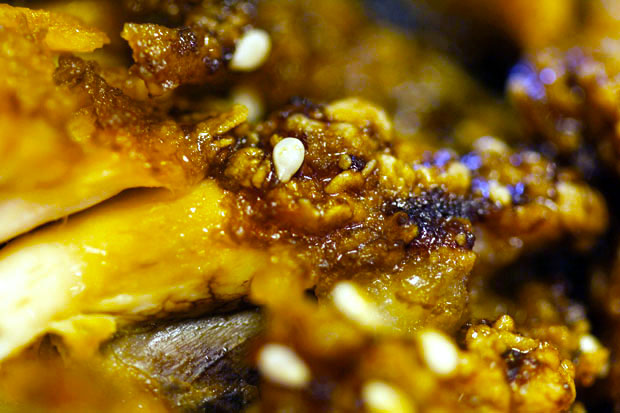 Garlic Pork Rice Meal – PHP 109 – Crisp, deep-fried pork chop with Manang's special garlic topping. Served with rice and a vinegar dipping sauce.
A new addition to their menu, this Garlic Pork Rice Meal is I presume, the primary reason why we were invited here in the first place. Ironically, it also happens to be the one dish that's making this post exceedingly difficult to write. I hate to say this, and I hope that mama doesn't hold me over her knee because of it, but I didn't like it. Sorry. 😳
Dry and overcooked, the pork itself was tough and virtually sapped of all its juiciness. Without even tasting it, you can probably tell that it was dry just from looking at the picture below, right? At first, I thought that those dried bits sprinkled over top were chopped nuts. Ren corrected me and said that they were pieces of garlic that in all likelihood were dehydrated for preservation. However, they seemed dehydrated to the point of losing all their garlic flavor. From the taste, I could barely tell that they were garlic, so you probably couldn't fault me for mistaking them for nuts.
Though we didn't enjoy the texture, the good news is that the flavor itself wasn't bad. The sharp tanginess of the vinegar dipping sauce complemented the earthiness of the pork nicely, plus it gave it just enough moisture to make it more palatable. Quite enjoyable with the rice, it's just a shame that the meat was so overcooked.
Because the Garlic Pork and signature Chicken were both desiccated, I'm guessing that this was the fault of the branch itself, or at least the person who cooked up our meal. As mentioned above, I've enjoyed Manang's Chicken before, and it wasn't at all dry like today.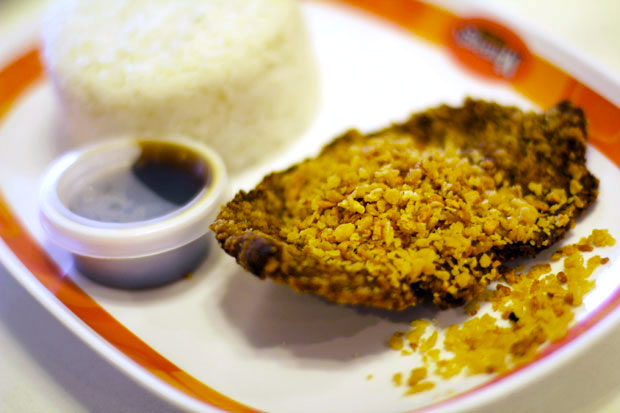 A closer look at Manang's garlic topping.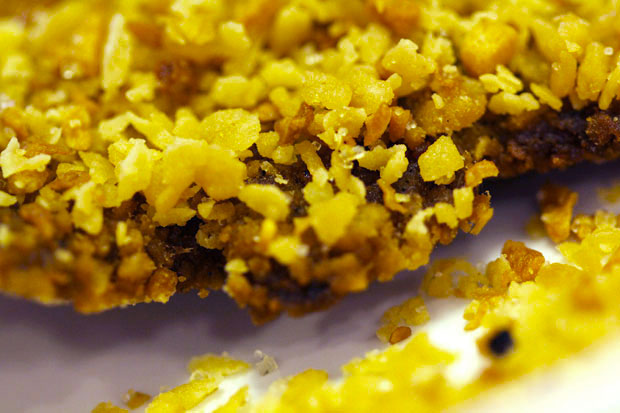 Sides of Buttered Corn and Macaroni Salad – PHP 29 each (regular) – Coleslaw was also available.
These were nice accompaniments to our entrees, though nothing really noteworthy. I found the Macaroni Salad to be a little too sweet for my liking.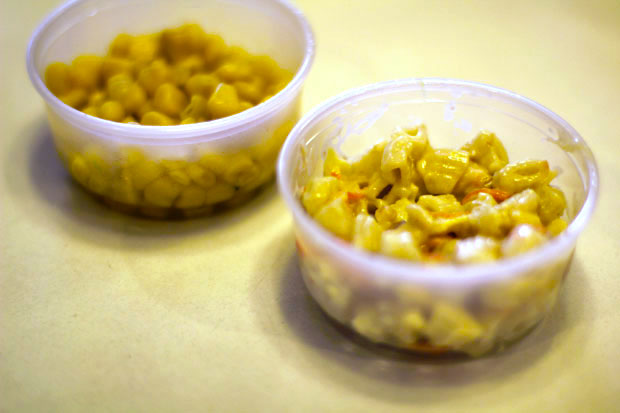 Red Velvet Sundae – PHP 49 – Freshly baked red velvet cake with creamy smooth vanilla ice cream and topped with candy sprinkles.
This was really good. The love child of an ice cream sundae and a red velvet cake, it was a novel, unfamiliar twist to the classic fast food dessert.
The vanilla ice cream was rich and creamy, and the red velvet cake nice and moist. Ren found the cake to be just a little firmer than usual, perhaps to better hold up to the ice cream melting on top. We really enjoyed it, and so will you if you can get it soon, because the flyer said that it will only be available for a limited time. So go, now, and be sure to scoop all the way down to get the perfect bite. 😉

With our first (but hopefully not last) "free meal" in the books, I'd like to thank the good people at Manang's Chicken for sending us this complimentary voucher. We truly appreciate it. My writeup may or may not be what you were hoping for, but at least what you got from me was the one thing that only a true friend can give, and that's honesty.
I hope that you can take my opinions constructively, and use them to improve your amazing brand. You are growing by leaps and bounds and could probably use some honest feedback. If not, then no harm done, because as our esteemed Senator Vicente C. Sotto III so eloquently puts it, I am after all, just a blogger. 😳
JB is one half of Will Fly for Food and its chief itinerary maker.  He's the one to blame for all the crappy photos and verbal diarrhea on this blog.  Don't listen to him.
Latest posts by JB Macatulad (see all)