Ultimate Cheesesteak at Midnight Mercato
Ultimate Cheesesteak is located at Midnight Mercato, 34th Street corner 8th Avenue, Bonifacio Global City, Taguig. Mobile: 0917-884-5283. Email: ultimatecheesesteak@yahoo.com. Facebook: ultimatecheesesteak.
The three or four people who read this blog know that nothing makes me happier than a good old-fashioned Philly Cheesesteak. What they (and I) didn't know however, was that there is in fact something else that makes me even happier than that – a Groupon coupon giving me 55% off not just one, but FOUR Philly Cheesesteaks, courtesy of Ultimate Cheesesteak. Holy Jesus.
Not only would I be getting a whopping discount off four beautiful specimens of my all-time favorite comfort food, but I'd be getting it at a cheesesteak joint that I have never ever tried before. Already on the verge of tears with happiness, it gets even better. As it turns out, Ultimate Cheesesteak is a booth located at Midnight Mercato, the country's pioneering and hugely popular food bazaar at The Fort, which this lazy, traffic-phobic, crowd-shy QC-based food fanatic has yet to visit.
Sorry, I think a speck of dust just flew into my eye…*sniff sniff*
The cheesesteak maestro brandishing a pair of katana-like spatulas. Next time, I'll ask her to channel Benihana and flip the cooked steak onto a ciabatta roll nestled in her hat. 😉



Ultimate Cheesesteak – PHP 150 – Freshly baked ciabatta bread with USDA beef topped with caramelized onions and melted cheese.
After being wowed by Goodfellas' Pat & Geno's, I learned that Philly cheesesteaks and ciabatta rolls go exceptionally well together. The crusty/pillowy texture and flat shape of the ciabatta lends itself perfectly to a truly enjoyable Philly cheesesteak. Anchored by this Italian bread, it's what makes Ultimate Cheesesteak's offerings special for me.
Their basic sandwich, the Ultimate Cheesesteak, is made with just USDA beef, caramelized onions, and melted cheese, which for a cheesesteak traditionalist such as myself, is pretty much all you need (save for the addition of mushrooms). The steak is thinly shaved but moist, the cheese gooey and overflowing, and the caramelized onions savory sweet. Sandwich that between two halves of a crunchy, pillowy, chewy ciabatta roll, and you have a delicious, rave-worthy Philly cheesesteak, that at just PHP 150 for a 6-inch sandwich, is worth every centavo.
Speaking of its size, that's another characteristic which makes this Philly cheesesteak stand out for me. Relatively small and lesser filled than the manlier offerings at Charlie's Grind & Grill, Goodfellas, or The Cheese Steak Shop, this more manageable cheesesteak is perfect as a midday snack for a big eater like me, or as a full meal for a petite eater such as Ren, who otherwise would never order an entire cheesesteak for herself, simply because they're usually too big. Interestingly, this cheesesteak seems to fill a size and price void that I didn't even know existed, until now.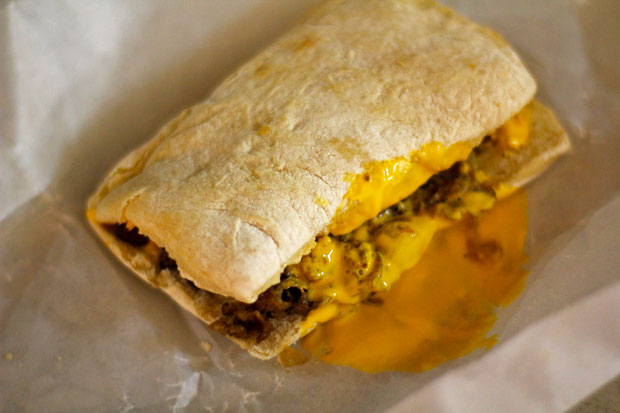 Wax's Famous Flamethrower – PHP 160 – Freshly baked ciabatta bread with USDA beef topped with caramelized onions, melted cheese, and jalapenos.
Exactly the same sandwich as the Ultimate Cheesesteak, but with jalapenos. A LOT of jalapenos.
If you don't enjoy too much heat in your food, then I suggest you steer clear from this one. It gets pretty darn hot, especially after a few bites. I adore spicy food, but even I have to concede that there were way too many jalapenos in this one to make it pleasurable. I know that jalapenos aren't cheap, which is why I appreciate the generosity, but I believe that the overabundance in this case detracted from the overall experience.
It's important to point out that it wasn't the heat which I found distasteful. Midway through the sandwich, there was a lingering, cumulative, overpowering bitterness in my mouth from all the jalapenos that wasn't at all pleasurable. The first few bites were great, but after a while, that was pretty much all I could taste, which was a shame because everything else about this cheesesteak was very good. As much as I enjoy jalapenos, I definitely won't be ordering this again.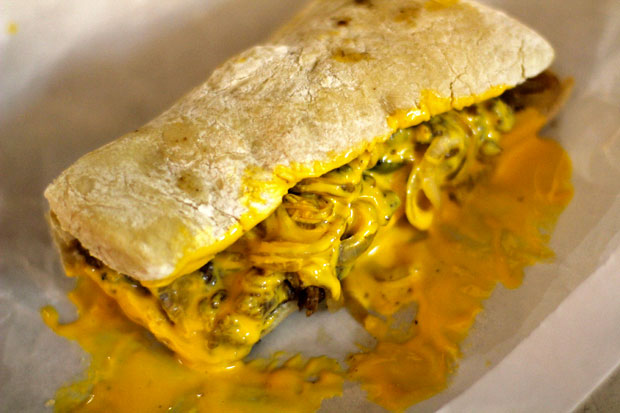 Kate's Heavy Bomber Cheesesteak – PHP 170 – Freshly baked ciabatta bread with USDA beef topped with caramelized onions, melted cheese, bacon, and mushroom.
Their most popular flavor, which to me isn't at all surprising, because this cheesesteak is crazy good and easily my favorite among the four that we tried tonight. In addition to the USDA beef, caramelized onions, and melted cheese, it also had my beloved mushrooms and a topping which I had never before experienced in a cheesesteak – BACON!
Simple, elementary, but borderline genius, I can't believe that I've never had bacon in a cheesesteak before, despite having enjoyed them on many occasions, both here and in the US, even Philadelphia. It just makes sense on so many levels. The smokey, crisp, salty earthiness of the bacon went smashingly well with everything else that it felt almost criminal not to include it. I loved how it contrasted beautifully with the spongy mushrooms to make an already scrumptious Philly cheesesteak that much more mouthwatering.
Absolutely, unadulteratedly, dee-licious. I loved it.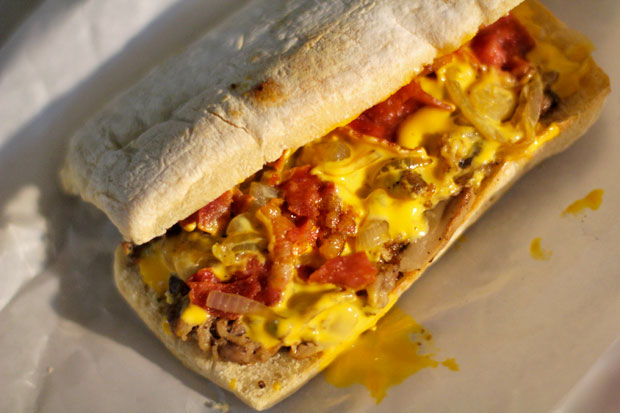 Popeye's Hammered Cheesesteak – PHP 180 – Freshly baked ciabatta bread with USDA beef topped with caramelized onions, melted cheese, olives, spinach, and honey mustard.
Adding olives, spinach, and honey mustard to the USDA beef, caramelized onions, and melted cheese, this Popeye's Hammered Cheesesteak moves away from the traditional and more towards the frou frou. As mentioned above, I'm a traditionalist when it comes to my Philly cheesesteaks, so I don't really enjoy people fucking around with it too much. After all, why mess with perfection right? 😉
With that said though, this version was pretty good, the spinach adding an interesting, leafy twist to the classic Philly cheesesteak. I enjoyed it, though I definitely won't be ordering it again anytime soon, not with a more appealing alternative like Kate's Heavy Bomber above. Tasty as this was, it just isn't what I look for in a Philly cheesesteak.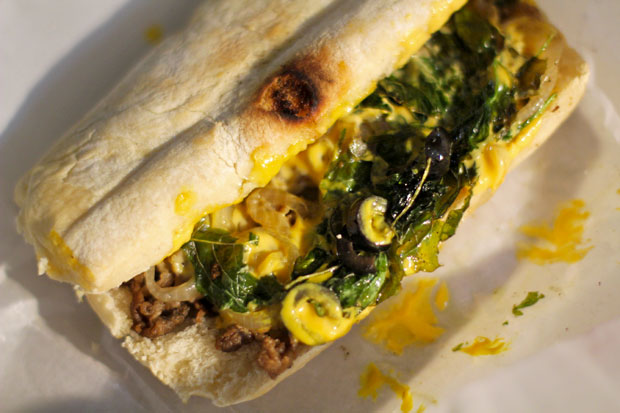 With this first Midnight Mercato trip under our belts, I have to admit that the experience far exceeded our expectations. The food selection was wide, diverse, and incredibly interesting. Had it not been for our vouchers to Ultimate Cheesesteak, we would have been completely at a loss as to what to eat tonight. Artisan burgers, Korean rice sandwiches, mini tacos, deep dish pizzas, wagyu paella, and angus salpicao were but a few of the dishes that caught my eye this evening, and we only went through the area once without closely examining each stall's offerings. The selection here is truly remarkable, and well worth many repeat visits.
With that said however, the crowd and sheer volume of people, even as early as 10 PM, exceeded our expectations as well. At that opening hour, I expected far fewer customers, but to our dismay, the opposite was true. Barely able to find parking, we walked in to find the tent already brimming with hungry patrons. The place was so packed that we couldn't find an empty table, forcing us to stand while eating. Fortunately for us, our cheesesteaks were relatively hassle-free, making the experience a little less difficult.
As eager as I am to come back and try the many interesting dishes here, I'm a little apprehensive now because of the lack of seating. Should we decide to return, I think it's essential to bring one of those small, foldable tables, just to ensure that we have some place comfortable to sit. After all, with so many mouthwatering delicacies to peruse, photograph, and pop into your mouth, finding a good place to plop your butt should be the absolute least of your concerns.
JB is one half of Will Fly for Food and its chief itinerary maker.  He's the one to blame for all the crappy photos and verbal diarrhea on this blog.  Don't listen to him.
Latest posts by JB Macatulad (see all)