Joanie's Red Velvet Cupcakes
Joanie's Cupcakes is located at 36 Scout Torillo Street, Quezon City. Tel: 216-0289. Mobile: 0917-527-2671. Facebook: joaniescupcakes.
Would a zebra still be a zebra without its stripes?
Would a red velvet cupcake still be a red velvet cupcake, even without the cream cheese frosting?
That's exactly what I was thinking to myself after trying these red velvet cupcakes from Joanie's. Topped with a buttercream frosting instead of the usual cream cheese, Ren thinks definitely not, and I would have to agree.
Hopping on Google in search of a strict definition, this article on Yahoo Shine stated that there are eight rules to a truly authentic red velvet (cup)cake, the third being that it "must have cream cheese frosting." Extremely rigid in its definition however, it also listed that White Lily flour, a Southern specialty flour, must also be used in order for a red velvet to be called truly authentic. I seriously doubt that Joanie's, or any other local bakery, uses that. Digging deeper for a definitive, though perhaps slightly less stringent description, I stumbled upon a baking forum where people were discussing this very same topic, and though a scant few thought it ok to experiment and deviate from the traditional, the majority, like Ren, felt that a red velvet cupcake just wasn't a red velvet cupcake without the cream cheese frosting.
Being in a creative field, I'm all about individual expression and all, but if you've ever eaten a red velvet cupcake with cream cheese and one without, then you'll know exactly why. 😉

Red Velvet Cupcakes – PHP 50/solo, PHP 270/six, PHP 540/dozen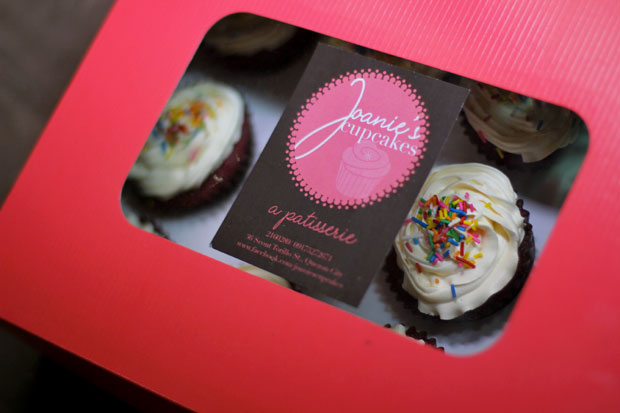 Make no mistake about it, the cupcakes by themselves were delicious. They were moist, light, and not too dense. The buttercream frosting wasn't bad either. But something was still clearly missing, and that something was the tanginess that would have been imparted by the cream cheese.
It's like a PB&J sandwich. On their own, each component is good. But when combined, it becomes a joyous balance of sweet, fruity, creamy, and salty, which is why you always see them eaten together. The same goes for a red velvet cupcake. On its own, the cupcake is nice, but top it with cream cheese frosting, and you get this perfect marriage of sweet and tangy in every bite.
As good as these cupcakes were, they became a little tiresome and boring without the cream cheese. In fact, Ren found herself scraping off most of the buttercream, simply because it made the cupcake a little too one-note. Sweet on sweet, it would have been far more interesting with a cream cheese frosting.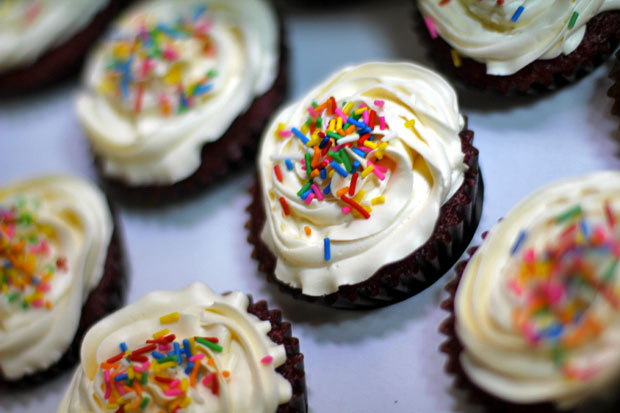 Mona: "Dada? I can has cupcake?"Me: "Sorry baby girl, they're made with cocoa, and you know pugs can't eat cocoa…"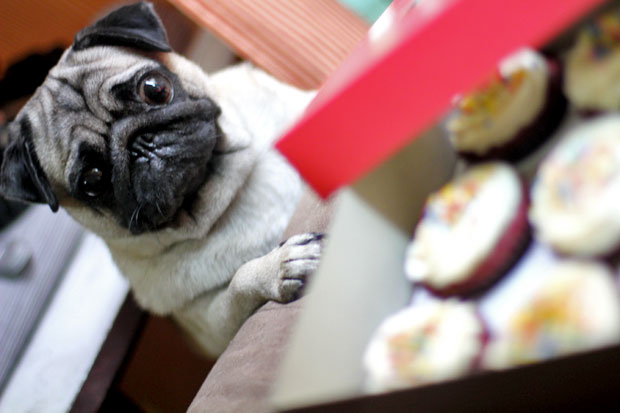 *sigh*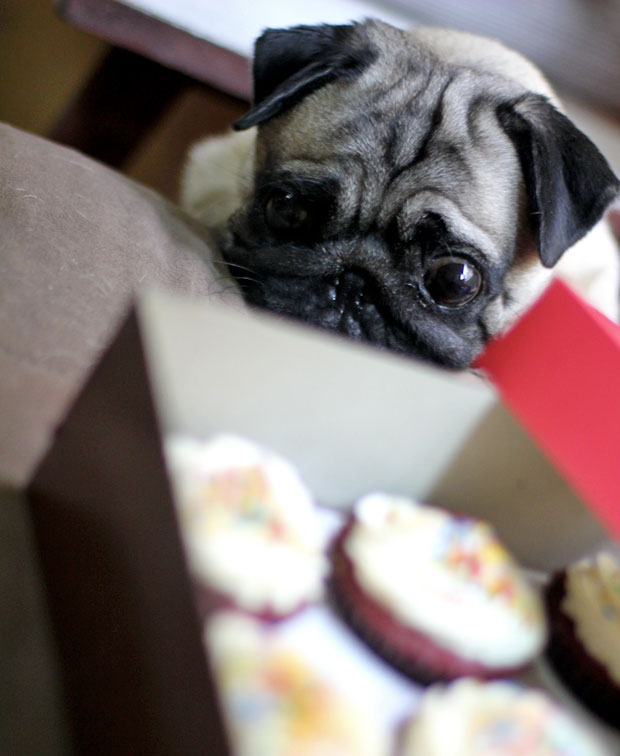 It's worth mentioning that we got this box of cupcakes for half off, courtesy of a Groupon coupon. I know that cream cheese is expensive, so I don't know whether their cupcakes bought at retail price will still have this same buttercream frosting, or whether they'll be made with the real thing. In any case, we may just have to visit their shop to find out. I'd love to try their other offerings as well. These red velvets may have lacked the cream cheese icing, but they were certainly good enough to pique our curiosity. 😉
JB is one half of Will Fly for Food and its chief itinerary maker.  He's the one to blame for all the crappy photos and verbal diarrhea on this blog.  Don't listen to him.
Latest posts by JB Macatulad (see all)