High Tea for Two at da.u.de Tea Lounge
da.u.de Tea Lounge is located at the G/F Net Lima Building, 4th Avenue corner 26th Street, Bonifacio Global City, Taguig. Tel: 478-3579. Website: we.lovedaude.com.
"Coffee or tea?"
Having been asked that very question hundreds of times at the end of meals, eleven times out of ten, I would say, "coffee."
A raging coffeeholic now immune to the effects of caffeine, I enjoy the taste of black, unsweetened coffee, drinking around five to six mugs daily. Ren marvels at my near superhuman ability to doze off instantly anytime and anywhere, whether laying prostrate or seated, even with my nerves being shredded by caffeine like a rocked out jam session of Guitar Hero. Hey, they don't call me JB Maca-tulog for nothing. 😆
But I digress. As you can probably tell by now, my addiction to coffee has vastly limited my experience with tea. Truth be told, my coarse, MMA-watching arse had never even heard of this urbane, English ritual of "high tea" until a few years ago in Singapore, when a more refined friend tried to get us into Raffles for an afternoon of crumpet nibbling and dainty cup holding. Relieved as I was back then, to instead find myself chugging down manly pints of ale whilst boorishly tossing peanut shells onto the floor, I have to admit that I was intrigued by the whole high tea thing.
Promising Ren to give sophistication a chance in 2013, I had already signed up for her wine appreciation class, so why not give tea a go as well, right? And what better way to begin my education in tea-phistication, than by spending a carefree, Sunday afternoon at the freshly brewed da.u.de Tea Lounge in Global City? (da.u.de is pronounced da-you-deh)
Changing into proper attire and shaving for the first time in weeks, off we went to the Fort to enjoy an elevated, high tea session for two, courtesy of Deal Grocer.
da.u.de, it's time to make a tea lover out of meh. 😉
Beautiful, well-designed space, just a couple doors down from Wildflour Cafe + Bakery.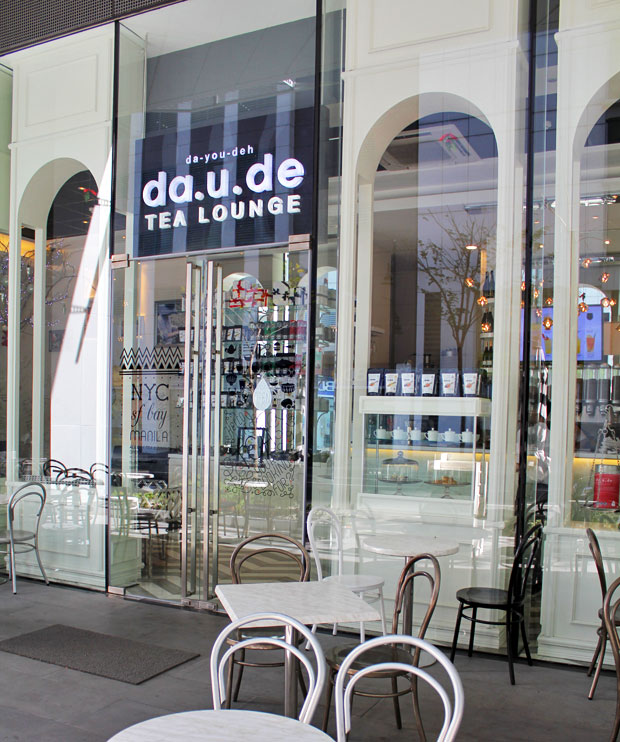 Clean, contemporary interior conducive to relaxation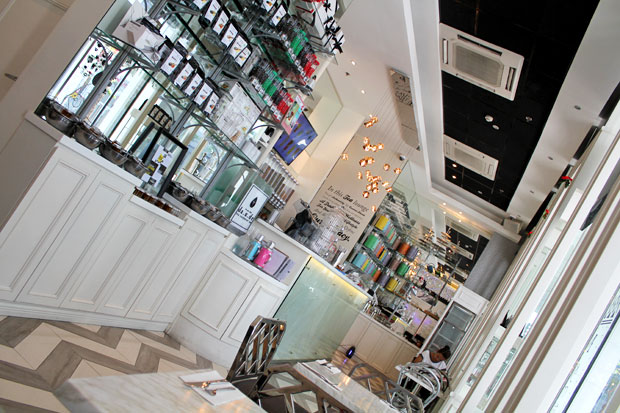 The da.u.de. mantra, rooted in wellness, service, and humility. I'm drawn to simple but provocative, font-driven designs, so I absolutely LOVED this graphic. Gorgeous typefaces!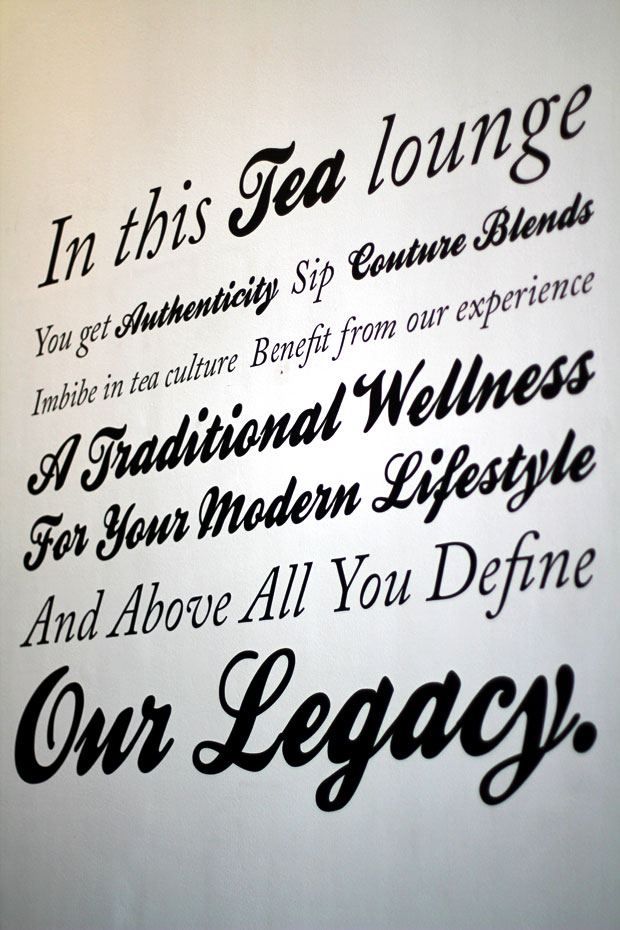 The wall of fame, interspersed with these gymnastics rings whose purpose I couldn't quite figure out. I spied with my little eye, on this wall, the signature of one of my favorite local food bloggers, The Pickiest Eater. True to his name, he skipped the high tea set in favor of the da.u.de burger, which I'll be trying out myself on our next visit. According to the menu, it's made with 200g of beef, pork jowls, a berry compote, and corn wasabi. WOW. 😯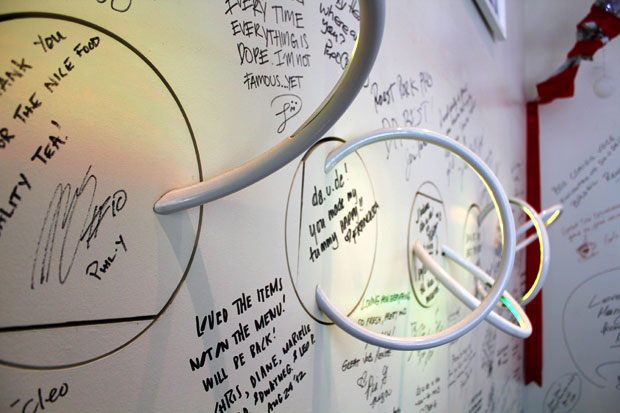 Some of da.u.de's specialty tea blends on display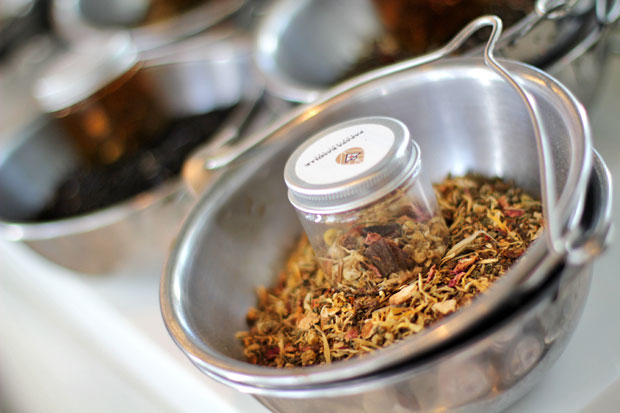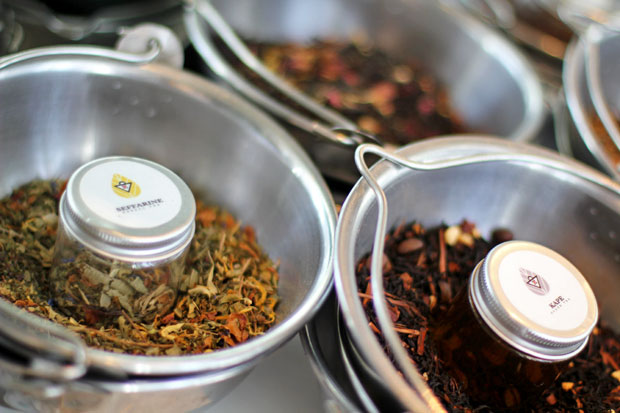 Beautifully designed, color-coded canisters housing da.u.de.'s assortment of premium loose-leaf teas. The store graphics weren't just meticulously thought out and well-designed, but flawlessly executed too. It looks like they spared no expense on their branding, and it shows. This is international quality yo. 😉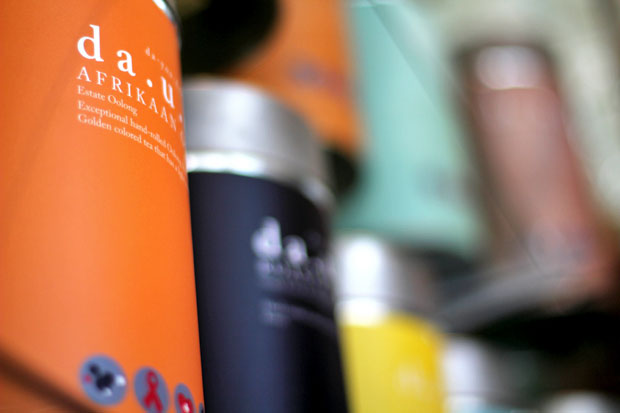 Packaged teas on sale for you to bring home



Adorable mini macarons de Paris. You can't really tell from this picture, but each one was about the size of a one-peso coin.



Available flavors are Mangga, Skala Berry, Rose Green and White Tea, Matcha Green, Dallah Earl Grey, Mint, and Kape Black Tea.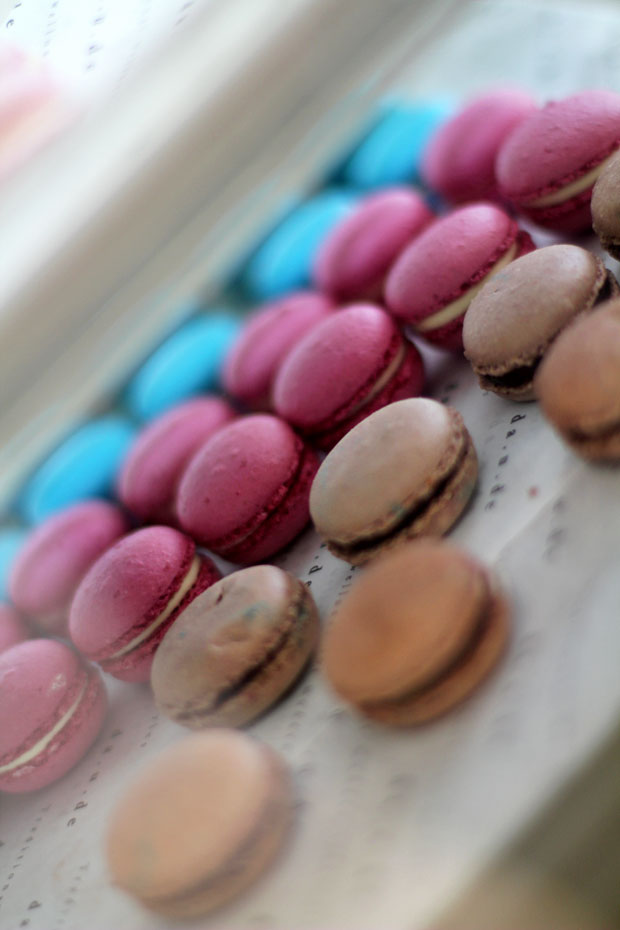 Skala Fruit Tea – PHP 100/130/170 – Green rooibos, apple, hibiscus, cranberry, cornflower petals, sugar, sunflower oil, and organic flavorings.
Having little knowledge of tea blends, we asked our affable server Joel for his recommendation, and he suggested without batting an eyelash, this Skala. da.u.de's highest-rated and most popular signature blend, it's made with a base of South African rooibos, then buoyed with antioxidant-rich cranberry and apple. Fruity and fragrant, it was sweet with a somewhat nutty aftertaste. Very nice.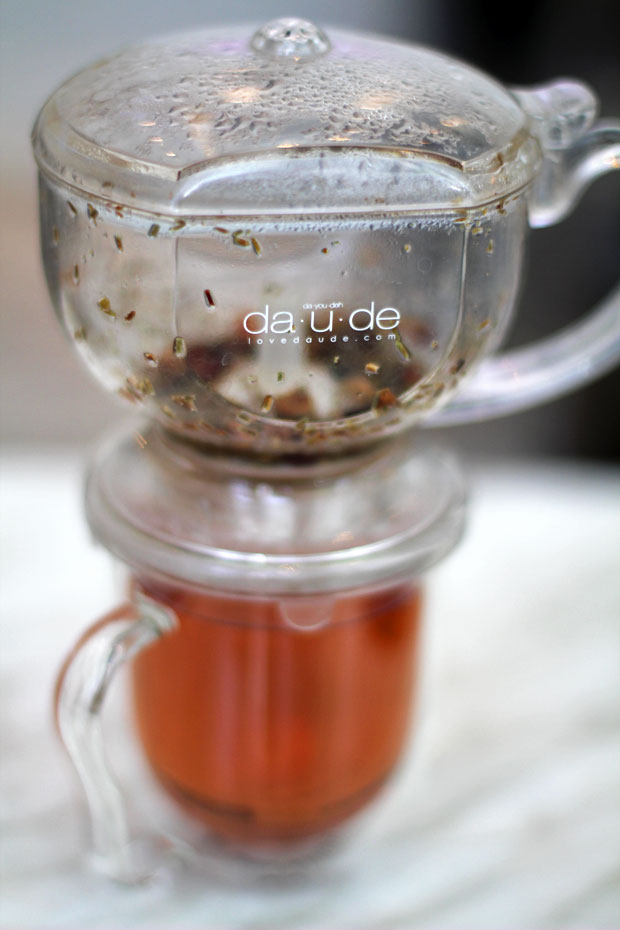 According to Joel, each tea brewer (not sure what it's called) is good for up to two hot water refills, with the flavors thinning gradually with each replenishment.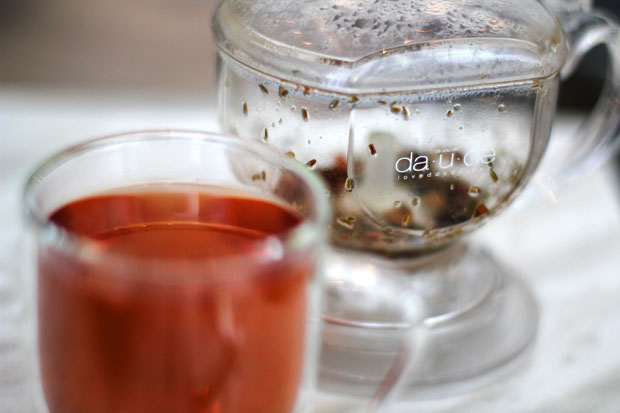 Modern High Tea – PHP 1,400 – Good for two, add PHP 500 per additional person.
Isn't that three-tier tower just gorgeous? I was under the impression that we would only be getting pastries and other sweets, so I was thrilled to find the second tier filled with savories.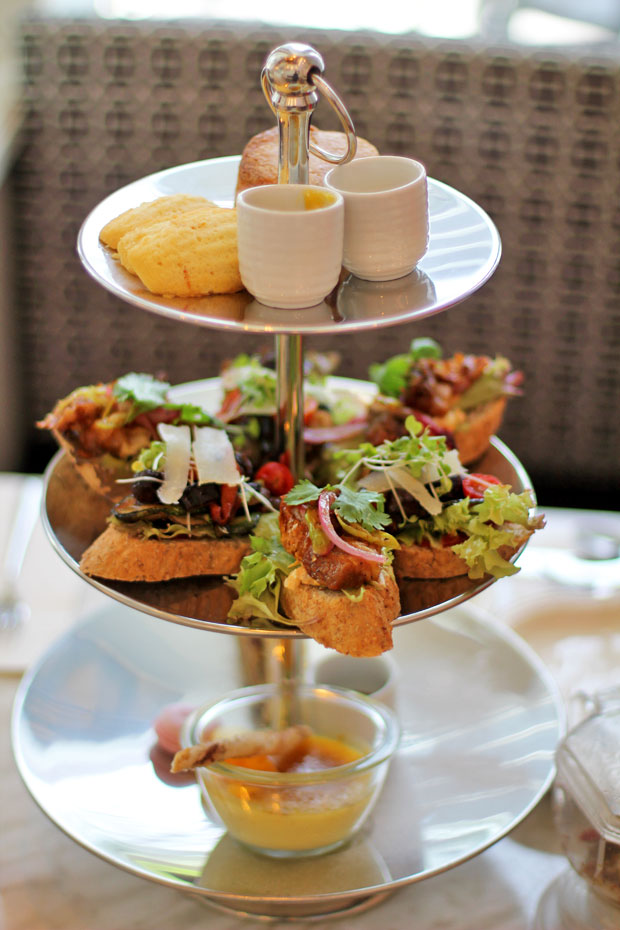 First Tier – Three citrus madeleines, one scone or muffin, Skalamansi tea marmalade or caffeine tea punch lemon curd, and clotted cream.
Soft, crumbly, and moist, the madeleines and scone were delicious, especially when smeared with dollops of creamy clotted cream and tart lemon curd. I had never heard of clotted cream before so Ren had to explain it to me.
Clotted cream is a silky, golden-yellow cream made by allowing unpasteurized cow's milk to sit for 12-24 hours in a shallow pan. It's then slowly heated and left to cool for another 12-24 hours, during which time the cream rises to the surface and "clots", hence the term clotted cream. Thick and creamy, it was sweet with a nutty, cooked milk flavor. Nice!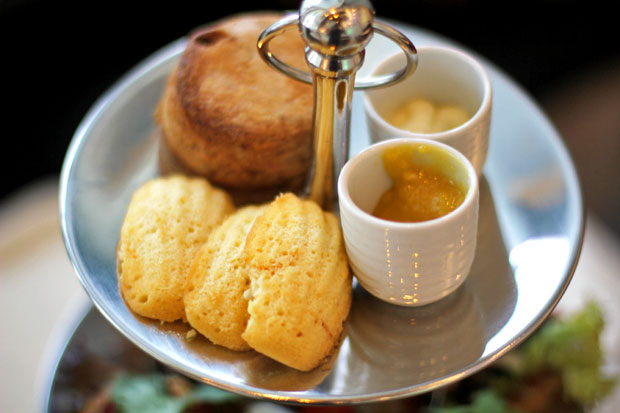 Second Tier – Six petite tartines. You can choose two of the following three flavors – Lapsang Souchong Pork Banh Mi, Roasted Vegetables with Pistacia, and Southern Fried Chicken. We picked the first two.
Roasted Vegetables with Pistacia – A great vegetarian sandwich made, if I remember correctly, with zucchini, red peppers, cherry tomatoes, alfalfa sprouts, shiitake mushrooms, and Parmesan cheese. The description read that it was made with pistacia, which according to Google is the plant that produces pistachio, but I couldn't seem to find any trace of it here. Perhaps this was a different version? In any case, it was terrific.
Lapsang Souchong Pork Banh Mi – Even better than the roasted vegetable, this was a fantastic little pork sandwich made with crisp, tea-infused roast pork, tea sriracha, and vegetable slaw. It was earthy and crunchy without being tough, and had a tingly, zingy kick from the sriracha. I loved it. I'm not a huge fan of pork to begin with, which is why I've decided to eventually strike it from my diet, but dishes like this don't make it easy. 🙁
Partial to savory over sweet, this tier was my runaway favorite from the set, not just because it was comprised of non-pastries, but because these little open-faced sandwiches were seriously delicious in their own right. So good in fact that I would happily order the a la carte version of each on any return visit to da.u.de. I really enjoyed these.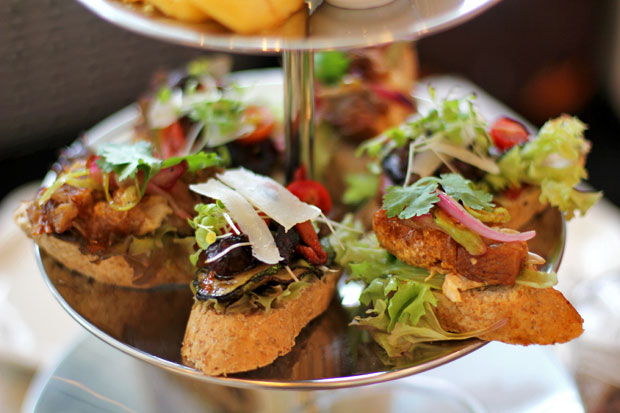 Third Tier – One French Macaron duo, one lemonade tea brulee or Matcha tea and chocolate pudding, and one slice of cake.
Like the first two, everything on this third and final tier was delicious as well. I adored the brulee which I think was mango instead of lemonade. I don't know what it's called, but it came with that crisp but airy, puff pastry "stick" that reminded me of a more delicate palillos de Milan.
I'm not too adept at identifying French macaron flavors, but I believe we were given Mango and Skala Berry, both of which were good. Rounding out the tier, we were served a delicious, moist apple strudel instead of cake, accompanied with what tasted like a rich, caramel sauce. Dee-licious!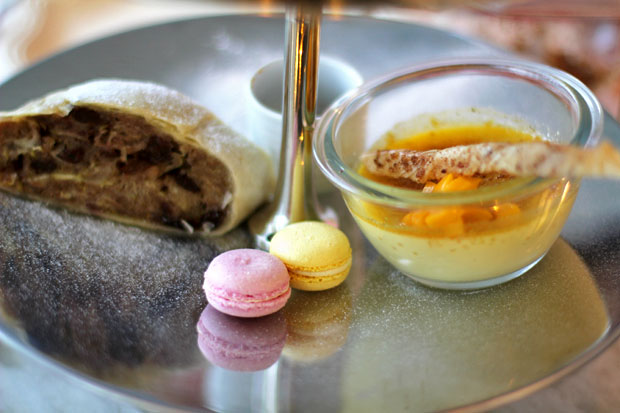 Though not indicated in the menu's description, we were also treated to this rich, creamy cup of vanilla ice cream. Coolness!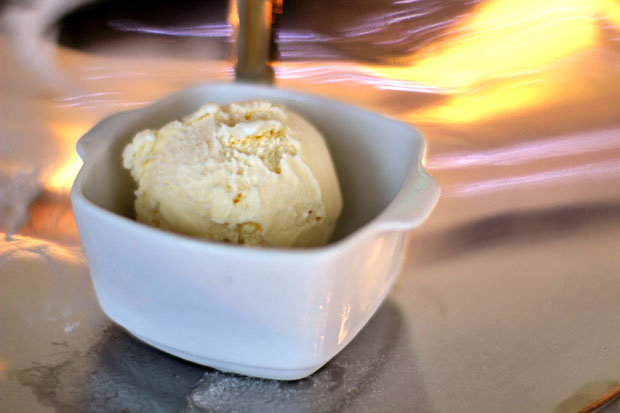 Unsatisfied with just one cup, we decided to try other tea blends.
L: Passion Green Tea – PHP 100/120/140 – I ordered this one for my second cup, again upon Joel's recommendation. Less sweet than the Skala, it was pleasantly plant-like in flavor, like fragrant grass. Very soothing.
R: Spice and Everything Nice Chai Tea – PHP 100/120/140 – Ren wanted something less fruity so ordered this chai. She enjoyed it, remarking that it had spice. Prodding her to be a little more precise, she added that everything about it was nice.
Each small order of tea comes with that eensy-weensy madeleine served on a teapot-shaped saucer. So cute!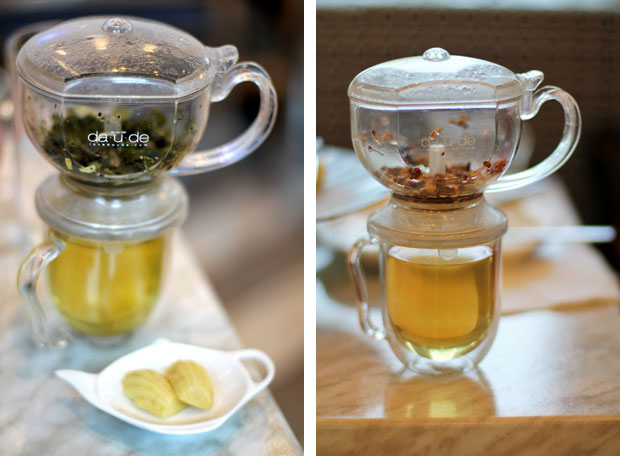 My gorgeous date Reneelicious. Like that cup of sweet, sensuous Skala, she's the perfect blend of sexy and cute. Ryan Gosling who? 😉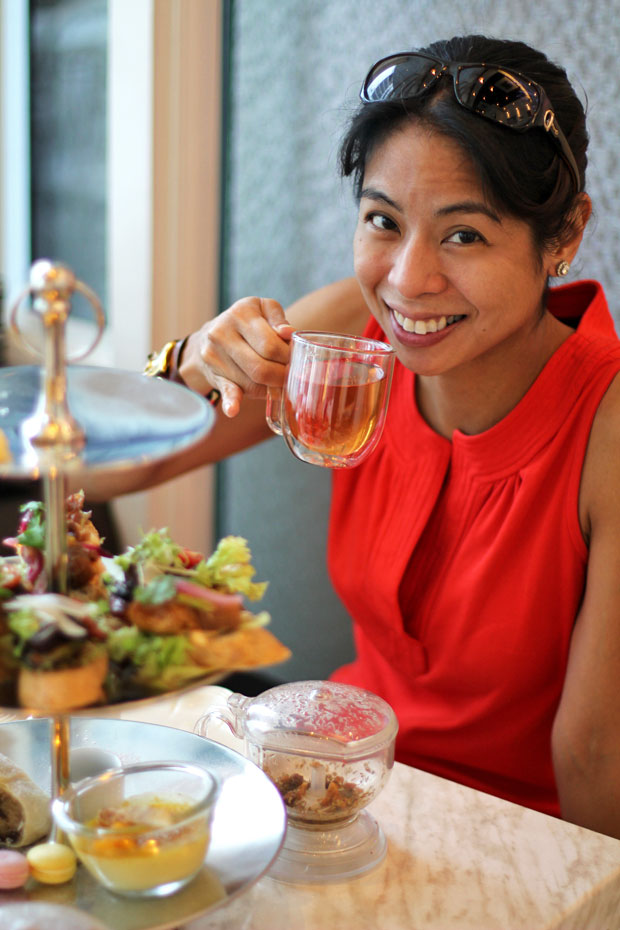 All tea-phistication jokes aside, da.u.de may be higher brow in concept, but stuffy nor discriminating they are not. Despite the polished, immaculate interior, it's a warm and inviting space that lends itself to an afternoon of relaxation and wellness over steaming cups of premium, loose-leaf teas. If you don't have a date, then bring a paperback. It's perfect for it.
What struck me most about this place was the apparent love they put into everything they do. From the well thought out interior, to the meticulously designed graphics and branding, to the thoughtfully-prepared high tea set, nearly every single detail about this place emanated love. With each nibble of their carefully crafted food, with every sip of their artisan tea blends, you tasted it, you felt it, and you became inspired by it.
Case in point, I've been wavering for some time now whether or not to invest in a pricey macro lens, but today's experience at da.u.de convinced me to just go for it. The sandwiches were so lovingly prepared, the tea leaves such a ravishing blend of color and texture, that it was frustrating not to have the proper lens to photograph them with. The intimacy of close-up, macro shots would have painted a far more complete, much more sensuous picture. 🙁
Regardless of how much I enjoyed the food, the space, and their tea, what made this afternoon truly memorable for me was the staff. Everyone, from our server Joel to the rest of the crew, was polite, patient, and exceedingly helpful, in spite of the fact that we were here on discounted Deal Grocer vouchers. Ren and I always take that as a sign that employees are treated well, and I can assure you from this one experience alone, that the staff at da.u.de is treated with consideration and respect. Like everything else here, they were ebullient with joy and wellness, and it was infectious.
Again, thank you so much da.u.de for a wonderfully inspired, uplifting afternoon. I may forever be a coffee drinker at heart, but you've definitely made a fan out of me. 😉
JB is one half of Will Fly for Food and its chief itinerary maker.  He's the one to blame for all the crappy photos and verbal diarrhea on this blog.  Don't listen to him.
Latest posts by JB Macatulad (see all)