Berry Pepper Jelly from Prevedelli Farms
Ren's brother, a passionate gourmand himself, routinely sends care packages from the US, having sent through the years an assortment of gastronomic delights and culinary equipment like truffle oil, pimenton, farro grains, pine nuts, saffron, a pizza stone, even a KitchenAid. This past December, he spent the holidays here in Manila and brought back with him a slew of other goodies, among them this interesting jar of berry pepper jelly from Prevedelli Farms.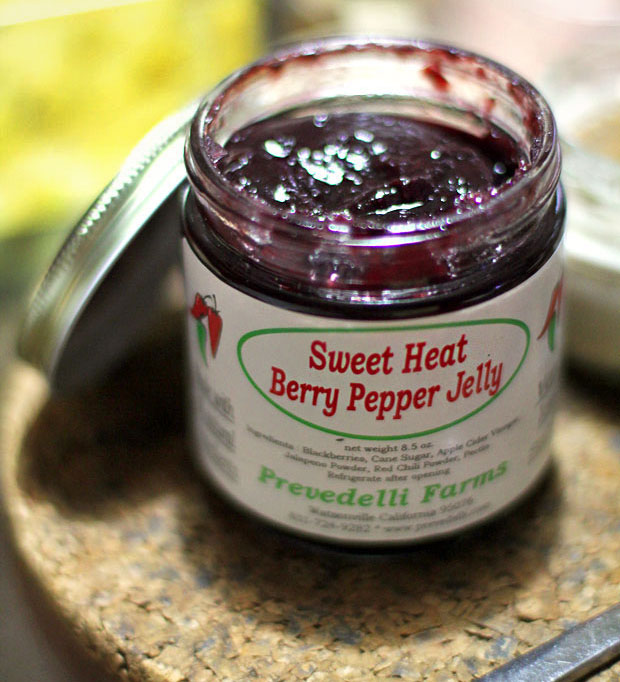 Residing in Watsonville, CA, a small city in Santa Cruz County known mainly for its farming industry, Ren's brother has steady access to the freshest, locally grown produce like apples, strawberries, blackberries, raspberries, and table mushrooms, frequently buying them off-the-vine and promptly incorporating them into his cooking and baking. Talk about Farm-to-Table!
One of his favorites is Prevedelli Farms, a third generation family farm that specializes in a wide assortment of apple varieties, some with colorful names like Bellflower, Gravenstein, Jona-gold, Pink Pearl, and Winterbanana. Apart from their fresh produce, they also offer bottled products like dressings and preserves, an example of which is this sweet-spicy jam made from blackberries and peppers.
Slightly tangy and not too sweet with a swift, peppery kick, it's definitely a step up from the cloyingly sweet, commercially produced jams that you can find at the supermarket. Personally, I had never tried a jam made with peppers before, so the heat from the first bite was a surprising but welcome sensation. I liked it. It added depth of flavor that makes this jam suitable for both sweet and savory applications.
As you can see below, we paired it with the bloc of foie gras gifted to me by my sister over Christmas, smearing the duo on toast points before finishing it with a few crystals of sel de Camargue. Sweet, spicy, earthy, rich, creamy, and salty, we enjoyed it with some red table wine and Tillamook cheddar for a quiet, romantic, Friday evening in. 😉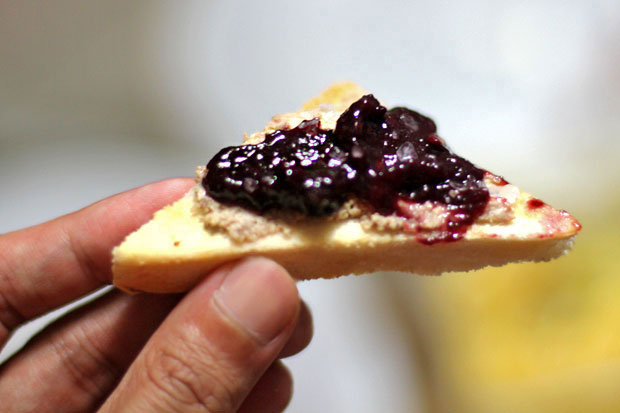 For more information on Prevedelli Farms and the variety of products they offer, you can check out their website at www.prevedelli.com. According to Ren who's visited her brother in Watsonville before, the fruits and vegetables grown there are AMAZING. Home to the annual strawberry festival, their strawberries are reportedly as sweet as honey sunshine and the size of newborn babies.
JB is one half of Will Fly for Food and its chief itinerary maker.  He's the one to blame for all the crappy photos and verbal diarrhea on this blog.  Don't listen to him.
Latest posts by JB Macatulad (see all)