You know you're an avid food blogger when over Christmas, you become more excited about a gift of salt than you do over electronics.
Honeymooning in the South of France late last year, my sister brought me back these exquisite goodies from Provence. I had no idea she was giving these to me, so my eyes practically popped out of their sockets when I opened the bag and found all these food products labeled entirely in French. "Foie, truffée, canard, morilles, Jurançon, sel de Camargue", my heart went racing. I may not be Bradley Cooper, but I understood enough to know that Ren and I will soon be enjoying a relaxing evening of subtitled DVDs, good wine, and some very sophisticated French pulutan. 😆
Merci Ate!

Foie gras gift pack from Ducs de Gascogne and Camargue sea salt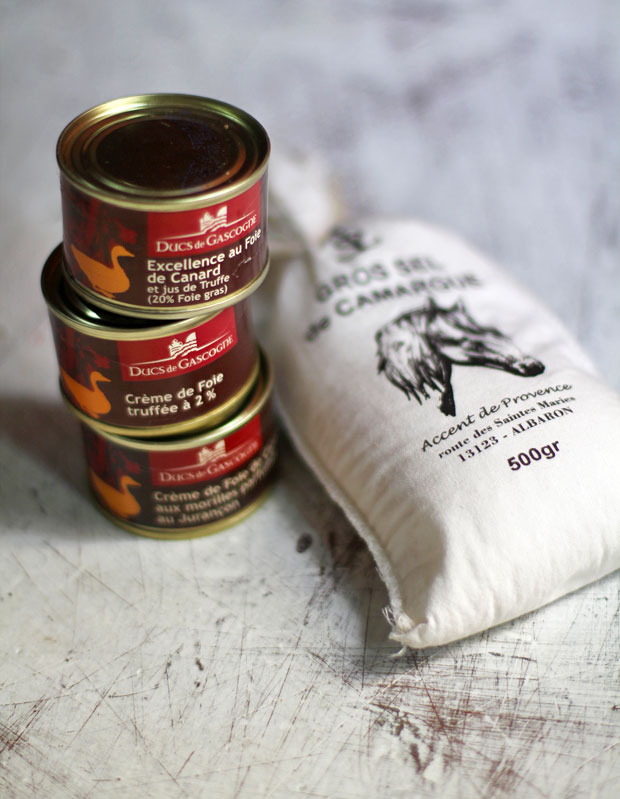 In English, Gros Sel de Camargue translates to "Coarse Salt of the Camargue." The Camargue is a wild, marshy area in the southwest corner of France, renowned for its rice, its horses (hence the beautiful illustration), and of course, its prized sea salt.
A top-quality, hand-raked sea salt, sel de Camargue has a way of drawing out the flavor in any food, from roasted fish to grilled vegetables, and is thus used as a finishing salt to be sprinkled on foods prior to serving. Incredibly flavorful with coarse granules, its taste is a delicate balance of numerous minerals and micronutrients, making it the finest, most revered salt in the world.
To top it off, it's apparently good for you too. Unlike processed salt, sea salt is a natural source of potassium, calcium, magnesium, copper, and iodine, helping your body absorb nutrients as well as regulating blood pressure. Currently on the third day of our seven-day GM Diet, I think I'll be sprinkling just a pinch on my roasted vegetables for lunch this afternoon. 😉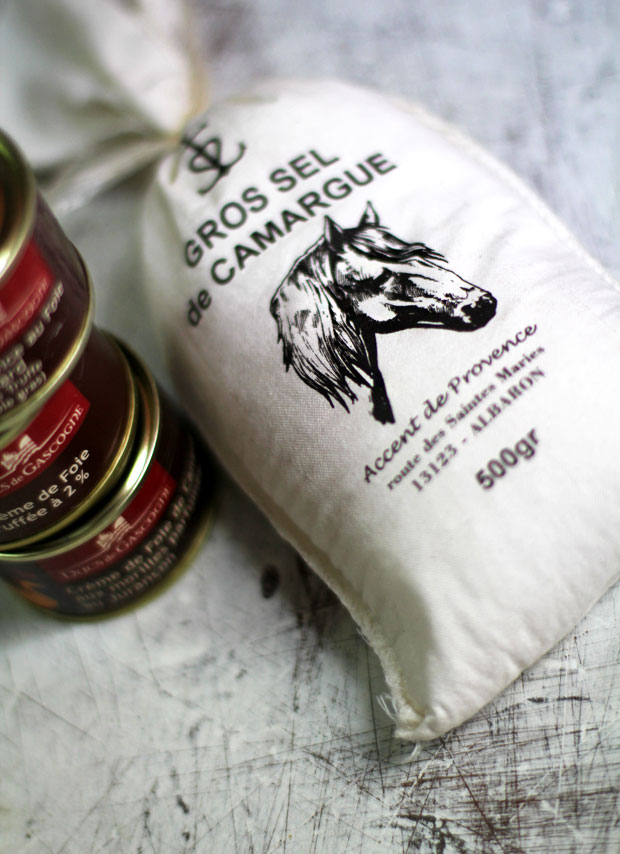 Established in the commune of Gimont in Southwestern France, Ducs de Gascogne has been manufacturing whole foie gras, bloc of foie gras, and other regional specialty dishes since 1953. According to their website, the Gers department, which Gimont is a commune of, specializes in many duck or goose-based dishes and is allegedly home to delicacies like foie gras and confit. I couldn't really find anything online to substantiate these claims, but if it is indeed true, then these cans of bloc of foie gras are like bags of cocaine straight from the poppy fields of Bolivia. The best. 😉
Included in the gift pack were these three 70 g cans:
Excellence au foie de canard et jus de truffe (20% foie gras) – Duck liver with truffle juice. Made with pork belly, chicken liver, foie gras (20%), pork fat, beef, white wine, salt, truffle juice (1%), pepper, nutmeg.
Crème de foie truffée à 2% – Cream of truffled liver 2%. Made with pork, duck foie gras (25%), chicken liver, egg, white wine, truffles (2%), salt, gelatin, spices, pepper.
Crème de foie de canard aux morilles parfumée au Jurançon – Cream of duck liver with morel mushrooms and Jurançon wine. Made with pork, duck foie gras (25%), chicken liver, egg, white wine, Jurançon (1%), morels (1%), salt, gelatin, pepper.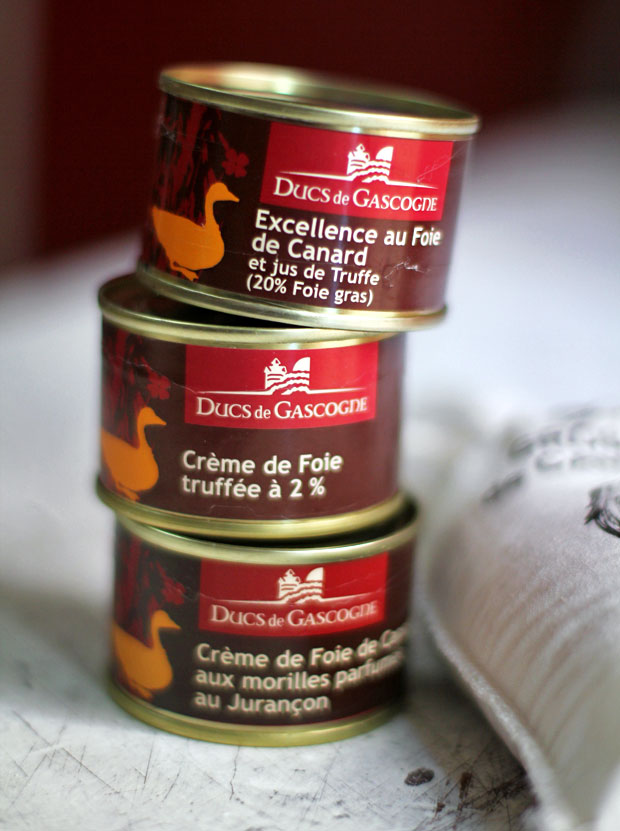 As much as I'd love to dig into these cans of foie gras right now, we're in the midst of a regimented, seven-day diet, so they're strictly off limits this week. They will make a fantastic reward next weekend though, after I've lost all this holiday weight. Also, I promised Ren that I'd learn to appreciate wine with food this year (instead of just drinking it to get a buzz), so what better way to start my education in sophistication, than with these exquisite cans of Gimont foie gras? 😉
JB is one half of Will Fly for Food and its chief itinerary maker.  He's the one to blame for all the crappy photos and verbal diarrhea on this blog.  Don't listen to him.
Latest posts by JB Macatulad (see all)