Kampot Red and White Peppercorns from Cambodia
These red and white Kampot peppercorns are just one of several interesting spices that we brought back from our recent trip to Siem Reap, Cambodia. Despite being packaged in these attractive little containers, spice-illiterate me didn't think much of them at first, presuming them to be no different from any other peppercorn except for their unusual, burgundy-red color.
To my surprise, only when I started doing research for this post did I learn that these Kampot peppercorns were, in fact, anything but ordinary. As it turns out, these little gems were revered in the culinary world as the Beluga caviar of peppercorns. Holy crap. Like an episode of Antique Roadshow, I felt like I had just bought an old, rusty horseshoe from the flea market, only to find out later that it was Secretariat's Triple Crown winner. 😯
Grown in the Kampot Province of Cambodia since the 1800s, the popularity of these peppercorns exploded in the 1950s and 60s, with tons of the spice being shipped to France, Great Britain, and the United States. Becoming one of the essential elements of the French kitchen, its popularity remained high until the Cambodian pepper industry ground to a halt with the destructive rule of the Khmer Rouge. It wasn't until the late 1990s that cultivation was revived, with old plantations being brought back to life by the survivors of the Pol Pot era. Today, thankfully, Kampot peppers are once again in high demand, recognised as the best pepper in the world following its award of GI status (Geographical Indication of origin) in 2009.
Available in four forms – green, black, red, and white – these peppers have a unique flavour and aroma that's unlike any other. As so eloquently described by one Western foodie traveler, "Kampot pepper is fresh and pungent, with tingly notes of camphor and eucalyptus overlaying its essential pepperiness."
Fancy indeed. 😀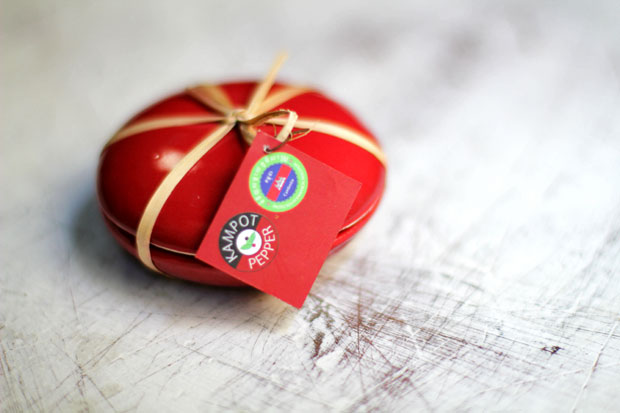 As mentioned above, Kampot peppers come in four varieties, all coming from the same plant but in different stages of fruit maturity.
GREEN. The unripe berry of the pepper plant, it's harvested before maturity and must be consumed within three days of picking. With a fresh, citrus-y flavor that's less spicy than the dried variety, it's normally used with any type of seafood, but most commonly with crab.
BLACK. The sun-dried product of the green pepper, unripe berries are picked just as they start to turn from green to yellow. They're then blanched and left to dry in the sun on bamboo mats for three to four days. Though black pepper can last for many years when stored correctly, it loses its full flavor after just a few days, so be sure to have a good pepper grinder handy.
RED. The sun-dried product of the fully ripened berry, the berries are left to turn red on the vine before being picked at just the right moment before they spoil. They're then individually sorted by hand after being blanched and dried in the sun for three to four days. The rarest and most premium of the peppers, it has a unique flavor that's sweeter and fuller-bodied, with less heat than the black.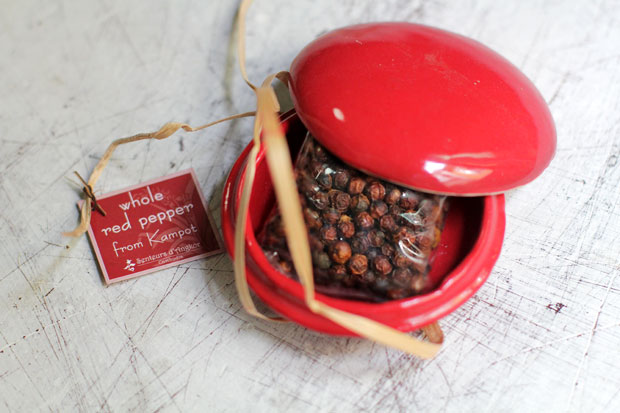 WHITE. Like the red, except the freshly picked berries are placed in hot water until the skin falls away. Only then are they left to dry under the sun for three to four days. With elements of flavor being shed with the skin, white pepper tastes different from the black or red, and is normally reserved for lighter colored dishes.

Had we known these red peppercorns were so revered, we would have brought back an entire suitcaseful, instead of just this one dinky bag. Oh well. I guess we'll just have to save these for something pretty extraordinary then. I asked Reneelicious if she had any ideas yet on what dishes she wanted to make with these, and she said not a clue. I guess with peppercorns this special, it can't just be any old dish. It'll need to be something that isn't just exceptional, but out of the ordinary as well.
Remembering the still unused pizza stone given to her over Christmas by her brother, I'm seeing a Reneelicious "happy" pizza in my not too distant future.
JB is one half of Will Fly for Food and its chief itinerary maker.  He's the one to blame for all the crappy photos and verbal diarrhea on this blog.  Don't listen to him.
Latest posts by JB Macatulad (see all)