Raffylicious Angus Beef Tapa
I'm pretty sure most of you have eaten at Brother's Burger. Some of you may have already tried Bulgogi Brothers. But have any of you ever tasted brother's Angus beef tapa?
Enjoying New Year's Eve dinner at my brother's house in Alabang, his brother-in-law Raffy surprised us with this most unexpected, but much appreciated gift of Angus beef tapa. I already knew that he was a good cook, having relished his pasta puttanesca on many occasions before, but I had no idea that he actually made and sold his own Angus beef tapa.
Ren loves beef tapa, easily naming it her favorite among the "silogs," and she was gushing over this one. Because it's made with choice Angus beef, the tapa is incredibly tender and flavorful. Unlike lesser tapas that she has to be careful not to overcook, Ren had no trouble whatsoever browning this one to make it delectably crisp around the edges, whilst still keeping the meat moist and tender. It was absolutely delicious, especially when eaten with garlic fried rice and scrambled eggs with tomatoes and onions.
In fact, when I asked her which tapa she preferred, Raffy's Angus tapa or Chef Laudico's Kitayama Wagyu tapa at Bistro Filipino, she answered without hesitation, this one. Tender and juicy as Chef Laudico's Wagyu tapa may have been, this was even more so.
Good job bro. 😉

Raffy sells his Angus beef tapa for a reasonable PHP 550 per kilo. To order, you can call or text him at 0917-929-9858. Orders are for pick-up only at 28 Tagbilaran st., Alabang Hills Village, Muntinlupa. If your curiosity has at all been piqued by my description above, then I'll let these pictures finish the job. 😀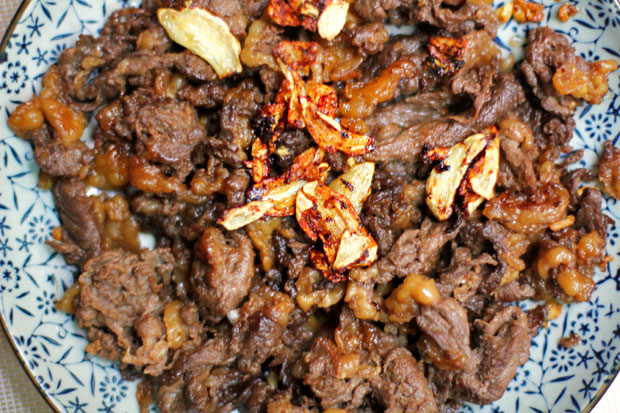 Reneelicious Tip: Drain defrosted tapa of as much liquid as possible, then pat dry; reserve liquid. Brown lots of garlic in olive oil, then remove from oil and set aside. In same pan, fry tapa until brown, then transfer to plate and garnish with browned garlic. In same pan, make garlic fried rice by browning additional garlic, adding day old cooked rice and reserved liquid from tapa. Eat like no one's watching.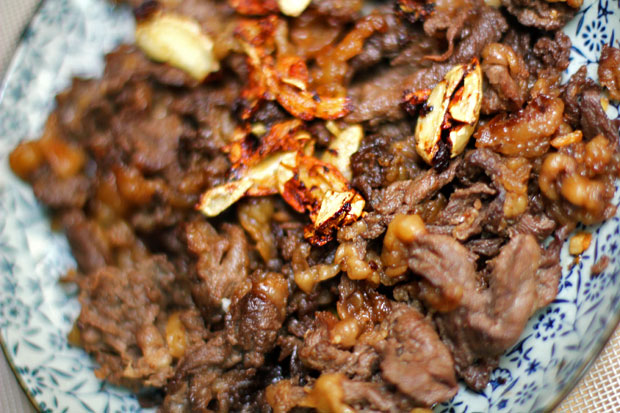 Trust me folks, you won't go wrong with this one. It truly is delicious. Should you decide to go ahead and order some, it would be very much appreciated if you could come back and tell us what you think here. That way others know that it really is good, and I'm not just my brother's keeper. 😉
JB is one half of Will Fly for Food and its chief itinerary maker.  He's the one to blame for all the crappy photos and verbal diarrhea on this blog.  Don't listen to him.
Latest posts by JB Macatulad (see all)