Sambokojin is located at 15 West Ave., West Triangle, Quezon City. Tel: 372-8846 / 921-2873.
Eastwood – Eastwood Citywalk, Bagumbayan, Quezon City. Tel: 421-0145 to 46.
EDSA – 207 EDSA, Greenhills, Mandaluyong. Tel: 726-4466 / 726-4520.
SM Southmall – Ground Level, Eastwing Food Street, Alabang Zapote Road, Las Piñas.
Tel: 511-7843 / 511-7853.
First post of 2013, and it's about a buffet. Oh jeez.
The superstitious, allegorical person in me who puts meaning into everything can't help but see this as an auspicious, but troubling sign. Auspicious because it's an obvious symbol of bounty. Troubling because much of that bounty will most likely reflect in my belly, which is already eight pounds rounder, just from December alone. Crap.
Like those Feng Shui amulets designed to ward off negative energies while enhancing the positive, Ren's putting me on a crash diet next week in preparation for 2013's blessings. It's supposed to make me shed 10-17 pounds in just seven days, making it the perfect way to usher in a big year, without being too big myself. 😆
Silliness aside, belated Happy New Year everyone. May 2013 bring an abundance of joy in your lives. 😀
Grilling your own meats Korean-style seems to be all the rage these days.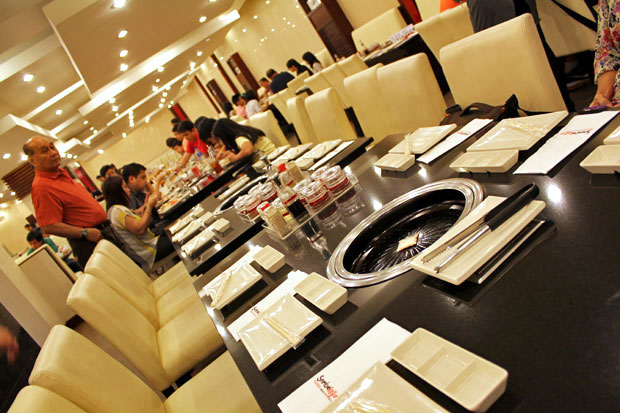 Buffet Prices
As of 3 January 2013
Mon-Fri (LUNCH) – PHP 519
Mon-Fri (DINNER) – PHP 619
Fri / Sun / Holidays (LUNCH & DINNER) – PHP 659
Children below 4 ft – PHP 319
Toddler – FREE
For the Grill
Vegetables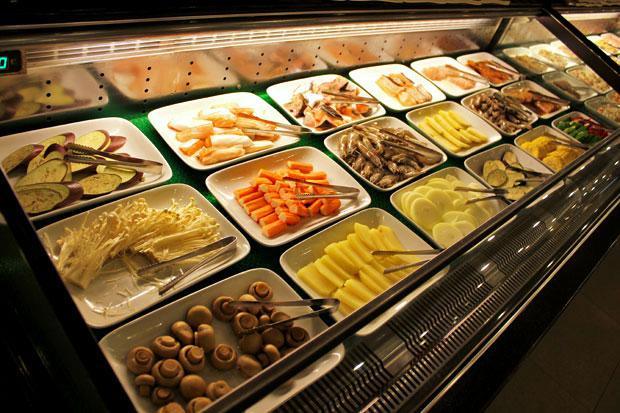 Stuff wrapped in bacon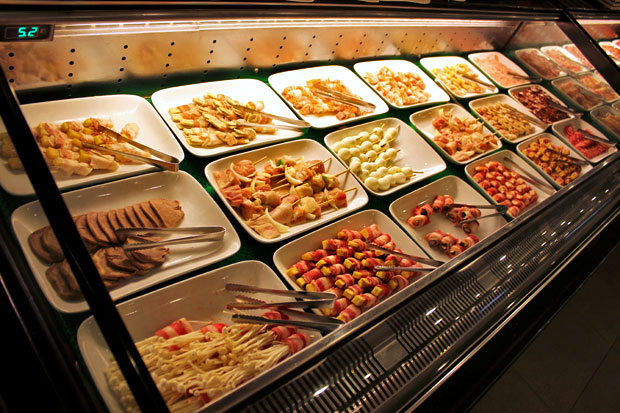 Exhibit A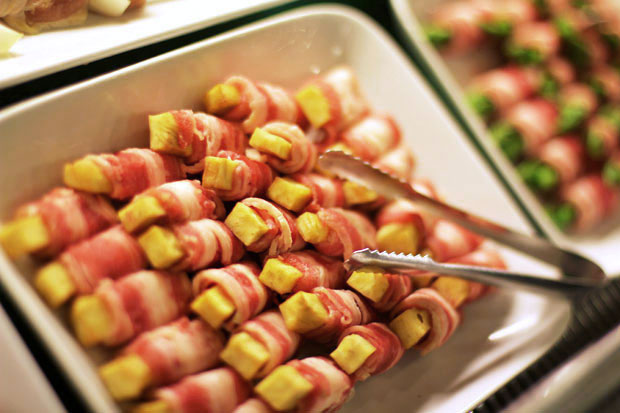 Exhibit B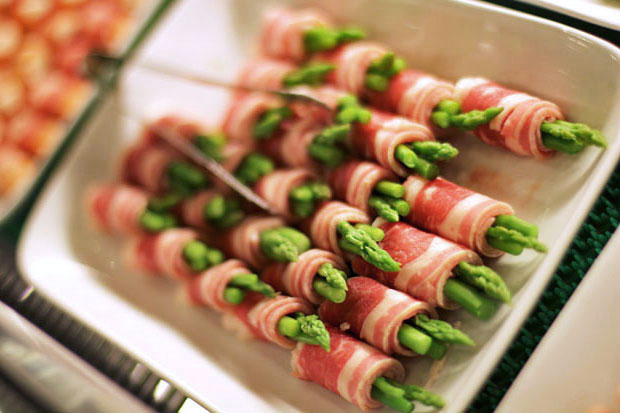 Exhibit C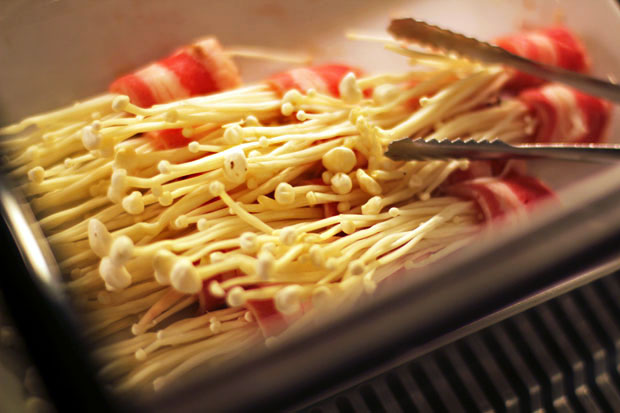 Marinated proteins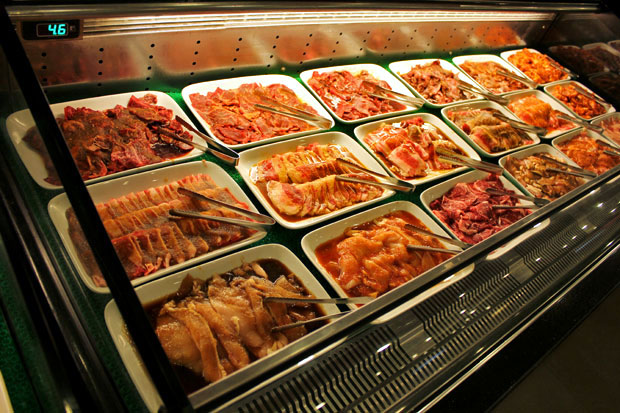 Sushi / Sashimi
The sushi spread here rivals the variety at Viking's. Here's the first chiller…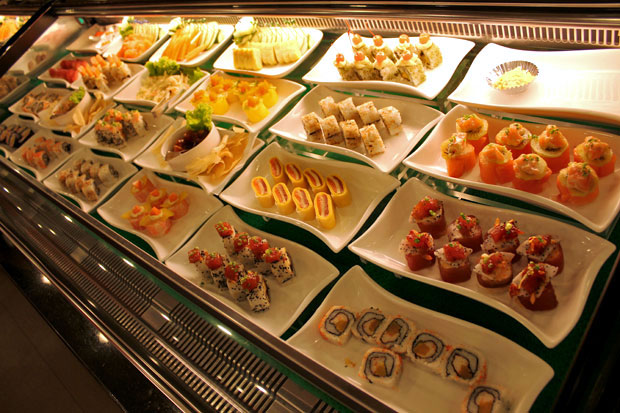 …and the second. Pretty eh? 😉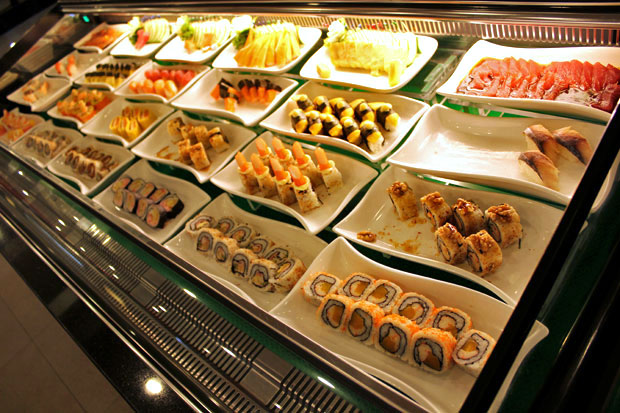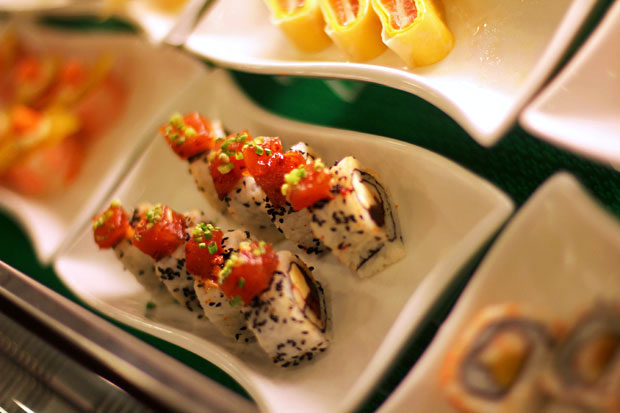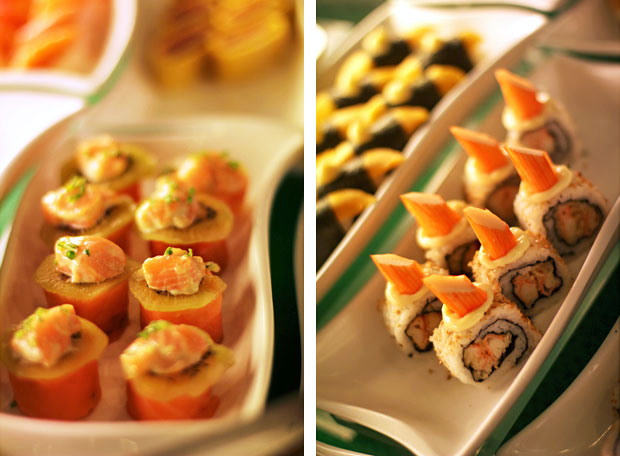 Hot Food
I didn't have any of the hot dishes, but Ren said that most everything was good. They had a good mix of Japanese and Korean dishes like chap chae, tofu steak, curry beef, bulgogi, and gyoza, among other things.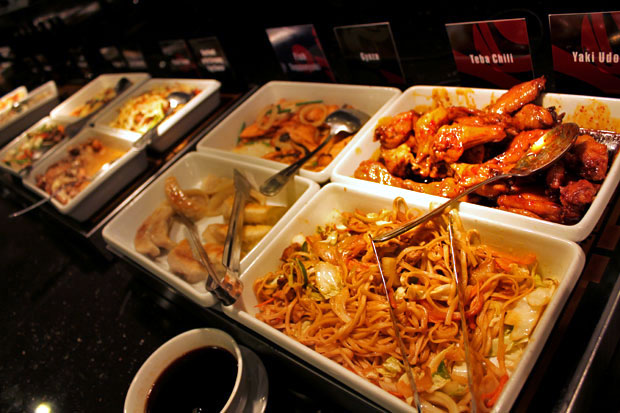 Tempura
All kinds of tempura and other deep-fried goodies.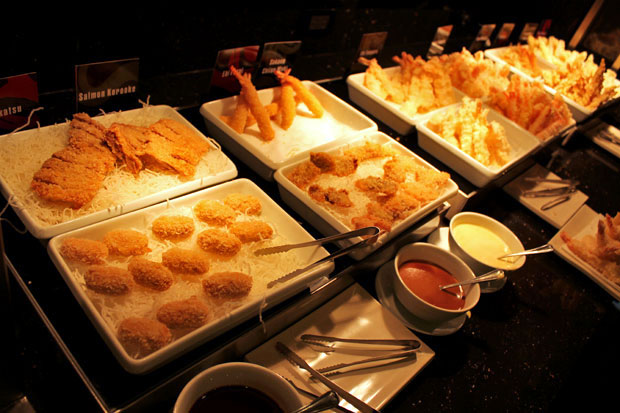 If I remember correctly, they had ebi, kani, vegetable, and fish tempuras. They also had ebi furai, which I don't see very often.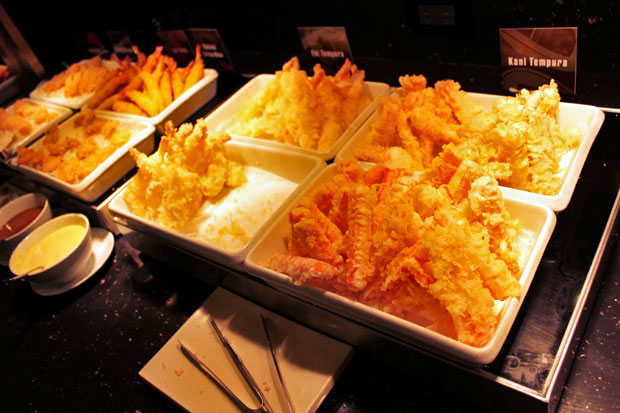 Dessert
Pastries, cakes, and fresh fruit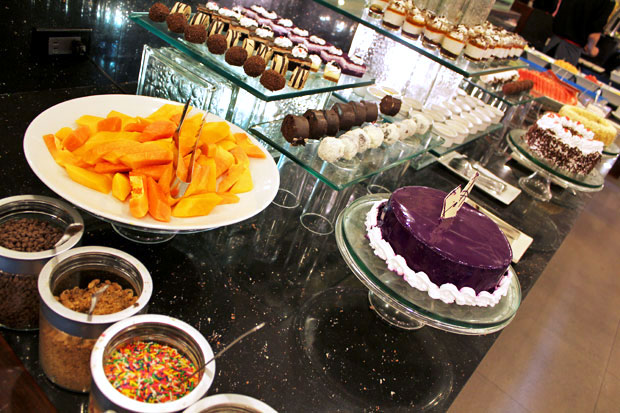 Ice cream bar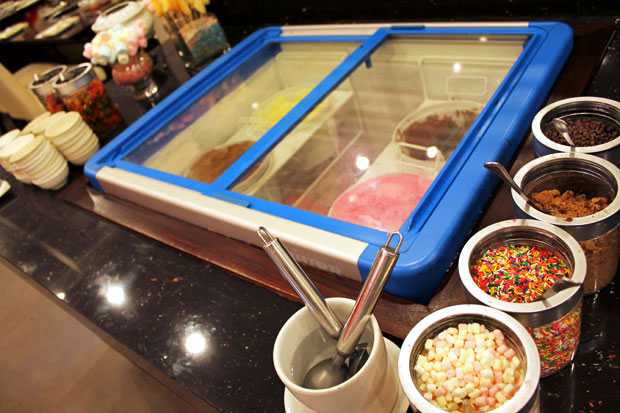 My Bounty
Round 1 – Specialty sushi rolls and uni sashimi
As always, sushi and sashimi dominate my buffet experience. Though they have much variety here, not all were great, with some of the rolls tasting a little cold in the center. They did have uni sashimi though, which is always a major plus. Sweet, creamy, and delicious, it's one of my favorites. The spicy tuna rolls were pretty good too.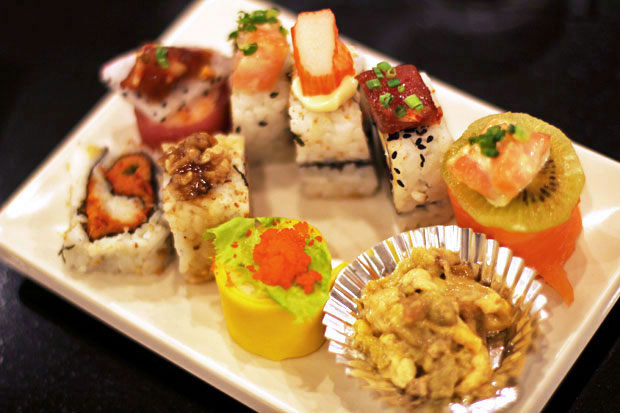 Round 2 – Sashimi and a few pieces of sushi
Despite the colorful variety of designer sushi rolls, I found the sashimi to be the most enjoyable. Apart from the uni, they also had the usual tuna and salmon sashimi, but some were marinated in a sauce or drenched in Japanese mayonnaise. They were quite flavorful, especially the tuna. A couple even came with chips, so you could make your own tuna or salmon sashimi "crisps."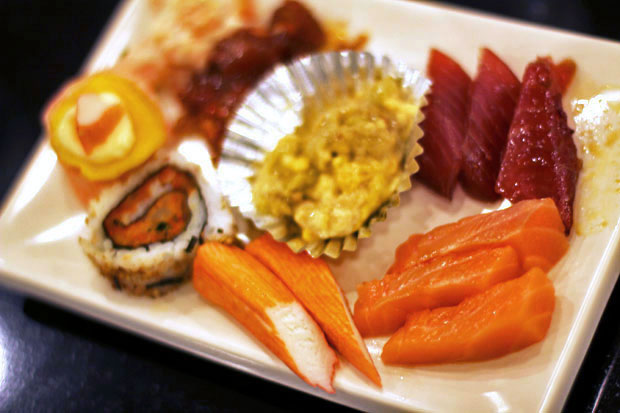 Round 3 – Ebi furai with ebi and kani tempura
The tempura was nice and succulent, though the dipping sauce was just a little too sweet for me. This was my first time trying ebi furai, but unfortunately, I didn't like it much. I found it heavy, especially when compared to the much lighter tempura.
Round 4 – Kamameshi rice
Having never seen these at a Japanese buffet before, I thought these personal servings of kamameshi rice to be pretty sweet. They also offered bowls of sukiyaki and bibimbop.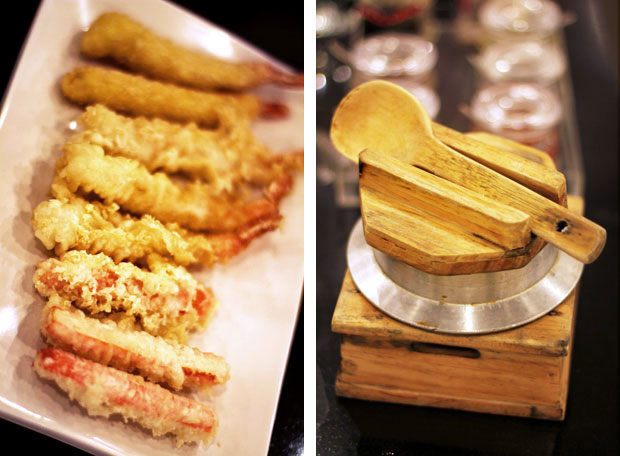 With kamote mixed in with the rice, it was sweet indeed. I didn't like it.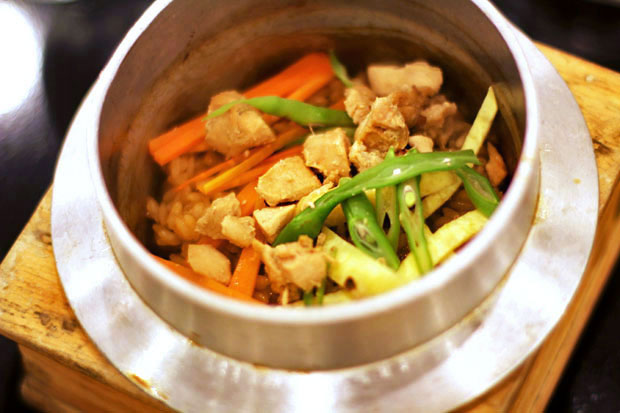 Round 5 – A plateful of eggs with kani
I do like eggs though.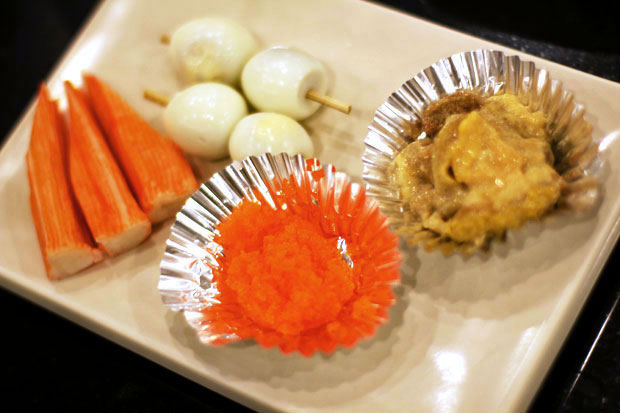 Round 6 – Gummy palate cleanser 😆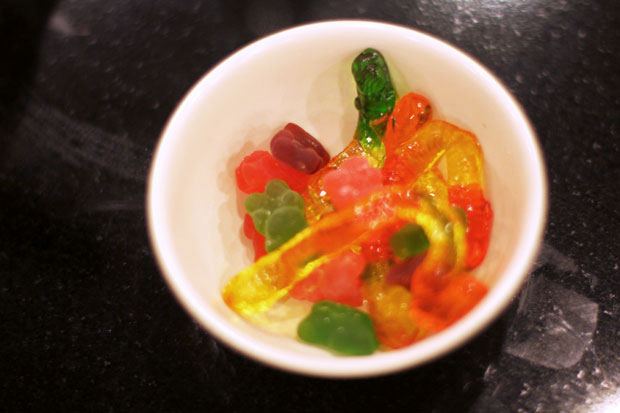 Round 7 – Custard
Rich and creamy, this custard dessert was pretty good, though like many of today's dishes, very sweet.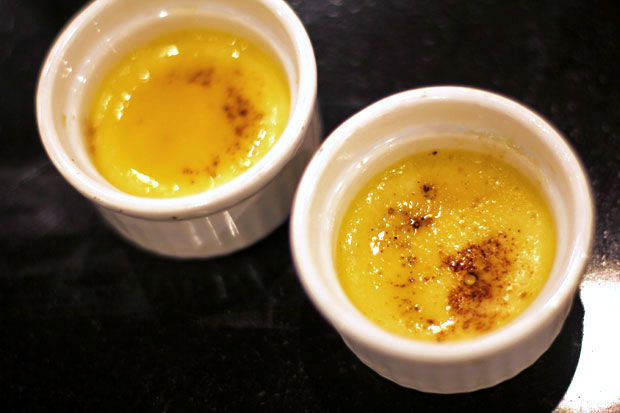 When I first saw this spread, I was wowed by the sushi section and thought that I had found my ideal buffet. A deluge of designer rolls, a plethora of tempura, and a spattering of other Japanese and Korean dishes to fill the gaps on my plate. What more could I ask for, right?
As described above however, the sushi selection may have rivaled the variety at Viking's, but it wasn't nearly as good overall. Many of the rolls, though colorful, were forgettable, some even cold in the center. Plus, if you looked closely, a few of the rolls seemed very similar, just refashioned and presented differently but still made from the same components. Apart from the uni, marinated tuna, salmon sashimi, and spicy tuna rolls, I didn't really like anything else.
Overall, everything was on the sweet side, likely to cater to the Filipino palate. The tempura, for example, tasted good, but the cloyingly sweet sauce ruined it for me. Similar to Yakimix or Roboto San, Sambokojin is a decent buffet, but not one that I'd be raring to go back to anytime soon. Though not quite the same concept because they don't offer Korean cuisine, I'd much rather go to Kitsho at Trader's Hotel or Zensho, purely on the strength of their Japanese fare.
JB is one half of Will Fly for Food and its chief itinerary maker.  He's the one to blame for all the crappy photos and verbal diarrhea on this blog.  Don't listen to him.
Latest posts by JB Macatulad (see all)