Seventh Wedding Anniversary Dinner at Champêtre
Champêtre is located at G/F Net One Center Bldg., 26th St. corner 3rd Ave., Fort Bonifacio, Taguig. Tel: 815-8801 to 02.
The first and only time we enjoyed a Marc Aubry meal was in February of 2010, at Je Suis Gourmand, for Valentine's Day. It was one of our very first blog posts, back when Ren and I both wrote about our experiences in "He Said, She Said", and I was playfully referred to in her write-ups as the BHOBL*. In fact, if you follow that link above, you can still read it. The format is actually pretty funny and cute, looking back.
Even without rereading that old post, I still remember that meal like it was yesterday. The scallops with angel hair pasta, the roasted duck with foie gras, the strawberry cheesecake. I'm not a wine drinker, but I even remember the type of wine that we brought in, a bottle of Pinotage. I remember the exact table where we sat, the simpler but more elegant interior of the former restaurant, and the fact that everything we ate that night was ordered from the specials menu. In other words, it was a terrific, rousing meal not to be forgotten.
Despite nearly three years between meals, this place has remained near and dear to our hearts, which is why we find ourselves here again tonight, not just to eat, but to celebrate our 7th year as husband and wife. Frankly, after tonight, I have no idea why we waited this long, because the food, like the first time, was phenomenal.
French cuisine, foie gras, and a celebration of love. Though the restaurant's name and interior may have changed, it's nice to see that much has still remained the same. 🙂
*Big Hunk Of Burning Looooove!
Located at the exact same spot, meet Champêtre, the restaurant formerly known as Je Suis Gourmand. Champêtre, in English, translates to "rural, pastoral, or country", and is meant to reflect Chef Aubry's countryside origin and cooking style. The restaurant's interior and graphics is in line with this concept as well.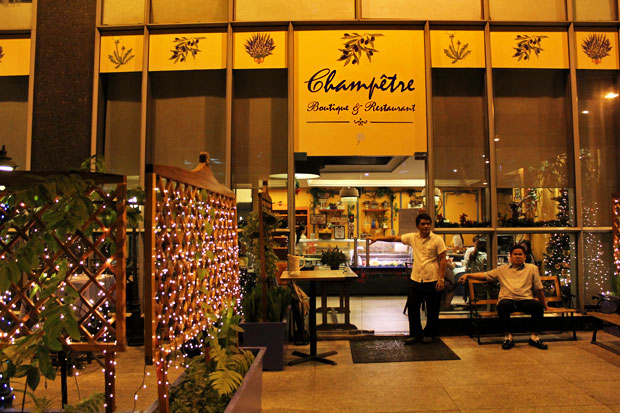 Traditional Escargot Bourguignonne – PHP 450
One of the best examples of escargot we've ever had, the snails were buttery and garlicky without being offensively so. As Clinton Palanca pointed out in his stellar, exceptionally written review of Champêtre, they add just the right amount of garlic and herbs to impart flavor without drowning out the natural earthiness of the snails. An absolutely wonderful dish, especially when paired with the garlic, herbed bread.
In fact, I enjoyed it so much that I found myself slurping down the garlic butter trapped inside the shells, long after the snails were gone. Etiquette be damned. 🙂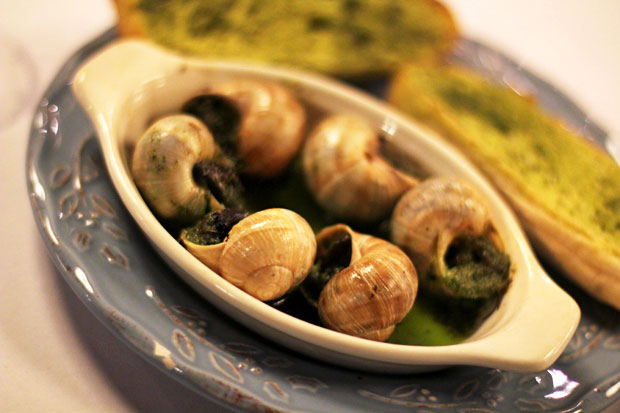 Sauteed Cepe Mushrooms and Foie Gras Raviolis with Cepe Jus – PHP 580
Velvety and earthy with just a hint of that luxurious foie gras taste, the ravioli was larger than usual, made with thicker sheets of pasta that did taste a little heavy at times, but still good. The cepe jus was very nice as well, light, smooth, and not too thick.
Though Ren very much enjoyed this dish, she would have preferred to have more foie gras. In hindsight, she probably should have chosen the Roasted Duck Foie Gras with Risotto Carbonara instead, which the table next to us ordered. Though just an appetizer, it was a decent portion topped with a good-sized slab of pure foie gras, which looked utterly divine. 😈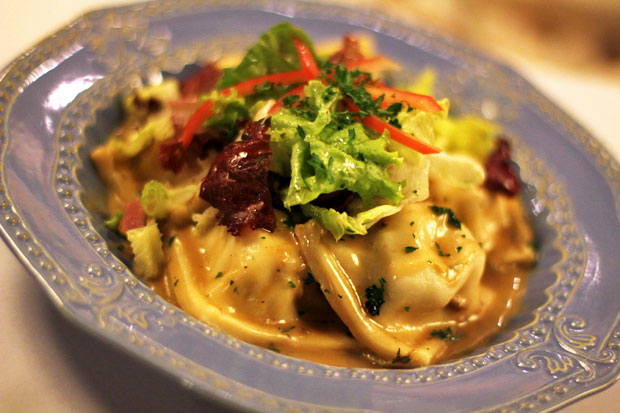 Roasted Veal Kidneys with Cognac Peppercorn Sauce, Fries, and Salad – PHP 690
After reading the aforementioned review by Clinton Palanca, I was sold on these veal kidneys. Intrigued by an unfamiliar protein, my curiosity was rewarded by a surprising, impossibly delicious entree.
I've never had veal kidneys before, so I really didn't know what to expect. Most curious about its texture, I knew from the first cut that it would be unlike anything I've ever tried. A little hard to describe, it was rubbery with bite, but not chewy. Similar to uncooked asparagus that bends before snapping cleanly in two, each piece gives just enough so you get that rubbery sensation, before breaking apart with minimal effort from the force of your bite. Once you started chewing vigorously, it became reminiscent of liver, but much less mineral-y. I LOVED the texture.
Flavor-wise, it was rich, earthy, and iron-y like liver, but cleaner tasting and not at all metallic. Drenched in a bold, peppery sauce, it was perfect when eaten with the salad, which had an acidic, citrusy dressing to offset the unctuousness of the organ meat. The only thing I didn't really care for on this plate were the fries, only because I would have personally preferred mashed potatoes.
As you can probably tell by now, I've become enamored with this dish, and would order it again in a heartbeat. It was sensational.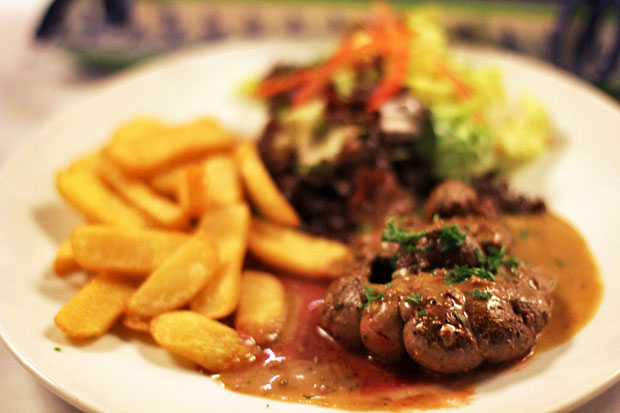 A closer look at the veal kidneys. Just looking at this picture, I can taste its wonderful, earthy flavors and unique texture all over again. Truly delicious.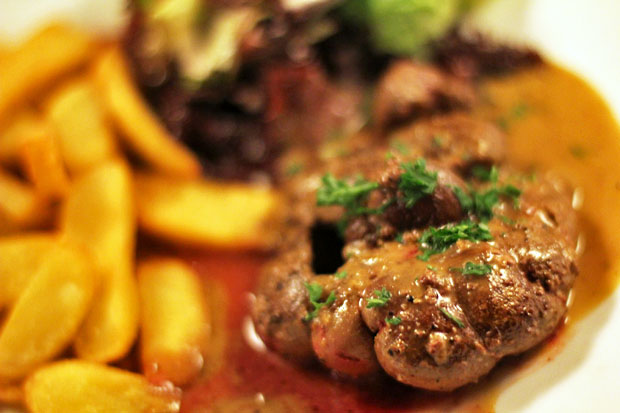 2003 Zifar Ribera del Duero Crianza, a gift from Ren's fabulous Ninang Nening. Corkage here is PHP 400 per bottle.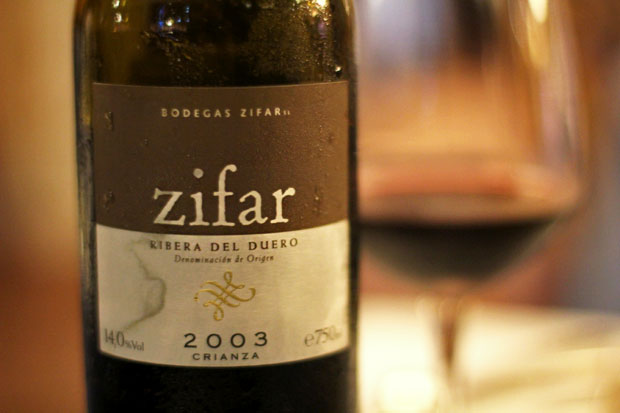 A toast to my beautiful, ravishing wife Renee on our 7th anniversary. Here's to 70 more sweetheart. I love you with all my ♥.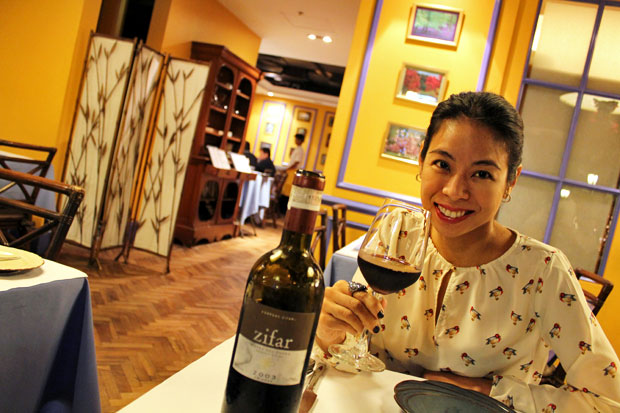 Needless to say, this experience reminded us that three years (and one restaurant name change) is far too long to go between Marc Aubry meals, which is why we'll be coming back this February to continue that love tradition on Valentine's Day. Excited much? You don't know the half of it. Unless the day's specials blow us away, we've already decided on what to order as well.
Based on Chef Aubry's professed menu favorites, we'll be getting the Homemade Goose Foie Gras Terrine with Toasted Brioche & Berry Compote, the Roasted Duck Foie Gras with Risotto Carbonara, and the Butter Seared US Black Angus Beef Onglet with Roasted Shallots, Fries & Salad.
See you again soon Champêtre. 🙂
JB is one half of Will Fly for Food and its chief itinerary maker.  He's the one to blame for all the crappy photos and verbal diarrhea on this blog.  Don't listen to him.
Latest posts by JB Macatulad (see all)