Ramen Bar is located at Level 3, Robinsons Magnolia Mall, Doña M Hemady Ave, Valencia, Quezon City.
Eastwood Mall – G/F Eastwood Mall, E. Rodriguez Jr. Ave., Bagumbayan, Quezon City.
Tel: 570-9457
The Venice Piazza – G/F The Venice Piazza, McKinley Hill, Fort Bonifacio, Taguig.
Tel: 552-1636
Ramen, for me, isn't just a bowl of Japanese noodle soup. It's the secret to a successful marriage.
Before getting hitched in 2005, I wouldn't have been caught dead at a ramen restaurant, preferring rice over ramen, eight nights out of seven. Not that I ever disliked ramen. It's just that the allure of rice-centric dishes such as sushi, chahan, and unagi donburi were so much stronger that I never developed a fondness for it, or for any other Asian noodle dish for that matter. Set in my ways, I rarely went against the grain.
Of course, that all changed in 2005. Ever the Yin to my Yang, Ren adores the stuff, so I had to broaden my horizons and welcome all the new things in my life, like ramen, scented candles, Pinterest, and the Lifestyle Network. Learning to adjust and embrace change, I opened myself up to the possibilities, which is why we find ourselves here today at Ramen Bar in Robinson's Magnolia, just days away from our 7th wedding anniversary.
Sitting here at a ramen restaurant, watching Ren happily slurp away at that big, heaping bowl of Japanese noodle soup, I'm reminded of something that a wise man once said:
"Happy wife, happy life."
Pass the ramen please. 🙂

Bright, cheery interior tucked away on the third level of Robinson's Magnolia.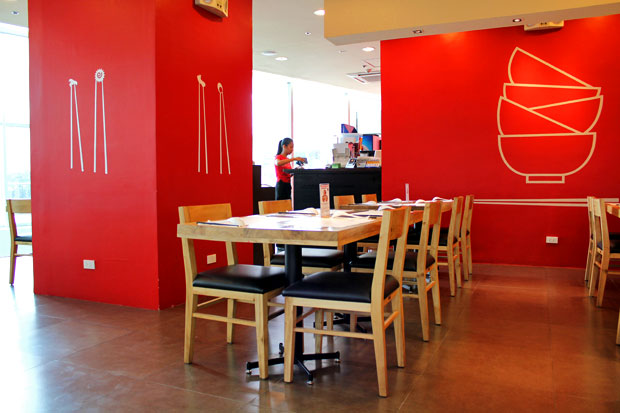 Cute, simple but striking, white on red graphics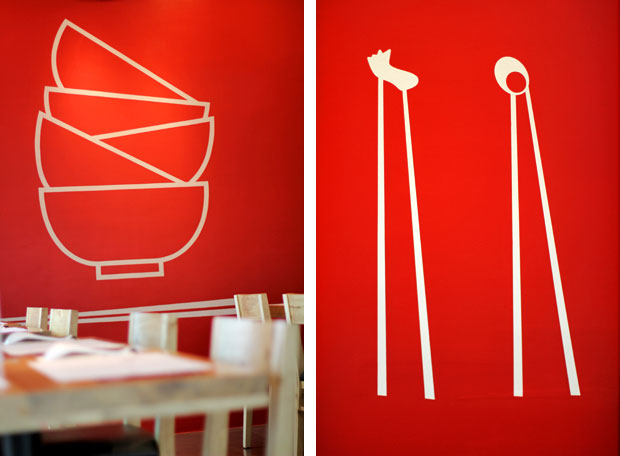 1,2,3…SLURP! Slurping your ramen is a must with the Japanese. Not only is it the ideal way to enjoy ramen, but it can even be taken as an insult if you don't. So remember, the next time you enjoy a bowl of Japanese ramen, slurp, and slurp loudly. 😉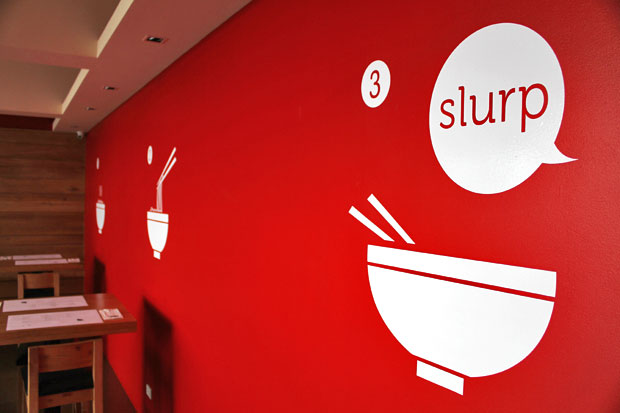 Ebi Buns – PHP 220
Asking our server for appetizer suggestions, he recommended these ebi buns without batting an eyelash. Apparently one of their most popular, it's basically a shrimp patty with lettuce and tartar sauce, sandwiched in a mantou bun. Sweet, crisp, and delicate, the shrimp was terrific, complemented nicely by the soft, chewy bun. Very nice.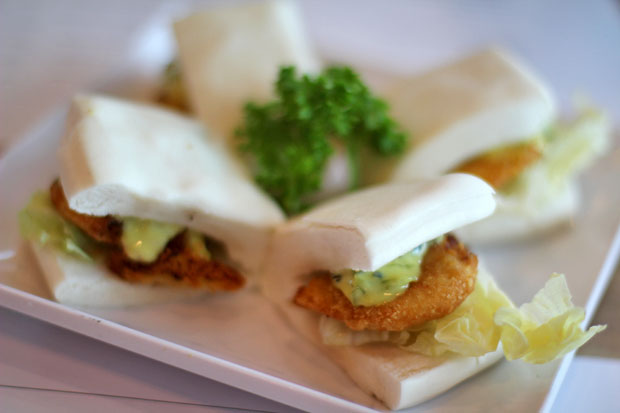 Kakuni King Ramen – PHP 380 – Generous portion of kakuni (braised pork belly) in a lighter soup broth
One of several new items on their menu, this bowl of ramen featured a generous helping of braised pork belly in a lighter, less complex broth. With fewer components to take in (and blog about), it was the right bowl to entice a less seasoned, ramen eater such as myself.
Not nearly as heavy as Ren's R.B.S. # 1, the broth was light but tasty, and spattered with a copious amount of crunchy, bittersweet spring onions. The slices of pork were earthy and fork tender, with a good balance of fat and lean meat. And that egg. Marinated for 48 hours then soft-boiled, it was sweet, savory, creamy, and rich. I would order these bowls of ramen just for that egg alone. It was delicious.
And of course, we mustn't forget the perfectly cooked ramen. Al dente and chewy, it was the pièce de résistance that made a ramen lover out of this stubborn rice fanatic. Needless to say, I think the choice between rice and ramen won't be so easy from now on.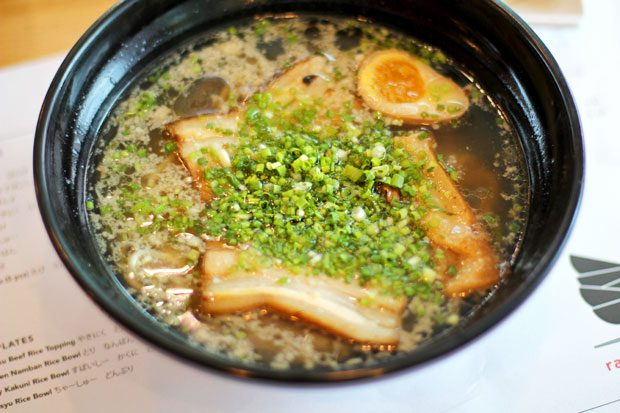 R.B.S. # 1 – PHP 380 – Soy-infused tonkotsu (pork bone soup boiled for 20 hrs) ramen topped with tamago (soft-boiled egg marinated for 48 hrs), naruto (fish sticks), nori (dried seaweed), negi (spring onion), chasyu (sliced pork), and kakuni (braised pork belly)
Midway through our meal, Ren and I switched bowls so we could taste each other's dish. Now faced with a ramen teeming with ingredients in a deeper, fuller-tasting broth, I became confused, perhaps even slightly intimidated. A beginner learning to do the doggie paddle, I felt like I was just pushed, kicking and screaming, into the deep end of the ramen bowl.
Decidedly more complex than my starter bowl above, I didn't know what to make of this at first. Despite being more robust in flavor, my first slurp of broth didn't exactly elicit the same eye-popping "yum" reaction that the Kakuni King Ramen did. In fact, I remember being a little perplexed by it. It was heavier, and not quite as bright and cheery as the former. As I slowly got into it though, I developed a better appreciation for the tonkotsu and its depth of flavor, liking it more and more with each spoonful. I realized that there's a lot going on there, much more than the previous bowl, which now tasted "thin" in comparison. Like caviar or beer, things that I initially hated but learned to love, I could really see myself acquiring a taste for this sonorous, more multifaceted bowl of ramen.
To put it in musical terms, if the Kakuni King Ramen were a catchy but forgettable Britney Spears song, then this R.B.S. # 1 would be Queen's Bohemian Rhapsody. It's a virtual opera of flavor.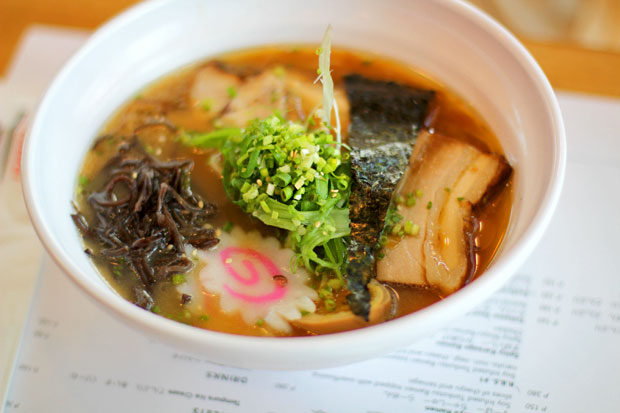 As evidenced by this mural, the R.B.S. # 1 truly is Ramen Bar's signature bowl of ramen.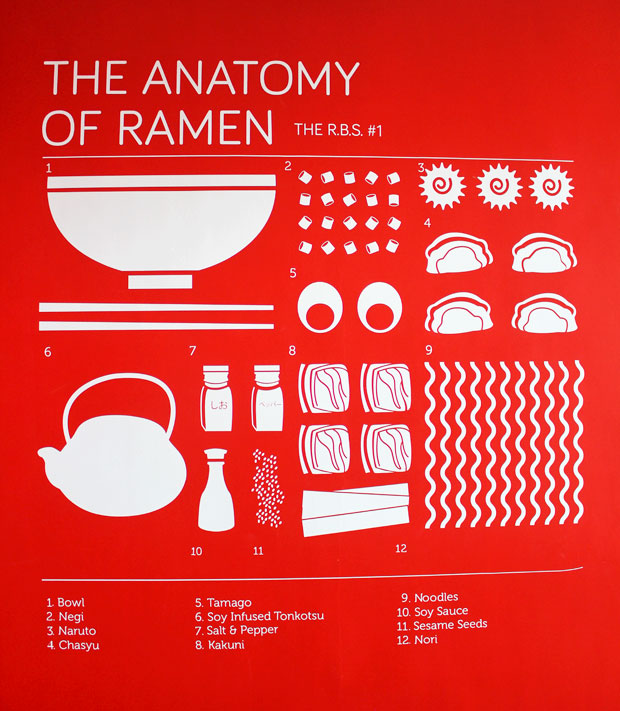 As described above, I have little experience in the ways of ramen, so have no idea just how authentic, or even how good this place is in relation to others. It tasted pretty damn awesome to me though, and ramen Ren enjoyed it a lot, so I have a good feeling they can hold their own. I certainly wouldn't mind going back. 😉
JB is one half of Will Fly for Food and its chief itinerary maker.  He's the one to blame for all the crappy photos and verbal diarrhea on this blog.  Don't listen to him.
Latest posts by JB Macatulad (see all)