Joie de Vivre! Christmas Eve Lunch by Bizu
Undecided on a restaurant for our Christmas Eve lunch, Ren was showing her mother the Flash movie that I made for Bizu's 2012 Christmas catalog, when my mother-in-law suggested that we just order in from Bizu this year and enjoy lunch at home. Having tried their savories before, either through work or Bizu-catered events, I knew that they were every bit as delicious and extravagant as their sweets. And just like that, the decision was made, and an all-Bizu Christmas Eve lunch it would soon be.
Smoked salmon and caviar terrine, 10-hour roast beef belly set, and yuletide pork crown roast. The joys of living indeed. 😀
Smoked Salmon and Caviar Terrine – PHP 1,800 – Salmon and caviar terrine with melba toast.
A classic, always reliable combination, this smoked salmon and caviar terrine is fantastic. Around six inches in diameter, it has thick slices of smoked salmon wrapped around a slab of herbed cream cheese, then topped with a generous layer of caviar.
Smear a good-sized hunk of the terrine on Melba toast, then drizzle with some lemon for acidity, and you have a bite that's absolutely bursting with flavor. Smoky, sharp, crisp, creamy, and briny, it's a perfect marriage of flavor and texture. What a way to kickstart our meal.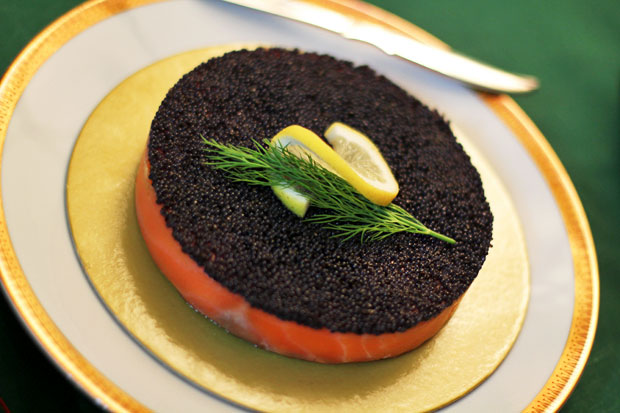 10-hr Roast Beef Belly Set – PHP 3,900 – US beef belly roasted for ten hours and served with vegetables and mushroom sauce. Approximately 1.5 kg when cooked, good for around 15-20 people.
This is one of Bizu's best-sellers, and deservingly so. The US beef belly is slow-roasted for ten hours, so it literally melts in your mouth. Served with mushroom gravy and roasted vegetables, it's hands down the best roast beef I have ever tried, and one that I would happily order, again and again. Absolutely dee-licious.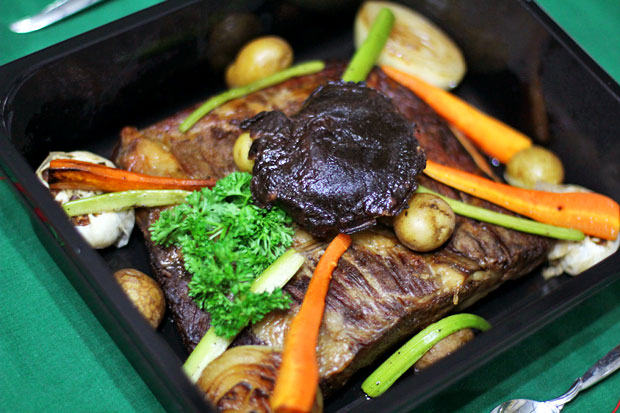 Though not as visually impressive as the crown roast below, this roast beef is king when it comes to flavor.



Yuletide Pork Crown Roast – PHP 5,800 – Circlet of pork chops stuffed with apples, chestnuts, and sausages. Fourteen ribs, good for approximately 15-20 people.
Can you get any grander than this? Fourteen ribs tightly wound to form a crown of pork, then stuffed with creamy chestnuts, apples, and sausages, and served with mushroom gravy and a side of roasted vegetables and potatoes. Without question, it's a stunning, impressive dish.
Each rib comes with a generous hunk of meat, so one piece should be enough to satisfy the average person. I have a healthy appetite myself, and one was more than enough for me. I enjoyed the meat closest to the crown the best. It has the most fat, so the meat is tender, moist, and extremely flavorful. In contrast, the meat furthest away from the crown is the leanest, so is best enjoyed in thinner slices with an extra helping of gravy. The stuffing is very nice as well, imparting sweetness and crunch to complement the earthiness of the pork.
Having committed to giving up, or at least drastically reducing my pork consumption in 2013, I'd say that this was a majestic way to say goodbye, don't you think? 😉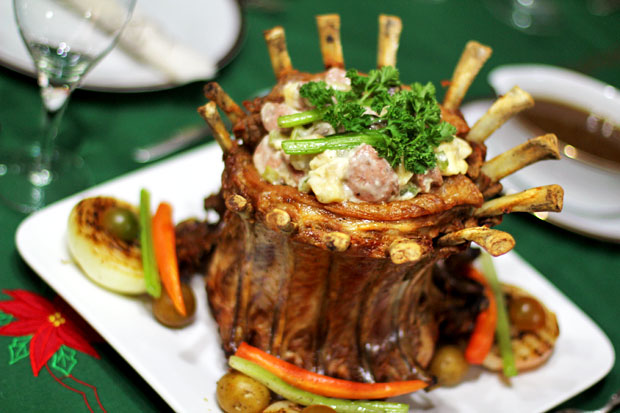 In terms of sheer "wow" factor, nothing beats this crown roast. Regal and festive, it makes an immediate impression and is sure to be the focal point of any holiday spread.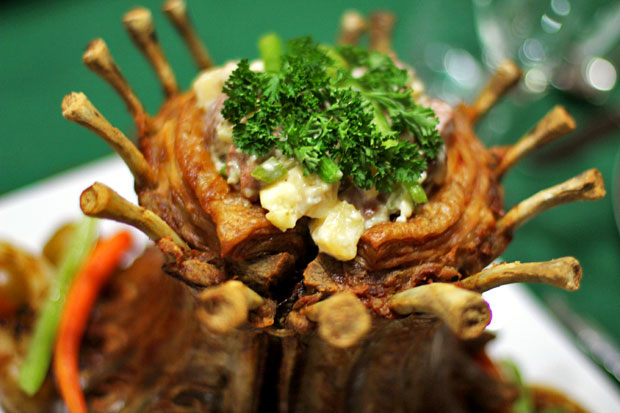 Smoked salmon and caviar terrine, yuletide crown roast, 10-hr roast beef belly, garlic rice with truffle oil, and 2003 Spanish Tempranillo. Joie de vivre indeed! 🙂

Looking at this amazing spread, I'm humbled to realize just how lucky I really am. I have an amazing wife who loves me, a pair of pugs that worship me, two loving families that I can proudly call my own, and a career that affords me the freedom to do the things that I love, as evidenced by this blog. I may not be the richest person in the world nor the most successful, but the love of others makes me wealthy beyond measure, and for that, I am eternally grateful.
Merry Christmas everyone. May the coming year bring much joy and happiness into your lives. 🙂
To order any of the dishes featured on this post, please visit bizupatisserie.com, bizuchristmas.com, or the Bizu Facebook page for contact details.
JB is one half of Will Fly for Food and its chief itinerary maker.  He's the one to blame for all the crappy photos and verbal diarrhea on this blog.  Don't listen to him.
Latest posts by JB Macatulad (see all)