RIDICULICIOUS Bread Pudding by Ms. Sylvia Lacson
Ridiculicious is short for "ridiculously delicious", a term I coined for this blog, and one that I use sparingly, reserving it only for the best. As you can probably guess by now, this homemade bread pudding by Ms. Sylvia Lacson, is ridiculicious.
I'm not a dessert person, but I'm completely enamored with this one. Decadent and swimming in butter, it's lighter than most bread puddings and tastes like a cross between traditional bread pudding and flan, almost like French toast creme brûlée. The lightly toasted surface is soaked through but still crusty, while the bottom is perfectly smooth, creamy, and custard-like. An orgasmic confluence of textures, each caramelized, silky bite practically melts in your mouth, leaving a trail of custard-y richness as it slides down your throat. It is SO frikking good.
Like a round of sexual chocolate, this bread pudding will have you ooohing and aaahing and eschewing grammatical convention in no time. Absolutely ridiculicious, indeed. 😉

PHP 750 for this tray, good for 15-20 servings. Scroll down for order details.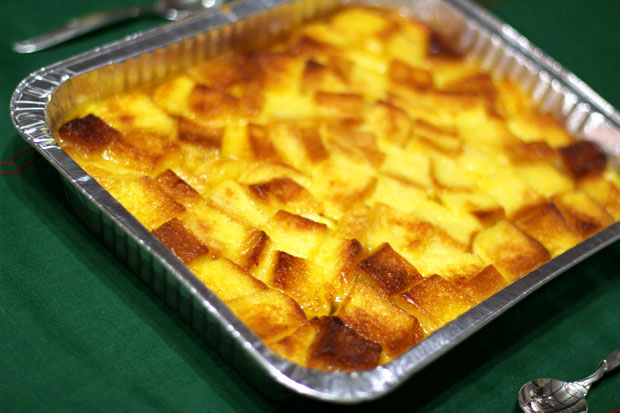 Glistening and golden brown, the caramelized surface of this bread pudding is killer. We enjoyed this for dessert, following an equally sumptuous, Bizu Christmas Eve lunch.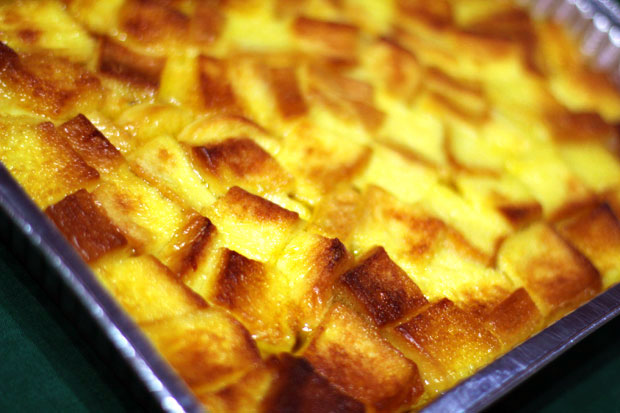 So, are you drooling yet? 😆
If you have a gathering or special occasion coming up, then I suggest you call Ms. Sylvia Lacson at 0918-906-4526 or 726-8127 and order this heavenly creation. It's available for pick up only, from her home kitchen at 275 Connecticut Street in Greenhills, San Juan. As previously mentioned, it comes in one size for PHP 750, and is good for around 15-20 3″ x 3″ servings.
Trust me, you won't regret it. 😉
JB is one half of Will Fly for Food and its chief itinerary maker.  He's the one to blame for all the crappy photos and verbal diarrhea on this blog.  Don't listen to him.
Latest posts by JB Macatulad (see all)