Ren was the one who first introduced me to French macarons, almost a decade ago.
Before she gifted my mom with a box, the only macarons I had ever heard of were those shapeless gobs made with coconut and spelled with an extra "o" – macaroon. In fact, when she told me that she'd be bringing my mom some macarons, I remember gently putting my hand on her shoulder and saying: "Sweetheart, they're called macaroons. Ma-ca-roooooooons." 😆
Being a fan of almonds and all things French, Ren ADORES these things. I enjoy them too, though not as much as she. Cute and colorful, they're just a little too rich, both in taste and price, for my unsophisticated, boorish ass. With that said, they do make a great little gift for my wife, so when this deal for Empire Macarons popped up on Deal Grocer, I jumped on it. Having never tried any other locally-available macarons except for the ones made by Bizu, I thought this to be the perfect opportunity to try something different and new.
Plus, they cost about half as much. 😆

Box of 12 for PHP 390. You can also get a box of 9 for PHP 290.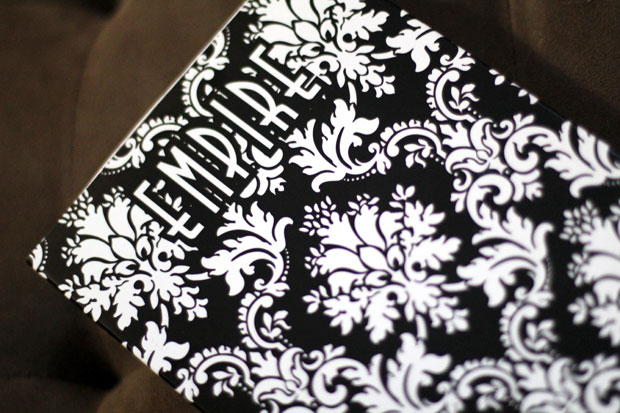 Original, non-seasonal flavors are white chocolate, triple chocolate, hazelnut (Nutella), pistachio, strawberry, and cookies & cream. Scroll down for our thoughts on each.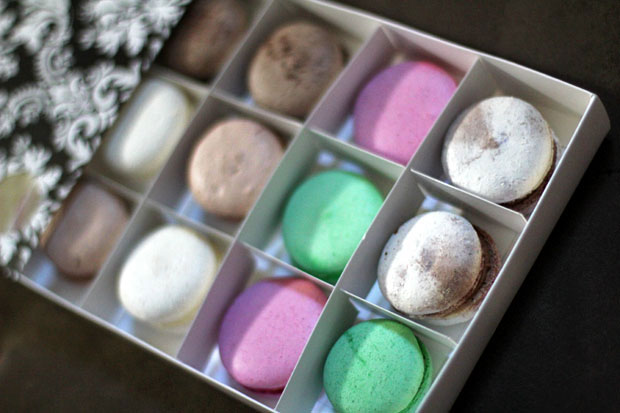 Before polishing off the box, we had no idea what flavors were included. That was actually a good thing, because it gave us the chance to try and determine what flavors they were, on our own. Some were obvious, others not quite.
White Chocolate – Texturally, this was one of my favorites. It was delicate, crumbly, and effortless to bite into. It tasted good too, though perhaps just a tad too sweet. I actually thought it to be vanilla.
Triple Chocolate – Very chocolatey, just the way I like it, though the texture of the macaron was stiffer and chewier than some of the others. I like my macarons to be light and delicate, and this one was heavier in comparison. A shame since the chocolate flavors were nice and robust.
Hazelnut (Nutella) – This hazelnut, together with the cookies & cream, were probably the most difficult flavors to distinguish. I knew that it was made with some kind of chocolate, but it wasn't obvious to me. It was only after reading what flavors were in the box did I go, "Oh yeah!" It tasted good, but like the triple chocolate above, it was chewier in texture. This seemed to be the trend with all the flavors that contained darker chocolate.
Pistachio – Being green, this could only have been either pistachio, pandan, or mint, and we were sure it was pandan. It tasted a whole lot like it, so we were surprised to find out that it was actually meant to be pistachio. Flavor-wise, it was good. Texturally, it was even better, one of the best ones in the lot, but it just didn't taste like pistachio, at least not to us.
Strawberry – I love strawberry-flavored desserts, but neither Ren nor I liked this one very much. Texturally, it was similar to the panda…I mean pistachio, in that it was soft and crumbly. That part was nice, but it just tasted too sweet, and somewhat cheap to be honest with you. Ren says that it's probably because they used less premium ingredients for this one. Whatever the case, this was easily our least favorite flavor from the group.
Cookies & Cream – Like the triple chocolate and hazelnut, this one was chewier in consistency. It tasted good, albeit a little too sweet. As described above, its taste wasn't obvious either, but that could have been just the nature of the flavor. "Cookies and cream" after all, at least when it comes to ice cream, is just as much about texture as it is about flavor. Mashed into a paste, it was difficult to recognize.
As mentioned above, the macarons made with dark chocolate tended to be stiffer and chewier than the rest. In fact, you could even tell just by looking at them how chewy, or delicate, they would be. The chocolate macarons were slightly smaller in circumference, but taller, while the more delicate, crumblier flavors were flatter and wider. Why? I have no idea.
Regardless, these were pretty good, although perhaps just a little too sweet for my liking. If you like cloyingly sweet desserts, then you probably won't mind. As for us, We still prefer Bizu's creations, but as with anything in this blog, I encourage you to try them out and judge for yourself. The experience of food is always subjective anyway. 😉
To order, please visit their WEBSITE or FACEBOOK PAGE for more information.
FULL DISCLOSURE: As described in THIS ENTRY, I've done much design work for Bizu through the years, so carefully chose my words for this post. Tempted as I was to compare them to Bizu, which is only fair considering that Bizu pioneered French macarons in this country, I refrained from doing so out of fear that this may be perceived as a biased post, which it isn't. This is my honest opinion, nothing more, nothing less. Take it for what it is, try the macarons yourself, then form your own judgments.
Having a brain sure is nice, isn't it? Go RH Bill! 😀
JB is one half of Will Fly for Food and its chief itinerary maker.  He's the one to blame for all the crappy photos and verbal diarrhea on this blog.  Don't listen to him.
Latest posts by JB Macatulad (see all)