Learning to Take Better Food Photos with an Inexpensive, Home Strobist Setup
First off, I wanted to make it clear that I'm not THAT into photography.
I didn't even own a point and shoot for the longest time. I only became interested in it when I started this blog, which is what led to me to buy my first ever DSLR. Even then, I bought mine slightly used, from a friend. I only enjoy photography within the context of this blog, so if I'm not taking pictures of food, or documenting a trip, then you can be guaranteed that the camera is just sitting in its bag, waiting for the next post.
With that said, you're probably wondering how my lack of passion for photography is at all relevant to this post about home strobist setups.
Well, if you've ever looked at the LCD menu of a DSLR, or been flustered by shelf upon shelf of camera equipment, then you'll know that a DSLR is no can opener. It can be head-spinningly complicated, not to mention ridiculously expensive, with one lens costing as much as a Chery. Because of my lackadaisical approach to photography, I don't have the urge to invest too much time nor money into it, so I will always look for the easiest and cheapest way to get the best results. Hence, this blog post.
Despite the progress I've made and the recent love that I've been getting from food porn sites like FoodGawker and TasteSpotting, one thing has become abundantly clear – my photographs NEED improvement. They may have looked good to me once, but when comparing them to the more polished photos of my fellow gawkers, mine are starting to look more and more like they were taken with a camphone, instead of a Canon. 👿
I already had a 50mm f/1.4 lens that I was abundantly happy with. What needed the most improvement was the lighting, which, in food photography, is probably the single most important consideration. Luckily for my cheap ass, I found out that I can integrate my little used Nissin flash into a simple strobist setup, all for a modest investment of just under PHP 5,000. How excrutiatingly cool is that?
This post lists all the equipment that I bought to create this new lighting setup, as well as information on where to buy them at decent prices. If you have any experience whatsoever in food photography, then this isn't the post for you. But if you're like me, a fumbling noob looking for a cheap, easy solution, then by all means, keep reading. I included a before and after shot at the bottom of this post, so you can see and compare the results. 🙂

My humble, home strobist setup.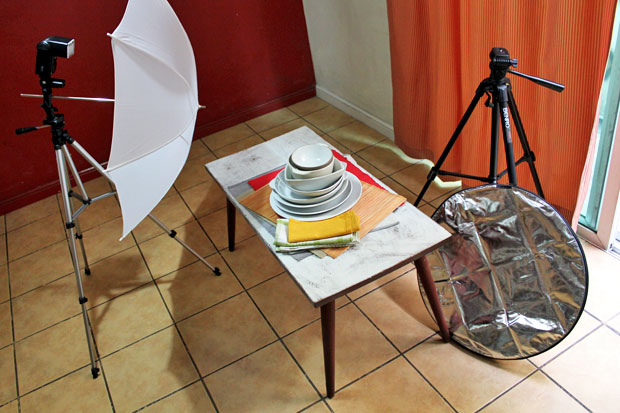 Canon 50mm f/1.4 – PHP 17,500
Aah, the nifty fifty. If I didn't need to take the occasional restaurant interior shot, then this lens would never leave my camera's body. A terrific, but surprisingly affordable hunk of glass, it's been an absolute dream for a food blogger such as myself. It's tack sharp, it takes great photos even in low light (crucial in dimly lit restaurants), and it produces beautiful bokeh, making it one of the best lenses for the amateur food photographer/blogger. Considering just how expensive good glass is in general, this is, without question, a must-have. I picked mine up for PHP 17,500 from Mayer Photo in February of this year.
If you find this 50mm f/1.4 a little too expensive though, then you can buy its cousin, the 50mm f/1.8, for a fraction of the cost, retailing for just PHP 4,300 at Mayer back in February. Being significantly cheaper, it's regrettably less sturdily built, and is noticeably noisier and slower. Despite those drawbacks however, it takes terrific photos that are comparable to those taken with the f/1.4. In fact, purely in terms of value for money, the f/1.8 may actually be the better deal, though I still prefer the f/1.4 because it feels like a solid, well-built lens, unlike the f/1.8 which feels somewhat like a cheap, plastic, Cracker Jack toy.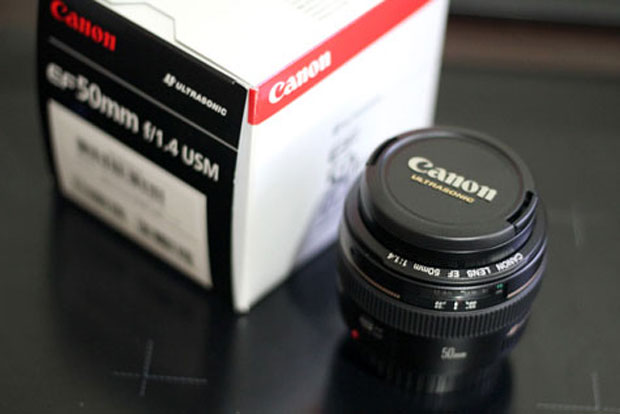 Nissin Mark II Di622 Bounce Flash – PHP 5,800
I bought this early this year, specifically for the Underground River in Palawan. Despite serving me well on that trip, it's been in mothballs ever since, which is why I became overjoyed when I found out that I can use it for this strobist setup. I have a sneaky feeling that it will be put to much better use, from now on. 😉 Essentially a cheaper, but highly regarded clone of the Nikon Speedlite SB600, I picked mine up from Mayer Photo as well, for PHP 5,800 back in February.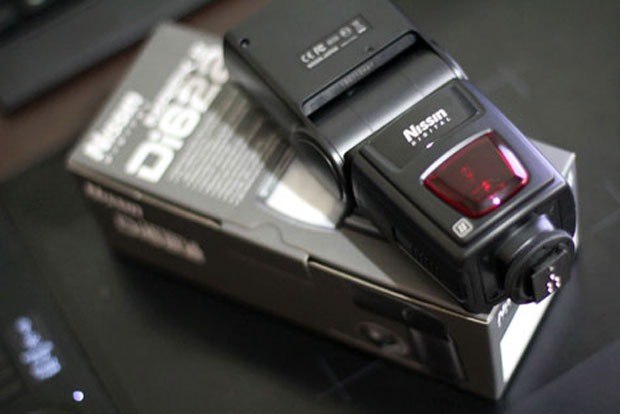 Benro T600EX Tripod – PHP 1,200
Going into the store, I wasn't even planning on buying a new tripod, but this turned out to be my favorite purchase of the day.
Before picking up this Benro, I had been making do with a very basic, inexpensive tripod given to me by Ren's cousin. Though serviceable, it had one major flaw. It didn't allow me to tilt my camera to take vertical, portrait format photos. As a result, I rarely ever used it to photograph Ren's dishes, because I wanted the freedom to take vertically oriented pictures whenever necessary. At the expense of tack sharp photos, I wound up handholding my camera every time.
Today, I was planning on buying a light stand for my Flash unit when the saleslady told me that the bracket I was buying could be attached to a tripod as well. Flashbulbs immediately started going off in my head. Telling her about the limitations of my old tripod, she suggested this Benro which retailed for only PHP 1,200. I was elated to find out that decent tripods could be had for so cheap!
Considering that the 6.5 ft light stand already went for PHP 1,000, it was a no-brainer for me to pick this one up instead, and just convert my old tripod into a light stand. Not only did I now have a stand for my strobist setup, but I also had a much better tripod that I could use to take both landscape and portrait photos. Frikkin awesome baby! It goes without saying that I'll be permanently setting my DSLR on this tripod from now on, to get tack sharp photographs of every single dish that Ren makes.
I bought this tripod, along with the flash tilting bracket and shoot through umbrella, from Filters Exchange along Shaw Boulevard in Mandaluyong.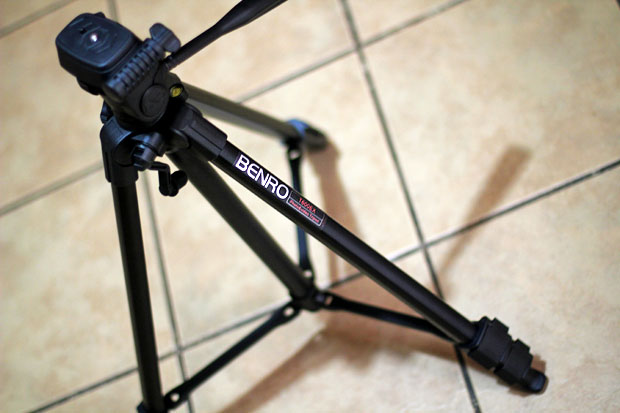 Starter tripod – FREE (Gift from Ren's cousin)
Once a tripod, now the permanent stand for my strobist lighting system. 🙂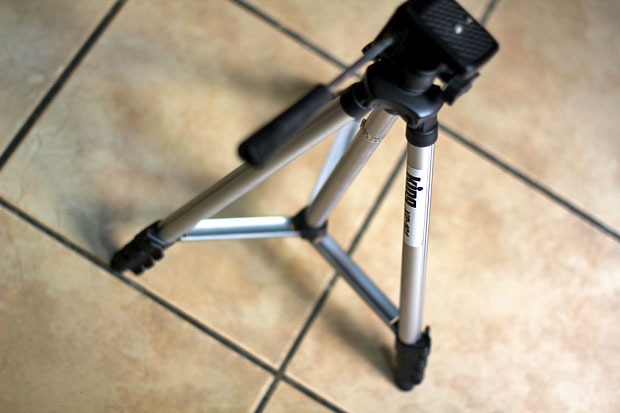 Flash Tilting Bracket – PHP 850
An unassuming, but equally important piece of hardware, this tilting bracket allows you to attach the receiver and flash to the light stand/tripod, as well as hold the shoot through umbrella in place. It has a two-sided connector thingy that enables you to attach it to a light stand, or as previously described, to a tripod. If it weren't for that awesome, very practical little detail, then I wouldn't have even considered buying myself that Benro. 😉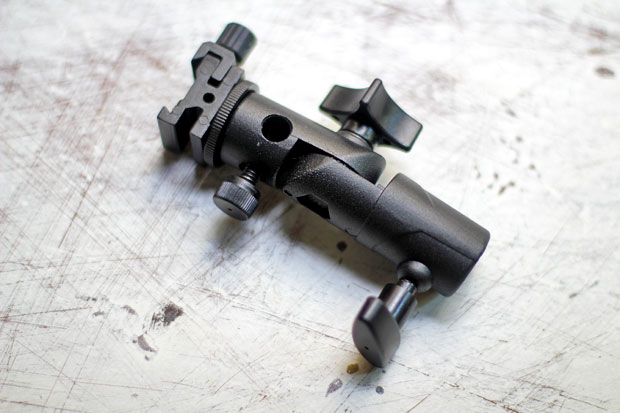 Phottix 33″ Shoot Through Umbrella – PHP 600
Basically an umbrella that's used as a light diffuser.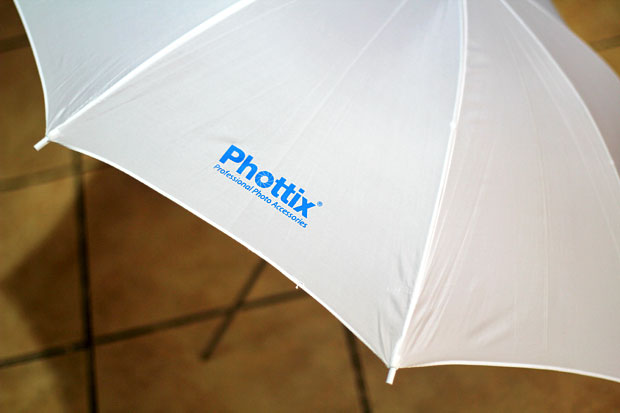 Aputure 2.4Ghz Trigmaster Radio Remote Flash Trigger – PHP 1,500
A crucial piece to the strobist setup, this is what allows you to use your flash off-camera. The trigger attaches to your DSLR where the flash would normally go, and the receiver is hooked up to your flash then mounted on the light stand/tripod. Essentially a remote, pressing the shutter on your DSLR will now set off your flash off camera, so you can position your light source anywhere you like to get the desired lighting effect. Beautiful!
You can also use it to set off strobe lights, and as a shutter remote for your camera. I bought this, together with the 3-in-1 reflector, from Shutter Master Pro along Timog Avenue in Quezon City. Shutter Master Pro is the showroom of Aperture Trading Corporation.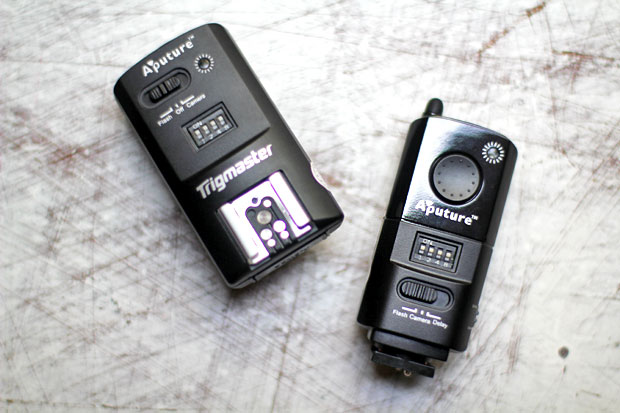 FlaconEyes 3-in-1 Foldable Reflector – PHP 800
Self-explanatory in its function, this reflector is probably the single most important thing in softening up all those harsh, dark shadows. Back when I was using just a simple desktop lamp to light up Ren's dishes, I would always wind up with some undesirably strong, form and cast shadows. With this reflector however, light is bounced back into what would have been the shadow side of your subject, thereby softening the image and adding more detail into what was once, essentially, just a black hole.
Coming in white, shimmering silver, and gold, you can use whichever surface you want to achieve the desired lighting effect. I'm not quite sure yet what the difference is between the white and the silver, but the gold definitely casts a warmer, golden hue on your subject. The saleslady suggested silver for food, so that's what I used on my first attempt, pictured at the bottom of this post.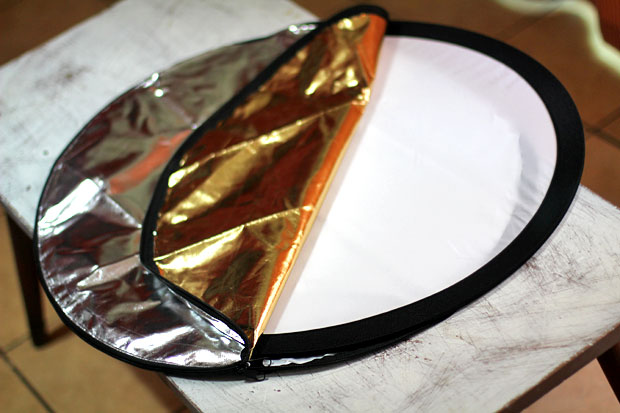 Plates and Props – PHP 1,000+
Difficult as it is to set up the lighting, styling the food is probably the toughest part of food photography. Knowing which plate to use for each dish, on what color placemat, with which props isn't easy, so it's best to have a whole variety at your disposal to give you the opportunity to play around and experiment.
Nearly everything pictured here was bought from SM department store for just over PHP 1,000. As you can see, I started off pretty much with just white plates and bowls, but I will add colored china and more elaborate trinkets to my chest of props as well. This is something fun that can be done over time, so no need to buy everything in one go. I bet that flea markets would be a great source of unique items that wouldn't normally be available in retail stores.
If you're wondering where we got the table, it's basically an old wooden coffee table of Ren's, which we spray painted with white, then sanded down and distressed with nails to give it a more rustic, weathered look. Looks pretty cool eh? 🙂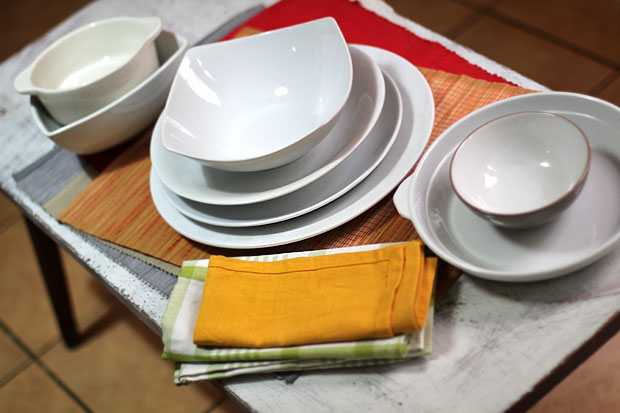 Before & After
Just one attempt in, and I'm already gushing over the results. The image on the left is an example of what I would normally get with my ghetto, desktop lamp setup. See how dark and harsh the shadows look? Working with a small lamp which I had to hold very close to the subject, the illumination would be localized in one area, producing a rather unbalanced looking image.
Compare that to the one on the right and it's like night and day. With my new strobist setup and reflector, the resulting image is softer and more pleasant to look at. In this particular shot, the Flash was around 4-5 ft away from the plate on the right side, while the silver reflector was about an inch away on the left. The ensuing light is evenly distributed, with more detail and interest in the darks. And get this, the photo was taken at around 6 PM, with the lights off, meaning the lighting that you see in the picture was generated entirely by the flash. Wicked eh? To top it off, if you look at both images closely, you'll notice that the one on the right is sharper as well, thanks to the DSLR being completely stabilized by the tripod.
It's also worth mentioning that the image on the left was actually much darker unedited. It took a lot of Photoshop work to get it to look the way it does now. The image on the right, in comparison, went through minimal color correction.
Pleased as I already am with the results, I do realize that this is only the beginning. With a lot more to learn, this setup gives me the freedom to really play with composition and lighting effects. I used to get easily frustrated before, when I had to hold the lamp in one hand, and my camera with the other. As you can imagine, it made an already challenging job that much more difficult. Pretty ridiculous if you think about it. 😆
No longer having to hold that stupid lamp nor my camera, I can just relax and have fun. With this new setup, I can finally do justice to Ren's beautiful plates of food, and put that lamp back where it rightfully belongs, on my desk. 😉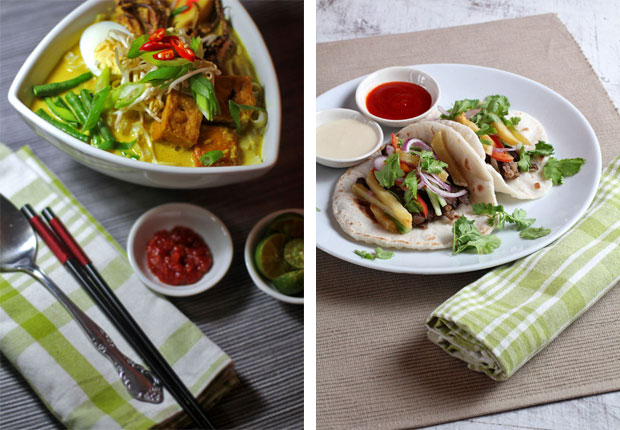 To recap, I spent a modest PHP 4,950 on additional equipment. That amount includes the new tripod, shoot through umbrella, trigger/receiver system, reflector, and tilting bracket. If you're starting entirely from scratch and don't yet have an external flash unit, then you can just add its cost to that amount, which will now total approximately PHP 10,750, depending on where you buy everything. In a hobby that boasts up to PHP 300,000+ camera bodies, that amount is pocket change.
Of course, there's always better, more expensive equipment to be found. But for the starting hobbyist such as myself who's still learning, this setup will do more than an adequate job. Like my 18-55mm kit lens, I may eventually outgrow this and feel the need to upgrade, but for now, it's perfect.
That's the key I think in keeping something fun. Go at your own pace, and judge it by your standards, not someone else's. I've been keeping that same mindset with this blog, and it's been nothing but fun and rewarding for me thus far. 😉
……………………..
Store Addresses and Contact Information
MAYER PHOTO
113 Carlos Palanca St., Quiapo, Manila
Tel: 733-7722
Facebook: www.facebook.com/mayerphoto
Email: ramonmayer52@gmail.com
Operating hours: Monday to Saturday, 10:30 AM – 7 PM
FILTERS EXCHANGE
Mezzanine-B, 20th Century Nylon Shirt Co. Inc, 632 Shaw Boulevard, Mandaluyong
Tel: 534-9879
Mobile: 0917-407-0007
Website: www.filtersxchange.multiply.com
Facebook: www.facebook.com/Filters.Exchange
Email: filters.exchange@yahoo.com
Operating hours: Monday to Friday, 9 AM – 6 PM. Saturday & Sunday, 10 AM – 4 PM
SHUTTER MASTER PRO
Unit E1, Panay Commercial Complex, Panay cor. Timog Ave., Quezon City
Tel: 441-4846 / 806-0036
Website: www.shuttermaster.com.ph/
Facebook: www.facebook.com/shuttermasterpro
Email: webmaster@shuttermaster.com.ph
Operating hours: Monday to Saturday, 10 AM – 7 PM
JB is one half of Will Fly for Food and its chief itinerary maker.  He's the one to blame for all the crappy photos and verbal diarrhea on this blog.  Don't listen to him.
Latest posts by JB Macatulad (see all)