The Beef Bomb! can be purchased every Saturday at the Salcedo Village Weekend Market. You can also order by calling 0927-318-5338.
Dropping off the fantastic Jiro Dreams of Sushi DVD, courtesy of my sister in Shanghai, my mom gifted us with a surprise treat to enjoy with it, a beef bomb that she picked up last Saturday from the Salcedo Weekend Market. If you're like us and had never heard of a beef bomb before, it's basically a 6-inch, round loaf of bread, stuffed with stewed beef chunks, ham, button mushrooms, carrots, and cheese. Designed to be taken home and reheated, it was reminiscent of an English beef pot pie, but made with crusty bread instead of puff pastry.
Crunchy and crusty with a pillowy, chewy center, the bread, after baking, was terrific. The filling was pretty good as well, though in our opinion, was somewhat lacking in flavor. The beef could have used a bit more seasoning, with much of the taste coming from the ham. Texturally, the beef bomb was wonderful though, what with the crusty bread, large spongy mushrooms, moist beef chunks, and gooey cheese making for a pleasant medley with each mouthful.
Each beef bomb can be had for PHP 350, which was, admittedly, a little pricey. Though one was enough to satisfy both Ren and I for lunch, we've grown accustomed to eating smaller lunches. If you have a manly appetite, then you'll probably need one all to yourself. Regardless, it's a pretty unique dish, and one that I'm certain can't be found just anywhere. If you like English pot pies, then this is definitely worth a try.
Unfortunately, my mom forgot to check the name of the vendor, but you can find them every Saturday at the Salcedo Market. You can call to order as well, via the number listed on the label – 0927-318-5338.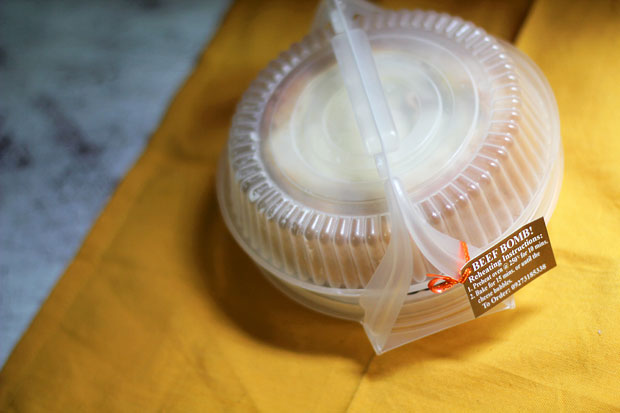 After following the reheating instructions, the cheese didn't quite bubble up as advertised. No matter though, since it was nice and gooey by the time we cut into it.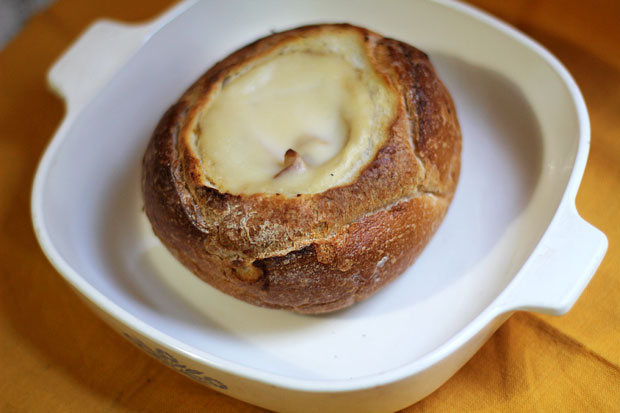 The beef bomb sliced in half. Check out those glistening, freshly warmed layers of cheese, mushroom, and beef.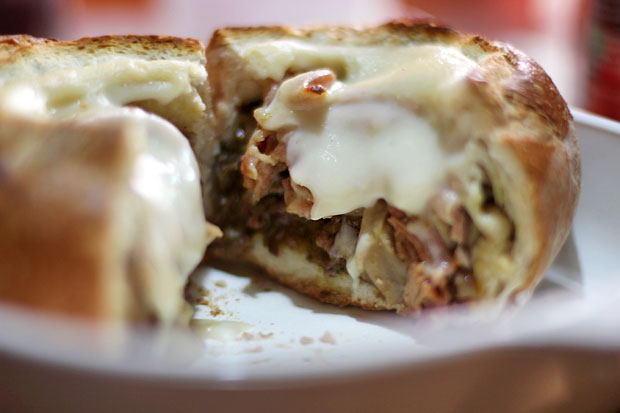 Cut into quarters, I loved the large slices of mushroom and tasty sheets of ham.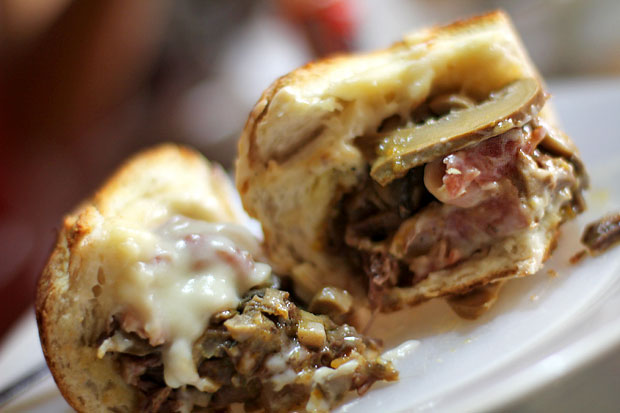 Reheating instructions and order number. Again, it's 0927-318-5338.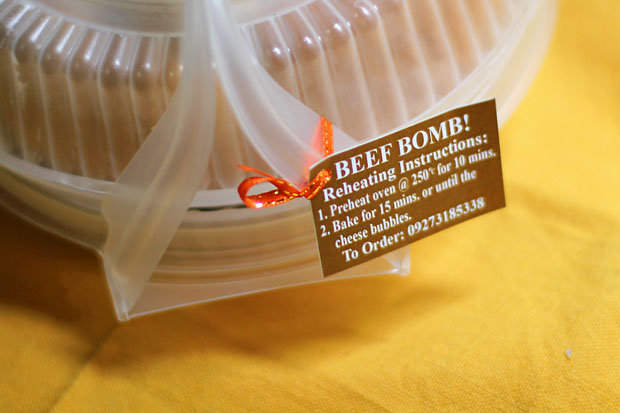 Cozying up after a hearty beef bomb for lunch, Ren and I proceeded to marvel and be mesmerized by Jiro's sublime pieces of sushi. Beef bomb and DVD, the perfect recipe for a restful, lazy Sunday afternoon indeed. 😉
Thanks mom and ate for the awesome treats! 😀
JB is one half of Will Fly for Food and its chief itinerary maker.  He's the one to blame for all the crappy photos and verbal diarrhea on this blog.  Don't listen to him.
Latest posts by JB Macatulad (see all)