Jiro Dreams of Sushi. So do I.
What would your last meal be?
It's a question Ren loves asking everyone. I don't blame her though, because it's a fun question. In fact, you'd be surprised by the answers that many people give. Some conjure elaborate, five-course meals, while others remember the simplest, most comforting dishes they enjoyed as children.
More than a few have said sinigang, which to any non-Filipino is a sour-savory stew, usually made with tamarind. A frequent, curious response I thought, because I never realized just how comforting a dish sinigang was, not having grown up with it myself. Similarly, Ren's brother-in-law, without giving it any thought, said Max's fried chicken, one whole bird. I too love their chicken, but his choice was still fascinating to me, both in its simplicity and its assuredness. At the opposite end of the spectrum, a friend, who sits on this side of plump, said a buffet. Never failing to elicit a chuckle whenever I think about it, I'm now unsure whether she really did say that, or if we said it for her in jest, before she could actually answer. Regardless, ask her now, and she will say in good fun, a buffet. 😆
For lamb-loving Renee, her choice of last meal hasn't wavered since the day we first started playing this game. Puff pastry with seared foie gras and fruit compote, perfectly grilled lamb chops, and truffle cream pasta with shaved truffles, all to be enjoyed with a premium bottle of pinot noir. Decadent yes, but unsurprising, with Ren having been French in a former life. 😉 As for me, my choice of last meal is much simpler, but equally divine. Sushi. I want to enjoy a true omakase experience, as presided over by none other than a top, Japanese, sushi chef.
With what I imagine to be a spellbinding experience ranking so high on my bucket list, you can imagine then my giddiness when my sister sent me this unsolicited, but much appreciated DVD documentary, about the world's purported, greatest sushi chef, Jiro Ono.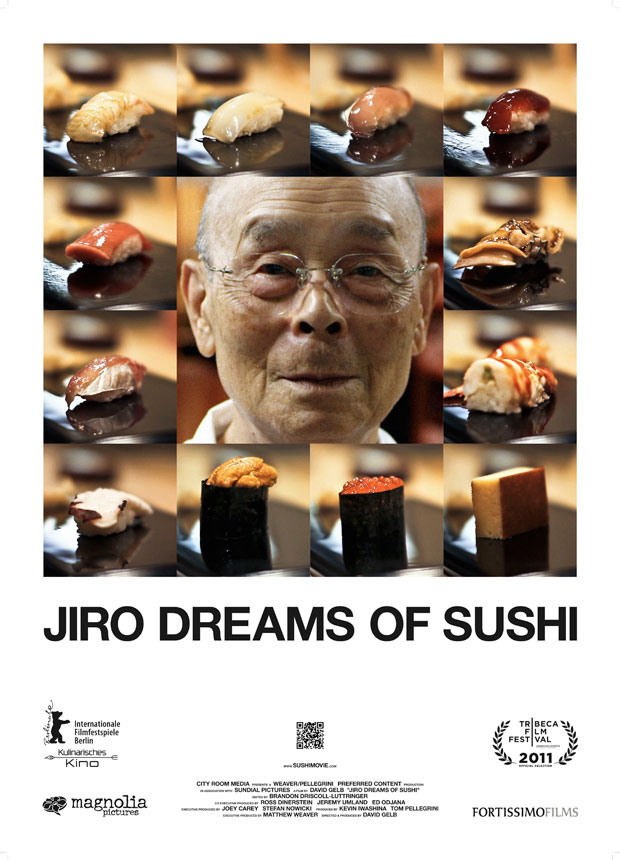 86 years old, but still passionately making sushi like he was 36, Jiro Ono is the owner of Sukiyabashi Jiro, a tiny, ten-seat, sushi-only restaurant nestled deep within a Tokyo subway station. Reservations must be made at least a month in advance, with a 15-minute meal consisting of 20 pieces of sushi starting at ¥30,000 (approximately USD 378 or PHP 15,500 at today's exhange rate). The restaurant doesn't even have a bathroom on the premises, but they've been awarded three Michelin stars, five consecutive years in a row.
Think that's good enough for my last meal? 😆
Simply put, this documentary, and this man, is nothing short of extraordinary. What makes Jiro so remarkable is his relentless, seemingly unending pursuit of perfection, even whilst pushing 90. Accomplished a sushi chef as he already is, having been declared a national treasure in Japan, not once has he felt close to reaching that pinnacle. In his mind, there are always better ingredients to be found, better techniques to be mastered, better flavor profiles to be made. Working from 5 in the morning until 10 in the evening, he spends almost every waking moment at his restaurant in pursuit of that goal. Watching this man reject 200 attempts by an apprentice to make something as simple and mundane as tamago, then deride himself for not having the otherworldly palate of a Joel Robuchon, I'm pretty sure that Jiro Ono will go to his grave without ever feeling completely fulfilled in his quest.
In the end, this perception of never being good enough is precisely what makes him so great.
Whether or not you like sushi (or subtitles), you have to watch this film. Inspiring beyond words, there's a lot you can take from it. For starters, it will prove to you just how far discipline, and a single-minded determination can bring you. At only 38 myself, but often making the silly excuse that "it's too late to…", I'm learning from this man that it is absolutely NEVER too late to be astonishing at something, provided you dedicate your life to it. If my math serves me correctly, he earned his 3-star Michelin rating not until the ripe, old age of 81, so if you still think that it's too late to accomplish something, then you're just a lazy fuck looking for an excuse.
On my Facebook timeline, I have the following quote (or should I say reminder) from life coach Dean Mehrkens:
"What is the difference between a flashlight and a laser? Nothing, except the degree of focus, and the result that focus will bring."
Jiro Ono is living proof of that.
JB is one half of Will Fly for Food and its chief itinerary maker.  He's the one to blame for all the crappy photos and verbal diarrhea on this blog.  Don't listen to him.
Latest posts by JB Macatulad (see all)