Tito Chef Restaurant and All Things Culinary
Tito Chef Restaurant and All Things Culinary is located at 2 President's Avenue (cor. Adelfa St.), BF Homes, Parañaque. Tel: 842-5577.
To be honest with you, I wasn't expecting much from this place.
With an unassuming name like "Tito Chef", and located along less cosmopolitan President's Avenue in BF Homes, Parañaque, I was expecting something a little more rustic. I pictured familiar but mundane Filipino dishes served family-style, a la Berting's Grill or Bagoong Club, and set in a similarly easygoing, slipper-friendly environment. This was the laid-back "south", after all. 😉
To my surprise, shock even, I walk into a hip, ultramodern restaurant that could very well have been a place to see and be seen at the CBD or The Fort. Clean and contemporary with a globally-influenced menu that boasted dishes like spinach and raclette souffle, seafood etouffee, and bleu cheese with truffle oil pasta, what started off as a prosaic afternoon anticipating liempo for lunch quickly turned into something far more captivating and unexpected. It was like going on a blind date, expecting to find Pokwang, then getting Heidi Klum instead.
Thank God I shaved and wore shoes today.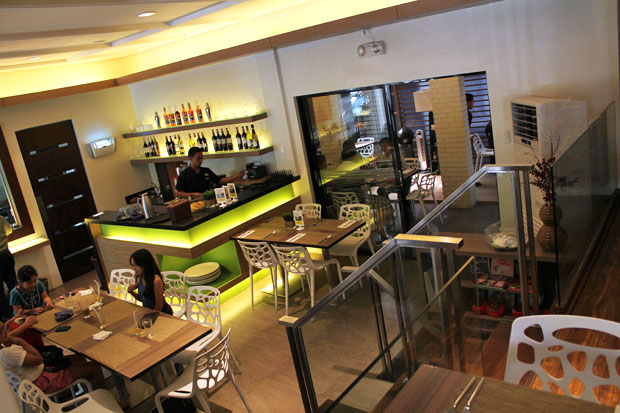 Chorizo and Mushrooms – PHP 260 – Sauteed Spanish chorizo and fresh mushrooms served with warm baguette.
Delicious. The chorizo was boldly flavored with strong punches of pimenton. The mushrooms were a welcome addition, providing a nice contrast in texture to the firmer chorizo. I just wish that they were in bigger pieces. Sliced pretty small, they became somewhat lost in the sea of chorizo. Ren wishes that the chorizos were in larger chunks as well.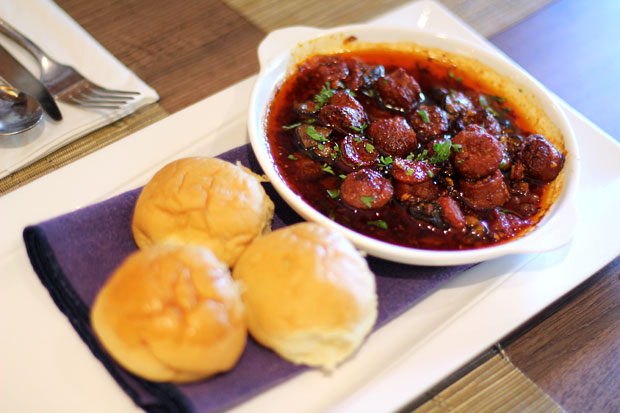 Spinach and Raclette Souffle – PHP 230 – A light and airy spinach souffle served with a robust raclette cheese sauce.
I'm not usually a fan of souffles, but I enjoyed this one. It was perfectly light and airy, with the discernible flavor and texture of fresh spinach. I loved the robustly flavored raclette cheese sauce as well. Drizzling it on the souffle made me feel like I was eating a puffy little cloud of cheese.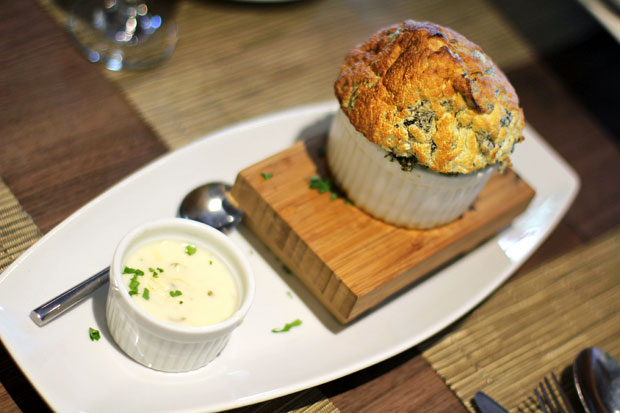 Fried Oyster Beignets – PHP 235 – Fresh oysters battered and deep fried, served with a spicy cocktail sauce.
These were pretty good. Battered and deep fried, the briney oysters were ensconced within a crisp but delicate coating. With little flavor on their own, they were buoyed by the cool, refreshing cocktail sauce with diced cucumbers, which imparted welcome spice and tanginess to the dish.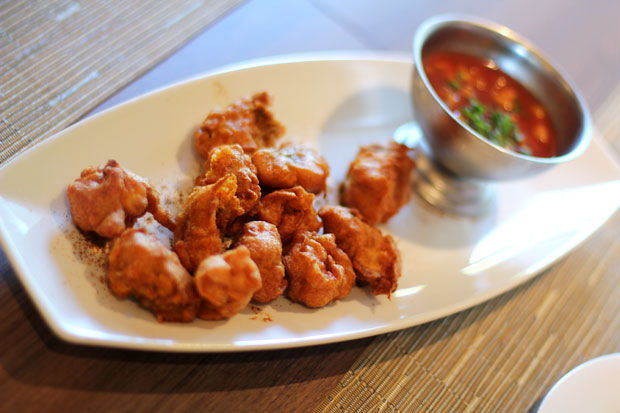 Baked Mussels Mornay – PHP 220 – Briney New Zealand mussels broiled on the half shell with sauce mornay and cheeses.
Probably my least favorite dish of the day. The mornay sauce, which is basically a bechamel with cheese, was pretty flavorless I thought, plus they only give you five medium-sized mussels. Definitely not something that I'd order again.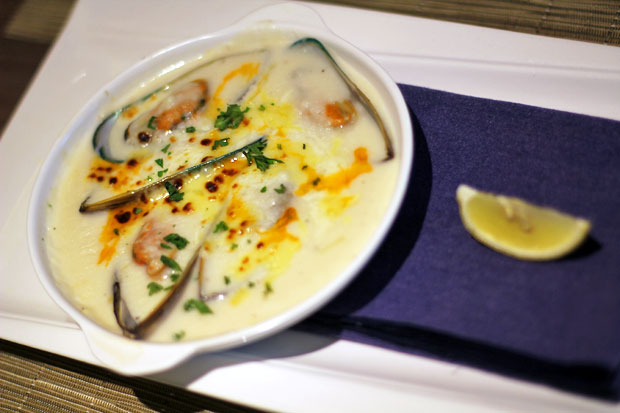 Bleu Cheese Alfredo – PHP 230 – Cream and butter sauced fettuccine with bleu cheese, mushrooms, and truffle oil.
This was pretty good. Perfectly al dente, the pasta was light and buttery with just a hint of bleu cheese flavor and aroma. The taste of the truffle oil was restrained as well, giving the dish just the right amount of woodsy, earthy flavor without being overpowering.
I don't think I've ever had a dish with both bleu cheese and truffle oil before. Both usually robust, strong components, they made for a delicate, nuanced pasta dish when combined in moderation like this. Very nice.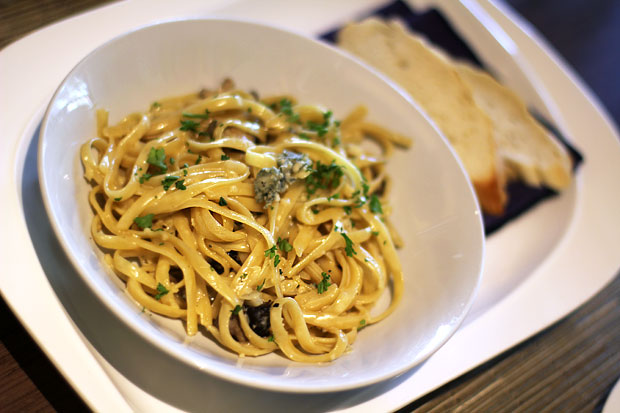 Rosemary Grilled Lamb Steak – PHP 350 – Rosemary and garlic marinated grilled lamb steak served with mint sauce and creamy potato puree.
Apart from the subpar cut of meat which was fairly sinewy, this lamb steak was delicious. It was well-seasoned, flavorful, and just shy of a good sear from being perfectly cooked. And at only PHP 350 for a good-sized hunk of meat, it was a downright steal. Comparable restaurants would easily charge around PHP 700 for something like this.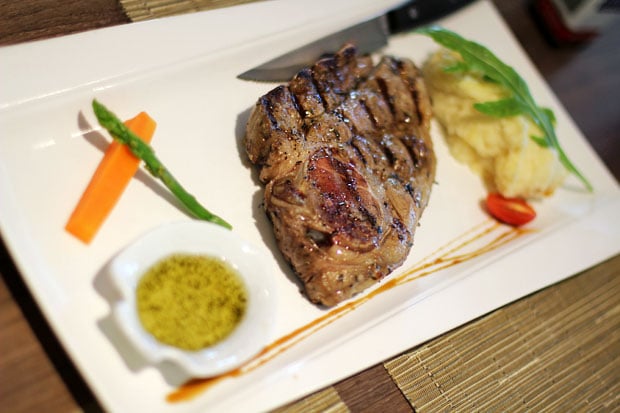 Osso Buco Milanese – PHP 395 – Classic Italian beef shank stew, served with saffron infused risotto Milanese, gremolata, and spring vegetables.
My Renee makes a wicked Osso Buco Milanese, and this one tasted almost as good. Fall-off-the-bone tender, the beef shank was swimming in a rich, heavy stew that was balanced beautifully by the bright, zingy gremolata. The risotto was very nice as well, nutty and rich with a hint of that spicy/bitter saffron flavor.
Ren was titillated to see that big bone sitting in the middle of the plate, but much to her disappointment, most of the marrow had already melted away. 🙁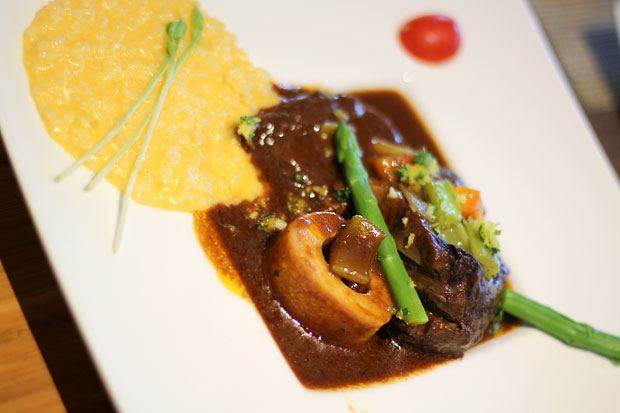 Seafood Etouffee – PHP 375 – Stew of prawn, fish fillet, New Zealand mussels, and calamari in a flavorful seafood sauce served with savory rice.
A lover of both seafood and tomato-based sauces, this was easily my favorite dish of the day. It was robustly flavored, with succulent, perfectly cooked pieces of seafood drenched in a rich, spicy sauce that tasted like it was made with aligue or crab roe. I absolutely loved it, especially when drizzled with some lemon over top for a nice punch of brightness and acidity.
Etouffees being a staple of Cajun and creole cuisine, this dish made me yearn for New Orleans all the more.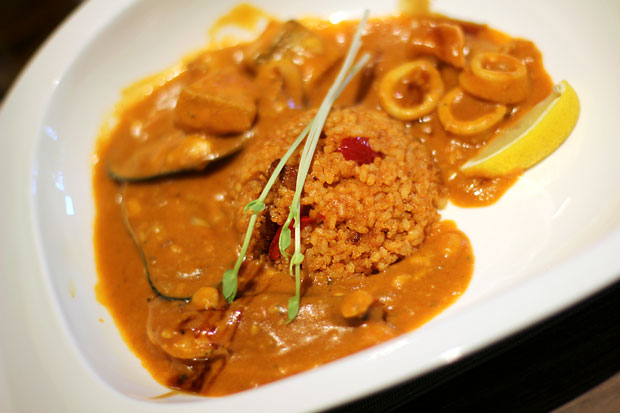 La Opera – PHP 140 – Coffee flavored layered chocolate torte.
Of the four desserts that we tried today, this was by far my favorite and the only one that made me say "wow!" Rich, dark, bittersweet, and intensely decadent, this is a dessert that I would eagerly look forward to at the end of any meal. It would be absolutely perfect with a steaming hot cup of freshly brewed, black coffee.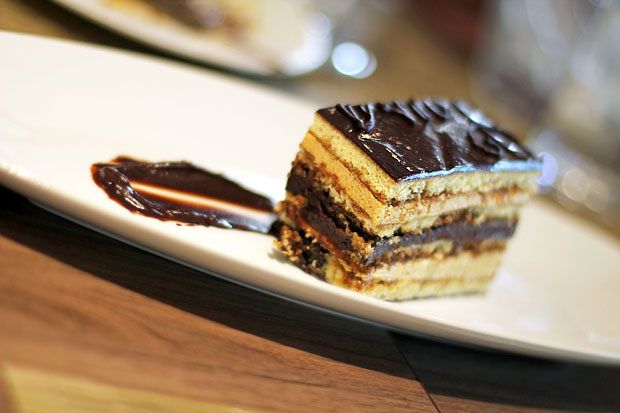 Strawberry Shortcake – PHP 95 – Light, airy sponge cake with sweet strawberries and cream.
Light, airy, and creamy with the subtle flavor of strawberries. It was nice with the smear of dark chocolate, giving it some bittersweet richness to go with the mild tartness of the strawberry.
This wasn't bad, though I do prefer desserts that are bolder and richer, like the La Opera above.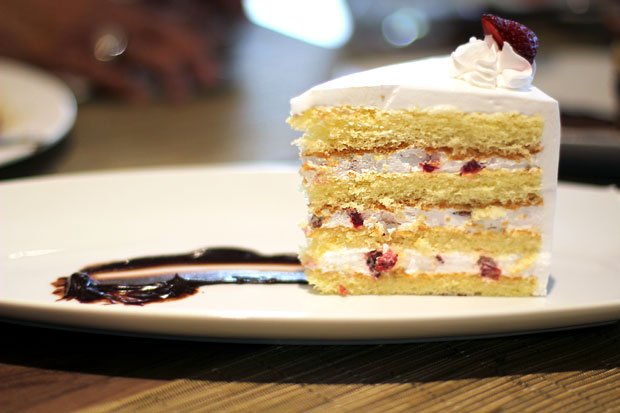 Tiramisu – PHP 165 – Espresso-dipped cookies layered with Marsala-flavored Mascarpone cheese and chocolate.
My second favorite dessert from the bunch. It was creamy, bold, and robustly coffee-like in flavor. It was also tangy-sweet, which I much prefer over cloyingly sweet and chocolatey tiramisus. Biting into the accompanying savoiardi imparted texture and more sweetness to offset the tartness of the tiramisu.
Ren makes a devilishly good, eggless tiramisu, the recipe for which you can check out HERE. 😈



Nutella Sansrival – PHP 110 – Toasted almond sansrival cake with Nutella buttercream.
This was pretty decent, though it sounded better than it tasted, at least for me. Made with real almonds, it was rich, nutty, and chocolatey, though perhaps just a little too light and airy for my taste. I would have preferred the meringue to be chewier and gooier, similar to the delicious offerings at Betty's Sans Rival.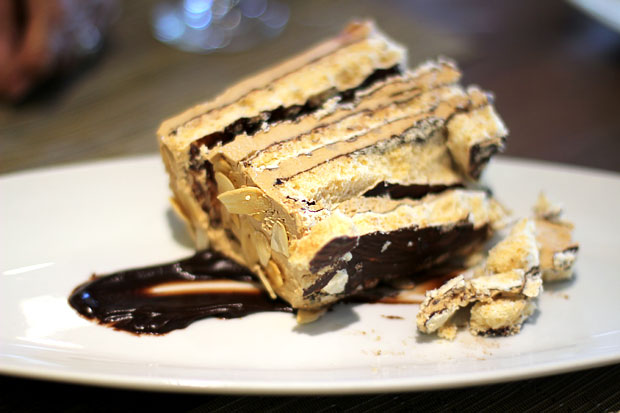 As much as we enjoyed today's lunch, the best part about it was yet to come, the bill. All twelve dishes above, plus a few more that I didn't mention in this post, added up to just around PHP 4,500 with drinks and service charge. Think that's good? It gets even better. That total already includes a good, but inexpensive bottle of Chilean Merlot as well. You'll be pleased to know that they have a decent wine selection here, with many of the bottles retailing for less than PHP 500. All things considered, if that isn't enough to entice you to book your next date here, then I don't know what is.
It's also worth mentioning that they have a culinary store in the basement, hence the "All Things Culinary" in their name. I was on my way there to check out what they had and take photos, when all the food promptly arrived at our table. Bummer. In the end, I never made it, but based on how much Ren enjoyed this place, I have a feeling that I'll be getting another chance, sometime down the road.
With all the interesting places to eat here, I already liked this two-street segment of restaurant heaven known as President's Avenue and Aguirre Street, but now with the addition of Tito Chef, I think it's growing into genuine, full-blown LOVE. ♥
JB is one half of Will Fly for Food and its chief itinerary maker.  He's the one to blame for all the crappy photos and verbal diarrhea on this blog.  Don't listen to him.
Latest posts by JB Macatulad (see all)