Mushroom Burger from Ministry of Mushrooms
Ministry of Mushrooms is located at 067 Antipolo del Norte, Lipa City, Batangas. Tel: 0917-500-MUSH (6874). Website: www.ministryofmushrooms.com
Learning about the Ministry of Mushrooms was like discovering ecstasy for the first time. It made me very, very happy.
With Ren and I intending to move to Lipa and starting our own residential farm within the next couple of years, finding these guys was a godsend. Not only do they sell (and home deliver!) fresh and dried oyster mushrooms, they also carry a few mushroom-infused food products like artichoke dip, risotto, and tapenade, as well as cultivation materials for aspiring home growers such as myself. With microgreens, mushrooms, and edible insects (yes, you read that correctly) topping our list of planned crops, these mushroom starter kits will give me the opportunity to learn the basics while revving up to build our dream microfarm.
I believe in signs, and this recent discovery is yet another step in our slow but steady march towards Henry and Mona's Farm. Unbeknownst to us when we purchased the property, the Ministry's research and development facility happens to be located, conveniently and coincidentally, in Lipa as well.
Talk about serendipity. 😉

Mushroom Burger – PHP 300/half dozen
The first thing we noticed was how absolutely miniscule the burger patties were. I put the Coke 1.5L bottle cap next to them for reference. As you can see, they're quite small, making them pretty expensive for PHP 50 a patty.
I guess this is both good and bad. Good because the patties are probably made with mostly mushrooms and little extender. They may have used some tofu, though I'm not sure, and likely no meat. It was bad because Ren wound up combining two patties to make one burger, thereby doubling the cost to PHP 100 per sandwich. That's darn expensive for a homemade burger, pretty much killing any chance of me buying these ever again.
Oh well, all the more reason for me to grow and make my own then. 🙂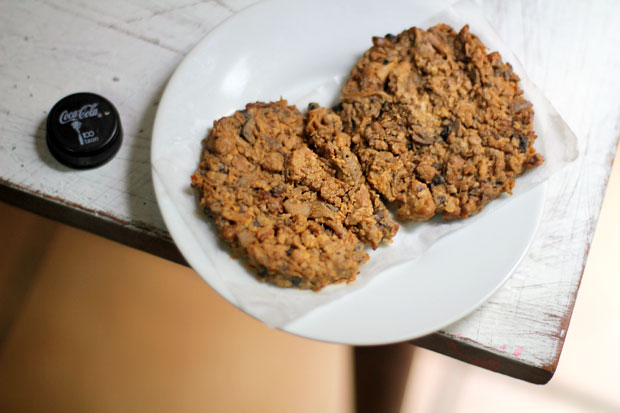 Ren cut the burger in half so you can better see the patty. Even with two stacked patties and a hunk of caramelized onions, it still isn't very substantial. Also, it was apparent that they didn't use much binder, since the patty practically disintegrated while cooking.
On a positive note, the burger was pretty good, especially with the caramelized onions and sriracha mayo. If no one told you, you'd probably never guess that this was a burger made with mushrooms instead of beef. With terrific alternatives such as this, who needs meat?!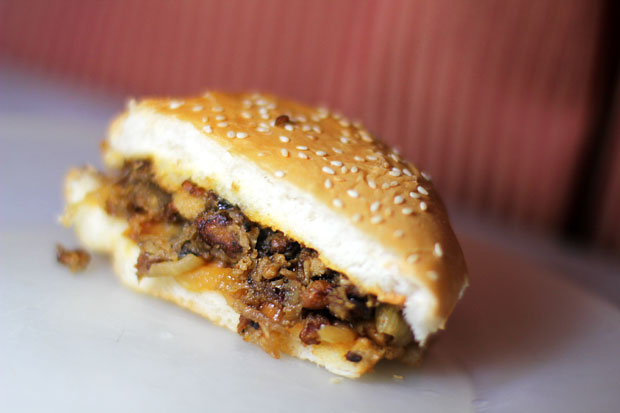 Here are the two large Oyster mushroom fruiting bags that I bought together with the burgers. I stuck them in the refrigerator overnight to shock them into fruiting. Ready-made fruiting bags come in two sizes – large (PHP 175) and small (PHP 50). If you want to experiment with other types of growing media, you can also buy mushroom spawn for just PHP 140/kg.
For wannabe mushroom cultivators such as myself, these oyster mushroom fruiting bags are a perfect first step. I've been taking pictures of the entire process, so will be writing a detailed post describing the experience. I can't wait to make my first harvest. Wish me luck! 😀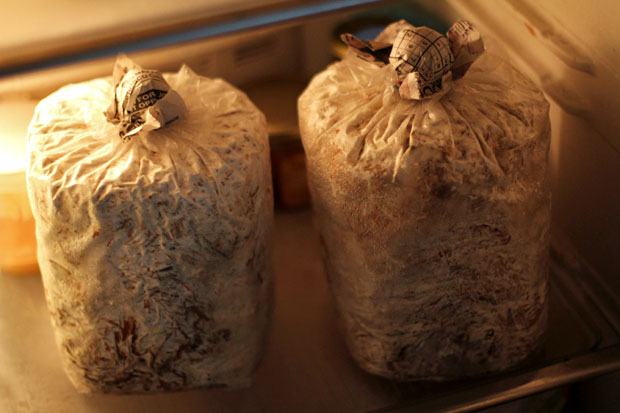 JB is one half of Will Fly for Food and its chief itinerary maker.  He's the one to blame for all the crappy photos and verbal diarrhea on this blog.  Don't listen to him.
Latest posts by JB Macatulad (see all)